Facebook is constantly rolling out updates. This causes some contention among the users, but I absolutely love it. Change leads to progress!
This past week, it's almost been impossible to keep up with the changes. And what's awesome is that many are directly related to Facebook marketing.
Following are the updates I've noticed during the past week alone. I tend to feature these on my Facebook Page instead of writing a blog post for each change. But since there were so many, I figured a blog post was needed to cover them all!
Here's the funny thing that underscores how fast and furious these changes have been… I have a routine that I do not post more frequently than every four hours. The number of changes have been piling in so fast recently, that I now have a backlog of Facebook posts highlighting the changes I'm seeing.
Without further adieu, here are the big and little changes you may have missed. If there are any others (entirely possible) let me know in the comments below!
1. Post Scheduling Update
This may be the simplest, most overdue change that has marketers the most excited. And it's really so ridiculous JUST HOW EXCITED we are about this.
Why? It should have been done from Day 1. But since Facebook overcomplicated what should have been an easy process, we are excited about the most basic of changes.
The prior problem: Scheduling on Facebook was far more work than was necessary. You had to click drop-downs for year, month, day, hour, minute, am/pm, height, weight and shoe size to schedule a single post. It was absolutely ridiculous.
The fix: There is now a calendar tool to easily select the specific date you want. Hey, imagine that! Basic design. This is also nice since we finally see what day of the week we're picking as well (as opposed to juggling a separate window with a calendar in it).
And now the only other step is entering the full time in a text field. Start typing and Facebook provides auto-complete options.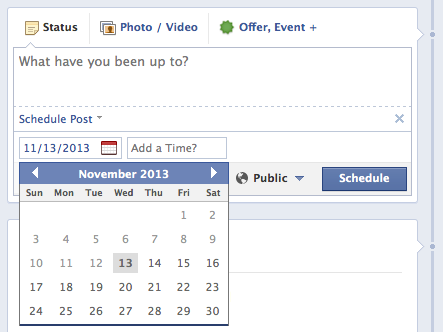 One heads up: While it appears that you can pick any time you want (like 8:43 instead of having to go with the options Facebook provides), that seems to create some problems. I did this and Facebook automatically defaulted to a different time that wasn't even close. So hopefully that will be cleaned up.
But overall, thanks for the awesomely basic fix that was long overdue! We really do appreciate it.
2. Scheduled Posts in Notifications
This change is related to #1, but they are really two different things.
Previously, it was easy to forget what you had scheduled. You needed to navigate to your Activity Log to see it.
Now, Facebook gives you a running tally of posts that have been scheduled within Notifications in the admin panel.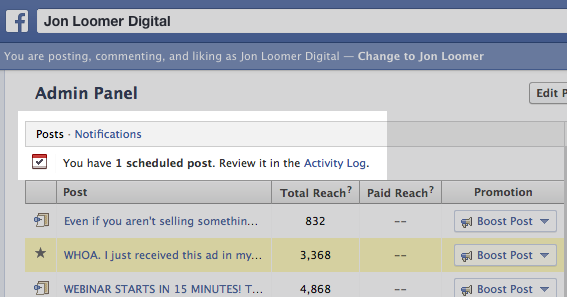 Another simple, much needed improvement!
3. Shared Posts in Notifications
The Notifications area has been where you get record of the latest comments and likes on your posts. It can be a bit of a mess for popular Pages, but it's about to get messier!
Now Facebook is including any public shares of your posts within the notifications.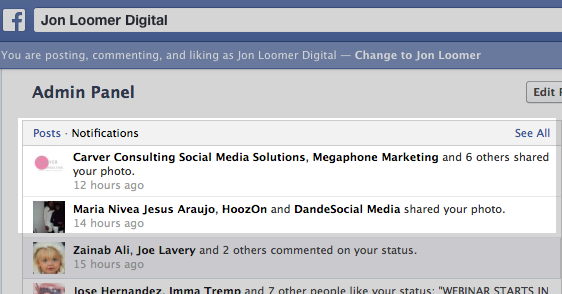 This is good since the Share is probably the most important action, so it's nice to know this. It's bad because it made an already cluttered area more cluttered and difficult to keep up with.
It's hopefully just the first step.
4. 5-Star Ratings Under Cover Photos
Facebook has been encouraging users to rate locations based on a 5-star system for several months now. When you check in, you get the prompt. And Facebook was also surfacing places and apps on the sidebar for you to rate.
Until now, that information was largely buried. But now it's going to be unavoidable!
Take a look. I'm apparently a 4-star business…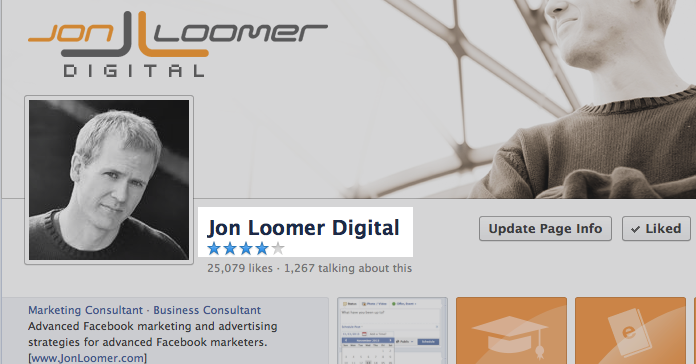 I set my Page up as a place long ago to get access to the "Recommendations" box — which is basically the Reviews, based on these ratings. So this average rating is now front and center.
Note that it's a 4-star rating even though every single rating in my Reviews is for 5 stars. Not every rating appears there. Anything that doesn't get a review doesn't appear there, and that includes many of the mobile ratings.
So while it would be nice to receive a 5-star average, it's probably not realistic. The world is full of trolls!
If you're a place, this could both be an opportunity and a thorn in your side. If you get low ratings, watch for the complaints to start flying!
5. New Navigation in Insights
I spotted this while poking around my web Insights. Note the new bar that features Page, Activity, Insights and an Edit Page drop-down on the left. On the right are Ads Manager and a Help drop-down.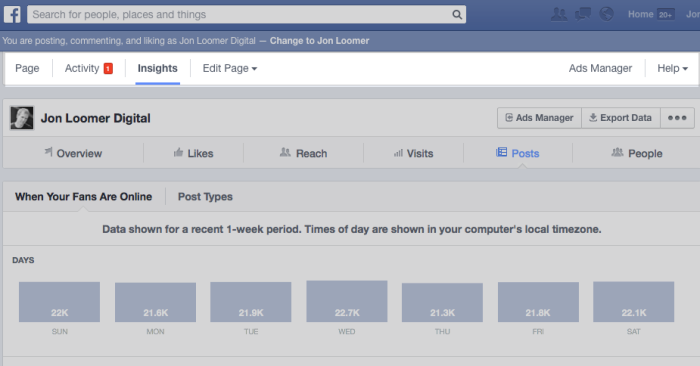 What's nice is that any new notifications received while in Insights will appear as a red number by Activity. Now, the links to Page and Activity are redundant, however. Facebook should merge these two.
This is absolutely a more user friendly and convenient way to drive traffic to Insights and Ads Manager in particular. My guess is that Facebook is testing this within Insights, and will eventually roll it out to the Admin Panel as well.
6. Link Share Preview Now Full Size
Previously, you wouldn't know how your link share appeared until you shared it. In particular, you wouldn't know if the image would take advantage of Facebook's new, optimized, full-width format.
That's now changed! Check out the image below that shows what I see while I'm writing a post using a link share…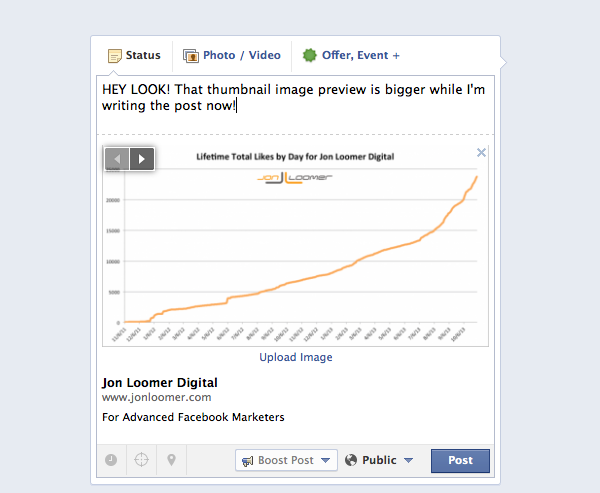 Far better! I now see exactly what I see when I will publish.
7. Power Editor Download Update
I'm sure you use Power Editor to create Facebook ads. And I'm sure you download before you get started every day to pull in all of the latest activity for all of your accounts.
Well, that dialog just changed. The design is new, and there is now a three-tabbed view to provide options on what you want to download.
First, here is the Accounts download view (which is default). Select which accounts you want to download, or search for accounts to pull from.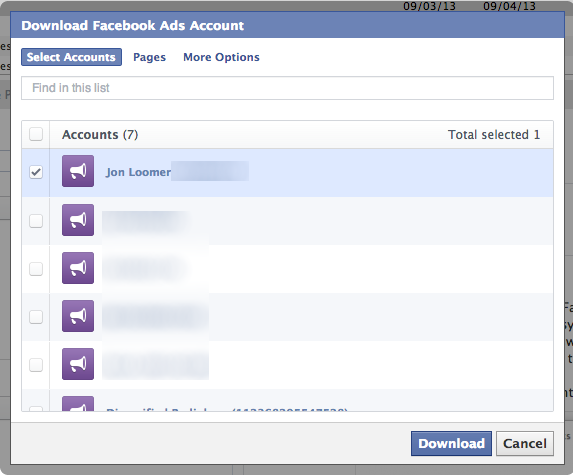 The second view is Pages. Start typing in the name of the specific Pages you want to download data from, assuming you don't want to download all data from specific accounts (done in the previous view).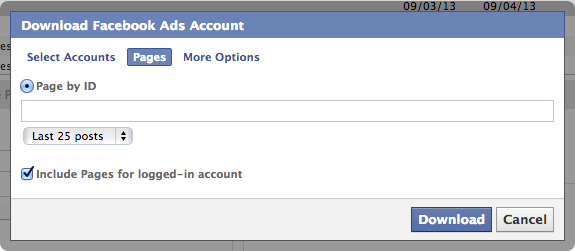 And finally, there is a More Options view that will allow you to search for accounts by ID or name. This is redundant since the same actions can be done in the first view.

Big change? Nope. Looks nicer though!
8. Power Editor Tooltip Update
This is just a tweak, but immediately noticeable. Facebook wants to draw more attention to the tooltips (?) so that you quickly get answers to any of your questions about specific features.
These are now gray circles with a dark gray "i" inside. This is especially noticeable when creating a new Custom Audience.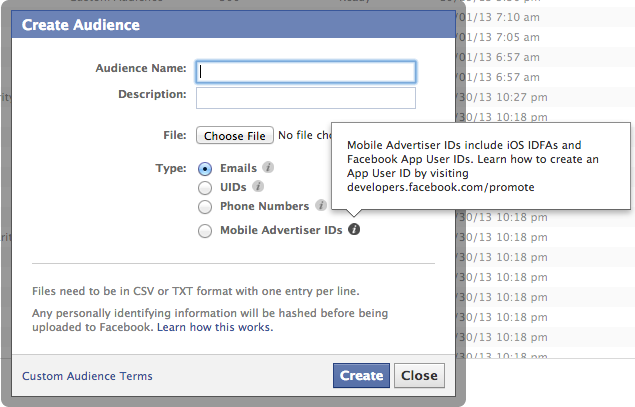 Awesome change? Eh. But it's a change.
9. Boost Post Targeting Update
First of all, please don't boost posts. I hate this feature because of the lack of control. Promote posts with Power Editor instead.
That said, the Boost Post option did just get a little bit better. You when you set your audience, you can select People who like your Page and "People you choose to target."
That will bring up options to not only target by country age and gender, but by interests (4-10).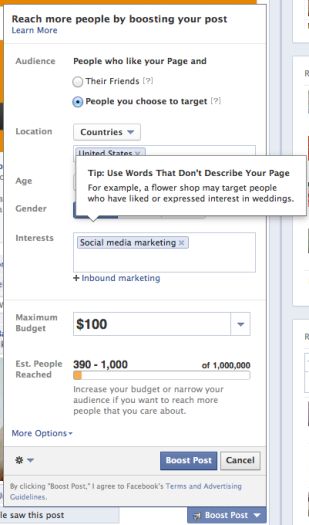 It's getting better. But you still shouldn't boost posts!
10. Self-Serve Ad Tool Placement Update
I also recommend you use Power Editor instead of the self-serve ad tool. That said, Facebook has been making several enhancements to the self-serve ad tool lately.
One big one is providing a little bit more control over placement. You now have the ability to remove Sidebar or News Feed.
That means you now have three options:
News Feed and Sidebar
News Feed only
Sidebar only
Does that mean you now have as much control over placement with the self-serve ad tool as you do with Power Editor? Nope.
You still have no control over mobile. With Power Editor, you could hit mobile only or desktop only, for example. You can even target specific mobile devices.
Can't do that with the self-serve ad tool. Certainly better, but you should still use Power Editor!