Facebook offers limitless optimizationHow you optimize impacts who sees your Facebook ad. Facebook will show your ad to people most likely to perform your desired action. More options to help you reachReach measures the number of Accounts Center accounts (formerly users) that saw your ads at least once. You can have one account reached with multiple impressions. More the right person with the right message. One of those options is Optimize Text Per Person.
In this post, we'll talk about how to use Optimize Text Per Person and how it's different from similar ad optimization options.
How to Use It
The ability to optimize text per person isn't available for every objectiveThe objective reflects the goal you want to achieve with your advertising and is established at the campaign level. More. Since we are in a transition period where some people have the new objectivesThe campaign objective is the ultimate goal for your Facebook ad. Your selection will impact options, including optimization and delivery. More and some don't, I won't confuse you about which objectives allow for this. Just know that if you don't see it, you may need to switch objectives.
When creating an ad, Optimize Text Per Person is off by default. You may not notice the setting. It's under the Description field. Hover and click "Edit."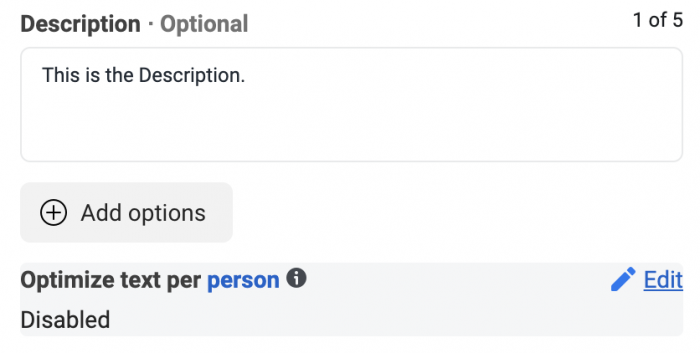 You will now see a toggle and the following description:
When likely to improve performance, allow text to swap between fields, such as showing your headline as primary text.

The tooltip provides more details…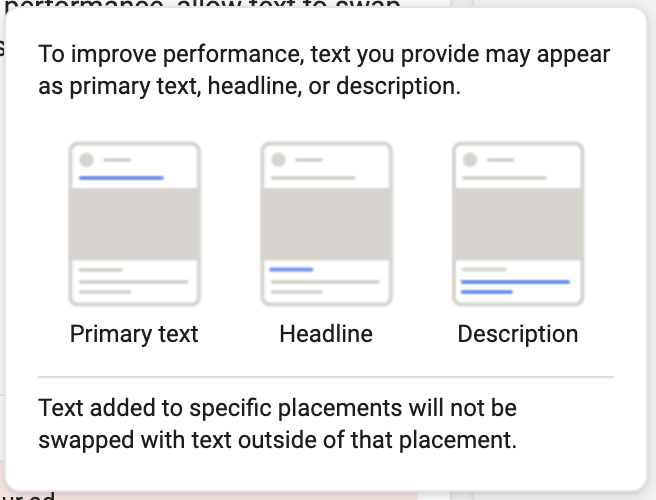 Text you provide as the Primary Text could instead be moved to the Headline or Description; text provided as the Description could instead be moved to the Primary Text or Headline; text provided as the Headline could be moved to the Primary Text or Description. You get it, right?
As Facebook says, you may customize text per placementA placement is a location where your ad is shown. Examples include Facebook's mobile Feed, Messenger, Instagram feed, Audience Network, right-hand column, and more. More. Facebook will not take that adjusted text and swap it outside of that placement.
Strategy
If you're going to use this, you'll need to use it strategically. You need to complete the text fields with the knowledge that it could be used in any of the three locations.
For example, the Primary Text could continue to be longer, but make sure you have a brief, to-the-point top line. It will cut off after that.
The idea here is that Facebook may recognize when a user is more likely to respond to short text vs. long text. Or a certain headling may be more effective in some cases. It could be due to the behavior of a user or where that ad is being seen.
Don't view this as a split-testing option. You aren't looking for the right combination. Instead, you are simply providing Facebook with the freedom to move text around if they believe that it will lead to better results — at least for a specific situation.
Compared to Other Options
Facebook now has a full toolbox of text optimization options, and it could actually be a bit confusing.
Multiple Text Options
With Multiple Text Options, you provide up to five different options for Primary Text, Headline, and Description. Facebook will mix and match to find what works best.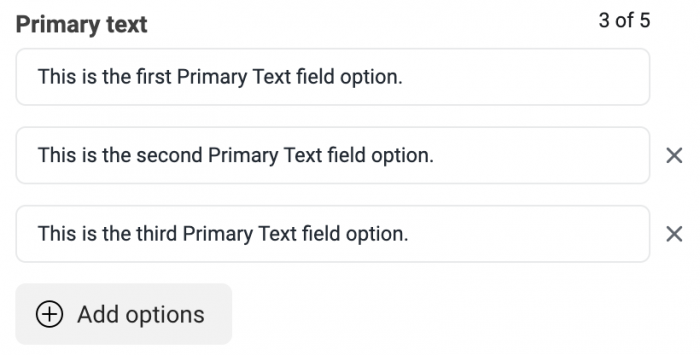 With Multiple Text Options, you provide different options that can be used for each location, but Facebook can't move those options between locations. With Optimize Text Per Person, you are only providing a single slate of options.
You can technically use Optimize Text Per Person AND Multiple Text Options at the same time if you want to get super advanced and technical. Just know that if you go this route, you should make sure that you have plenty of budgetA budget is an amount you're willing to spend on your Facebook campaigns or ad sets on a daily or lifetime basis. More so that all of this slicing and dicing will still lead to meaningful results.
Dynamic Creative
Dynamic Creative works like Multiple Text Options, but it adds in the ability to test out multiple images, videos, and CTAA call-to-action is a button or link on your ad that suggests the action you want your audience to take. Examples: "Learn More" or "Sign Up." More buttons.

You cannot turn on Optimize Text Per Person when using Dynamic Creative.
Your Turn
Have you experimented with Optimize Text Per Person? What results have you seen?
Let me know in the comments below!