Late last year, Facebook added the ability for brick and mortar businesses to track the offline impact of their Facebook ads with Offline Event Sets. Now advertisers can target these customers through Offline Event Custom AudiencesYou can create an Event custom audience to target those who have engaged with your Facebook event with an ad. More.
Let's take a closer look at Offline Event Sets and how advertisers can create audiences to target these customers with their Facebook ads.
Refresher: Offline Event Sets
Before we talk about creating these audiences, it's important to understand how Offline Event Sets are created. First, go to Offline Events within your Ads Manager menu…

Click to add an Offline Event Set data source.

Name it and click to "create."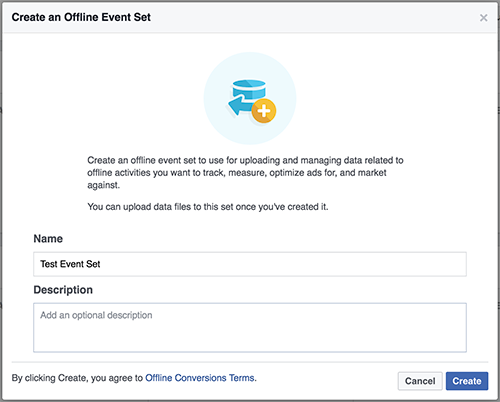 Fast forward. You selected this offline event set for one of your ads. You've collected offline sales. You can now upload your offline event set file (or send the offline event data via API).

Your file can include columns for six event descriptions…

And 17 identifiers…

Think of it like this: You showed your ad to an audienceThis is the group of people who can potentially see your ads. You help influence this by adjusting age, gender, location, detailed targeting (interests and behaviors), custom audiences, and more. More. Some of those people saw or clicked your ad. Some of those who saw or clicked your ad visited your brick and mortar business. You now need to provide Facebook with evidence that those who saw or clicked your ad converted offline.
How? Some basic information that should be in your file:
Event (Purchase, Lead, CompleteRegistration, etc.)
Date/time of purchase
First name
Last name
Order ID
Value
Email address, phone number, etc.
By providing this information, Facebook can then attempt to connect those who converted offline with those who saw or clicked your ad (within the 1-day view and 28-day click attributionClick Attribution is one way Meta gives credit to an ad for a conversion. Credit will be given to an ad when someone clicks your ad within a specified number of days of clicking. Click Attribution options include 1-day click, 7-day click, and 28-day click, the last being only available for reporting. More windows).
Create an Offline Event Custom Audience: Method #1
Now that Facebook has this offline data, it's valuable to create audiences to target these people later with Facebook ads.
It seems odd, but there are currently two methods for creating an Offline Event Custom Audience, and they don't provide identical results. Let's take a look at the first one.
Within the Offline Event Set, click the "Create Audience" drop-down at the top right and select "Custom Audience."

After selecting your ad account, the process will look like this…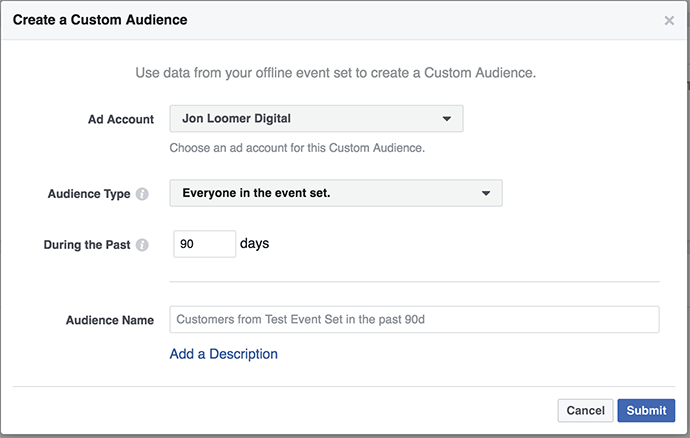 You'll be able to create four different offline event audiences…

When selecting "Everyone in the event set," you're essentially turning your entire file (whether they saw/clicked on your ad or not) into a Custom Audience. You could have done the same thing by uploading it again as a data Custom AudienceA customer list custom audience is created by uploading a customer list that Facebook matches with users so you can target them with ads. More.
When you select "People based on total purchase value over time," you can determine the value to qualify. By default, it's "greater than or equal to 100."
This is possible because your Offline Event Set file includes a column for event value.
You can also create an audience based on "People associated with a specific event type."
You can select from event type and set a minimum or maximum frequency…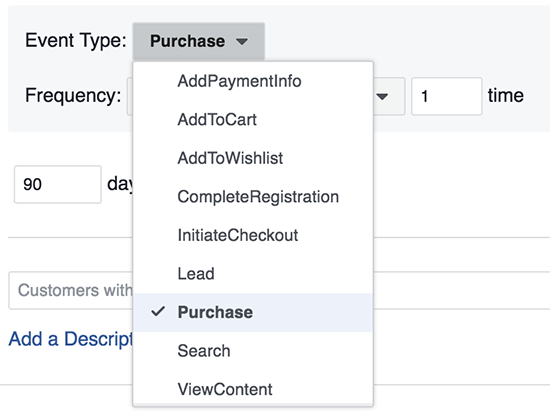 Finally, you can create an audience of offline events based on "People with custom attributes."
You could base this on an event without accounting for value.

If your file includes custom attributes, you can leverage those here.

Create an Offline Event Custom Audience: Method #2
Another way to create Offline Event Custom Audiences is within the Audiences section.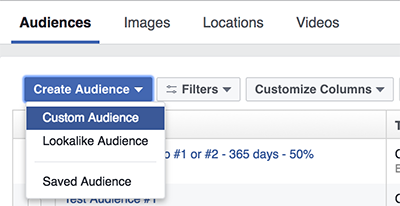 If you have this, you'll see an option for Offline Activity.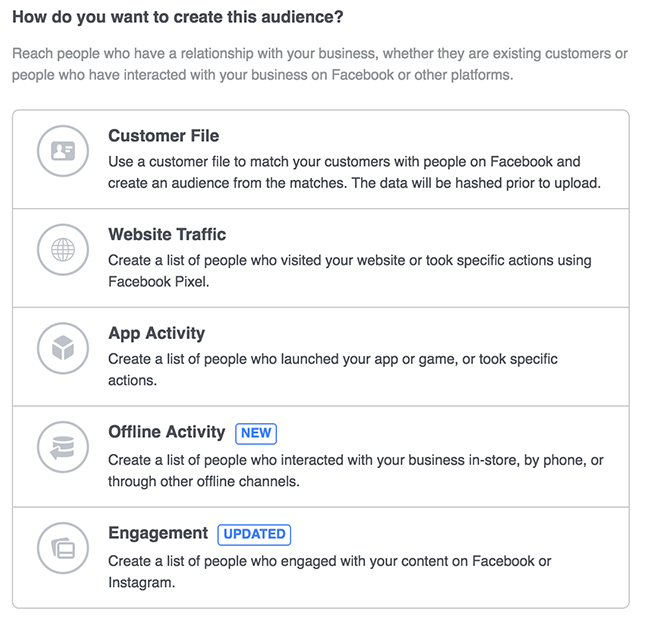 The description of this feature says that you can "Create a list of people who interacted with your business in-store, by phone, or through other offline channels."
After selecting your Offline Event Set, you can create an audience of "People who interacted offline"…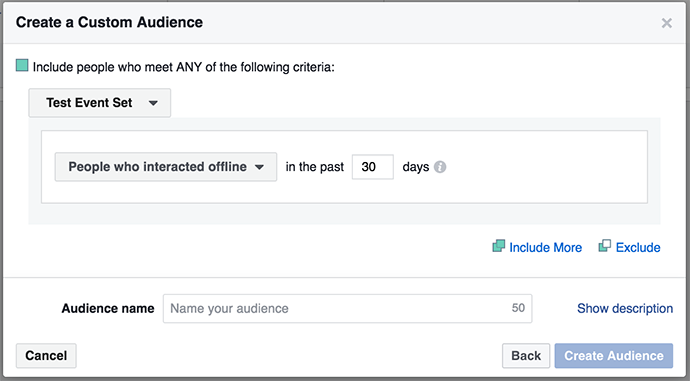 This would presumably be the equivalent of selecting "Everyone in the event set" in the first option above.
The only other option is to select an individual event…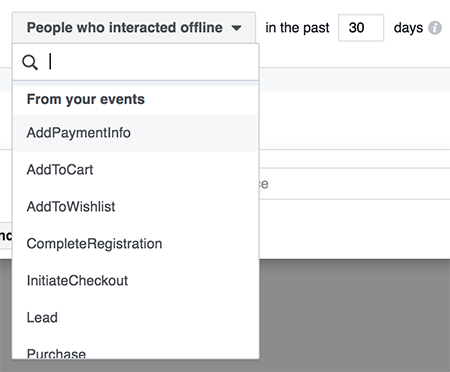 After selecting the event, you can further refine by Value, Custom Data, or Aggregated Value.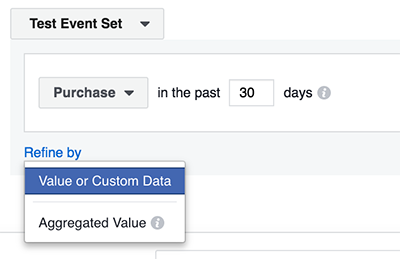 This is where you can add logic for value and frequencyCalculated as (Impressions/Reach), Frequency is a Facebook ads metric that measures the average number of times users have seen your ad. More.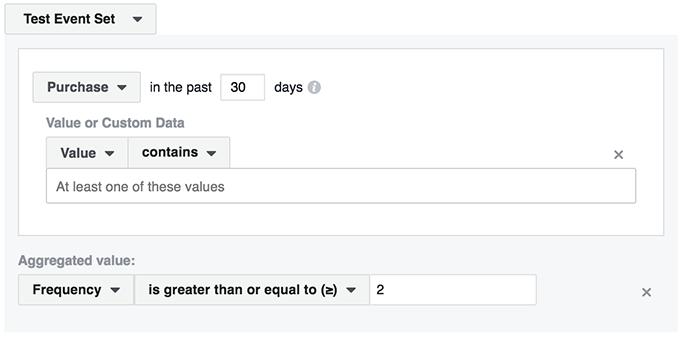 Your Turn
If you advertise for a brick and mortar business, it's imperative that you're measuring offline events. Now, you can also leverage the data from those offline event sets to target these people in ads.
Do you have the option to create these audiences yet? How are you using them?
Let me know in the comments below!