Your Facebook ads campaignThe campaign is the foundation of your Facebook ad. This is where you'll set an advertising objective, which defines what you want your ad to achieve. More is working great. It's profitable. Then, you decide to make an edit. Your ad set re-enters the learning phase, and everything goes to hell.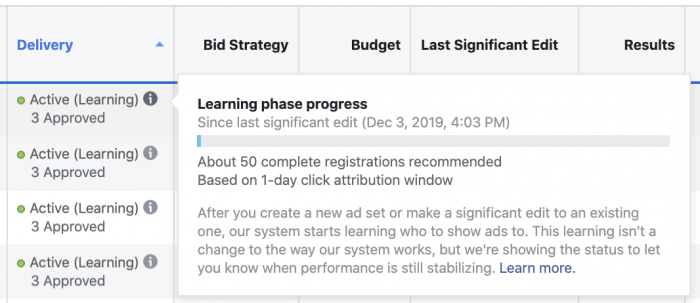 I've been there. It's frustrating. And when it happens, I'm so mad at myself for making the change.
What is the learning phase? From Facebook:
The learning phase is the period when the delivery system still has a lot to learn about an ad set. During the learning phase, the delivery system is exploring the best way to deliver your ad set — so performance is less stable and cost-per-action (CPA) is usually worse. The learning phase occurs when you create a new ad or ad set or make a significant edit to an existing one.
Your campaign will theoretically reachReach measures the number of Accounts Center Accounts (formerly users) that saw your ads at least once. You can have one account reached with multiple impressions. More optimal performance once out of the learning phase. In the meantime, though, performance is unstable as Facebook sorts out how best to optimize.
What happened is your ad set began performing optimally because it exited the learning phase and Facebook learned what it needed to learn to optimize distribution. But then you made a change and Facebook got confused, so everything started over. You may or may not ever reach that optimal performance level again.
The truth is that not all changes result in re-entering the learning phase. That creates confusion (and fear) among advertisers when confronted with the decision regarding whether or not to make a change.
Let's take a closer look at the edits that trigger the learning phase…
Any Change to Targeting
This may seem obvious, but there are major and minor changes that you can make to targeting. Minor changes will result in triggering the learning phase, too.
Think about the reasons you may update targeting in minor ways. You may want to exclude the audienceThis is the group of people who can potentially see your ads. You help influence this by adjusting age, gender, location, detailed targeting (interests and behaviors), custom audiences, and more. More that performed the action you're promoting. Or exclude an audience to prevent overlap.
You may make a minor tweak to age, country, or even a small interest. All of these things will send your ad set back into the learning phase.
Any Change to Ad Creative
I interpret "creative" to mean image, video, or text. Any of these changes will send your ad set back into the learning phase. While that should be the case when you materially change the message in an ad, this includes the minor changes as well.
That includes correcting typos. Strengthening a headline. Adjusting an image to have less text once it struggles to get distribution.
I'd assume this also includes customizing creative by placementA placement is a location where your ad is shown. Examples include Facebook's mobile Feed, Messenger, Instagram feed, Audience Network, right-hand column, and more. More. Doing this makes a lot of sense to optimize your creative depending on where it's shown. But you should do this from the start.
Any Change to OptimizationThe Performance Goal is chosen within the ad set and determines optimization and delivery. How you optimize impacts who sees your ad. Meta will show your ad to people most likely to perform your desired action. More Event
This is a major change to any ad set, so it's not a surprise that it would send it back into the learning phase. If Facebook originally optimized for conversionsA conversion is counted whenever a website visitor performs an action that fires a standard event, custom event, or custom conversion. Examples of conversions include purchases, leads, content views, add to cart, and registrations. More, learning will reset if you want to instead optimize for link clicksThe link click metric measures all clicks on links that drive users to properties on and off of Facebook. More.
If you want to change this, you're better off duplicating and creating a split test instead. Or if you don't split testSplit testing (or A/B testing) allows you to test changes in Facebook variables like ad creative, audience, or placement to determine which approach performs best. More and you're using Campaign BudgetA budget is an amount you're willing to spend on your Facebook campaigns or ad sets on a daily or lifetime basis. More Optimization, you should create a new campaign for any changes.
Adding a New Ad to Your Ad Set
This happens a lot. I know I've done it frequently.
You're running an ad that is underperforming. You want to see how different copy or a new image will perform. So you add a new ad or two to the ad set.
That's going to send you back into the learning phase. And when you think about it, it makes sense.
Part of the learning phase is figuring out how to distribute your budget to ads within an ad set. If you add new ads, that resets everything Facebook learned.
Pausing Your Ad Set for 7 Days or Longer
If you try to restart an ad set that was paused for seven days or more, you'll be sent back through the learning phase.
Pausing a high performing ad set or campaign is something I've done frequently. Let me explain.
I'm running a campaign to promote my upcoming free webinar. I'll run the webinar every couple of months. When the webinar starts, I pause the campaign.
If that campaign performed well, I may want to reuse it a month later to promote the next webinar. So, I'll restart that original campaign instead of starting a new one.
The result? You'll lose the original magic. Facebook will send you back through the learning phase.
There are other reasons, too. You may want to stop promoting something while you promote another product to prevent overlap. So you pause, then restart later.
If something is performing great, be careful. Consider letting it continue to run. Or, simply restart it for a short period of time once a week so that you don't get to the 7-day mark.
Changing Bid StrategyWhen you enter an ad into the auction, Meta will bid for you. But in some cases, it may benefit you to adjust the bidding strategy to get better results. Options include Highest Volume, Cost Per Result Goal, Highest Value, ROAS Goal, and Bid Cap. More
When creating an ad set, you have the choice of using different bid strategies…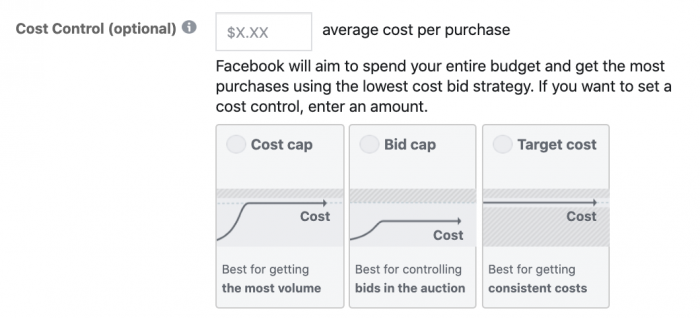 You may typically choose to go with the defaults. But if you want to change to Cost Cap, Bid CapBid Cap is one of Facebook's bid strategy options, which guides Meta on how to bid in the ad auction. A Bid Cap sets a maximum bid across auctions, rather than allow them to bid dynamically. More, or Target Cost, your ad set will be sent back through the learning phase.
This is a drastic change. You're better off duplicating and creating a new ad set.
Also keep in mind that if you're using Campaign Budget Optimization, changing the bid type for a single ad set could cause multiple ad setsAn ad set is a Facebook ads grouping where settings like targeting, scheduling, optimization, and placement are determined. More within the campaign to re-enter the learning phase.
For Other Edits, It Depends…
There are a few other edits that may or may not send your ad set back into the learning phase. Changing any of these things would be a roll of the dice:
Ad set spending limit amount
Bid control, cost control or ROAS control amount
Budget amount (unless you are using the target cost bid strategy)
I assume that "ad set spending limit amount" refers to cases where you're using Campaign Budget Optimization. Otherwise, mentioning this in addition to budget amount doesn't make much sense.
Essentially, small changes to ad set spending limit and budget amounts could be okay. We just don't know how Facebook defines "small" and "significant" changes.
Facebook provides the following example:
For example, if you increase your budget from $100 to $101, that isn't likely to cause one or more ad sets to reenter the learning phase. However, if you change your budget from $100 to $1000, one or more ad sets may reenter the learning phase.
That's a pretty crappy example since it uses two extreme cases. And even with these extremes, Facebook uses weak language like "isn't likely." They won't even clarify whether the smallest of budget changes will trigger the learning phase.
What about a 10% increase? Or 20%? What about a decrease?
It's annoying because this is something that likely has firm parameters, yet Facebook won't tell us. So, we need to experiment to figure it out on our own. Be careful!
Once again, if you use Campaign Budget Optimization, updates to the budget might send multiple ad sets back into the learning phase. Probably all since the budget is set at the campaign level.
What Can You Change?
Well, first I'd suggest that you refrain from making any material changes to your campaign. But while Facebook doesn't mention these things, I assume you'd be safe if you update any of the following:
Placements
Campaign, ad set, or ad name
URL parameters
Pixel tracking
Schedule
While Facebook doesn't mention placements, I wouldn't mess with them unless you have a reason that makes it necessary. For example, if Facebook is spending a large chunk of your budget on Audience NetworkAudience Network is a network of mobile apps that have been approved to monetize their apps with ads. This is how you can show your Meta ads to people while they are away from the Meta family of apps. Audience Network and associated groups are among your placement selection options in the ad set. More and you aren't getting conversions, you may want to remove it.
Otherwise, I'd simply let it ride or duplicate and create a new campaign or ad set with different placements.
Your Turn
Anything else you'd add to making edits and avoiding the learning phase?
Let me know in the comments below!