There is a simple setting that most Meta advertisers don't even realize exists, and it may be limiting the number of leads you get from lead ads forms.
It's so simple. Yet, it's annoyingly easy to miss. Even if you know about it (I'm writing this and I still forget nearly half the time).
Let me show you…
Restricted or Open?
When you create a Meta lead form, you will go through the steps of your form type, intro, questions, privacy policy, message for leads, and maybe more (depending on the form type).
You created the perfect form. Asked all of the right questions. Displayed all of the most valuable information.
Except, you forgot something…
There's a tab at the very top of that form creation screen for "Settings."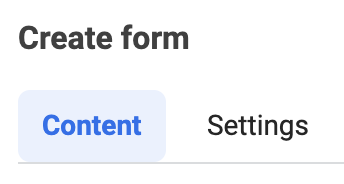 After Language is a setting for Sharing…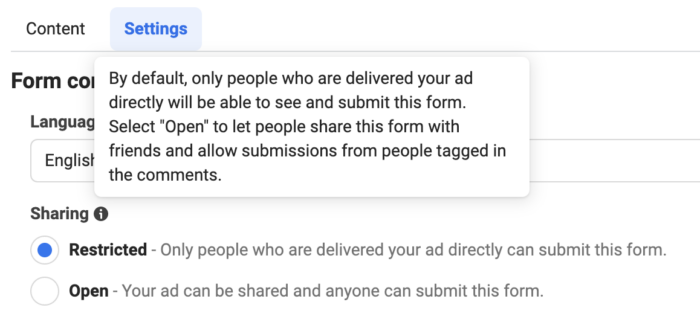 By default, only the people who are delivered your ad "directly" (you paid to reachReach measures the number of Accounts Center Accounts (formerly users) that saw your ads at least once. You can have one account reached with multiple impressions. More them) will be able to open, see, and complete the form.
In other words, the form is restricted.
I find this odd. It's not that there shouldn't be an option for restricting your form. You may have very good reasons for doing so. But lead forms are the only example of when Meta restricts you by default.
Let me explain. When you run an ad that promotes your product, a person you paid to reach might share your ad with their audienceThis is the group of people who can potentially see your ads. You help influence this by adjusting age, gender, location, detailed targeting (interests and behaviors), custom audiences, and more. More or a friend. When they do so, that person can click it and buy your product. There is no restriction.
The same would be the case if a person you paid to reach shared an ad that directs the user to a page of your website to complete a form. Anyone can complete it.
But lead forms, for whatever reason, are different. You can change your lead forms to "Open." But, by default, they will be restricted.
Viewing Organic Leads
Let's assume that you changed this setting to "Open." You'll see more leads in Ads Manager, right?
Nope. Keep in mind that Ads Manager only reports on impressionsImpressions are the number of times your ads were displayed to your target audience. Impressions aren't counted if it is detected they came from bots. More and actions that result from a person you paid to reach. Organic activity will not appear there (I previously covered why this is a huge hole that needs to be addressed).
Organic leads will still get sent just like paid leads, of course. There are two primary ways to see when this happens.
1. Lead Export.
At the Ads level in Ads Manager, there's a link under the total number of leads for "On-Facebook Leads" in the Results column.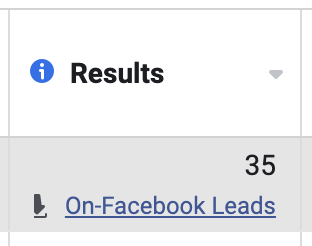 If you click that, you can download a spreadsheet with all of your leads, paid and organic, for that ad.
There's a column for "is_organic."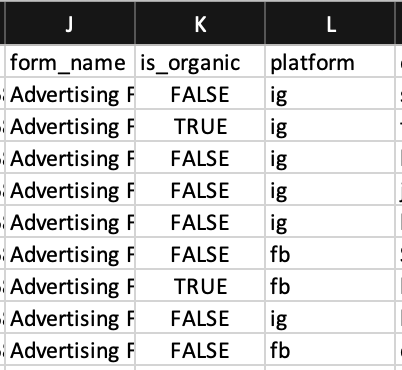 If a lead is organic, it will show "True" here.
2. Leads Library.
This should be found in your Business Suite, though it seems that Meta keeps moving it.
There's a column for "Source." You can also filter by it.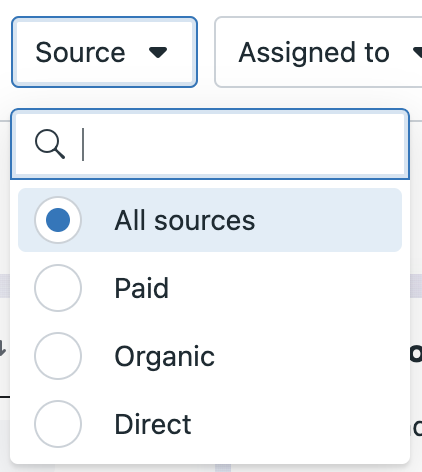 Filter by "Organic" to view how many leads you get that way.
Why Might Organic Leads Be Common?
First, organic leads would only be possible, of course, if you change your form to "Open." But, beyond that, there are some things to consider…
1. Publish Your Ad.
You can publish ad posts to your Facebook page. When you do this, it appears organically in the feeds of your followers. Obviously, you'd want that form to be open or no one would be able to complete it.
This would likely drive a bunch of organic leads.
2. High Engagement.
You can make all of your forms open, but that doesn't mean you're going to get a bunch of (or any) organic leads. The more engagement you get and more budgetA budget is an amount you're willing to spend on your Facebook campaigns or ad sets on a daily or lifetime basis. More you spend, the more likely you'll get organic leads.
Something to watch would be the number of times your ads are getting shared, which will help drive this viral element.
Should You Restrict Your Leads?
While I've spent this entire post talking about how you're leaving leads on the table if you restrict your form, that doesn't mean you should always change it to open.
There are two primary examples of why restrictions would be necessary: Age and location. Maybe your product or service is only relevant or legal in a particular state or country, or for a particular age. At that point, the hard restriction is important.
But what I wouldn't worry too much about is reaching people beyond your detailed targeting or lookalike audienceLookalike audiences allow advertisers to reach people who are similar to an audience of people already close to you. Lookalike audiences are based on custom Audiences, which tend to include your current customers or people who have engaged with your business. More selections. They just aren't refined and perfect enough to insist that you only get leads from that targeted group.
One other reason to restrict leads, though, would be if you only want a unique group of current customers to get access to this lead form. In this case, you'd use a custom audience to reach this group to offer an exclusive.
Watch Video
I recorded a video about this, too. Check it out below…
Your Turn
Do you make your forms open, or do you leave them restricted?
Let me know in the comments below!