Meta made a change recently that is leaving advertisers confused. Meta pixels are disappearing from Business Settings, which will freak you out the first time you see it.
There's a simple solution and an explanation. Let's get straight to it…
"Doesn't Have Any Pixels Yet"
Advertisers manage access to their Meta pixels within Business Settings under Data Sources.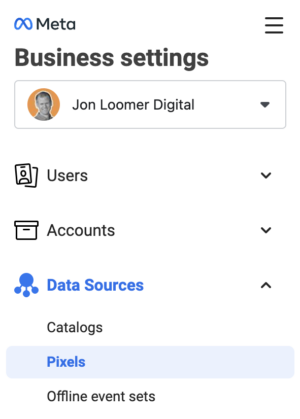 When you go there, you'll probably see this…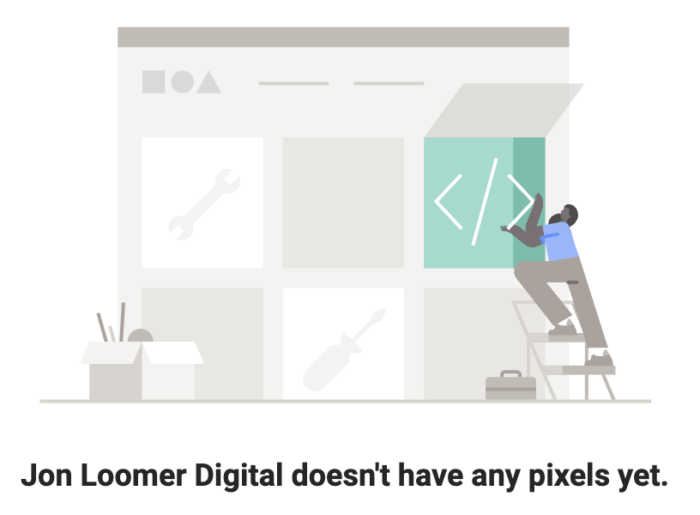 I admit, I about lost it temporarily when I saw the "Jon Loomer Digital doesn't have any pixels yet" message for the first time. But I knew that I had pixels, so where were they?
The Fine Print
If you were like me, you ignored the fine(r) print. It's possible I need to up the prescription for my glasses.
Here it is…

You'd be forgiven if you missed this like I did.
Your asset has a new location
"We've made some changes to our platform. You can now find this asset in the Data Sources menu under Datasets."
That's some pretty bad messaging. Why say I don't have any pixels yet and then say my "asset" has been moved to a new location?
A couple of lines under Pixels in the menu on the left, you'll see Datasets.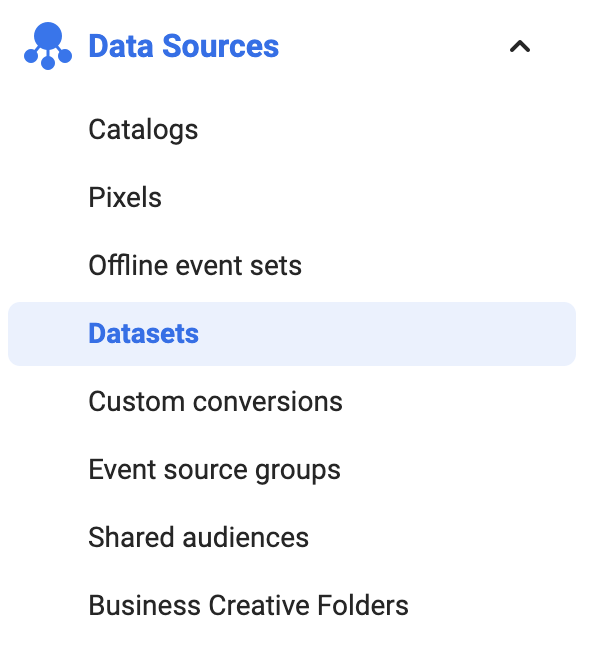 Once you go there, you should breathe a sigh of relief. Your pixels will be there.
What Are Datasets?
Your pixels aren't going away.
From Meta's documentation on datasets, website, app, and offline events are being merged together within a single view called a dataset.

I know this is confusing. First, your pixel IDs will be converted to Dataset IDs. This won't change anything related to optimizationThe Performance Goal is chosen within the ad set and determines optimization and delivery. How you optimize impacts who sees your ad. Meta will show your ad to people most likely to perform your desired action. More of ad setsAn ad set is a Facebook ads grouping where settings like targeting, scheduling, optimization, and placement are determined. More using your pixel.
The main thing is that you'll be able to connect multiple assets under the same dataset. Integrations include:
Meta Pixel (website events)
Conversions APIConversions API provides a direct connection between your conversion results and Meta to be used for ad set optimization and reporting. Examples include both web and offline events. By using a Conversions API, you can send Meta a more complete picture of conversion activity to help improve your results. More (website, app and offline events)
Facebook SDK for iOS or Android (app events)
Mobile Measurement Partners (app events)
App Events API (app events)
CSV file upload (offline events)
An example might be that you have a single dataset that combines events coming from the Meta Pixel, ConversionsA conversion is counted whenever a website visitor performs an action that fires a standard event, custom event, or custom conversion. Examples of conversions include purchases, leads, content views, add to cart, and registrations. More API, and CSV file upload so that they can all be displayed in one view. Note: You're probably already seeing this for your pixel and Conversions API.
Once you create a dataset, you can then set up the various assets in Events Manager.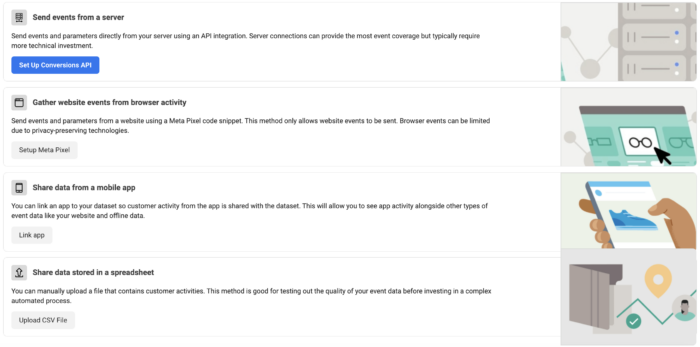 This is a much deeper discussion that will need to be covered separately. But, chances are good that there's nothing you need to do related to datasets. Meta created a grid to help understand the dataset creation method that may be best for you, if necessary.
Watch Video
I recorded a video about this, too…
Your Turn
Have you noticed this change? What do you think?
Let me know in the comments below!