According to a report from the New York Times, Meta is considering an ad-free subscription option for both Facebook and Instagram in the European Union.
In other words: Meta may give these users the option of paying a monthly fee to not see ads. Those who don't pay for the subscription would continue to see ads as they do now.
Such a move could be enormously disruptive to Meta's advertising business, which has been by far its biggest revenue driver to date. It would also disrupt advertisers.
Let's discuss…
Why the EU?
The Digital Services Act (DSA) goes into effect in Europe on January 1, 2024. This law aims to give users more control over their data, which could further restrict Meta from collecting it for advertising and other purposes.
Conceivably, there are two reasons Meta may want to offer an ad-free paid subscription option in response.
1. To replace lost ad revenue. Meta says that the iOS updates that allowed users to opt out of tracking cost the business billions in revenue. The DSA could have a similar impact.
2. To appease regulators. The paid subscription to completely opt-out of advertising could be seen as a way to give users who don't want to share their data an option. Maybe then regulators would back off and allow Meta to continue collecting data from people using the app for free.
What a Subscription Could Look Like
We can only speculate how a subscription for users in the European Union may be structured. I'm no financial analyst, but I'd assume Meta would need any subscription to at least replace revenue lost from ads.
What would that be? According to Meta's 2023 2Q earnings, the Facebook Average Revenue Per User (ARPU) in Europe was $17.88 for the most recent quarter (or just under $6 per month).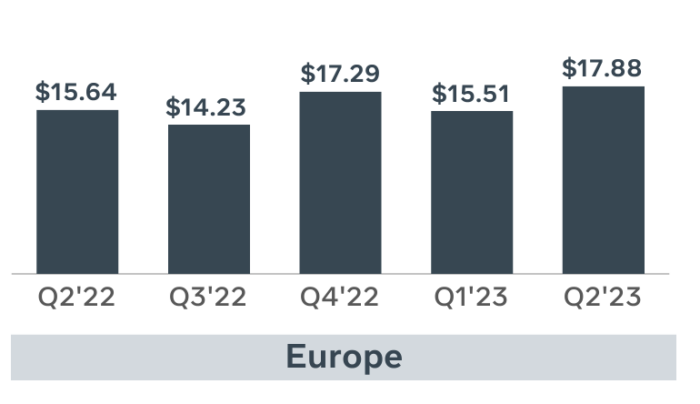 Of course, this is just Facebook (I didn't see a similar stat for Instagram), and the value for all of Europe wouldn't necessarily be the same as what is generated from the European Union (though it's bound to be close).
Meta likely wouldn't want to come up on the short end of this, especially since advertising revenue may suffer beyond simply losing these users (more on that in a minute). Does that mean $10 per month? Or maybe something closer to the $11.99 offered for Meta Verified? You might even wonder if such an ad-free subscription could be packaged with Meta Verified.
This is far from scientific, but you're seeing what we're dealing with here. Assuming a subscription would cover both Facebook and Instagram, a monthly price of between $10 and $20 would seem reasonable. If Meta adds benefits, that price could move up further.
And who knows? We also can't project if such a subscription would be hugely popular and lead to a far greater user experience (and more engagement). While this may not help advertisers, it could still help the organic component for businesses.
Impact on Advertising in Europe
This isn't as simple as replacing lost advertising revenue with paid subscriptions. Advertisers would endure the impact.
Which people are most likely to sign up for a paid subscription to get an ad-free Facebook and Instagram? The same group of people whom advertisers covet.
It's not your typical user who will sign up for such a service. We've had a free Facebook and Instagram up until now. Ads may be an annoyance to some, but they're also an accepted part of the user experience.
Paying for a subscription to remove ads is a bit of a luxury. It's the same type of person who is more likely to respond to ads (whether they'll admit it or not) and make online purchases.
The impact may not be seen immediately, but if such a subscription is popular it will transform the landscape of the targeted user in the European Union. This could lead to a drop in Return on Ad Spend, among other metrics.
Of course, advertising competition in the region may drop, as well. We may see a corresponding drop in CPMs. But now we're going far too deep into hypotheticals on a topic I'm not comfortable predicting.
Impact on Advertising Worldwide
We have no idea how serious Meta is about this — or even if the rumors about this being considered are true. But let's say that a paid subscription to get access to Facebook and Instagram ad-free is rolled out in the European Union and it's successful.
It replaces lost ad revenue. Advertising for the remaining population balances out. Regulators seem happy.
You know what's coming, right?
While the European Union is the focus here because that's where we're seeing some of the strictest privacy laws and the greatest pressures on Meta, this is a trend. Other countries are paying attention to what is happening there.
The trend is likely to continue across much of the rest of the world. Stricter privacy laws. Further pressure on Meta.
If the test of subscriptions in the EU is a success, Meta will almost surely roll it out to the rest of the world.
And that, of course, would be disruptive on a whole new scale for advertisers. The Meta ad business would change. It wouldn't die. But it would force the biggest adjustment yet.
What that means involves far too many factors to predict. But, to put it mildly, advertisers need to pay attention to what is happening in the EU.
Watch Video
I recorded a video about this, too…
Your Turn
I want to be very clear that this is a whole lot of speculation. The New York Times piece is based on an anonymous source. We don't know how serious Meta is considering this or what a subscription would look like. These are pure educated guesses on my part.
What do you think? Could an ad-free subscription work? How might it impact advertising?
Let me know in the comments below!