You may know that I've recommitted to my podcast. The strategy is intense and interconnected. Now that I'm 60 days into it, I decided it's a good time to provide results on the test so far.
The short summary: The results have been pretty great. They've energized me. I'm excited about my podcast again. It's weird how noticeable impact and progress will do that.
Know that these results are relevant for all marketers, regardless of whether you're into podcasting. You can apply what I've learned to other platforms and forms of media.
Let's take a closer look at the history of my podcast, the nature of my test, and the results that I'm seeing…
The History of My Podcast
My podcast has existed in some form or another since 2012. It became The Social Media Pubcast in 2013, and I recently ditched "The Social Media" portion of the name. The nature of the show has evolved and wasn't entirely consistent. There were guests, then there weren't any; the primary topic was Facebook ads, then it was entrepreneurship.
Lacking direction or not, it was hugely successful in those early years. I lack detailed reporting before 2017, but I do know the total number of downloads by episode. The Pubcast drove more than 300,000 downloads in 2013 and 400,000 in 2014. It settled in at 160,000 in 2015 before starting to fall off.
I maintained relatively consistent episodes from 2016 to 2018, but I could never regain that initial magic. I was driving between 60,000 and 85,000 downloads per year during that time.
After that, I pretty much de-committed. My podcast became less and less of a priority. I'd occasionally publish audio versions of video series, but I'd otherwise struggle to maintain a consistent schedule. The result was total download numbers under 20,000 per year from 2019 through 2021 — at least until I started this test.
I did basically nothing for three months in 2021, starting in May. Beginning in August, I published a few episodes reflecting on 10 years of my business. And then, an idea hit me.
Details of My Test
A big part of my interest in this test was the emergence of Facebook as a place to send my podcast. I saw immediate results, and I became curious.
The biggest issue with my show has always been the amount of work it requires. Typically 30 minutes and I sit down with a beer (I don't fake it). Guest or not, I need to set aside a decent amount of time to do it, and it has to be at a time when I won't be immediately going somewhere after with beer on my breath.
That's when I got the idea for the Pubcast Shot. I wanted to create a version of the Pubcast that was only two or three minutes long and didn't require a drink. The whole concept was that it was fast and bite-sized, which was easier to consume and easier to create. I could create five to 10 in a sitting.
It was fun. At some point, I decided I was going to keep publishing these every single day. I reserved full-length episodes for Fridays and Shots on all other days of the week.
Surprisingly, I have not run out of ideas for topics. When I initially struggled, I simply went back and found my most popular blog posts and recorded an episode about that topic.
It became a really good way to generate content ideas. I'd record Shots related to blog posts I had already written or I'd record a Shot about something new and then write a related blog post. I'd then embed the episode at the top of the blog post.
This strategy wasn't just about volume. The connection to my blog has been important. You can read a more detailed account of my strategy here.
Results: Downloads
First, know that podcast measurement is complicated. I'm no expert in it. While there are some decent stats by platform in some cases (Apple Podcasts and Spotify, for example), there are very few metrics that can be easily accessible across destinations. The one metric available: Downloads.
As noted earlier, my podcast was on life support beginning in May of 2021. I published a few full-length episodes beginning in August and then I began this everyday test on November 10. The best way to break down downloads is by 7 and 30-day periods prior to and during the test.
The chart below shows the relationship of the number of published episodes per 30 days and the median daily downloads (over 10).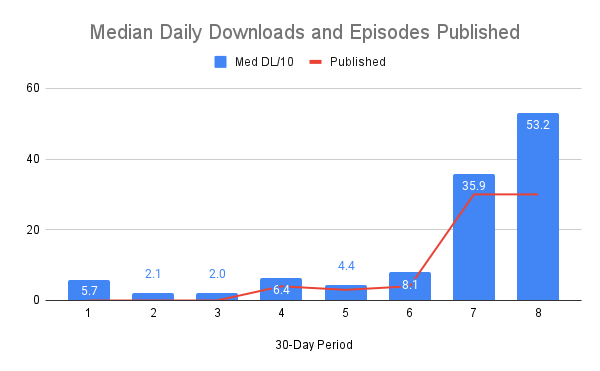 Nothing was published during each of those first three 30-day periods. Not surprisingly, the median daily downloads hovered around 20 during that time.
Once I started publishing a few episodes during periods 4 through 6 (I published 4, 3, and 4 episodes), median daily downloads nudged up ever so slightly (but barely).
Then, of course, the test began. The first 30 days of the test (period #7) resulted in nearly 360 median downloads per day; that number grew to 530 during the second 30-day period.
Growth has not stopped. I'm focusing here on the 60 days after I started the test, but I am currently in the midst of more than 10 straight days with 500 downloads or more. I'm sure that hasn't happened since the early days of my podcast.
This is a small sample since Spotify makes up a small percentage of my listeners, but I had 307 Spotify followers when this test began. I've accumulated about 130 more just during the past 60 days.
Unmeasurables
I follow lots of stats. Not only the downloads from Libsyn but more specific stats in Spotify and Apple Podcasts. I also watch where I am on some of the charts, though I'm not making any big moves there yet.
I also occasionally use shortened links that I mention on the show, and those can provide some insight regarding progress. Admittedly, that information doesn't move me much.
But here's the most important thing: I'm hearing from people who listen to my podcast again. I know that it's making an impact. It's a conversation starter the way it was several years ago.
I also can't ignore the impact of creating these episodes on my overall content creation workflow. I'd argue that even if I were unable to get a single new listener from this test it's still been worthwhile. The reason is that it's been amazing for generating ideas of things to write about, and my website has always been central to my business.
Future Applications
As I mentioned at the top, the value of this test goes beyond how it applies to podcasting. Not only does this process inject life into my content creation, but it's something that can be applied to blogging, videos, or whatever it is you want to commit more time to.
Content marketing is hard because you can't just write something and see immediate results. It requires daily commitment and an interconnected strategy that involves multiple platforms. It can get really frustrating when results don't come quickly, and it's why people quit.
But, this podcasting test was set up to succeed. Not only will the daily commitment eventually lead to traction, but the use of my other channels contribute to discovery. My blog and email list are certainly part of this success.
While I'm so excited about these early results and I expect to maintain this velocity for a while, I'm also realistic. I know that it's unlikely I'll maintain a daily publication pace forever. Ideas will be harder to come by. Results may plateau. I may lose the energy that I have now.
I'm going to ride this wave as long as I can. Eventually, I expect to settle in at an easily maintained production schedule. I won't guess what that is.
But when that happens, I hope to refocus my attention on the next thing that I can jump-start. Why not video? And since I've created all of these podcast episodes, I have built-in ideas for quick videos. I can publish to Facebook and YouTube and embed a version within related blog posts.
It's this podcasting test all over again, but this time with video. That frequency will also help me find my stride with video, a medium I've never been all that comfortable with. Suddenly, blog posts will contain related podcast episodes and videos and they'll each cross-promote one another.
I'm excited just thinking about it. That's for a later time, however, since I don't want to overwhelm myself with too much at once. In the meantime, feel free to apply what I've learned to your own strategies.
Your Turn
Do you have any questions about what I'm doing with this podcasting test?
Let me know in the comments below!