I'm currently dedicated to a comprehensive strategy to grow my podcast, The Pubcast with Jon Loomer. I want to share the steps I'm taking to grow it so that you may be able to apply some of my strategies as your own.
My podcast has been around since 2012. Well, technically, I started it in a very raw form in 2012. It existed merely as playable audio files on my website in 2012. I'd eventually find a third-party host and have it distributed to multiple destinations the following year (at which point I'd call it a "real" podcast).
My level of commitment to the show has evolved wildly over the years. It was a huge part of my business in 2013 to 2015. I became less committed to it, and eventually I became so inconsistent that it became an afterthought as a strategy.
That effectively changed late in 2021. While I poked around for a month or two, I'd say my full commitment happened on November 10. While I haven't yet regained the heights the show hit in 2013 and 2014, the progress is noticeable and exciting. Those early levels are certainly within range.
In this post, I want to detail every step of my podcasting strategy that contributes to the growth that I am seeing.
1. Hosting
I host my show on Libsyn (not an affiliate link), which is a popular software for podcast distribution. There's nothing particularly special or impressive about it, but it does the job.
The job, essentially, is to host the files so that I don't have to, and to distribute my show to multiple destinations.
2. Destinations
Within Libsyn, I can set up the destinations that I want my show to reachReach measures the number of Accounts Center Accounts (formerly users) that saw your ads at least once. You can have one account reached with multiple impressions. More when published. I then provide the RSS feed of my show to iTunes and Facebook (will discuss Facebook later) to get as wide of a reach as possible. Beyond that, some podcasting apps simply pick up my feed automatically without having to connect to them directly.
Following are the destinations leading to the most downloads during the past month:
Facebook
Overcast
Chrome, iOS, AppleCoreMedia, Safari, Firefox, Mozilla (Web)
CastBox
Podcast Addict
Pocket Casts
During that time, Apple Podcasts has made up 31% of my downloads and Facebook comes in at second with 13%. The various web downloads (combined) likely provide the next biggest source of downloads (I'll explain where those come from later).
My podcast is also on Google Play/Audible, Player.fm, iHeartRadio, and more.
3. Publishing Strategy
I'm doing something completely new here that I have never done during the near-decade my podcast has been in existence. It's a jarring change from what I've done during the past few years. Consistency and volume have exploded overnight.
One of the biggest obstacles to publishing regularly was the effort required to record a single episode. The Pubcast has historically been a 30-minute episode. And while I originally had a guest on the show, I'd eventually go solo (which does make it easier, no offense to any guest). But the biggest obstacle was what made it a "Pubcast" in the first place: Alcohol.
I enjoy a drink on these shows. Sometimes a beer, sometimes a glass of wine. But the idea is that sections of the show are broken up by drink breaks and I will finish my drink by the end (or need to slam it).
While fun, it created a complexity that made it difficult to record often. And then I came up with an idea: The Pubcast Shot.
The Shot would be a super-quick thought on a single topic. No drink required (no time!). Usually 2-3 minutes plus the intro and outro. Extremely easy to record, edit, and publish (or schedule).
The Shot has allowed me to try a radical strategy. Beginning November 10, I have published a new episode every single day. No days off (yet, as I write this). I publish a full (drink and 30-minute) episode every Friday, but every other day is a Shot.
This volume and consistency absolutely help. How long I can maintain it is a question that will be tested. And eventually, it's totally reasonable to consider slowing it down some if volume doesn't seem to be helping. It's certainly a very easy way to churn out content.
4. Podast Page
I have never had a "home" for my podcast, other than a simple page on my website with a player embed and simple buttons to subscribe. That needed to change once I committed myself to this new approach.
I recently set up a podcast section on my site using the PodPage software (I'm telling you, never an affiliate link!). My understanding is that it's good for show SEO to have a page or section that highlights your show, allows you to play right there, and provides multiple ways to subscribe.
The page also provides ways to add reviews, send me comments, and submit a voice message — with the thought that I may use these messages for future shows.
5. Blog Post Embeds
Earlier, I mentioned that web downloads account for a decent cut of my numbers. I use Fusebox (formerly Smart Podcast Player by Pat Flynn, and not an affiliate link) to embed episodes on my website.
Actually, this is used in many ways. I also feature audio versions of webinars and training on my powerhittersclub.com membership website. These recordings are "download only" and kept separate from my podcast.
But, you will often see audio embedded at the top of blog posts. In most cases, I've recorded a podcast that is closely related to what is in the blog post. So it gives you options of ways to consume it.
6. Blogging + Podcasting Strategy
Coming up with topics to blog about is often a challenge. That's no longer the case since I started increasing my podcasting volume. This approach is really effective at increasing ideas, volume of content, and cross-promotion between website and podcast.
Once I decided I was going to publish a new podcast episode every day, I knew I had to come up with a pipeline of ideas to talk about. I've kept a running list in my Notes app of topics for The Pubcast and Pubcast Shot.
I'll outline a topic before I record. The beauty is that the outline I create for the podcast can then be used for the basic structure of a blog post. And once I'm done with the blog post, I can embed the podcast episode at the top.
I've done it the other way around, too. Sometimes, I'll think about topics I can talk about on my podcast and realize I've written about it. Once I record the episode, I can embed it on the post.
You can bet that when a blog post gets traction, the connected podcast episode will also get more plays. This is very effective at encouraging additional listens of the podcast.
7. Ads for Facebook Podcast
If I had to pinpoint the source of my podcast's reinvigoration, it's probably my realization of how powerful Facebook can be as a channel. Once I connected my podcast (read my tutorial here), I quickly realized how critical this new channel could be.
Understand, we're still in a very limited launch mode right now when it comes to podcasts on Facebook. It's mobile-only and US-only, so we're just scratching the surface. But, I can think of the numerous targeting audiences and ad types that Facebook could create, and I get super giddy about it.
What's funny is that you aren't technically supposed to run ads to promote Facebook podcast episodes yet. I found a workaround, though, by promoting shared clips (read that tutorial here).
After every episode is published, I share a clip a few hours later and create an ad for that clip.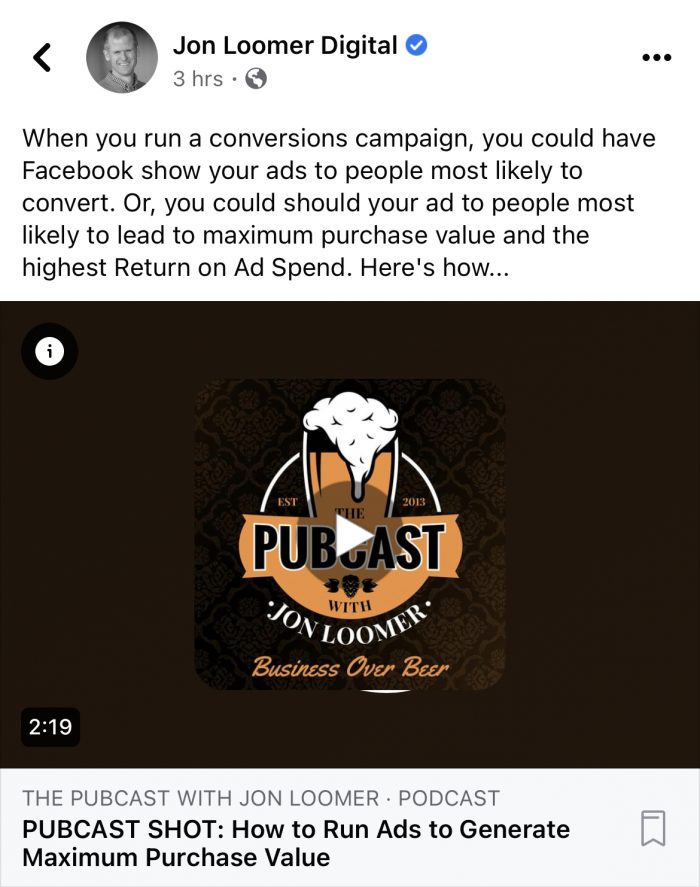 Since it will only be seen by people in the US on mobile, I create an ad set with a limited audienceThis is the group of people who can potentially see your ads. You help influence this by adjusting age, gender, location, detailed targeting (interests and behaviors), custom audiences, and more. More of my page followers in the US and only use the mobile news feed placementA placement is a location where your ad is shown. Examples include Facebook's mobile Feed, Messenger, Instagram feed, Audience Network, right-hand column, and more. More. It's a reach campaignThe campaign is the foundation of your Facebook ad. This is where you'll set an advertising objective, which defines what you want your ad to achieve. More, and I have a frequency capFrequency capping allows you to limit the number of times your audience sees your ad during a given window of time. More of 1 in 7 days so that you may see one of many different episodes and then won't see another for several days.
Of course, since ads aren't supposed to exist for podcasts, the Ads Manager metrics don't tell me anything. I have to piece together paid reach, total reach, and total listens data to come up with a sense of how impactful my ads are (they've been impactful!).
The result? Well, Facebook is already my second biggest source of podcast downloads. See why I'm so excited about this? The potential is huge.
8. Ads for Other Destinations
There is also a way to promote my podcast to people in countries other than the US. I can promote individual links to the show for Apple Podcasts, Spotify, or Stitcher.
The concept is pretty simple. I create two ad setsAn ad set is a Facebook ads grouping where settings like targeting, scheduling, optimization, and placement are determined. More. One targets mobile users on an iOS device. My hope is to drive people to the show within Apple Podcasts.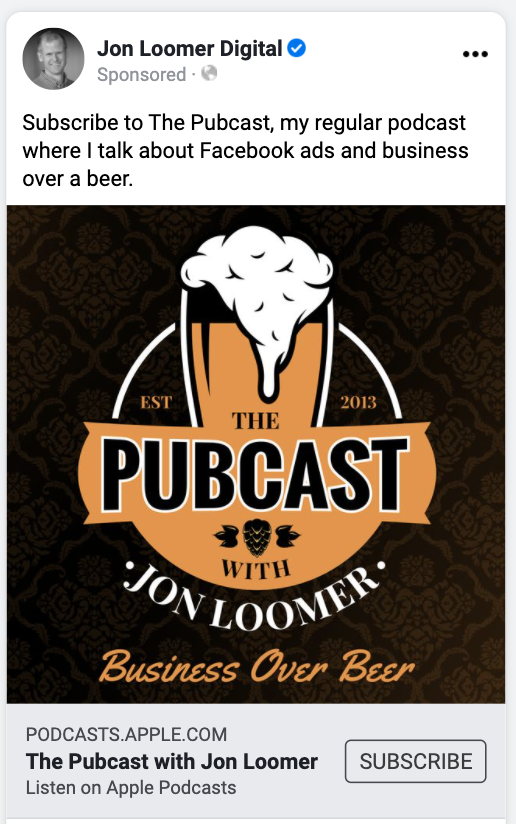 I do the same for users who aren't on an iOS device to promote a link to my show on Spotify.
How effective was this approach? Well, that's difficult to say. I know how many link clicksThe link click metric measures all clicks on links that drive users to properties on and off of Facebook. More there are and the cost per link clickFacebook reports on CPC (All) and CPC (Link Click). The first refers to all clicks and the second on all internal and outbound links. More. I don't know how many people subscribed.
I did eventually turn this off, but I was getting link clicks at $2.83. That felt like a lot, but I guess we don't know what those people were doing after clicking. And without knowing, it's really difficult to judge that cost.
Ultimately, without evidence of the number of subscribers or what these people were doing, that expense felt too high. But it's absolutely something to keep in your back pocket.
9. Email Marketing
I also don't neglect my podcast when promoting it to my newsletter subscribers. Sometimes I mention it as an "also" when promoting a new blog post. I've also sent emails to only promote my latest Friday episode, with links to various destinations.
Luckily, I started tagging people years ago who click links to my podcast, so I still have that, and I continue to tag people now. So, over time, I'll eventually only email those subscribers who have clicked these links in the past.
Recent Results
Anyone who hosts a podcast can probably attest to the difficulty of measuring success. There are methods. The info is out there. But measurement is not nearly as readily available as it is for something like a website.
The other issue is that every destination measures performance differently — if they measure and report on that at all. Apple Podcasts and Spotify are the only two platforms that give me in-depth data on things like plays/starts, listeners, engaged listeners, and followers. And I don't have historical data for those two.
What I do have are downloads. My understanding of downloads is that it's as surface-level as you can get. Your phone can download an episode, for example, but you don't necessarily listen to it. But it is a good sign that it's being downloaded in the first place.
So, let's stick with Downloads for this exercise since it can be applied to all destinations and I have historical data.
In my show's heyday, I was getting 25,000 – 35,000 downloads per month. Once I started updating it much less consistently, that number dropped all the way down to an average of about 1,500 for 2019, 2020, and most of 2021.
I recommitted to the podcast on November 10, and I'm now seeing about 500 downloads per day, or 15,000 downloads in a month. So, in a very short period of time, I've been able to jumpstart my podcast, improve monthly downloads by 10-fold, and get within about a half of what I was doing at the show's peak.
The beautiful part: I'm just getting started. The numbers are steadily increasing. If I stick to this, I fully expect to surpass my record numbers.
Your Turn
What other methods have you used to grow your podcast? Have any questions about what I'm doing?
Let me know in the comments below!