If you run Facebook ads under a Special Ad CategoryThere are legal restrictions related to targeting of people when running ads in the categories of Credit; Employment; Housing; or Social Issues, Elections, and Politics. Advertisers are required to select the appropriate Special Ad Category in the campaign when applicable, which will limit target options to keep their ad compliant. More, you should know that Facebook Special Ad Audiences are going away.
In this post, let's shed light on what they are, the timeline for their removal, and what you can do instead.
Let's go…
What Are They?
Special Ad Audiences are only relevant to those running ads promoting a Special Ad Category. Special Ad Categories are sensitive topics that require adjusted rules. You would declare a Special Ad Category while creating the campaignThe campaign is the foundation of your Facebook ad. This is where you'll set an advertising objective, which defines what you want your ad to achieve. More.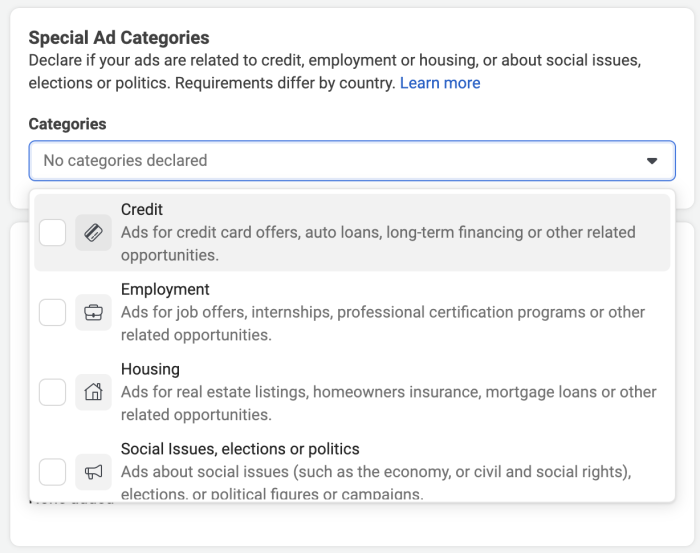 If you run ads for housing, credit, employment, social issues, elections, or politics, you need to declare that. Once you do, your options will change to prevent you from violating certain rules. If you fail to declare a Special Ad Category in order to get around these restrictions, expect to get ads rejected and potentially your ad account shut down.
So, once you declare a Special Ad Category, your targeting for Housing, Credit, and Employment will be significantly restricted. This is to prevent ads that discriminate based on age, gender, and even location. Instead of creating Lookalike Audiences for Housing, Credit, and Employment, you can create Special Ad Audiences (note that Special Ad Audiences do not apply to Elections, Politics, and Social Issues).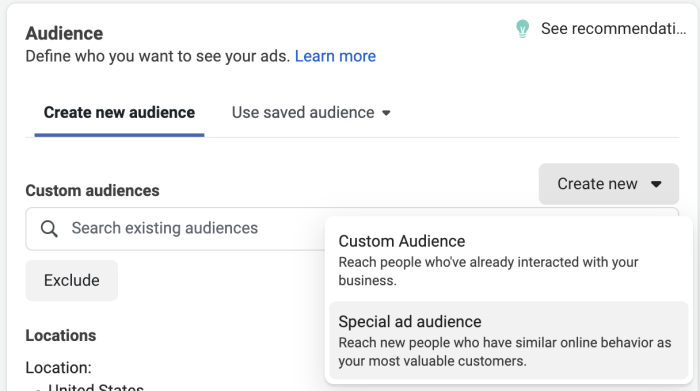 As noted, Special Ad Audiences are a lot like Lookalike Audiences in that they allow you to create an audienceThis is the group of people who can potentially see your ads. You help influence this by adjusting age, gender, location, detailed targeting (interests and behaviors), custom audiences, and more. More of people similar to those in a source audience of people who are close to you (you can't otherwise create Lookalike Audiences for Housing, Credit, and Employment ads).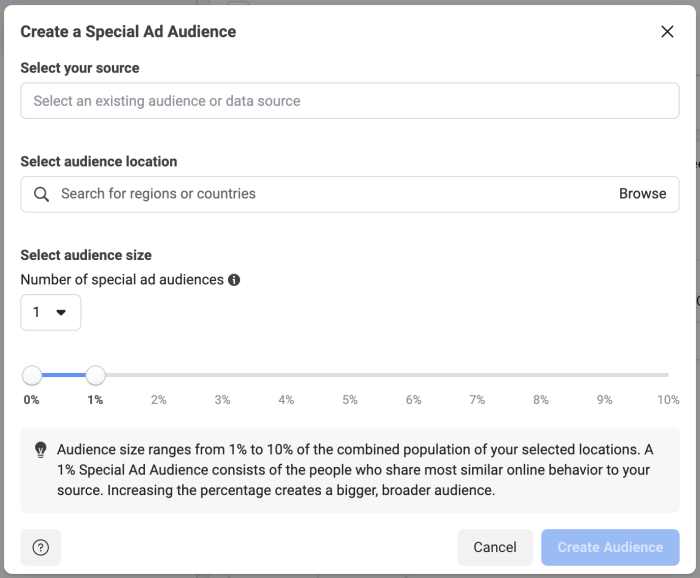 The difference is that a Special Ad Audience is adjusted to comply with the restrictions related to the Special Ad Category. It won't use information like age and gender or certain demographics, behaviours, or interests.
Deprecation Timeline
Of course, Special Ad Audiences are going away due to Meta's settlement agreement with HUD. While this specifically impacts housing, Facebook will be removing Special Ad Audiences for all Special Ad Categories.
Following is the timeline from Meta regarding the deprecation of Special Ad Audiences:
August 25, 2022: you will no longer be able to create new special ad audiences.
September 13, 2022: special ad audiences will no longer be available for use in new ad creation via the API.
October 12, 2022: Special ad audiences will no longer be available for use in new ad creation across Ads Manager and the API. After this date, affected ad setsAn ad set is a Facebook ads grouping where settings like targeting, scheduling, optimization, and placement are determined. More may be paused for delivery. To resume delivery of the paused ad sets you will need to update them to remove Special Ad Audiences.
Like most changes, this appears to be a rollout considering I'm still able to create Special Ad Audiences through Ads Manager for now.
According to this timelin, you'll no longer be able to use Special Ad Audiences in new ads via the API on September 13 and Ads Manager on October 12. That said, if you have ad sets running now targeting Special Ad Audiences, they'll continue to run until October 12. After that point, they'll pause.
What Should You Do Instead?
Whether you pivot now or wait until Special Ad Audiences are taken away, start preparing now. What should you do?
Facebook isn't particularly helpful on this point. Their advice is "exploring broader targeting options."
I don't run ads promoting Special Ad Categories, so I can't speak on their effectiveness — or the loss incurred when they go away. But, I have heard from some using Special Ad Audiences who have seen success with them.
The problem, of course, is that your options are limited. While Facebook's recommendations of exploring broader targeting options feels insufficient, I struggle to provide much more advice here. You can't use Lookalike Audiences. You can continue to explore the interests and behaviors that are available when using Special Ad Categories. You can go entirely broad without interests and behaviors. But, that's pretty much it.
The one question I have is whether you will always be running ads under a Special Ad Category or only in specific situations. An example I've heard of is related to a car dealership. The dealership business itself isn't a Special Ad Category, but the credit portion is. They could conceivably run more targeted ads when credit isn't part of the experience.
Like always, there isn't a one-size-fits-all approach here. You should experiment and find what works for you. If you have a sizeable budgetA budget is an amount you're willing to spend on your Facebook campaigns or ad sets on a daily or lifetime basis. More, you can experiment with multiple approaches at once. If you have a limited budget, focus on one approach at a time.
I don't expect this to be a significant loss. Special Ad Audiences were quite broad already and required the algorithm to help isolate an effective audience within it. That will continue to be the case when you go broad.
Your Turn
Do you run ads promoting Special Ad Categories? What will you do instead of using Special Ad Audiences?
Let me know in the comments below!