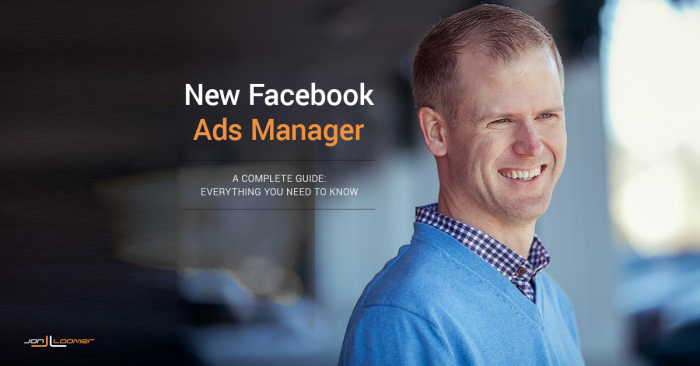 [NOTE: The following is a guide to the latest updates to Facebook Ads Manager. Go here for a guide to Facebook Power Editor updates.]
When I logged into my Facebook Ads Manager today, I was pleasantly surprised that I was greeted with the new design…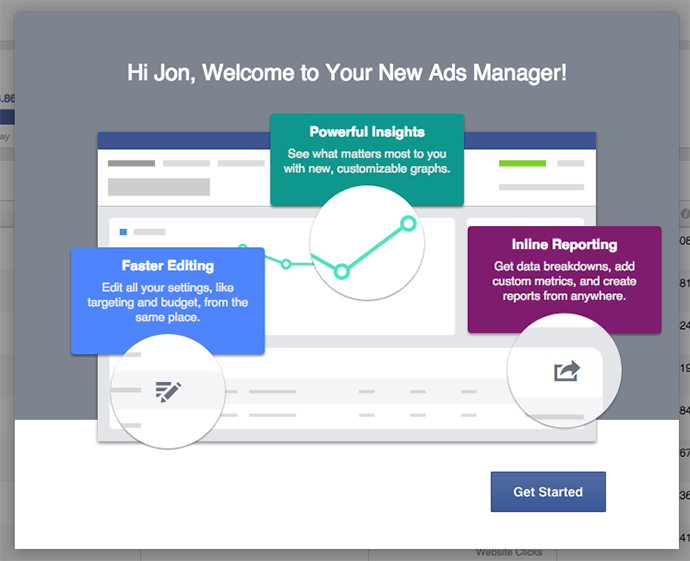 The new Facebook Ads Manager is rolling out to everyone, and it looks pretty slick. It's simplified and — once you get a hang of it — actually makes more sense than the previous setup.
Let's take a closer look…
[Tweet "The new Facebook Ads Manager is rolling out globally! Here's everything you need to know…"]
Custom Ad Reports Front and Center
In the past, very few advertisers used the custom ad reports. The default view of Ads Manager was a very top-level performance analysis. To get the good stuff, you needed to click the "Reports" link on the left.
But now, there is no "Reports" link. Why? Because the entire Ads Manager is now the Custom Ad Reports!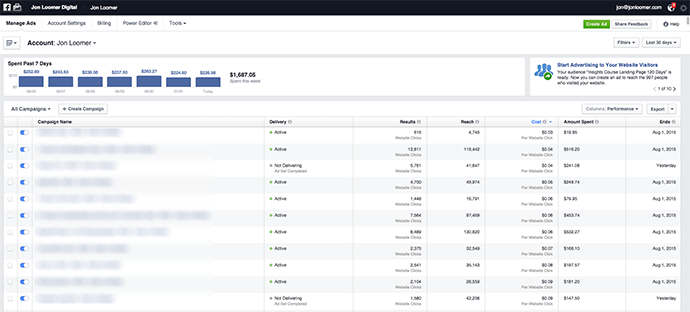 All of the old filtering and customizing that you could do with the old ad reports can be done within the main view. But there's even more customizing buried within that we'll get to later!
Top Nav
The new top navigation looks like this…

It includes a nice little graph showing what you've spent each of the past seven days as well as links to the following:
Manage Ads (Default)
Account Settings
Billing
Power Editor
Tools
These are all links that existed before, just in a new location.
Tools Dropdown

The "Tools" dropdown in the top nav includes the following:
Audiences
Audience InsightsAudience Insights is a tool that helps you learn more about an audience compared to the general Facebook population. More
App Ads Helper
Pixels
Pages
Advertiser Support
Much of this previously lived on the left hand column in a list of links. "Pixels" is very new — I saw it within the past week — and "App Ads Helper" is also something I haven't seen before.
Pixels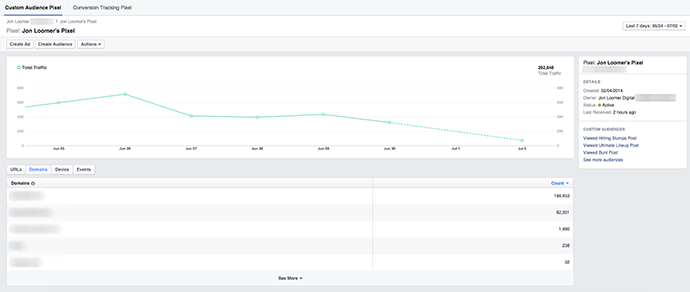 If you select "Pixels," you'll get reports and graphs on the performance of your Website Custom AudienceA website custom audience matches people who visit your website with people on Facebook. You can then create ads to show to that audience. More pixel by default. You can view activity by domain (default), URLs, device or events. To get event data, you'll need to be using the new WCA pixels.
By default, you're viewing Custom AudienceThis is the group of people who can potentially see your ads. You help influence this by adjusting age, gender, location, detailed targeting (interests and behaviors), custom audiences, and more. More Pixel performance. If you select Conversion Tracking Pixel, you'll be redirected to the old Conversion Pixels page.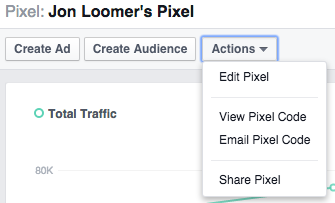 If you click the "Actions" dropdown at the top, you can select from the following:
Edit Pixel
View Pixel Code
Email Pixel Code
Share Pixel
You can share the pixel with another ad account, and that would be done through Business ManagerEvery organization should have their own Business Manager to organize their assets (pages, ad accounts, pixels, and more), and then provide appropriate access to those assets to partners. More. Here's a really quick look at that process…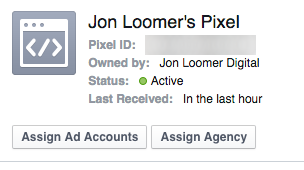 You would click either "Assign Ad Accounts" or "Assign Agency."
All CampaignsThe campaign is the foundation of your Facebook ad. This is where you'll set an advertising objective, which defines what you want your ad to achieve. More Dropdown
By default within the main "Manage Ads" view of Ads Manager, you'll see a report broken down by campaign. At the left you'll see an "All Campaigns" dropdown…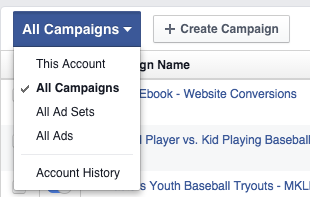 You have the option to view results by…
This Account
All Campaigns
All Ad SetsAn ad set is a Facebook ads grouping where settings like targeting, scheduling, optimization, and placement are determined. More
All Ads
By selecting "Account Activity," you'll get a report of all activity on your ad account — including things like ad approvals, ad rejections, ad creation, etc.
Filters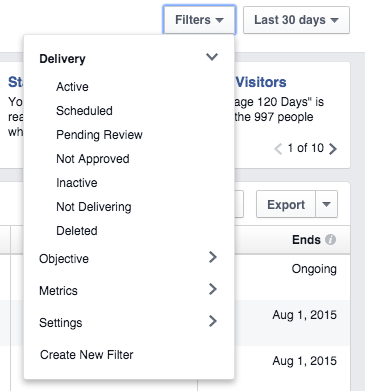 At the top right is a "Filters" dropdown. This is useful!
By default, nothing is filtered. But you can filter by any of the following information…
Delivery:
Active
Scheduled
Pending Review
Not Approved
Inactive
Not Delivering
Deleted
It will definitely be useful to focus only on what's active, for example. I also don't believe you could previously view deleted campaigns.
Objective:
Page Post EngagementPost engagements include all of the actions that people took on your Facebook ad post. Examples include:
• Post Shares
• Post Reactions
• Post Saves
• Post Comment
• Page Likes
• Post Interactions
• 3-Seconds Video Plays
• Photo Views
• Link Clicks
More
Page Likes
Clicks to Website
Website ConversionsA conversion is counted whenever a website visitor performs an action that fires a standard event, custom event, or custom conversion. Examples of conversions include purchases, leads, content views, add to cart, and registrations. More
App Installs
App Engagement
Local Awareness
Event ResponsesThe number of people who responded 'Interested' or 'Going' to your Facebook event and credited to your ads. More
Offer Claims
Video Views
This is awesome! In the past, I've always put the objective in the name of the campaign so that I could then create a manual filter to focus only on certain objectivesWhen you create a campaign, one of the first things you'll do is select an objective. The campaign objective is your ultimate goal. Your selection will impact options, including optimization and delivery. Options include Awareness, Traffic, Engagement, Leads, App Promotion, and Sales. More. Now it's built in!
Metrics:
Cost Per Result
Lifetime Spent
CPA
CPMCPM measures the cost per 1,000 impressions. It's a good metric to evaluate competition level and costs to reach your audience. More
FrequencyCalculated as (Impressions/Reach), Frequency is a Facebook ads metric that measures the average number of times users have seen your ad. More
ImpressionsImpressions are the number of times your ads were displayed to your target audience. Impressions aren't counted if it is detected they came from bots. More
ReachReach measures the number of Accounts Center Accounts (formerly users) that saw your ads at least once. You can have one account reached with multiple impressions. More
Results
This is also new!

For each of these, you can manually enter an amount to filter out for the following:
is greater than
is smaller than
is between
is not between
Settings:
You can also create a new filter, similarly to how this was done before within the custom ad reports.
Dates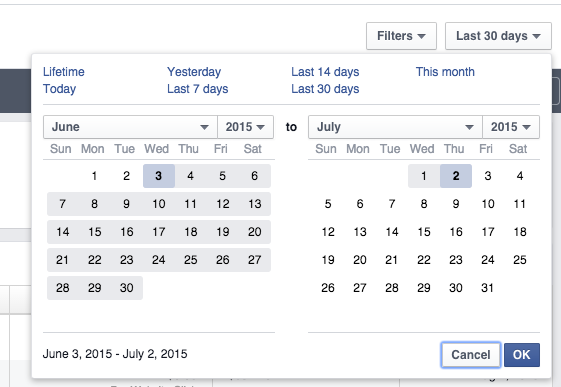 By default you will be viewing results during the past 30 days. But you'll have the following options at the top right:
Lifetime
Today
Yesterday
Last 7 Days
Last 14 Days
Last 30 Days
This Month
Custom (choose start and end dates)
Columns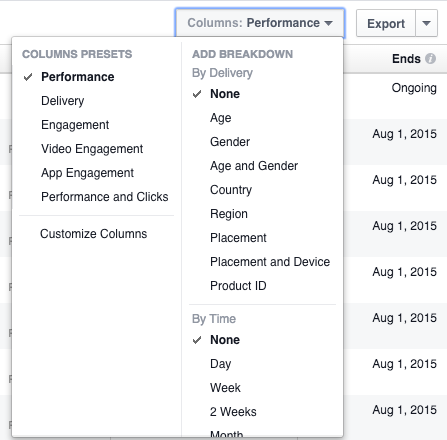 At the far right is a dropdown for "Columns." This has many of the customizable options found in the prior Custom Ad Reports, but with a little bit more!
Column Presets:
Performance
Delivery
Engagement
Video Engagement
App Engagement
Performance and Clicks
The "Performance" preset is selected by default, focusing only on the columns related to performance — mainly your objective.
If you don't want to use a preset, you can also click "Customize Columns" to customize which columns you see, just like you did previously with the old Custom Ad Reports.
ADD BREAKDOWNBreakdown is a way to get insights into your ad performance related to time, delivery, action, or dynamic creative element. More (By Delivery):
None (Default)
Age
Gender
Age and Gender
Country
Region
PlacementA placement is a location where your ad is shown. Examples include Facebook's mobile Feed, Messenger, Instagram feed, Audience Network, right-hand column, and more. More
Placement and Device
Product ID
This is all the hugely valuable information that was previously found within the "Breakdown" dropdown in the Custom Ad Reports. From one ad set, you could have Facebook break down performance by any of these categories. It's great!
ADD BREAKDOWN (By Time):
None (Default)
Day
Week
2 Weeks
Month
View rows of performance broken down by time period. Otherwise, you'll get one row per campaign, ad set or ad for the entire period.
ADD BREAKDOWN (By Action):
None (Default)
Conversion Device
Destination
Video View Type
Again, most of this was available within the old "Breakdowns" dropdown, though I believe "Carousel Card" is new.
Campaign, Ad Set or Ad: Performance

If you were to click on a campaign, ad set or ad, you'd get a similar view. By default, you'll get a breakdown of performance, like above.
Performance focuses on Results (objective based) and Cost Per Result. There's a nice little graph for this, too.
Under Performance, you can also view "People Reached."

This breaks down Reach and Frequency over time.
Under "People Reached" is "Amount Spent."

This allows you to see what you've spent for a given campaign, ad set or ad over time.
Under "Amount Spent" is "Custom." Click that and you'll have two dropdowns, by default for Actions and Impressions.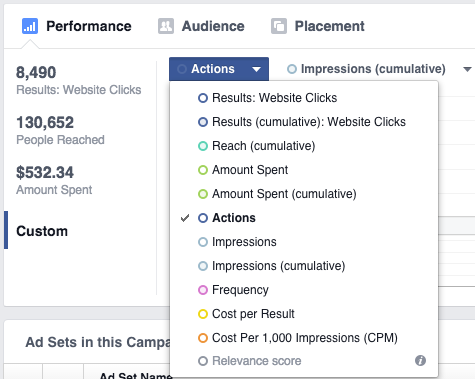 Both dropdowns contain the same options, allowing you to compare two different stats. The actions available will depend upon objective, but this is what you can choose from when the objective is Clicks to Website:
Results: Website Clicks
Results (cumulative): Website Clicks
Reach (cumulative)
Amount Spent
Amount Spent (cumulative)
Actions
Impressions
Impressions (cumulative)
Frequency
Cost Per Result
Cost Per 1,000 Impressions
Relevance Score
Campaign, Ad Set or Ad: Audience

As mentioned, the default view of a campaign, ad set or ad is a breakdown of Performance. But you can also select Audience. Here you'll get a breakdown of several metrics by age and gender — including a nice bar graph.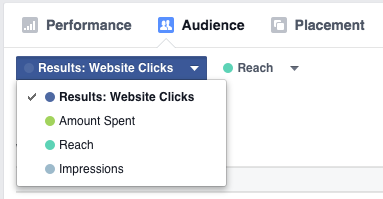 By default you'll see a breakdown of results for your objective and reach by audience, but there are two dropdowns which each contain these options:
Results: Website Clicks (in the image above)
Amount Spent
Reach
Impressions
Campaign, Ad Set or Ad: Placement

In addition to Performance and Audience, you can also view a breakdown by Placement.
In this case, Facebook will break down this same information by placement:
Results: Website Clicks (based on objective)
Amount Spent
Reach
Impressions
Placements include:
Desktop News Feed
Desktop Right Column
Mobile News Feed
Audience NetworkAudience Network is a network of mobile apps that have been approved to monetize their apps with ads. This is how you can show your Meta ads to people while they are away from the Meta family of apps. Audience Network and associated groups are among your placement selection options in the ad set. More
You can also choose from either All Placements or Mobile Breakdown. If Mobile Breakdown is selected, you'll see distribution by device.
Your Turn
What do you think of the new Facebook Ads Manager?
Let me know in the comments below!