The recent introduction of ChatGPT and AI to the marketing mainstream has been exciting, scary, and certainly impactful. It's become clear in a very short period of time that the future of AI will completely change how we do business.
Those changes are already here, but we're still in the early stage of adoption. The future iterations are likely to be groundbreaking.
This is obvious to me, so I know that I can't put my head in the sand and hope that it goes away. GPT and AI aren't going anywhere. And because of that, I've dedicated significant time and effort lately to understanding how I can best leverage the technology.
What makes this so overwhelming is that we're all blazing trails with our experiments. We're all testing and learning how we can use it. We've only begun to scratch the surface of what's possible.
I wanted to find a relevant way to use it for advertisers. So, I jumped into ChatGPT with the goal of having it develop a Facebook ads strategy for me.
ChatGPT did not disappoint. You can do this, too. But here are the specific steps that I took…
Establish Basic Goals
Something you'll quickly learn with ChatGPT (go here) is that the more detailed your prompt, the more helpful the response. You can't just ask it to generate a Facebook ads strategy without helping it understand what you're trying to do. It's not magic.
Are you trying to sell something? What is the product? What are the benefits of the product? Who might be your intended audienceThis is the group of people who can potentially see your ads. You help influence this by adjusting age, gender, location, detailed targeting (interests and behaviors), custom audiences, and more. More? What are your basic goals?
Write these things down. I decided to have it sell my Power Hitters Club – Elite membership.
Write Your Initial Prompt
Notice that I specified that this is an "initial" prompt. You are likely to get a surprisingly good first draft effort from ChatGPT, but counter prompts will help refine your results.
Here's the prompt that I created to promote my Power Hitters Club – Elite community:

ChatGPT then developed a strategy based on those things. In the following steps of this post, I'm going to share what was recommended as well as my counter prompts to further refine the recommendations.
These counter prompts are very important!
Copy
Here are the recommendations provided based on copy to promote my Power Hitters Club – Elite community:

That headline isn't bad. But let's get some alternatives to use for Multiple Text Options and other creative optimizationThe Performance Goal is chosen within the ad set and determines optimization and delivery. How you optimize impacts who sees your ad. Meta will show your ad to people most likely to perform your desired action. More.
I asked it to generate five headline alternatives that utilize different tones and focus on different benefits.

Check out the updated recommendations…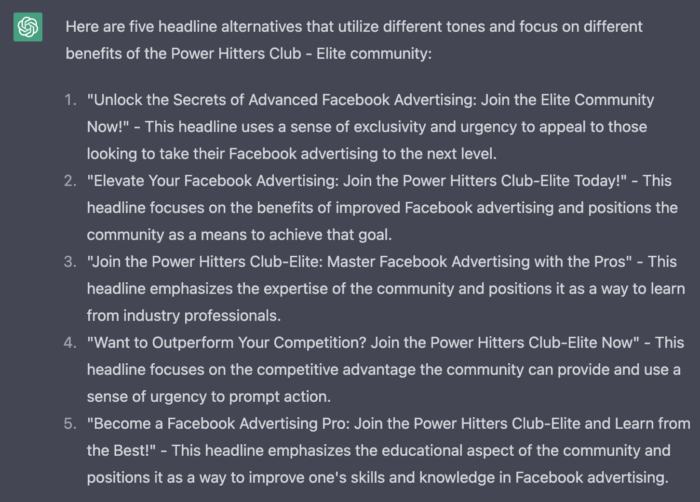 That's pretty amazing. But these headlines are too long. That's our fault. Let's get an adjustment.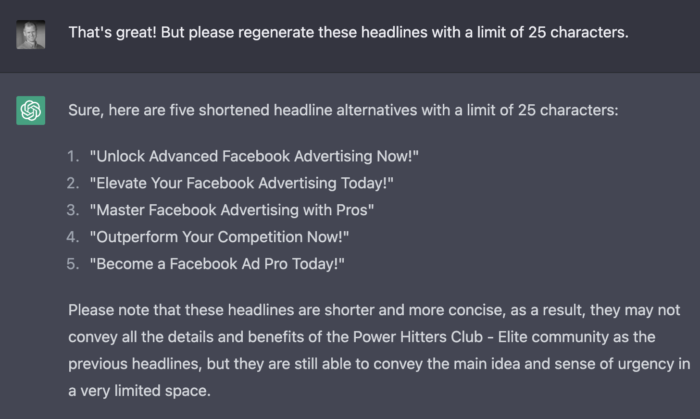 ChatGPT is almost apologetic that shorter headlines may not convey all of the details and benefits of my community.
Next, I wasn't all that impressed with the copy body. Let's have it kick out some more options for us. Once again, it's on us to provide some details to make it smarter.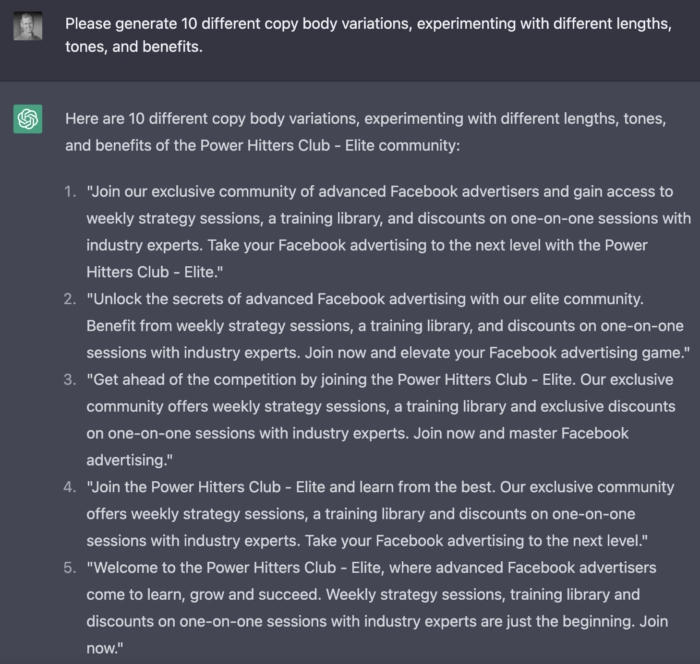 Yeah, there are 10, but that's a lot for one screenshot. Here's the rest. Please note the message at the bottom.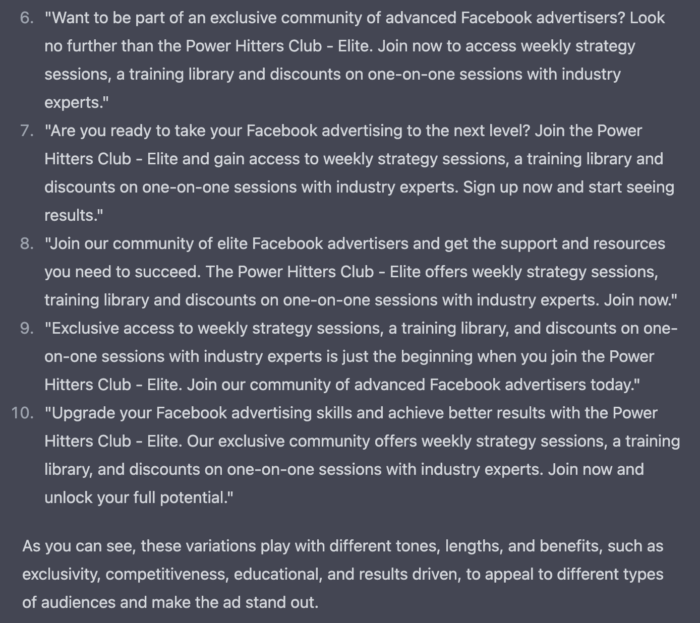 I don't feel like any of these really push the edges of length. And they aren't formatted. So now I'm going to ask it to create a longer version that is broken up into at least five paragraphs.

Once again, this is going to be a very thorough answer…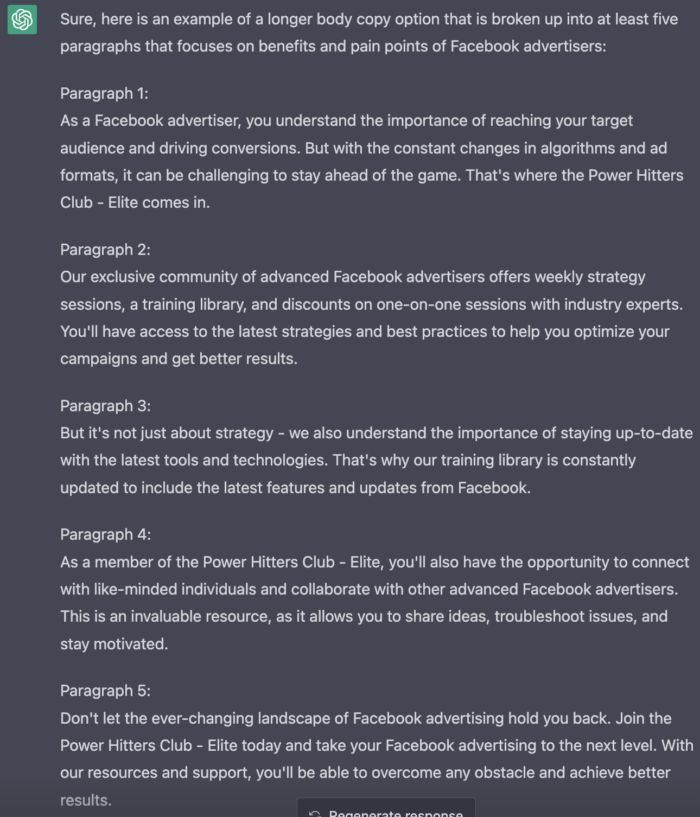 That's quite good!
Format
Here are the suggestions related to format:

Maybe we don't want to use a carouselA carousel allows you to display two or more scrollable images or videos in the same ad, with the ability to link each to a different URL. More. What would a video look like?
So, I created the following prompt:

And here is the response: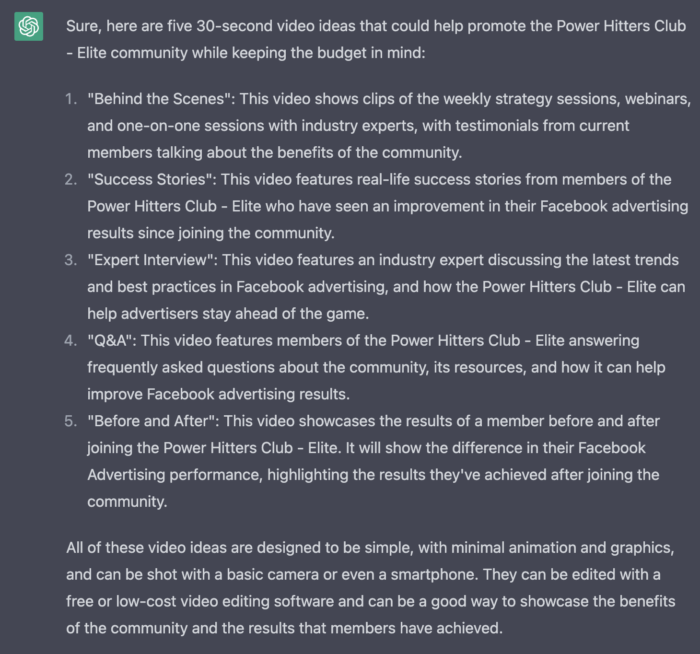 Those are some interesting options. Let's take this a step further. Could it generate a video script?
Here is my prompt:

The script is incredibly thorough, but here it goes…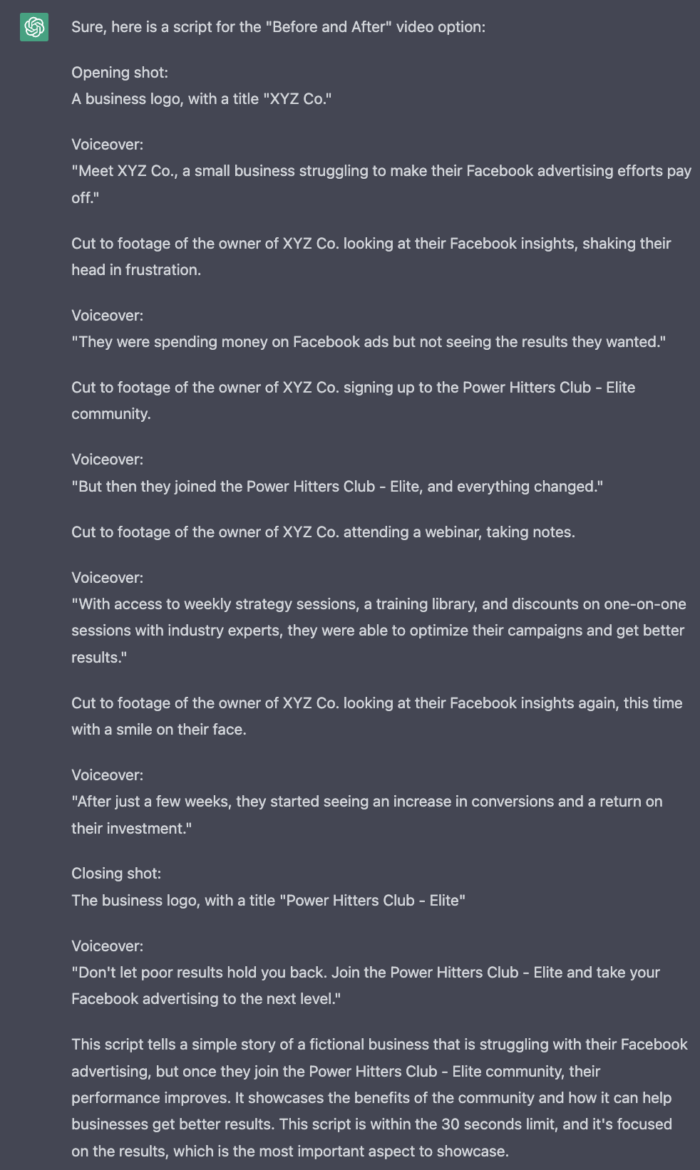 The script feels like it could be longer than 30 seconds, but it's impressive that this was spit out in a matter of seconds.
Targeting
Here is what ChatGPT initially recommended for targeting:

That's a pretty general recommendation, but that's okay. Let's try to get it to be a bit more specific.
I asked it to provide some examples of interests to use.

Here was the response: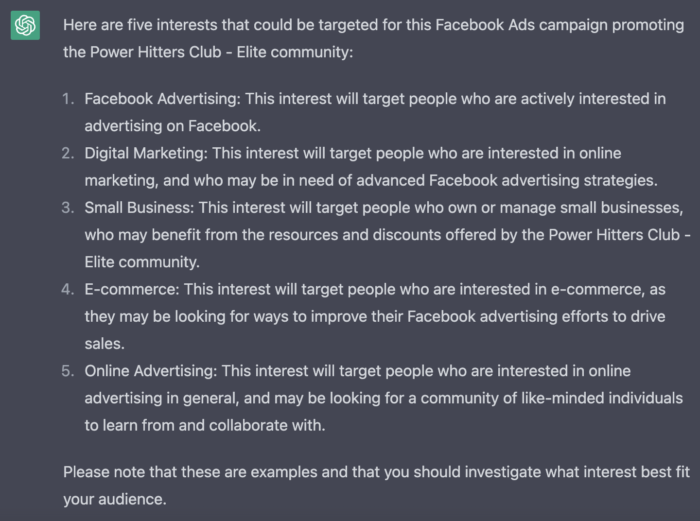 Fair enough. ChatGPT wants us to do some of the heavy lifting there, which makes sense. AI is powerful, but it won't magically know the interests that are most likely to respond to our product.
Optimization
Here is what was recommended for optimization:
These are some general and rather straightforward recommendations.
BudgetA budget is an amount you're willing to spend on your Facebook campaigns or ad sets on a daily or lifetime basis. More
Here is what ChatGPT recommended for budget:

This seems low, but I also didn't tell ChatGPT how much the product costs. Let's see if that impacts the recommendation.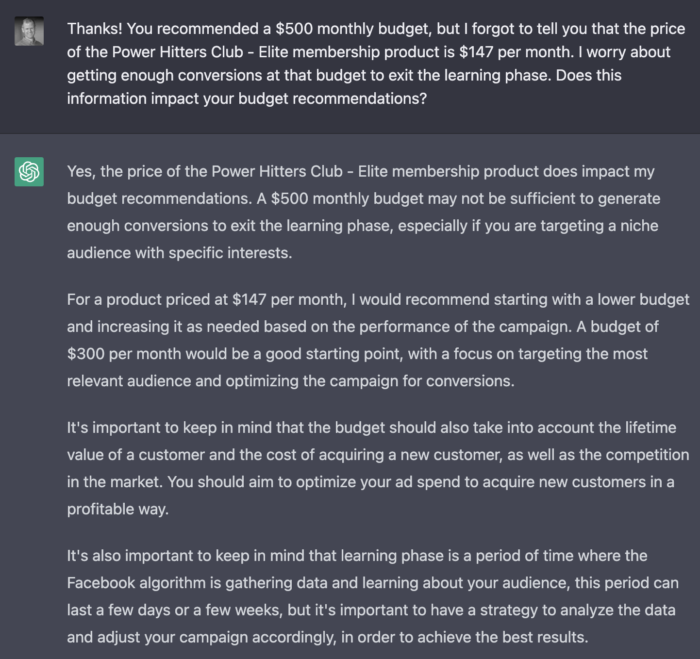 There's some really good stuff in here, but ChatGPT also appears to be confused. On one hand, it agrees that a $500 monthly budget may not be sufficient. But then it comes back with a $300 monthly budget starting point!
Still, there are some nice tidbits here about lifetime value of the customer and competition in the market. Let's try one more time.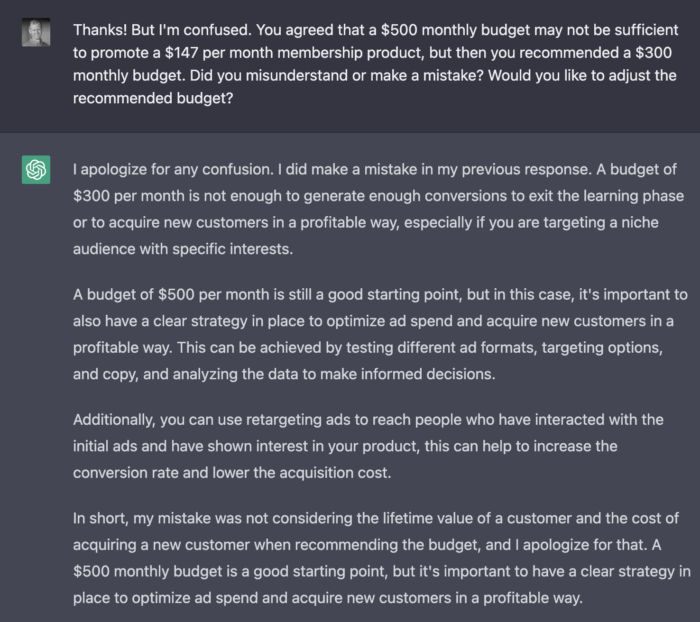 Look, there's a bit of word salad here, but it's also not completely insane. And ChatGPT actually apologized. So polite!
Other Details
You'll recall that my initial prompt also requested "other details." That's vague, but let's see what ChatGPT suggests…

I can't disagree with any of these recommendations. I should also note that the contradiction that the initial recommendation was to use interests, behaviors, and lookalike audiences, but ChatGPT has also recommended retargeting. But a strategy involving all of these things is logical.
What Do We Do With This?
In my early reports on ChatGPT, some feedback seems to misunderstand how this tool works. Critics suggest that a recommendation is wrong, outdated, or ineffective. This misses the point.
ChatGPT — and AI generally — isn't trained to be magical. It's trained to provide responses based on the information it's been fed. And we can help train it by counter prompting and providing additional information and refinements.
This use case example isn't intended to generate the super-secret-world's-most-profitable-strategy. It provides a starting point. But it is fantastic for ideas and brainstorming.
Where I found this most valuable was in the copy and video strategy recommendations. Some of these were really good ideas that I could work with.
There are absolutely some ways that AI can automate some of the things we do now. Generating a strategy isn't one of them.
But, what's clear is that it is far more valuable in helping us think through a strategy than a Google Search may be. It can be customized to your specific needs and product, which a search result never will be.
I'm personally amazed by how good these recommendations are, especially as ChatGPT learns and responds to additional prompts. We are very early in the evolution of this technology, and it will only get better.
That is mine-bending to think about!
Watch Video
I put together a quick video of the initial prompt and answer I received from ChatGPT. Watch it below…
Also, here's a video regarding understanding how to use this info…
Your Turn
Have you started experimenting with ChatGPT yet? What creative ways are you using it?
Let me know in the comments below!