At the top of the new Facebook Timeline for Pages under the cover photo and apps on the right side are three blocks of content:
Friends who like this page
Recent posts by others on this page
Other pages liked by this page
These blocks give users a snapshot of the page and why it may interest them without having to dig into the Timeline itself. But it's possible that you don't want all of this content taking up space that could be filled with your own posts. There is a way to hide one of these blocks.
The second block is the recent posts by others: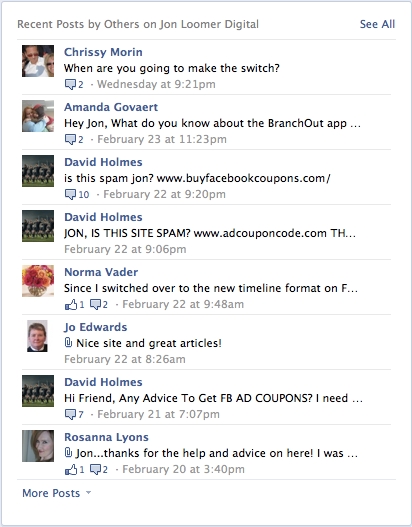 It's an interesting addition that allows you to not only see the eight most recent posts by others, but a quick click will allow you to view more or all within that block.
The potential problem, though, is that it takes up space that could be given to one or even two of your posts. Is it worth it?
Well, that's up to you. But you can get rid of it.
Go to Admin Panel > Manage > Edit Page > Manage Permissions. By default, Show the box for "Recent Posts by Others" on the top of [Page Name] is checked. If you don't want it, uncheck that box.

When I unchecked it, an awful lot of valuable room was opened up. Will I keep it unchecked? I haven't decided. But it would be nice if Facebook gave us an option of changing the number of recent posts by others that are displayed. Showing eight may be excessive.
Do you leave this box visible on your page?