One of my biggest concerns with the launch of Facebook Timeline for business pages was how that change would impact tabs. I have carefully created iFrames for my Welcome Tab, an RSS feed, video gallery and email newsletter subscriptions. Would Timeline draw attention away from these things? Would I be forced to go back to the drawing board?
The short answer is that this changes things. While you don't necessarily completely scrap your tabs and iFrames, you will definitely need to make adjustments — some minor and some major — for most if not all of them.
The new Timeline for Pages allows room for up to 12 app boxes. This in itself isn't a bad thing. But only four will be displayed by default, and Photos will always be first. That leaves Likes and any of your apps. Suddenly, you're going to have to do some major prioritizing.
Picking Your Facebook Tab Boxes to Feature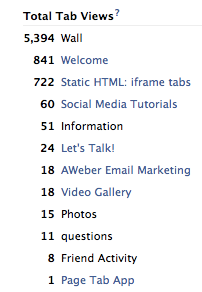 A good first step is to look at your Facebook Insights to determine which apps currently get the most traffic. Insights are now under Admin Panel (very bottom), and you can find stats on your tab traffic under Reach.

If people look at tabs in the old format, they'll probably look at them in the new format. For me, my page tabs that received the most traffic were the Welcome Tab, Social Media Tutorials RSS feed, Contact Tab and my AWeber Email Newsletter Signup Form.

I have three boxes to choose from. Do I want to feature my Likes? If not, I still need to cut out one tab. If I include Likes, it gets tricky.
Moving and Removing Boxes

As I said earlier, you can't move the Photos box. But you can move any of the others. Just click on the arrow to the right to expand your view of the boxes. Then when you hover over a box, an Edit icon will appear. Click it and you can either swap it, remove it, edit the app's settings, link to the app or uninstall it. You can also click an empty box to add a new one.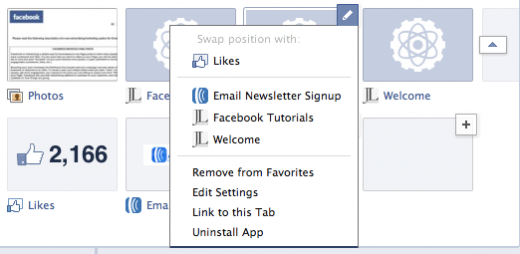 Application Box Photos

Something I noticed immediately is that I had a logo problem.

When I created iFrames in the past, I had no reason to add a logo. The only things that would show up on my page were the title and the icon. But now that my page has converted to Timeline, I need a logo. Otherwise, you're stuck with the default "crashing atoms" thing.
So if you've created your own iFrames, you'll likely have this same problem. But now, what should be my logo? I should use something unique for each one so it's clear what is in that box. So this is going to take some thought and planning.
In case you're wondering, this change is made in your developer tools. When you click "Edit App" you'll see that logo right at the top.
[Update: There is an easier way to edit tab photos, and that includes logos for third party apps. Read this.]
New Width Requirements

There's another problem. Under the old format, we were required to create all apps with a maximum width of 520 pixels to make room for the links on the left side. But now with this change, these are essentially full-width canvas apps. The maximum width is now 810 pixels.

That's actually a good thing since it opens up some opportunities. But it also means that our current apps all look kind of stupid.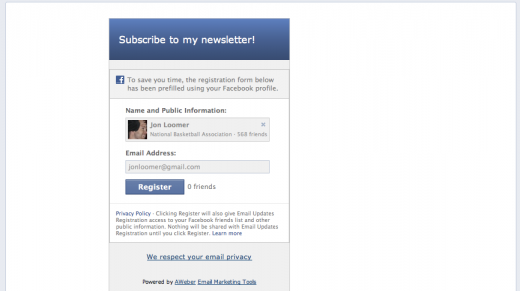 That's a whole lotta empty space!
This means that not only do all of the page managers have a challenge, but the app developers as well. But I assume those developers had ample warning (I hope) and will make the changes quickly.
No More Default Landing Page

The old format allowed page managers to set a default landing page so that non-fans would land on something other than your wall (usually a Welcome Tab). That is no longer the case. The default landing page has gone away.

Instead, your Timeline is your default landing page. You'll still be able to direct non-fans to specific pages with ads, but that's it. This may mean it's time to readdress the strategies involved with these apps.

More importantly, this puts more focus on your Timeline in general and your cover photo specifically. You need to make a good first impression. And that's usually going to be with your cover photo.
In Conclusion

This is one more reason to keep your page in Preview until you know you're absolutely ready. Make sure you feature the right apps in the top four. If you don't have logos on custom iFrames, fix it. Adjust the format of your apps so that the maximum width is now 810 pixels. And assess whether your old apps still make sense in the new Timeline format.

Have you changed your approach with your page's apps? Let me know in the comments below!