If you create Facebook Sponsored Stories, you are undoubtedly running highly effective and relevant advertising while saving yourself time and money.
If you aren't, well… you aren't. You're undoubtedly wasting that valuable aforementioned time and money. No one wants that.
The "Sponsored Story" is an abused and misunderstood phrase that has long been used interchangeably — and incorrectly — with all forms of Facebook advertising. The truth is that this is a specific type of advertising.
While there is a very simple thread connecting them, there are also many different types of Sponsored Stories. Many that you've likely never used before.
The purpose of this post is to explain what Sponsored Stories are, the types available, why they are valuable and how you can start creating them today.
What Are Sponsored Stories?
Let's start by breaking this phrase up into the two separate parts and define them independently.
Sponsored = Advertising
Stories = Created when a user interacts with another user, Page, place or app
Stories are generated when a user likes a Page; likes, comments on or shares a post; checks in to a business; claims an Offer; answers a Question; uses an app; or RSVPs to an Event.
You see countless organic stories in your News Feed or Ticker every day. When friends interact with other friends and privacy settings allow for you to see it, a Story is generated for you. Similar stories are generated whenever these friends interact with Pages, Places and Apps.
Here's an example of a story that is generated when a friend likes a Page: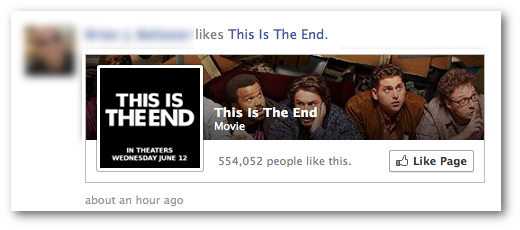 Like many of the stories you see in your News Feed, the example above is organic. I see it immediately after the action was taken. In this case, when my friend liked this Page, I immediately saw the story in my News Feed.
While most of these stories are organic, they can also be promoted to create Sponsored Stories. This assures that friends see a story beyond the short window after it was immediately created.
Types of Sponsored Stories
There are many types of Sponsored Stories. Since Facebook is constantly growing and changing, you can assume this is an incomplete list.
Page Like: Story generated when a friend likes a Page
Check-in: Story generated when a friend checks in to a business
Wall Post: Story generated when a friend posts to a Page wall
Post Like: Story generated when a friend likes a Page post
Post Comment: Story generated when a friend comments on a Page post
Post Share: Story generated when a friend shares a Page post
Offer Claim: Story generated when a friend claims an Offer
Question Vote: Story generated when a friend answers a Question
App: Story generated when a friend uses a Facebook app
Event attendee: Story generated when a friend attends an Event
Domain: Story generated when a friend shares a link from a specific domain
So, there you go. There are 11 different opportunities to create Facebook Sponsored Stories.
Here's an example of a Page Like Sponsored Story: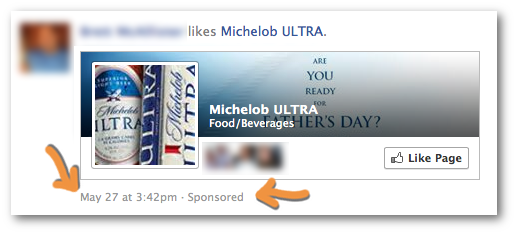 There is little difference between this and the organic Page Like story shown earlier. The ad includes a "Sponsored" label. As you can see, the story was created several days ago, but the ad still appears in my News Feed.
Why You Should Create Sponsored Stories
Now let's talk about saving time and money by creating easy and efficient advertising.
Advertisers spend countless hours obsessing over copy and imagery in their ads. If they're doing it correctly, they split test and create dozens of variations to find what works best.
When you create Sponsored Stories, however, your options are limited. You're simply promoting the story that a user already generated.
You don't control the imagery. You don't control the copy.
Even the targeting options are limited since only friends of the user creating the story will see it. Privacy settings apply even when a story is sponsored.
So the first reason you should create Sponsored Stories: They are freaking easy.
The second reason: They are freaking effective.
The reason they're effective makes a whole lot of sense. Which of these ads would you be most likely to click on?
Ad #1: Ad from a company you've never heard of touting its own product
Ad #2: Ad promoting your friend's interaction with that company or product
I'm pretty sure you'd be more likely to click on Ad #2. And the results back it up.
Sponsored Stories work due to the power of social proof. Your friend liked a page, interacted with a post, used an app or attended an event. You should, too!
How to Create Sponsored Stories
Let's get this out of the way first: Yes, you can create Sponsored Stories with the self-serve ad tool. Just select "Get More Page Likes," "Promote Page Posts" or "See Advanced Options" and Sponsored Stories are automatically generated.

You could do this. But don't.
Instead, you need to use Power Editor, a browser plugin. While it may not be user friendly, you have far more control over targeting, placementA placement is a location where your ad is shown. Examples include Facebook's mobile Feed, Messenger, Instagram feed, Audience Network, right-hand column, and more. More and bidding when you use Power Editor. And most of the great new ad features and options go there first.
When you create an ad in Power Editor, simply select "Sponsored Story" from the "Type" drop-down. Then choose which type of Sponsored Story you're creating.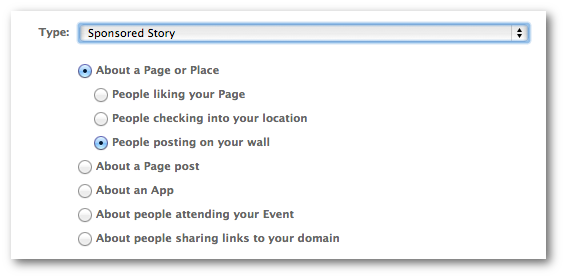 It's really pretty easy!
How Will You Use Sponsored Stories?
Make no mistake, I love Sponsored Stories. I constantly have a Page Like Sponsored Story and a Domain Sponsored Story running. It's a very easy way to constantly drive a new relevant audienceThis is the group of people who can potentially see your ads. You help influence this by adjusting age, gender, location, detailed targeting (interests and behaviors), custom audiences, and more. More to you.
Do you run Sponsored Stories? What creative ways are you using them? Let me know in the comments below!