First of all, thanks to Amy Porterfield for the heads up on this.
Many are reporting that when creating a new Facebook Offer, the option to "Promote later using another Facebook Ad tool" has been removed.
Here is how the fourth step of the Offer create flow appeared, complete with that option…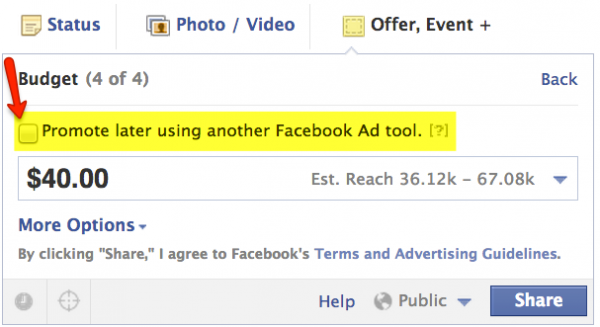 And now here's how an Offer looks today, without that option…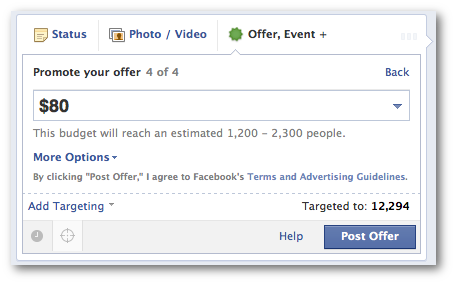 Why This is a Problem
This is a problem because the cost of Facebook Offers has skyrocketed of late. Now when I create a Facebook Offer, my minimum cost is $80 with a max of $4,800.
The solution was previously to "promote later" and then create an ad within Power Editor. The reason you'd do this was to have full control over the cost, bid, targeting and placementA placement is a location where your ad is shown. Examples include Facebook's mobile Feed, Messenger, Instagram feed, Audience Network, right-hand column, and more. More to make it as efficient as possible.
Solution?
Yesterday, I created this test Offer…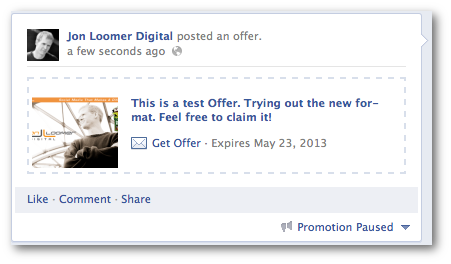 I immediately paused the campaignThe campaign is the foundation of your Facebook ad. This is where you'll set an advertising objective, which defines what you want your ad to achieve. More. What's interesting is that although you're not supposed to reachReach measures the number of Accounts Center accounts (formerly users) that saw your ads at least once. You can have one account reached with multiple impressions. More anyone without promoting, I have reached 406 people organically and 21 people virally without spending a dime on promotion.
You probably want to reach more than 427 people with your Facebook Offer, but this is a good sign. I immediately went into Power Editor and created an ad promoting that piece of content. That ad was approved.
This ad is running for now. I'll update here if anything changes.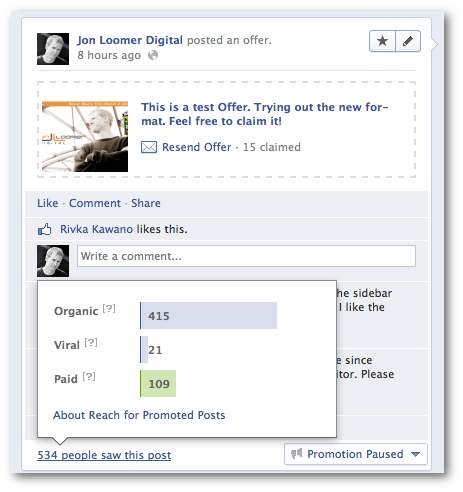 Watch this video regarding how to create this ad in Power Editor. Of course, ignore the part about "Promote Later."
In the end, this is a workaround. And as is the case with most workarounds on Facebook, even if it does work now it probably won't work for long.
How About You?
Have you tried this? Let me know your results below!