Facebook has released a Page Post Ad Best Practices Guide, a nine-page PDF document to help marketers maximize their Facebook advertising results.
Here are a few highlights:
Checklist

I'm always a sucker for a good Facebook marketing checklist. Facebook generated the following list of items you should check off before running a Facebook ad:
My Page's profile photo is recognizable in 32×32 size
My most important text is captured in the first 90 characters of my ad
My video or photo thumbnail is eye-catching and clear. People will be able to recognize it right away
The content in my ad is relevant and synonymous to the brand I'm promoting
The message in the body of my ad is memorable
People will be inspired to tell their friends about the content in my ad
People feel rewarded after seeing my ad
I'm targeting the right people who I want to see my ad or sponsored story
Some people may or may not know about my brand, so it's important that I create my ad accordingly
All my posts will be turned into ads or sponsored stories, e.g. 'always on'
Here's the actual checklist if you want to print it out and use it: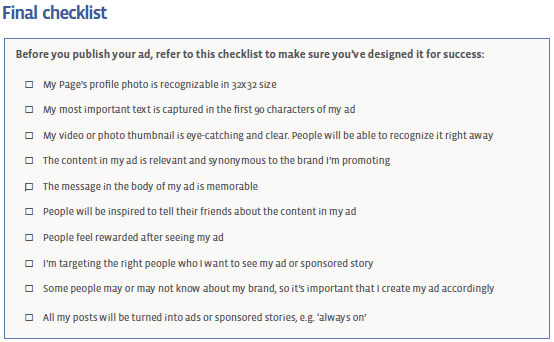 Page Post Video Ad Best Practices
Facebook suggests using a video Page Post ad in the following situations:
Launch a brand, product or movie
Drive awareness
Drive video views
Promote a commercial
A few suggestions from the guide:
Make sure the video includes an engaging, action-oriented video thumbnail (faces work best)
Try to keep the video to 15-30 seconds in length
Avoid thumbnails that are text-heavy
Don't direct people to "watch my commercial!"
Here are some of Facebook's examples of good video Page Post ads:

Page Post Photo Ad Best Practices

Facebook suggests using photo Page Post ads for the following:
Increase awareness
Promote a new product
Drive conversation about a topic
A few suggestions:
Use a photo that is at least 168×128 pixels and maintains a 16:9 aspect ratio.
Get to the point quickly in your text
Don't use text or text overlay on the photos
Here are the "good" examples of photo Page Post ads, as provided by Facebook:

Other Best Practices

Facebook also provides tips on maximizing effectiveness while promoting links, Questions and Events. I won't cover all of that here, but you can feel free to read the Facebook Page Post Ad Best Practices Guide document.
Thoughts?

The one new piece of information for me was that it's prohibited to use text overlays on photos. I've seen a very well-known marketer do this recently (and I even did the same!).

Was any of this new to you? Provide your thoughts below!