If the goal of your Facebook campaignThe campaign is the foundation of your Facebook ad. This is where you'll set an advertising objective, which defines what you want your ad to achieve. More is less about volume and more about Return on Ad Spend, you should consider the Minimum ROAS Facebook bid strategyWhen you enter an ad into the auction, Meta will bid for you. But in some cases, it may benefit you to adjust the bidding strategy to get better results. Options include Highest Volume, Cost Per Result Goal, Highest Value, ROAS Goal, and Bid Cap. More.
In this post, we'll discuss what ROAS is, how to use the Minimum ROAS Facebook bid strategy, when to use it, and things to consider.
Let's go…
What is ROAS?
Return on Ad Spend (ROAS) is calculated as (Purchase Value)/(Ad Spend). So, if your Facebook ad campaign resulted in $400 worth of purchases while spending $100 on those ads, your ROAS would be ($400/$100) = 4.00.
Obviously, you'll want your ROAS to be above 1.00. Otherwise, you're spending more than you're getting in return from purchases. But, due to other expenses and overhead involved, you may have a specific ROAS that you need in order to be profitable.
Value OptimizationThe Performance Goal is chosen within the ad set and determines optimization and delivery. How you optimize impacts who sees your ad. Meta will show your ad to people most likely to perform your desired action. More
You can use the Minimum ROAS Facebook bid strategy when optimizing for Value in a conversionsA conversion is counted whenever a website visitor performs an action that fires a standard event, custom event, or custom conversion. Examples of conversions include purchases, leads, content views, add to cart, and registrations. More campaign.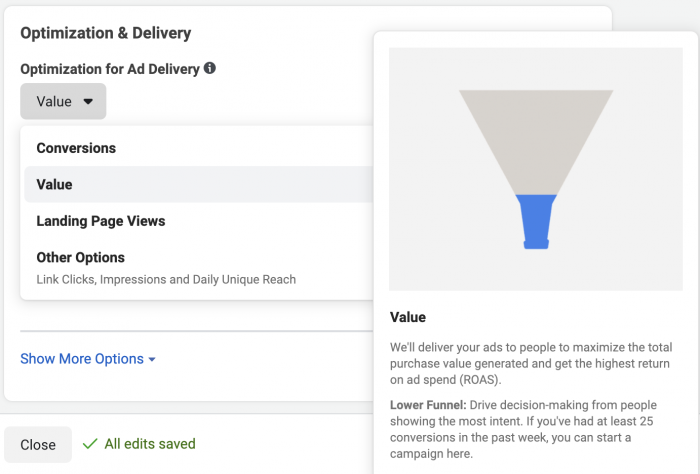 When optimizing for Value, you are telling Facebook to prioritize the value of conversions over the volume of conversions. For example, 10 $100 conversions are preferred over 20 $20 conversions.
Not everyone qualifies for Value optimization. For more information on how Value optimization works and how to get access to it, read this blog post.
How Minimum ROAS Works
Once you've chosen to optimize for Value, you will have the option of setting a Minimum ROAS Control.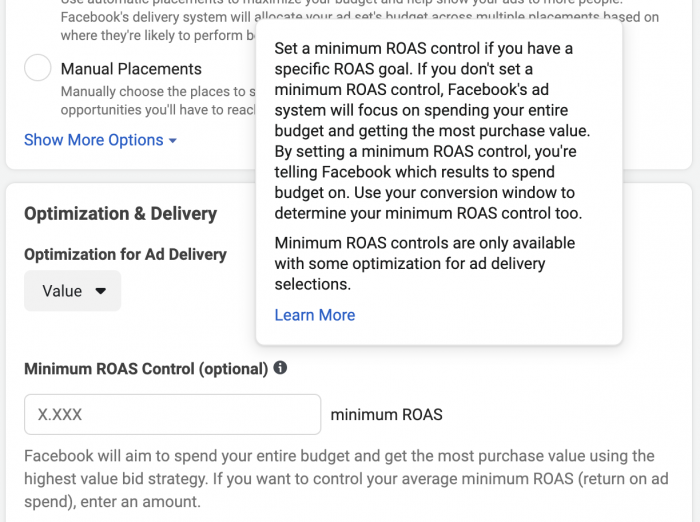 When you set a Minimum ROAS, it will tell Facebook how to bid in the ad auctionFacebook uses an ad auction to determine the best ad to show to a person at a given point in time. The winner of the auction is the ad with the highest total value, based on bid, estimated action rates, and ad quality. More. The focus will be on maintaining that minimum ROAS, rather than on generating as much value as possible.
When to Use Minimum ROAS
Bid Strategies are provided as ways of maintaining more control over how Facebook spends your money. You can roll with defaults, and Facebook will try to get you the most results that they can while meeting your budgetA budget is an amount you're willing to spend on your Facebook campaigns or ad sets on a daily or lifetime basis. More. Bid Strategies set tighter parameters for Facebook, which may help you maintain costs but you may also not reachReach measures the number of Accounts Center Accounts (formerly users) that saw your ads at least once. You can have one account reached with multiple impressions. More your budget.
If you have been optimizing for Value but are struggling to remain profitable, you should consider setting a Minimum ROAS control.
Things to Consider
Cost Controls aren't magical. They won't guarantee you'll hit whatever control you set. That's certainly the case here.
If you set a 100.00 Minimum ROAS, Facebook may attempt to get that for you. But there's no guarantee that they will. And after seeing that you won't be successful, you can expect that your ads will spend less and less.
Be reasonable. Understand that this is a minimum. You want Facebook to successfully find conversions while meeting your Minimum ROAS control goal. Setting the "best-case scenario" goal may not lead to the best results. Start with a true Minimum ROAS to remain profitable.
It may take Facebook three days or so to optimize, so don't react too quickly if you're not getting good results. Ideally, you'll first get through the Learning Phase before making a decision on whether to keep the campaign going. But, keep in mind that neither threshold is a guarantee you'll meet your Minimum ROAS goalWhen utilizing the Sales objective, "Maximize value of conversions," and Highest Value bid type, you can set a ROAS Goal. Meta will then attempt to spend your budget with a focus on maintaining your desired ROAS. More.
I would recommend optimizing for Value without setting a Minimum ROAS goal to start. If you aren't getting the results you want, then you should try setting a Minimum ROAS control. Remember, though, that this may lead to fewer conversions and an inability to reach your budget.
Your Turn
Have you experimented with setting a Minimum ROAS control? What results did you see?
Let me know in the comments below!