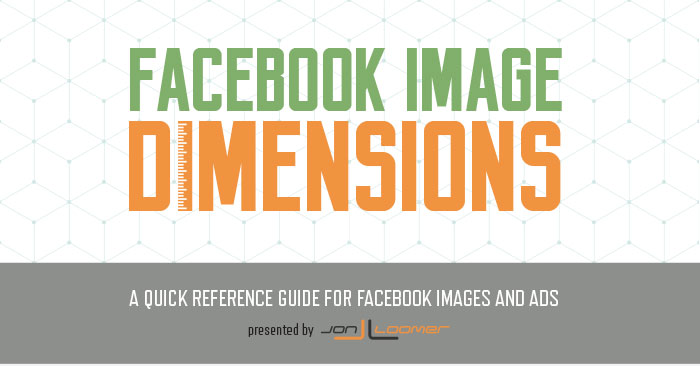 Success on Facebook has become an increasingly difficult thing — particularly for those not equipped with the proper resources. Bad design — whether of your page, posts or ads — can spell failure before you even hit "publish."
That's why I had this master guide of all Facebook image dimensions and ad specs put together. This is actually the third of its kind that I've had created. Facebook changes so quickly that I need to create a new one every year!
The 2015 version of this infographic includes the following:
Page cover photo and profile photo dimensions
Recommended upload sizes for all post and ad images
Text character limits for all post and ad types
Display specs — how it will appear — for news feed, right column and mobile
Here are the post and ad types included in the infographic:
Clicks to Website and Website Conversions (Link Shares)
Multiple Product
Page Post Engagement (Photo and Text Shares)
Video Views (Video Shares)
Text Shares
Page Like Ads
App Install Ads (Mobile and Desktop)
App Engagement Ads (Mobile and Desktop)
Local Awareness Ads
Events
Offers
Many people have asked for a PDF version of this infographic that they can save and print off for easy reference. Want this infographic as a PDF? Just fill out the form below!
If you like it, you can even embed this infographic on your own blog by snagging the code at the bottom of this post.
Enjoy!
[Tweet "A thorough resource of every Facebook ad, post and image dimension and character limit — for 2015!"]