It never seems to stop. Facebook provides a constant stream of updates for advertisers looking to target their ideal customer. The latest addition to the tool box: Facebook Event Custom AudiencesYou can create an Event custom audience to target those who have engaged with your Facebook event with an ad. More.
Facebook Events have been around for years. You've been able to create an Event from the Facebook publisher since 2009.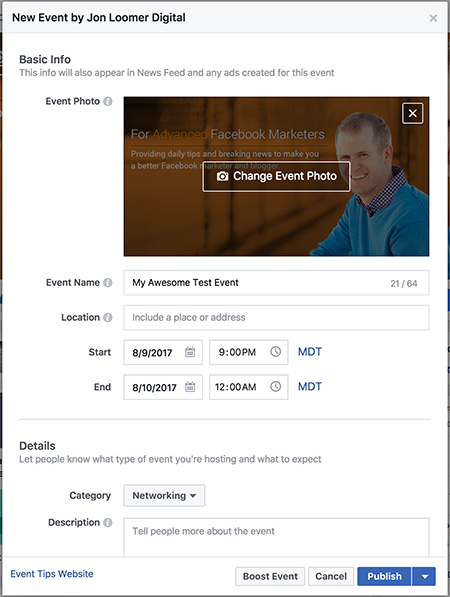 Facebook Events allow marketers to generate buzz and commitment around a virtual or in-person event. Up until now, Facebook ad targeting of those who engage with Events has been limited to targeting or excluding those who responded (in any way) to a specific Event.

The latest changes give advertisers much more power to target and exclude those who engage with their Events.
About Facebook Event Custom Audiences
Facebook Event Custom Audiences are a subset of Engagement Custom Audiences. Engagement Custom Audiences give advertisers multiple ways to target those who engage with their videos, lead forms, pages, canvas, Instagram business profiles, and now Events.
Advertisers can now create simple or complicated audiences of people who have engaged in multiple ways with one event, multiple events, or all events connected to a specific Facebook page.
Create Facebook Event Custom Audiences
Let's create one of these now…
When creating a Custom Audience, select "Engagement." When you first get this, you may notice an alert about the new feature.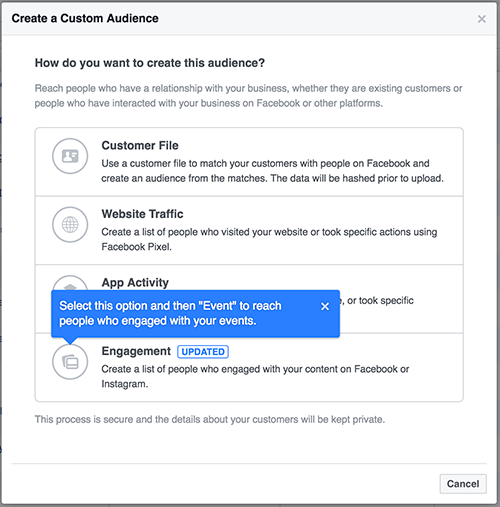 Now you'll see an option for "Event." We'll want to click on that.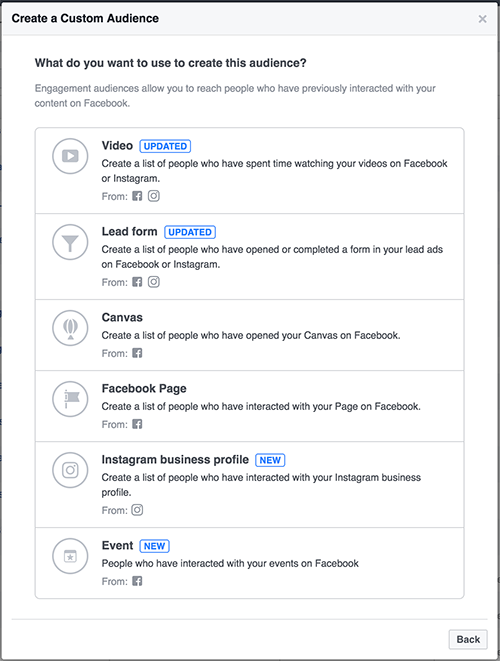 The process to create a Facebook Event Custom Audience will look like this…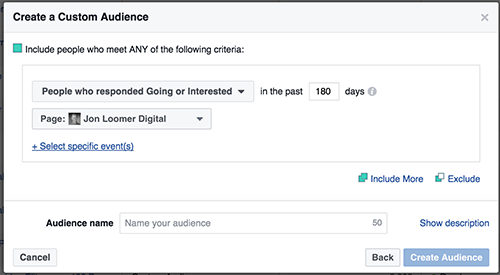 After selecting the page you want to be associated with your Events, the default audience will include all users who responded "Going" or "Interested" to any of your Events during the past 180 days.
However, you do have options to further refine this audience…
You could limit your audience only to those who responded "Going" to an Event or "Interested" in an Event as well.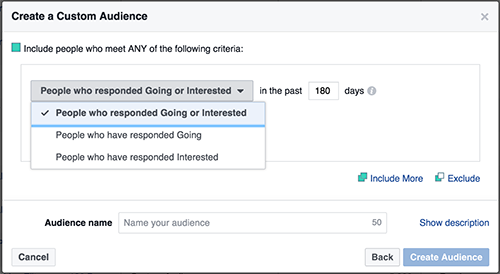 Obviously, the largest audience will be of all who responded "Going" or "Interested." As soon as you limit to one or the other, the number of people you'll reach will drop.
Instead of creating an audience of all who responded to any Event, you could isolate those who responded to one or multiple specific Events.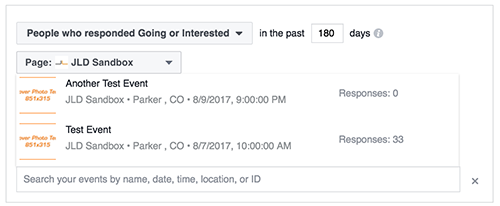 You can also use "include" or "exclude" logic to further isolate those who responded to other Events — whether associated with the current page or another page you control.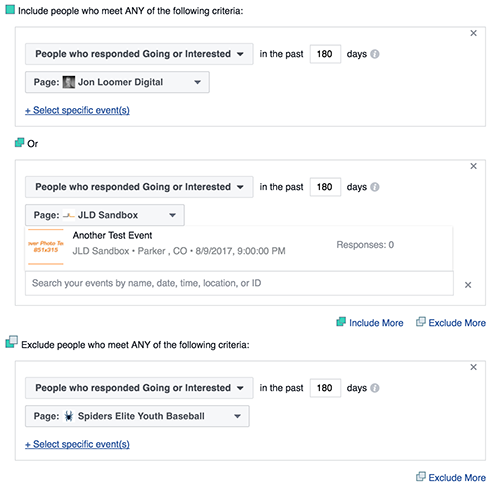 Finally, these audiences allow advertisers to isolate those who engaged with their Events during a specific time period — from between the past 1 and 180 days.

As you undoubtedly know by now, this is dynamic. The shorter the time period, the more relevant your advertising may be to the targeted audience. The longer the time period, the larger the audience.
How to Use Facebook Event Custom Audiences
There are several use cases for Facebook Event Custom Audiences…
1. Remind those attending an upcoming Event.
2. Convince those interested in an upcoming Event to commit.
3. Promote a new Event to those who committed to previous Events.
4. Promote products or content related to a particular Event.
This is just scratching the surface, of course. These audiences could be incredibly valuable for any brand that actively utilizes Facebook Events.
Your Turn
Facebook says that this feature is in the process of being rolled out. If you don't have it yet, you should soon!
Do you have this feature yet? What are ways that you might use it?
Let me know in the comments below!