Facebook has released an advertising feature for e-commerce companies that allows them to show different formats and creative to people based on what they're most likely to respond to. It's called Facebook Dynamic Formats and Ad Creative.
Let's take a closer look at what this is and how you can set it up.
What Is Dynamic Formats and Ad Creative?
This feature is for e-commerce brands with a product catalog, typically used for Dynamic Ads. It allows you to promote your products, but with different formats and ad creative depending on the audienceThis is the group of people who can potentially see your ads. You help influence this by adjusting age, gender, location, detailed targeting (interests and behaviors), custom audiences, and more. More.
Dynamic Ads are similar, but in that case you utilize a single ad format — carouselA carousel allows you to display two or more scrollable images or videos in the same ad, with the ability to link each to a different URL. More, single image, or collection, for example. In this case, the format that is shown to an individual user could be carousel or collection, depending on the person.
There are certain items that are dynamic that will be different from person to person. Of course, the products displayed will be dynamic, as with Dynamic Ads. The other dynamic elements of this are…
Whether the ad is displayed in carousel or collection format
Product description displayed under products in carousel
Dynamic video used as cover media in collection format
Here's an example from Facebook of three different variations of your ad, depending on the audience…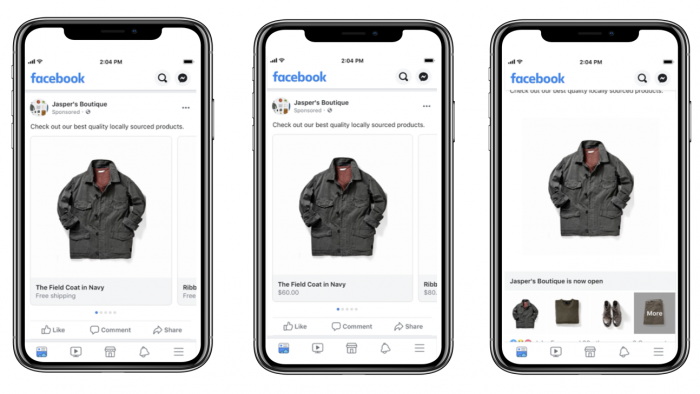 Product Catalogs
In order to take advantage of this feature, you first need to have a product catalog and feed. This way, Facebook has a list of all products, titles, descriptions, prices, images, and more that are necessary to construct an ad template.
If you aren't familiar with this process, here are a couple of links to help you get set up:
ObjectivesWhen you create a campaign, one of the first things you'll do is select an objective. The campaign objective is your ultimate goal. Your selection will impact options, including optimization and delivery. Options include Awareness, Traffic, Engagement, Leads, App Promotion, and Sales. More and Targeting
The only objectives that currently qualify for this feature are Traffic, Catalog Sales, and ConversionsA conversion is counted whenever a website visitor performs an action that fires a standard event, custom event, or custom conversion. Examples of conversions include purchases, leads, content views, add to cart, and registrations. More.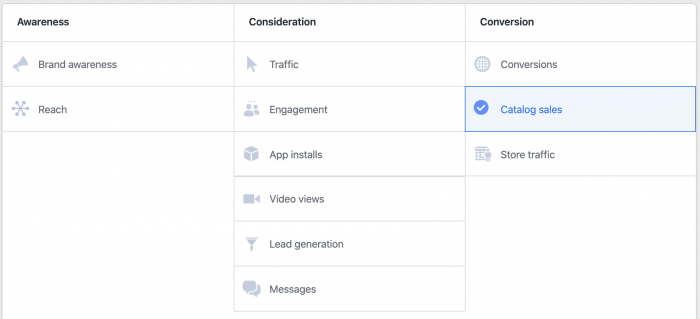 More often than not, you'll use Catalog Sales, but that's not required.
You'll set up targeting, placements, budgetA budget is an amount you're willing to spend on your Facebook campaigns or ad sets on a daily or lifetime basis. More, and optimizationThe Performance Goal is chosen within the ad set and determines optimization and delivery. How you optimize impacts who sees your ad. Meta will show your ad to people most likely to perform your desired action. More the way you typically would.
Setting Up the Ad
When creating your ad, toggle the option to "use dynamic formats and ad creative."

Select your product catalog and product set. If you're using the Catalog Sales objective, this is done at the ad setAn ad set is a Facebook ads grouping where settings like targeting, scheduling, optimization, and placement are determined. More level.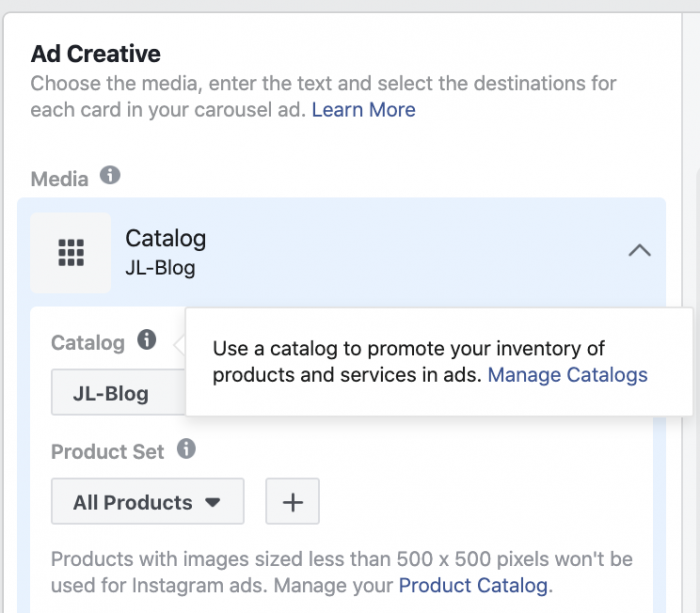 Determine whether the cover media that appears above your collection ad format will be a dynamic video, static video, or static image.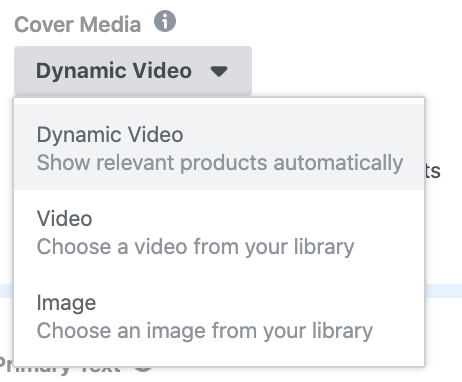 If you use a dynamic video, it will be personalized to display products most relevant to the targeted person's interests.
Enter the primary text that will appear above your ad, regardless of format. Enter a headline (typically a shortcode for the product name) that will appear below each carousel image.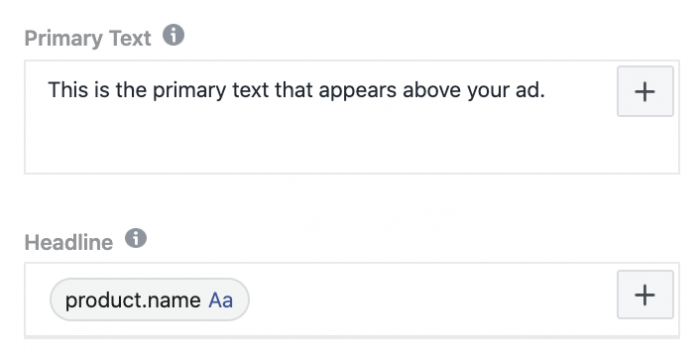 You can provide up to three descriptions that would appear below the product headline in the carousel format. Like the headline, this will typically be a shortcode that will pull information from your product feed.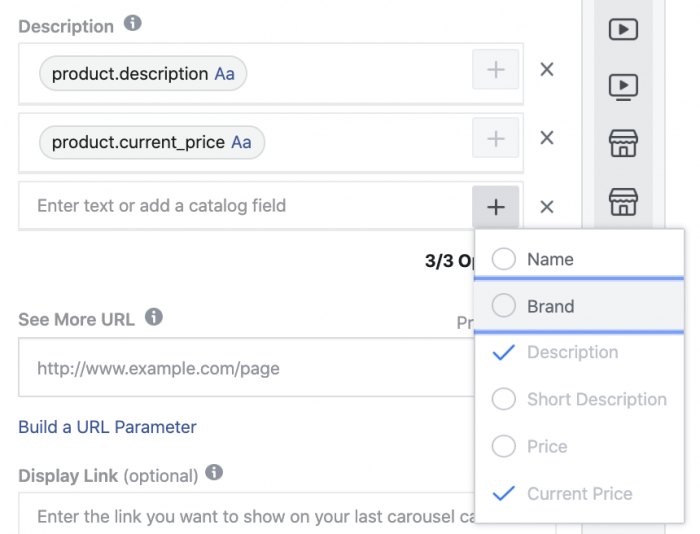 Keep in mind that the description won't always appear these days. And since it's dynamic, that description will need to be relevant regardless of the product shown.
Finally, you'll provide a "see more" link (final carousel card or bar above products on collection ad), CTAA call-to-action is a button or link on your ad that suggests the action you want your audience to take. Examples: "Learn More" or "Sign Up." More button, and optional display link, deep link to website, mobile app, and deep link destination.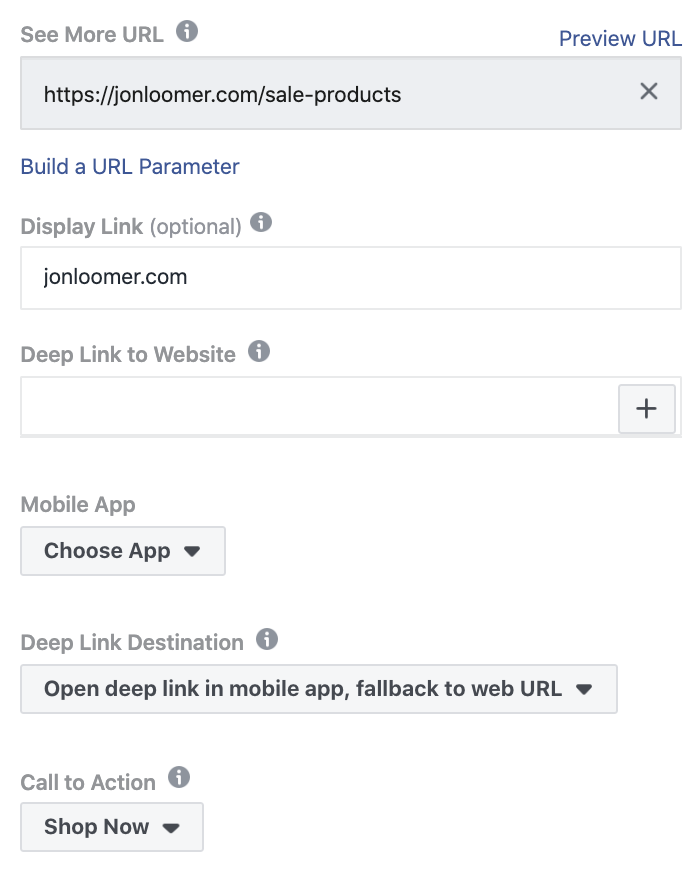 Preview Variations
If you want to see what this might look like, click "View More Variations" above the ad preview.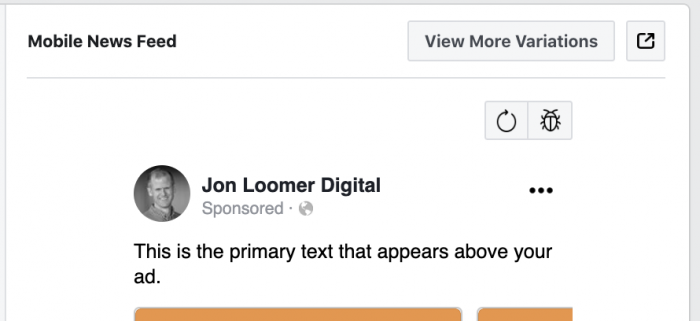 You can view the carousel option with the various description options (if provided)…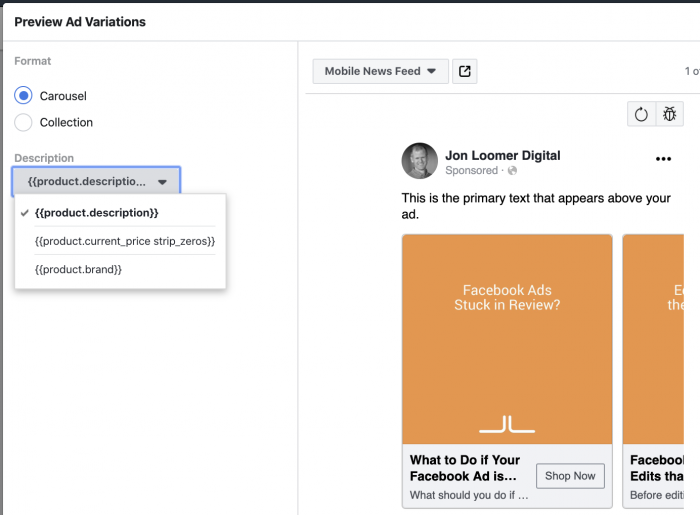 Or you can view it in the collection format, showcasing a dynamic video, static video, or static image above the products.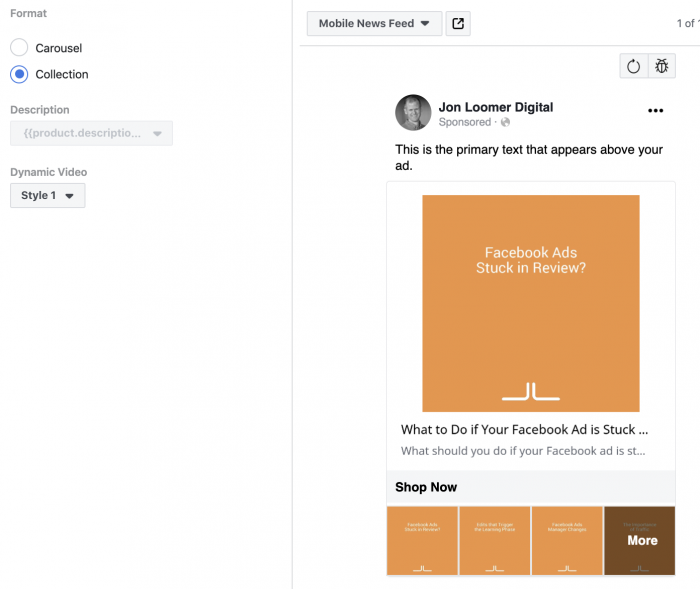 If you're using a dynamic video, you'll have two different styles to choose from.
Considerations
There are a few limitations and suggestions that Facebook provides in their best practices for this feature.
First, don't create more than one ad utilizing dynamic formats and ad creative within a single ad set. If you do, this feature may be disabled.
Second, don't make any changes for at least 15 days. It's going to take some time to learn how best to optimize, and Facebook suggests waiting this long when using dynamic formats and ad creative.
Finally, split testSplit testing (or A/B testing) allows you to test changes in Facebook variables like ad creative, audience, or placement to determine which approach performs best. More this method versus standard Dynamic Ads. What works best? Find out with Facebook's split-testing feature.
Reporting
If you're hoping to see a breakdownBreakdown is a way to get insights into your ad performance related to time, delivery, action, or dynamic creative element. More of performance by creative asset, it appears you'll be waiting a bit longer. There is aggregate reporting only.
According to Facebook:
Reporting in the metrics tab will reflect the aggregate performance of all the variations of your ad, but not individual formats or creative combinations.
Your Turn
Like everything else, this is something worth trying. Will it lead to better results? You won't know until you test it out.
Have you started experimenting with this feature yet? What do you think?
Let me know in the comments below!