Facebook advertisers continue to experience challenges when using the platform's custom audienceThis is the group of people who can potentially see your ads. You help influence this by adjusting age, gender, location, detailed targeting (interests and behaviors), custom audiences, and more. More feature to estimate potential audience sizes. In particular, many advertisers report seeing errors that state the audience size is "not available".
In conversations among advertisers in the Power Hitters Club groups, these issues have been a recurring topic, with members sharing differing experiences (and frustrations!).
But there's hope: Some advertisers are again seeing custom audience sizes. This post covers scenarios when audience size data may be available. We'll also bring you up to speed on why this problem exists in the first place.
A Brief History on Facebook Custom Audience Size Issues
In March of this year (2018), Facebook removed the ability to view custom audience sizes. This was in response to a vulnerability that could be potentially exploited, allowing an advertiser to identify individual user data.
The official Facebook response (via a post on the Bug Bounty program page) stated that custom audience size data would simply no longer be available. The issue also made it into the platform status tool, and it appeared this would be the new normal.
While not directly related, Facebook's recent issue with the log-in information of almost 50 million accounts may lead to increased scrutiny of user data. These types of issues are unlikely to disappear anytime soon.
Based on these challenges, it may seem safe to assume that advertisers will no longer have access to custom audience data.
However, it's not that simple, and for some advertisers, the size data has returned.
Facebook Custom Audience Size Back? (Sort of!)
After reviewing several scenarios, we know that some advertisers are once again seeing custom audience size estimates. We haven't been able to identify why this is available for some, but not all, advertisers.
Based on what we've seen, advertisers are not seeing custom audience sizes for website audiences, but they are populating for certain engagement audiences. Here's an updated screenshot from this week to illustrate:

However, there are certain scenarios where the data becomes unavailable. In the example screenshots below, I've replaced the audience names for purposes of illustration:
1) If you use a custom audience as the base for a saved audienceA saved audience allows a Facebook advertiser to save often-used targeting settings to easily use later. More, the size will not populate. Instead, you will get a "Data is not available" error in place of the potential reachReach measures the number of Accounts Center Accounts (formerly users) that saw your ads at least once. You can have one account reached with multiple impressions. More:

Similarly, saving the audience generates a "Not available" message on the main audience screen:

2) If you combine two custom audiences together for a saved audience – the size will not populate:

3) Using the custom audience to compare overlap with any other audience gives the message: "To protect the privacy of people on Facebook, the audiences you selected are unavailable for audience overlap.":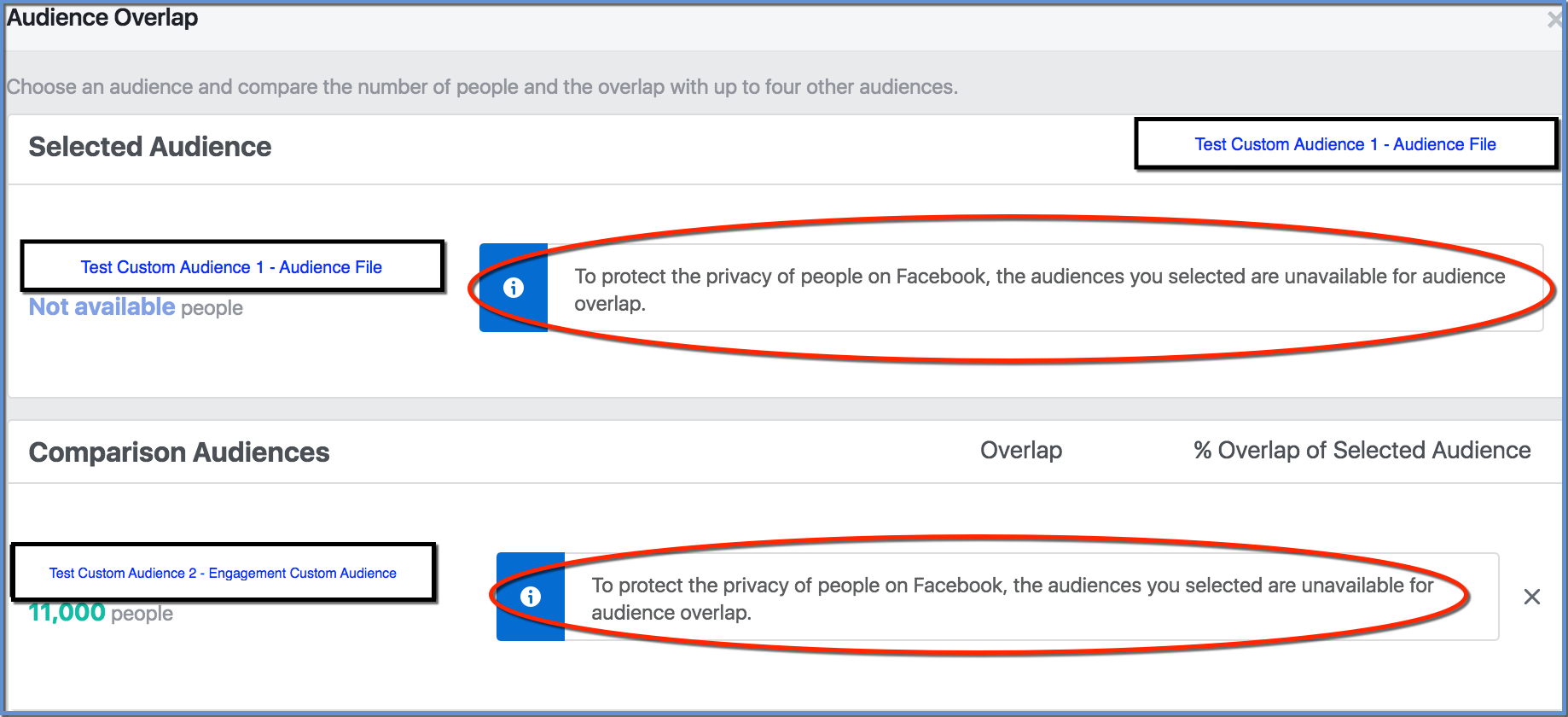 *If you need a refresher on how to compare audience overlap, check out this write-up from Jon.
Funny enough: In the above example, the Test Custom Audience 1 shows as "Not available" under the audience title name, even while the audience number does appear in the main audience list:

Using Ads Manager, Estimated Potential Reach during ad setup will also not populate for custom audiences, even if the audience number does appear in the main Audiences screen:

As a final note, Audience Insights still displays no data for these custom audiences.
Implications for Advertisers: Custom Audiences
If inconsistency in the display of custom audience data is any indication, Facebook is still working through these issues. Given the high public scrutiny of any potential privacy irregularities, it's unlikely we'll see the wide availability of deep data for custom audiences anytime soon.
But, things change quickly, and as always, advertisers must adapt. We will continue to monitor this space (along with the advertisers in the Power Hitters Club!).
Regardless of the changes, custom audiences can still be a highly valuable feature for advertisers.
If you're looking for inspiration on custom audiences, check out this fantastic guide to 55 custom audiences from Jon.
And remember, you can still use audience data for non-custom audiences for clues about your potential target groups, such as comparing Facebook and Instagram audiences.
Your Turn
Is your experience of seeing custom audience sizes any different from ours?
Let me know in the comments below!