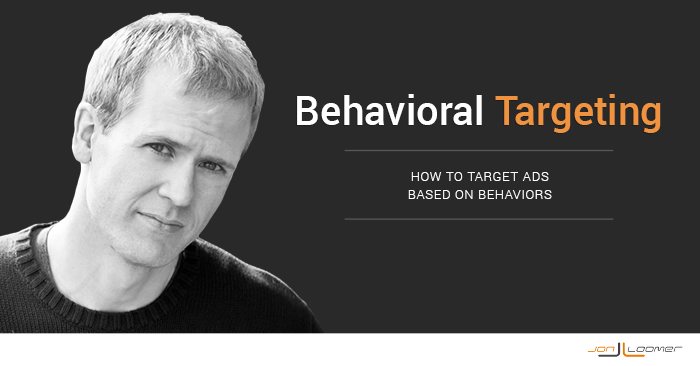 [AUDIO VERSION: I also recorded an audio version of this blog post. Click below to listen. Let me know if this is something you find helpful!]
Last week, I wrote about how you could use the "More Demographics" drop-down to target Facebook users based on the following categories:
Relationship
Education
Work
Financial
Home
Ethnic Affinity
Generation
Parents
Politics (US)
Life Events
The options here are far more powerful than they once were. I encourage you to poke around and discover how precise this new targeting is.
Today, however, I want to start digging into how you can target Facebook users based on actual behaviors. The amount of targetable behaviors available is in the hundreds, so I won't cover all of them today. But I want to be sure you have a solid understanding of what is possible.
[Note: Some of this may not yet be available to advertisers outside of the US.]
[Tweet "How to target Facebook users by behavior like purchases, car owned, charitable donations and more…"]
The Basics: How to Target By Behavior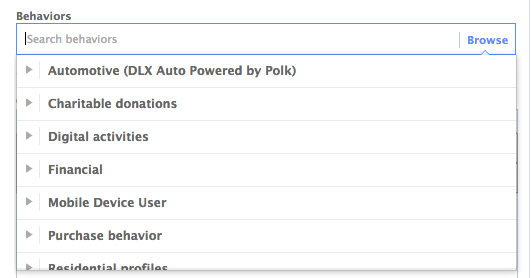 Whether you create your ads in Power Editor or the ad create tool (I recommend Power Editor), advertisers will see the "Behaviors" drop-down in audienceThis is the group of people who can potentially see your ads. You help influence this by adjusting age, gender, location, detailed targeting (interests and behaviors), custom audiences, and more. More targeting.
Following are the categories of behaviors that can be targeted:
Automotive (DLX Auto Powered by Polk)
Charitable Donations
Digital Activities
Financial
Mobile Device User
Purchase Behavior
Residential Profiles
Travel
Click around and you'll see just how targeted you can get based on behaviors…
Automotive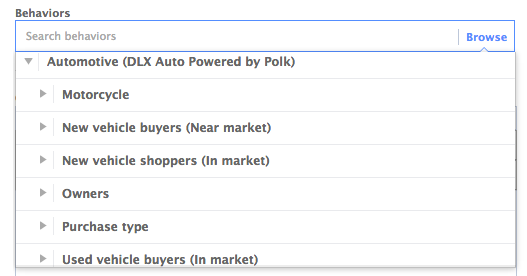 Once the Automotive category is clicked, you'll be shown the following sub-categories:
Motorcycle
New Vehicle Buyers (Near Market)
New Vehicle Shoppers (In Market)
Owners
Purchase Type
Used Vehicle Buyers (In Market)
When those sub-categories are clicked, even more sub-categories are exposed.
The amount of targeting you can do based on the type of vehicle someone owns or leases is incredible. As a result, a separate blog post to cover this topic was needed (read it here!).
This information is pulled from Partner Categories. Datalogix, a data mining partner, collects this information when large purchases are made and reports it to Facebook to be used in ad targeting. More will be discussed on this later!
Charitable Donations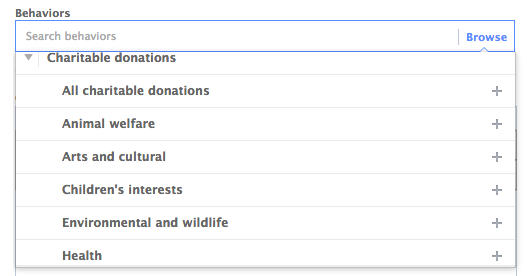 If you were to click the Charitable Donations category, you'll be shown the following sub-categories:
All Charitable Donations
Animal Welfare
Arts and Cultural
Children's Interests
Environmental and Wildlife
Health
Political
Religious
Veterans
World Relief
If you were to select "Animal Welfare," for example, you could target all Facebook users who have self-reported that they donate to animal welfare-related charities. This could be incredibly useful targeting for non-profits looking to reachReach measures the number of Accounts Center Accounts (formerly users) that saw your ads at least once. You can have one account reached with multiple impressions. More potential donors who have given to a similar cause in the past.
This data is pulled from data mining partners Epsilon and Acxiom, formerly found within Partner Categories. In most cases, it's consumer self-reported data from surveys and donations.
Digital Activities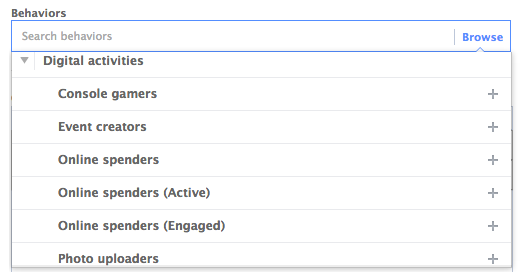 If you click on the Digital Activities category, the following sub-categories are revealed:
Console Gamers
Event Creators
Online Spenders
Online Spenders (Active)
Online Spenders (Engaged)
Photo Uploaders
Small Business Owners
Technology Early Adopters
Technology Late Adopters
All of this data is pulled from activities performed on Facebook.
Financial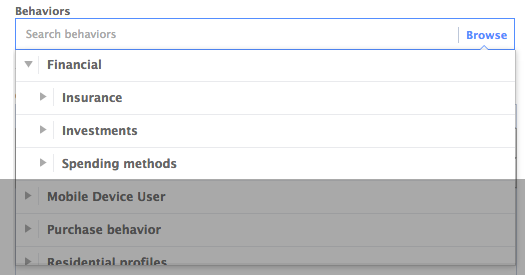 When you click on Financial, the following three sub-categories appear:
Insurance
Investments
Spending Methods
Each sub-category has more data buried within it…
Insurance
Auto Insurance (target by policy renewal month)
Health Insurance (likely no dependents or likely to have dental insurance)
Home Insurance (target by policy expiration month)
Life Insurance Owners
Some of this is self-reported to data partner Acxiom and the Home Insurance info is publicly available.
Investments
Highly Likely Investors
Likely Full-Service Investors
Likely Investors
Likely Self-Directed Investors
This is pulled from Acxiom using a couple of different models, per Facebook…
Modeled based on investment interests, and a variety of additional demographic data and census median data
Modeled using MRI and built from a blend of public, self-reported, buying activity, and census/geo data
Spending Methods
Active Credit Card User
Any Card Type
Bank Cards
Gas, Department and Retail Store Cards
High-End Department Store Cards
Premium Credit Cards
Primarily Cash
Primarily Credit Cards
Travel and Entertainment Cards
This data comes from data partner Acxiom in a number of ways:
Self-reported purchase activity
Self-reported consumer information from surveys
Modeled based on property data, investment interests, buying activity, occupation and census median data
You'll recall that there was also a Financial section within the "More Demographics" targeting. In that case, however, we were targeting based on annual income and net worth.
Mobile Device User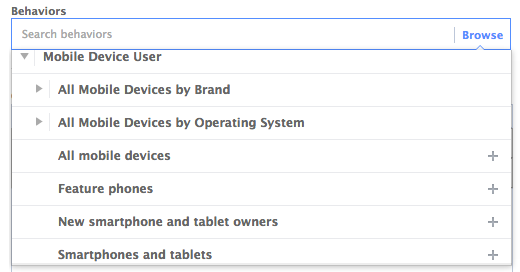 The following options for Mobile Device User are available:
All Mobile Devices by Brand (target by model owned)
All Mobile Devices by Operating System (target by specific OS)
All Mobile Devices
Feature Phones
New Smartphone and Tablet Owners
Smartphones and Tablets
Facebook has this information based on how users access their platform.
Note that you can also target mobile devices within the Creative step of ad creation…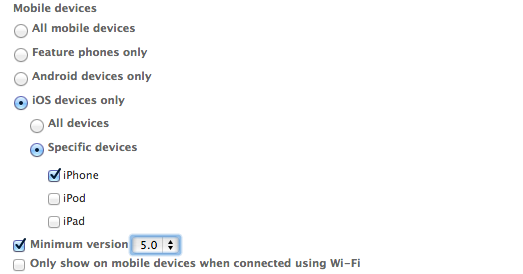 The difference is that with Behavioral targeting, you can target users who own a particular device but who aren't necessarily on it at the time. With the second example above, you are only targeting users who are using that type of device when targeted.
Purchase Behavior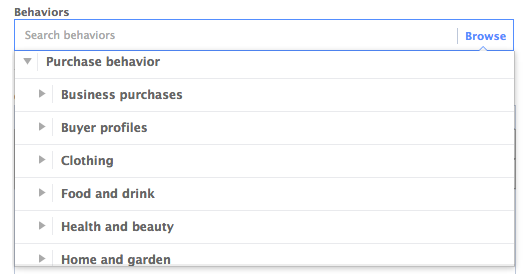 When the Purchase Behavior category is clicked, a whole world of options is opened up to you…
Business Purchases
Buyer Profiles
Clothing
Food and Drink
Health and Beauty
Home and Garden
Household Products
Kids Products
Pet Products
Purchase Habits
Purchase Types
Sports and Outdoors
Store Types
Subscription Services
As was the case with the Automotive category, Purchase Behavior requires a blog post of its own. The possibilities are practically endless!
This data is provided by Epsilon and Datalogix based on actual purchases made.
Residential Profiles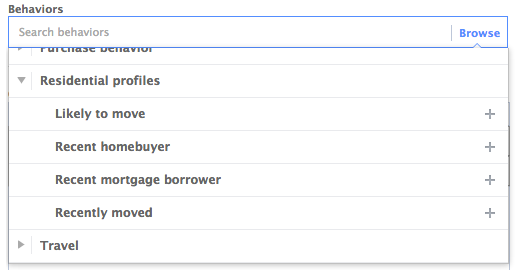 Click on the Residential Profiles category for the following options:
Likely to Move
Recent Homebuyer
Recent Mortgage Borrower
Recently Moved
The Recent Homebuyer and Recent Mortgage Borrower data is pulled from publicly available and self-reported information. The Likely to Move data comes from Epsilon and Recently Moved from Acxiom.
Travel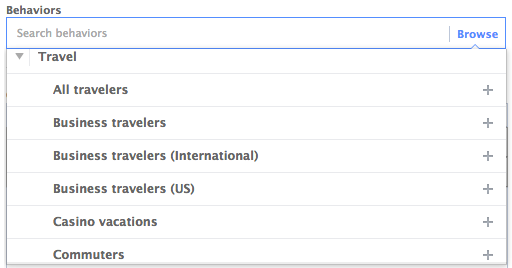 And finally, that takes us to the Travel category. Following are the ways you can target people based on where they go…
All Travelers
Business Travelers
Business Travelers (International)
Business Travelers (US)
Casino Vacations
Commuters
Cruises
Currently Traveling
Family Vacations
Frequent Flyers
Leisure Travelers
Personal Travelers (International)
Personal Travelers (US)
Planning to Travel (Returned from trip recently, use timeshares, used travel app recently)
Some of this data is available based on information users share on Facebook and travel apps used. The rest of it comes from Datalogix.
Here are a couple of examples of how that data is collected and then users are targeted, per Facebook:
Collected from U.S. Census, warranty cards, registration information, the Department of Motor Vehicles, public record information, survey data, and other offline sources. Data must be validated by at least two sources to be included.
U.S consumer data on where consumers shop, how they shop, what products and brands they purchase, the publications they read, and their demographic and psychographic attributes.
Where Does Facebook Get This Data?
The same rules apply here that applied to the More Demographics targeting.
It will undoubtedly sound creepy to some that you can target based on some of this information. But if you get past the creepiness, this data can be used to generate incredibly relevant — and useful — advertising.
Demographic targeting is based on data from one of two sources:
Information users provide to Facebook
Information mined by data partners
The first is easy to explain. Facebook knows a lot about you based on your activities through their platform.
The second has actually been around for more than a year in the US via Partner Categories, but some of this targeting has been moved to the More Demograhpics and Behaviors areas.
Facebook partnered with data mining companies to collect additional information on users for targeting purposes. Whenever you fill out an application or survey or make a large purchase, data mining companies often get access to this information.
As always, advertisers have no access to the names associated with this data. For more on how this data is used, make sure you read this message from Facebook.
How Can Advertisers Use This Data?
All kinds of possibilities! Here are a few ideas…
Automotive: A Toyota dealership targets Facebook users within 25 miles who own a Toyota Corolla that is 4-5 years old. They can even feature a picture of the new model, and direct users to a landing page to set up a test drive.
Charitable Donations: A Democratic political candidate running for office can target Democrats within the area.
Digital Activities: A B2B company with a product that helps small businesses can target those who have reported themselves as small business owners.
Financial: An auto insurance company can advertise their rates to Facebook users in the area whose policies are set to expire.
Mobile Device User: An iPhone app creator can promote an informational ad to iPhone users while not on their iPhone, then target those same users with an install ad when on their devices.
Purchase Behavior: A Pet store can target dog owners with coupons that will be relevant to them.
Residential Profiles: A mortgage broker or real estate agent could target Facebook users who are "likely to move."
Travel: A travel company specializing in cruises can target Facebook users who are known to take cruises.
Your Turn
Have you started using this information in your targeting? What have you done, or what ideas do you have?
Let me know in the comments below!