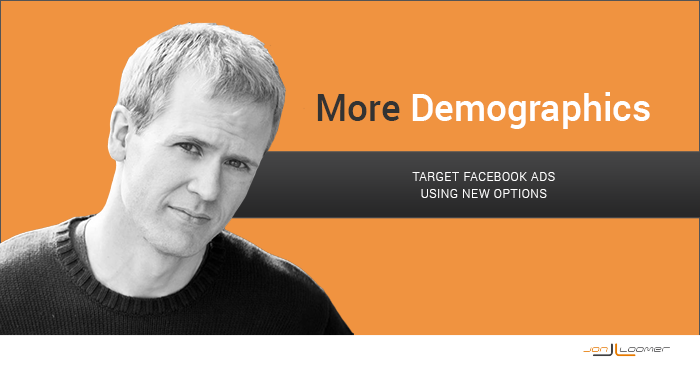 [AUDIO VERSION: I also recorded an audio version of this blog post. Click below to listen. Let me know if this is something you find helpful!]
The power of Facebook ads is found within the targeting. Success and failure will be determined by how well you are able to zero in on the audienceThis is the group of people who can potentially see your ads. You help influence this by adjusting age, gender, location, detailed targeting (interests and behaviors), custom audiences, and more. More that will respond to your messaging.
It's why I say that Facebook ads don't fail, but advertisers do. The tools are available for you to do some amazing things when utilized properly.
Back in February, Facebook announced Core Audiences, which are new and revamped targeting options based on the following:
Location
Demographics
Interests
Behaviors
Today I am going to focus on the demographics enhancement that allows advertisers to target Facebook users in new and powerful ways.
[Tweet "How to use Facebook Core Audiences to target with dozens of new demographic targeting options…"]
More Demographics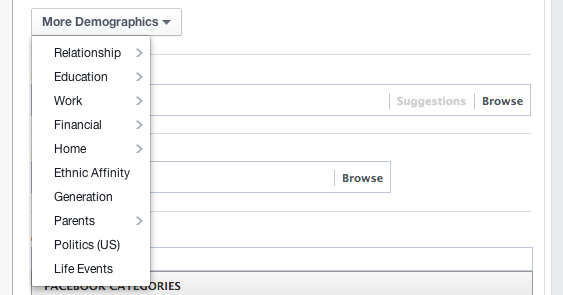 Whether you create your ads in Power Editor or the ad create tool, advertisers will see the "More Demographics" drop-down in audience targeting. When clicked, you'll see these options:
Relationship
Education
Work
Financial
Home
Ethnic Affinity
Generation
Parents
Politics (US)
Life Events
Once you start clicking around, a world of options will open up to you…
Relationship

There was a time when you could only target users based on a select number of relationship options. Now you can get far more specific…
Interested In:
All
Men
Women
Men and Women
Unspecified
Relationship Status:
Single
In a Relationship
Married
Engaged
Unspecified
Civil Union
Domestic Partnership
Open Relationship
Complicated
Separated
Divorced
Widowed
These statuses are all pulled from Facebook user profiles.
Education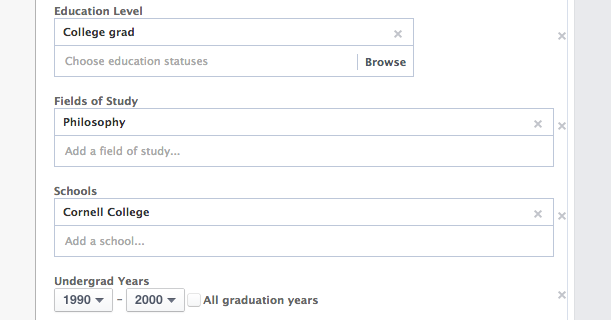 Facebook allows advertisers to target users based on the type of degree, field of study, school and year of graduation.
Education Level:
College Grad
Doctorate Degree
High School Grad
In College
In Grad School
In High School
Master's Degree
Professional Degree
Some College
Advertisers can also target the following by entering targets manually in the associated text fields:
Fields of Study
Schools
Undergrad Years
All of this information is pulled from Facebook user profiles.
Work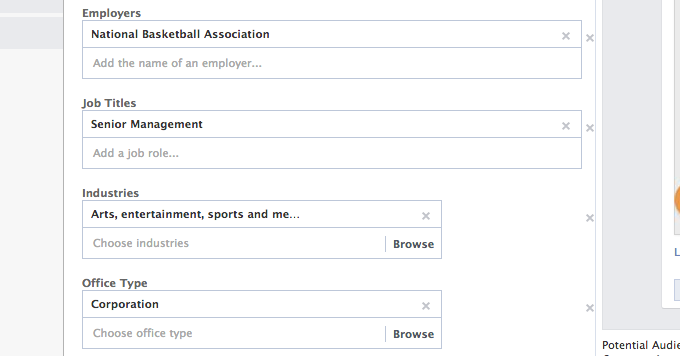 Targeting based on career just got a whole lot more powerful. You can manually target Employer and Job Title. But you can also use Facebook Categories to target users based on the industries they work in.
Industries:
Administrative
Architecture and Engineering
Arts, Entertainment, Sports and Media
Business and Financial Operations
Cleaning and Maintenance
Community and Social Services
Computer and Mathematics
Construction and Extraction
Education and Library
Farming, Fishing and Forestry
Food Preparation and Services
Healthcare and Medical
IT and Technical
Installation and Repair
Legal
Management
Military
Personal Care
Production
Protective Service
Retail
Sales
Science
Temporary and Seasonal
Transportation and Moving
Amazingly, you can even target by office type…
Office Type:
Corporation
Home Office
Small Office
This is one of the Partner Categories from Epsilon. Some of this data was moved from Partner Categories and into More Demographics.
Facebook indicates that this specific data is "sourced from purchase transaction data and compiled sources."
Financial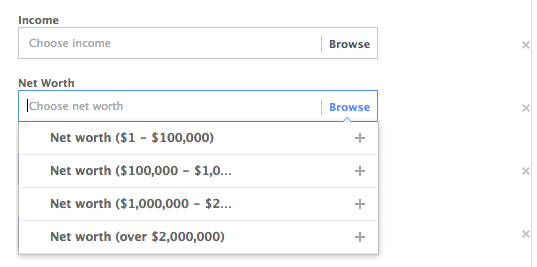 Can you believe that you can target users based on income and net worth? Yep, entirely possible…
Income:
$40,000 – $50,000
$50,000 – $75,000
$75,000 – $100,000
$100,000 – $125,000
Over $125,000
Net Worth:
$1 – $100,000
$100,000 – $1,000,000
$1,000,000 – $2,000,000
Over $2,000,000
This comes from Axciom's partner data. Per Facebook:
Income is either consumer self-reported through a survey or estimated based on a variety of demographic data such as age, occupation, home ownership, and median income for the local area.
And regarding net worth…
Modeled based on age, income, presence of children, occupation, property data, vehicle data, investment interest and census median data.
Home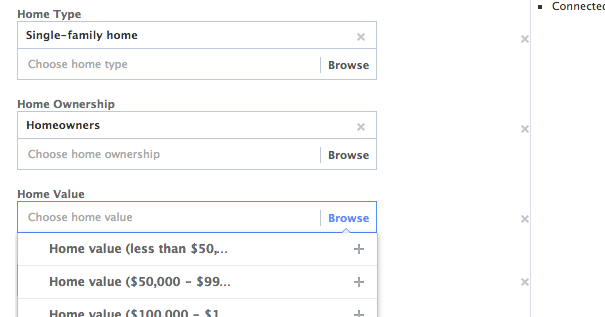 When you visualize your ideal customer, where do they live? Do they own or rent a home? How much is that home worth? And who lives in it?
You bet, you can target based on this demographic data.
Home Type:
Multi-Family Home
Single-Family Home
Home Ownership:
Home Value:
Less than $50,000
$50,000 – $99,999
$100,000 – $149,999
$150,000 – $199,999
$200,000 – $249,999
$250,000 – $299,999
$300,000 – $349,999
$350,000 – $399,999
$400,000 – $449,999
$450,000 – $499,999
$500,000 – $599,999
$600,000 – $699,999
$700,000 – $799,999
$800,000 – $999,999
$1,000,000 – $1,499,999
$1,500,000 – $1,999,999
Over $1,999,999
All of this data comes from Axciom.
You can also target based on household composition. This data is sourced by data mining partner Epsilon.
Household Composition:
Children in Home
Empty Nesters
Grandparents
New Teen Drivers
No Children in Home
Veterans in Home
Working Women
Young Adults in Home
Ethnic Affinity

There isn't much available here now, but Facebook allows you to target users who define themselves as Hispanic. We can assume this will be expanded in the future.
Hispanic (US – All)
Hispanic (US – Bilingual)
Hispanic (US – English Dominant)
Hispanic (US – Spanish Dominant)
Generation
Right now, you can only target based on the Facebook Category of "Baby Boomers." These options will undoubtedly grow, though I question the value since you can otherwise target based on age.
Parents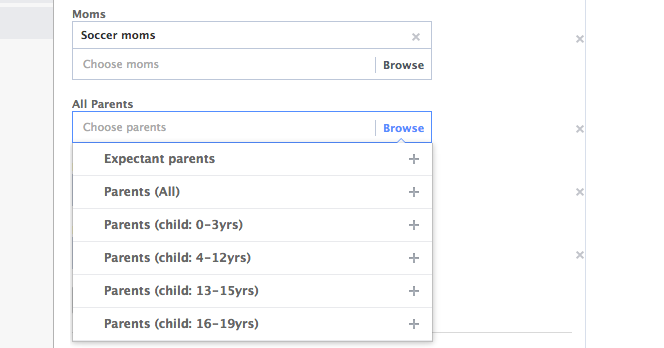 If your product or service focuses on children or their parents, this could be an incredibly valuable option for you.
Facebook asks users to share names and ages of their family members, regardless of whether they are on Facebook. Advertisers can then target ads based on this information.
All Parents:
Expectant Parents
Parents (All)
Parents (Child: 0-3 yrs)
Parents (Child: 4-12 yrs)
Parents (Child: 13-15 yrs)
Parents (Child: 16-19 yrs)
Target users who are moms thanks to DLX partner data. This is sourced from "U.S consumer data on where consumers shop, how they shop, what products and brands they purchase, the publications they read, and their demographic and psychographic attributes."
Moms:
Big-City Moms
Corporate Moms
Fit Moms
Green Moms
Soccer Moms
Stay-at-Home Moms
Trendy Moms
Politics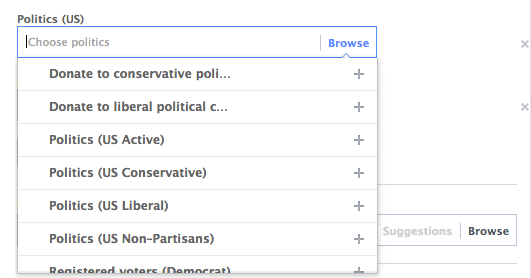 Data partner Epsilon allows Facebook advertisers to target users based on political affiliation thanks to completed surveys and records of donations made.
Donate to Conservative Political Causes
Donate to Liberal Political Causes
Politics (US Active)
Politics (US Conservative)
Politics (US Liberal)
Politics (US Non-Partisans)
Registered Voters (Democrat)
Registered Voters (Independent)
Registered Voters (Republican)
Life Events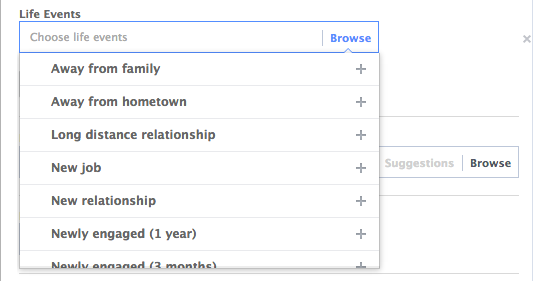 Finally, advertisers can target users based on recent changes they've made to their profiles.
Away From Family
Away From Hometown
Long Distance Relationship
New Job
New Relationship
Newly Engaged (1 Year)
Newly Engaged (3 Months)
Newly Engaged (6 Months)
Newlywed (1 Year)
Newlywed (3 Months)
Newlywed (6 Months)
Recently Moved
Upcoming Birthday
Where Does Facebook Get This Data?
It will undoubtedly sound creepy to some that you can target based on some of this information. But if you get past the creepiness, this data can be used to generate incredibly relevant — and useful — advertising.
Demographic targeting is based on data from one of two sources:
Information users provide to Facebook
Information mined by data partners
The first is easy to explain. If you've recently moved, changed jobs or got engaged, advertisers can target you based on this information.
The second has actually been around for more than a year in the US via Partner Categories, but some of this targeting has been moved to the More Demograhpics area.
Facebook partnered with data mining companies to collect additional information on users for targeting purposes. Whenever you fill out an application or survey or make a large purchase, data mining companies often get access to this information.
As always, advertisers have no access to the names associated with this data. For more on how this data is used, make sure you read this message from Facebook.
How Can Advertisers Use This Data?
Facebook gives the following examples of ways you can target with this information…
Relationship status expansion and time overlay:

If you're seeking to reachReach measures the number of Accounts Center Accounts (formerly users) that saw your ads at least once. You can have one account reached with multiple impressions. More newly engaged couples, you can select 'Newly Engaged' as a target audience and overlay a timeframe of 3 months, 6 months, or 1 year+.

Education:

If you represent a school, you can select an audience with 'Some College' to promote returning to college to finish a degree.

Workplace and job title:

If you're a recruiter, you can find people with specific job titles based on the role they're seeking to fill.

If you're a B2B Technology or Telecom advertiser, you can find the right job title, even at the right companies, to connect directly with decision makers for IT purchases.
Note that Core Audiences also allow advertisers to target using "and" statements rather than "or" statements.

From Facebook:
The new structure based on targeting type enables a more precise target audience to be constructed. In the past, many audiences could only be connected via an 'or' statement, but
different targeting types are now connected via an 'and' statement.

For example: an advertiser trying to acquire customers for a new digital camera can target: 'People who are parents and who are interested in photography and who upload photos frequently.'
On Targeting
Note that as powerful as this is, I recommend that you start first with users most closely connected to you.
My Facebook targeting priority goes in this order:
Facebook Fans
Email Subscribers Who Aren't Fans
Website Visitors Who Aren't Fans
Lookalike Audiences
Partner Categories (Including Core Audiences)
Interests
You can certainly have success with this demographic targeting, but if you have a strong customer list you should have the most success first with those who already know who you are. Depending on budgetA budget is an amount you're willing to spend on your Facebook campaigns or ad sets on a daily or lifetime basis. More and the sizes of your audiences (Fans, Subscribers, Website Visitors), you may or may not need to move beyond these groups.
Your Turn
Have you experimented with Core Audiences and the More Demographics targeting? What results are you seeing?
Let me know in the comments below!