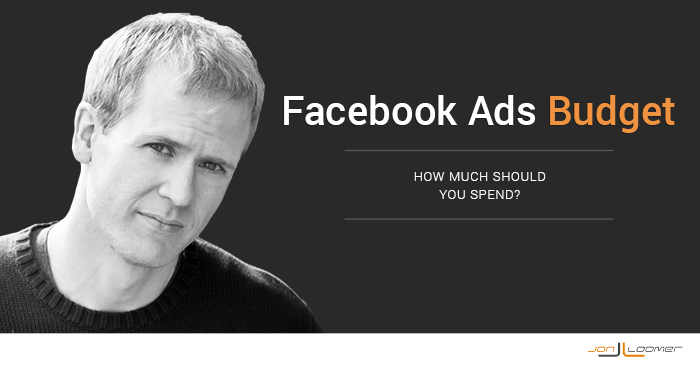 [AUDIO VERSION: I also recorded an audio version of this blog post. Click below to listen. Let me know if this is something you find helpful!]
My favorite new place for inspiration is the Power Hitters Club private Facebook group. It's where advanced Facebook marketers share their stories, advice and questions on the latest tricks and strategies. Amazing for collaboration.
This week, member John McGarry posed a common question…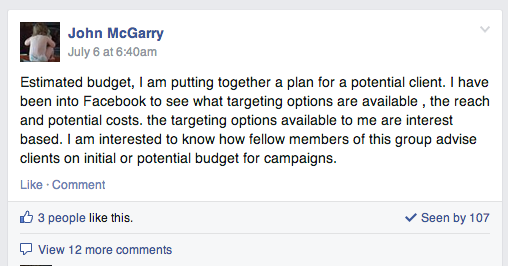 So, John has a potential client and he wants to advise on a monthly Facebook ads budgetA budget is an amount you're willing to spend on your Facebook campaigns or ad sets on a daily or lifetime basis. More. What should he say?
[Tweet "How much should you budget for Facebook ads? Start with goals. Follow this process…"]
What Are Your Goals?
The problem is that we too often ask, "What should the budget be?" prior to establishing goals. It's the goals that should help determine the budget.
Let's say, for example, that John's potential client had the following goals:
50,000 New Facebook Fans
10,000 New Email Subscribers
100,000 Website Referrals
5,000 Trackable Product Sales
5,000 App Installs
Before you price out anything, ask that potential client for their goals. You could begin to assign dollar values for each of these things. But first, let's ask a few more questions…
What Is Your Current Facebook Presence?
Building from nothing to 100,000 highly engaged fans who will buy from you is hard. Particularly if you're looking to do that in a short period of time.
It will help you a lot if there is already an established Facebook presence. There are fans established ready to engage, click and buy.
Also important is the resources dedicated to this. Is anyone in charge of community management? How skilled are they at creating useful, helpful content that the target audience wants to engage with and share?
Without an established presence, proper expectations need to be set for your client. If you will not be building a community, you will only be reaching non-fans to sell, drive traffic and get installs. That is simply less effective than targeting fans who expect to see your content.
If you are also tasked with establishing this presence, the client needs to understand that this will take time. Building a community does not happen overnight. And costs will be higher as social proof is being built.
Read this post on building a Facebook page from scratch.
What Is Your Niche?
Companies in the entertainment industry have an advantage on a social network. You can expect costs per conversion (page like, link clickThe link click metric measures all clicks on links that drive users to properties on and off of Facebook. More, email address, install and sale) to be lower.
On the flip side, companies in non-social or "boring" industries will have a tougher time. Think law firms or insurance companies, for example.
The niche should be considered when setting your budget. If it's a boring niche, adjust accordingly.
What Is Your Product?
If you're selling a product, so many factors will contribute to your success selling it. We're going to assume that you can easily target an audience likely to buy.
Is your product a high dollar item? Is it something people are unlikely to buy online? Are multiple steps needed to complete the purchase?
All of these things contribute to efficiency of sales with Facebook ads and should be considered when establishing a budget.
What Is Your Website?
Does your website currently get solid traffic? Is it well designed? Is content being published on a regular basis? Is it mobile friendly? How is the landing page set-up and copy?
These things matter a lot!
By having established traffic, you have a built in audience to target. If there is no traffic and very little content on a poorly designed website, you are sending people to a wasteland.
A well-designed and established website can make your job as an advertiser infinitely easier. On the flip side, a bad one can make it impossible.
Adjust your budget accordingly.
What Is Your Customer List?
The number one factor contributing to success or failure of Facebook advertising is the relevancy of the audience being targeted. Do they want to see what you are promoting?
A key to this is the customer list. If your client has a list of 100,000 paying customers, that gives you a solid foundation to start with of people likely to like your page, click your link, install your app or buy your product.
Without it, you will be reliant on a quality fan base and established website traffic…
If those things don't exist, you will be using interest and behavioral targeting as your main methods of reaching potential customers. You're behind the eight ball.
Adjust your budget accordingly.
What Is Your Time Window?
Let's say that you're signing a one-year engagement with a new client. They have moderate goals and minimal obstacles (good website, established fan base, solid customer list, etc.).
One year is plenty of time to test and adjust, refine and optimize to get to this client's goals.
But let's say that you have a client in a tough niche with aggressive goals. They do not have an established fan base, good website or anything else that makes your life as an advertiser easier. And they want to do everything in a month.
Good luck!
You should build testing and optimizing into your plan. You should also build in campaignsThe campaign is the foundation of your Facebook ad. This is where you'll set an advertising objective, which defines what you want your ad to achieve. More to accomplish specific goals. Your most aggressive time period should be the final quarter after you've already established a fertile foundation (fan base, traffic, customer list, community) for sales.
I would spread out your budget (and expectations) accordingly. The first month will be the toughest. The final should be when everything comes together.
Budget: Facebook Fans
As a rule of thumb, I say you should expect to spend anywhere from $.50 to $1 per Facebook fan. Now, this will depend on many factors, including niche, brand recognition, established presence and country. You could spend more or you could spend less.
Some will tell you that you can get fans for far less. Maybe insanely less. Remember that quality matters. It matters a lot!
John's client can expect to spend between $25,000 and $50,000 to increase their fan base by 50,000. To set appropriate expectations, I'd start with a $50,000 budget.
Budget: Email Subscribers
Again, there is no set price here. Several factors will contribute to this cost. Are you building your list with an attractive giveaway? Does the landing page convert? Are you looking for subscribers or leads (leads may be much more)?
I set an expectation of $1 per email address. I've found that it can be as low as $.50 if targeted appropriately (fans convert!), but it can also be higher.
With an expectation of $1 per email address, John's client should budget $10,000 for those 10,000 email addresses.
Budget: Website Referrals
Some content will be more attractive than others. It will be easier to get people to click on a popular, viral article with an engaging headline and photo than it will be to get people to click on a link to a boring informational article about the history of your company.
I consider anything close to $.10 a very good cost per website referral. You could go lower, but it's more likely you'll need to spend more. Depending on the referral, I wouldn't spend more than $.50 per link click.
Many questions need to be answered prior to having a better feel for whether the cost will be closer to $.10 or $.50 (that's a wide variance!), but let's play it safe for now at $.35. It would cost $35,000 to drive 100,000 website referrals at that rate.
Budget: Product Sales
As you can imagine, results here will be across the board. Cost of product is going to be a huge factor, as is relevance to the user targeted. But let's assume the product is $100.
While I and others have seen huge ROI on product sales, let's play this conservatively and assume a cost of $30 per conversion. The client needs to determine based on margins their acceptable rate.
We can budget $150,000 to drive 5,000 sales at a $30 per conversation rate.
Budget: App Installs
Let's also assume John's potential client has a free app. It could be a mobile or desktop app — doesn't really matter. The goal should be to pay $1 per app install, but again we should play this conservatively. Let's budget for $2 per install.
To get 5,000 app installs, we can expect cost to be in the neighborhood of $10,000.
Final Budgeting
The sum of costs associated with all goals for John's hypothetical potential client is $255,000. John should now break that up monthly depending on length of engagement, making sure to build slowly and account for bigger campaigns where additional spend will be necessary.
Your Turn
This is my recommendation for establishing a process for Facebook ads budgeting. How about you?
Let me know in the comments below!