The changes to Facebook (or Meta) advertising due to iOS 14+ in 2021 were significant. Regardless of whether your audience is on an iOS device, advertisers saw impact related to conversion attribution, optimizationHow you optimize impacts who sees your Facebook ad. Facebook will show your ad to people most likely to perform your desired action. More, and targeting. But another change has been largely ignored: The removal of the Compare Attribution Windows feature.
This may sound like no big deal. But the removal of this feature eliminated important context that helped advertisers understand their results.
Allow me to explain…
What Was This Feature?
It's possible you don't even know what I'm talking about. This feature disappeared rather quietly, so most advertisers may not have noticed.
The Compare Attribution Windows feature was found in one of two areas:
Within the Columns dropdown menu
Within the Customize Columns selection process
Originally, it was only within the Customize Columns selection process. At the bottom right, you could add columns for different click and view-through conversion windows.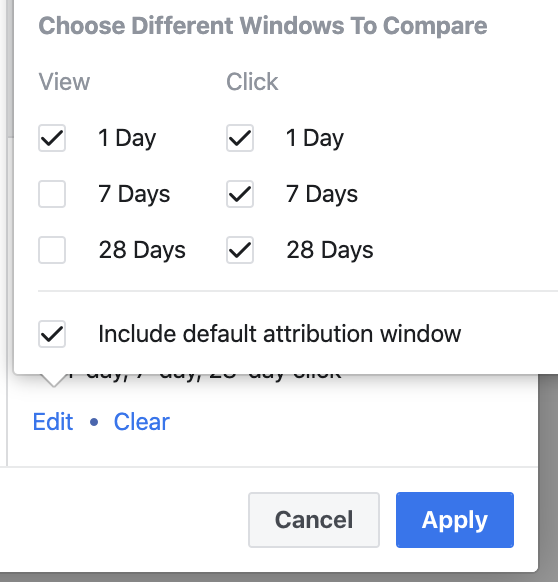 Eventually, an option for "Compare Attributions" was also added to the Columns dropdown menu.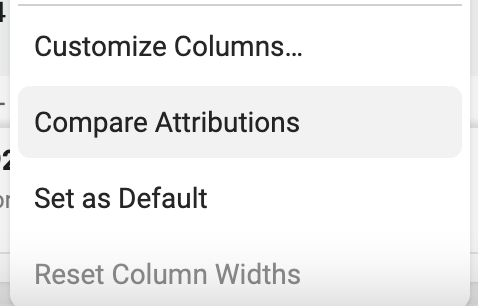 In either case, this was extremely valuable. It allowed an advertiser to understand how many of their reported conversions occurred within certain click and view-through attribution windows.
Like this…

Pretty great, right?
The Problem with its Removal
The removal of this feature creates more uncertainty for an advertiser trying to understand their results. Let me provide an example…
View-through conversions tend to be a bit controversial. By default, conversions are reported when a targeted user converts within 7 days of clicking or 1 day of viewing (and not clicking) your ad. Facebook can count conversions even if no one clicked. You can argue that view-through conversions have value, but few can argue that they are as valuable as a conversion following a click.
View-through conversions happen most frequently during remarketing. You target people who are on your email list. A user is served your ad (maybe doesn't even actually see it). The same user gets your email. The user clicks the email and converts.
Again, counting view-through conversions isn't necessarily the problem. You can technically remove view-through conversions when optimizing for conversions (you can't for any other type of optimization).
The problem is… you just don't know. Do your numbers look inflated? That could be due to view-through attribution. That old feature helped provide that necessary verification.
I've seen some results (when not using conversions optimization, so there wasn't an option to change) that made absolutely no sense. Conversion numbers exceeding clicks. Surely, most of these attributed conversions were view-through. The Compare Attribution feature was helpful for these cases.
A Workaround
I've complained quite a bit about the removal of this feature during the past year. Last week, I was alerted that while the feature did go away, there is a workaround.
I'm going to write about that workaround separately. It's found in Ad Reports. While it works, I'm skeptical because it's such a buried feature with an odd requirement for accessing it. Is it a remnant of the pre-iOS world? Will it be removed soon?
I have a whole lot of questions about that. But we'll address that separately.
Watch Video
I talked about this in the video below…
Your Turn
Do you miss the Compare Attribution WindowAn attribution window is the number of days between when a person viewed or clicked your Facebook ad and subsequently took an action. More feature? How has it impacted your advertising?
Let me know in the comments below!