When you run ads, it's important that you understand how they will display depending on the placementA placement is a location where your ad is shown. Examples include Facebook's mobile Feed, Messenger, Instagram feed, Audience Network, right-hand column, and more. More. You should understand image and video specs and character limits, among other things.
When you select placements in your ad setAn ad set is a Facebook ads grouping where settings like targeting, scheduling, optimization, and placement are determined. More, Facebook displays some basic requirements.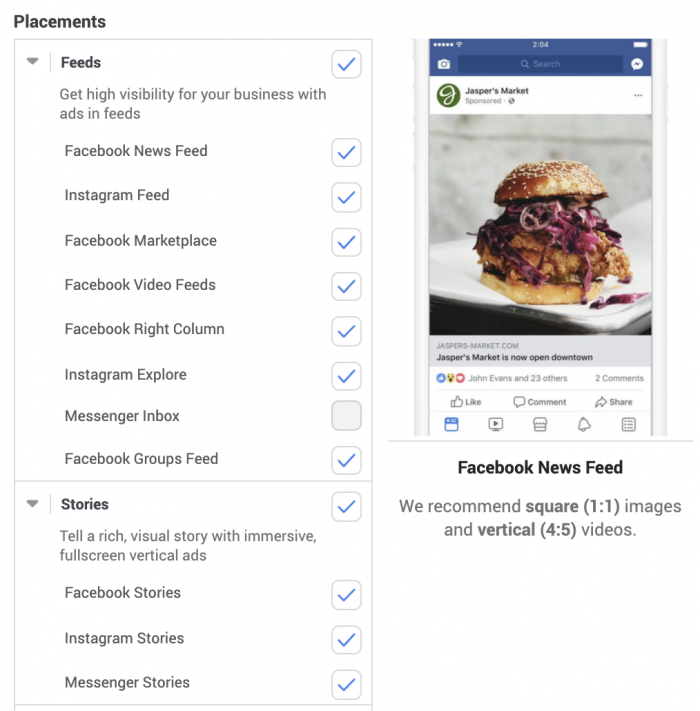 Facebook also provides a resource that lists out all of the minimums, maximums, and other requirements associated with each format and placement.
The first is too simplistic and the second is too complicated. I wanted to create a more helpful guide with recommendations for each format and placement. That's below.
[NOTE: If you're looking for page, group, or event cover photo requirements, read this post.]
Facebook Feed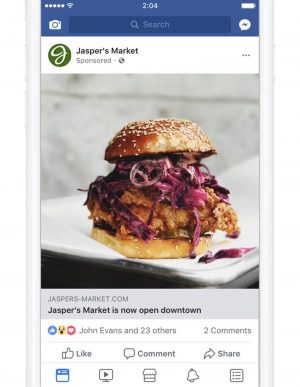 IMAGES
File Type: .png or .jpg
Recommended Image Ratio: 1:1
Recommended Resolution: At least 1200 x 1200px
Primary Text: 125 characters (truncated after that)
Headline: 25 characters (truncated after that)
Description: 30 characters (truncated after that; won't always appear)
VIDEOS
File Type: Most supported
Recommended Video Ratio: 4:5
Recommended Resolution: Highest possible
File Size: Up to 4GB
Video Length: Up to 240 minutes
Primary Text: 125 characters (truncated after that)
Headline (with link): 25 characters (truncated after that)
Description (with link): 30 characters (truncated after that; won't always appear)
CAROUSELA carousel allows you to display two or more scrollable images or videos in the same ad, with the ability to link each to a different URL. More
Minimum Number of Cards: 2
Maximum Number of Cards: 10 (up to 200 for Dynamic Ads on mobile)
Image File Type: .png or .jpg
Video File Type: Most supported
Recommended Ratio: 1:1
Recommended Resolution: At least 1200 x 1200px
Video Size Limit: 4GB
Image Size Limit: 30MB
Video Length: Up to 240 minutes
Primary Text: 125 characters (truncated after that)
Headline: 25 characters (truncated after that)
Description: 20 characters (truncated after that)
Right Column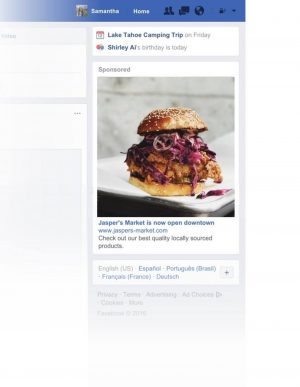 IMAGES
File Type: .png or .jpg
Recommended Image Ratio: 1.91:1
Recommended Resolution: At least 1200 x 1200px
Primary Text: 125 characters (truncated after that)
Headline: 25 characters (truncated after that)
Description: 30 characters (truncated after that)
CAROUSEL
Minimum Number of Cards: 2
Maximum Number of Cards: 10
Image File Type: .png or .jpg
Video File Type: Most supported
Recommended Ratio: 1:1
Recommended Resolution: At least 1200 x 1200px
Video Size Limit: 4GB
Image Size Limit: 30MB
Video Length: Up to 240 minutes
Headline: 40 characters (truncated after that)
Facebook Instant Articles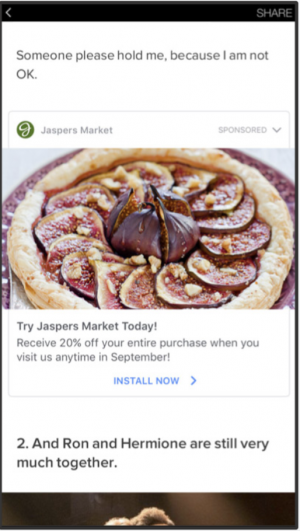 IMAGES
File Type: .png or .jpg
Recommended Image Ratio: 1:1
Recommended Resolution: At least 1200 x 1200px
Headline: 25 characters (truncated after that)
Description: 30 characters (truncated after that; won't always appear)
VIDEOS
File Type: Most supported
Recommended Video Ratio: 4:5
Recommended Resolution: Highest possible
File Size: Up to 4GB
Video Length: Up to 240 minutes
Headline (with link): 25 characters (truncated after that)
Description (with link): 30 characters (truncated after that)
CAROUSEL
Minimum Number of Cards: 2
Maximum Number of Cards: 10
Image File Type: .png or .jpg
Video File Type: Most supported
Recommended Ratio: 1:1
Recommended Resolution: At least 1200 x 1200px
Video Size Limit: 4GB
Image Size Limit: 30MB
Video Length: Up to 240 minutes
Primary Text: 125 characters (truncated after that)
Headline: 40 characters (truncated after that)
Description: 20 characters (truncated after that)
Facebook In-Stream Videos
VIDEOS
File Type: Most supported
Recommended Video Ratio: 16:9
Recommended Resolution: Highest possible
File Size: Up to 4GB
Video Length: Up to 120 seconds
Facebook Video Feed
VIDEOS
File Type: Most supported
Recommended Video Ratio: 16:9
Recommended Resolution: Highest possible
File Size: Up to 4GB
Video Length: Up to 240 minutes
Marketplace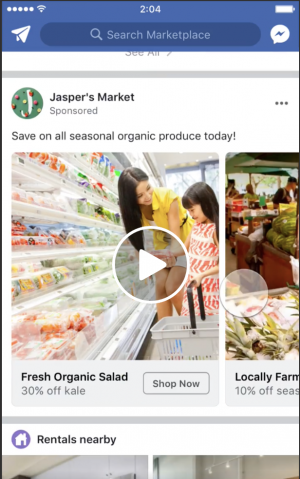 IMAGES
File Type: .png or .jpg
Recommended Image Ratio: 1:1
Recommended Resolution: At least 1200 x 1200px
Headline: 25 characters (truncated after that)
Description: 30 characters (truncated after that)
VIDEOS
File Type: Most supported
Recommended Video Ratio: 4:5
Recommended Resolution: Highest possible
File Size: Up to 4GB
Video Length: Up to 240 minutes
Headline (with link): 25 characters (truncated after that)
Description (with link): 30 characters (truncated after that)
CAROUSEL
Minimum Number of Cards: 2
Maximum Number of Cards: 10
Image File Type: .png or .jpg
Video File Type: Most supported
Recommended Ratio: 1:1
Recommended Resolution: At least 1200 x 1200px
Video Size Limit: 4GB
Image Size Limit: 30MB
Video Length: Up to 240 minutes
Primary Text: 125 characters (truncated after that)
Headline: 40 characters (truncated after that)
Description: 20 characters (truncated after that)
Facebook Stories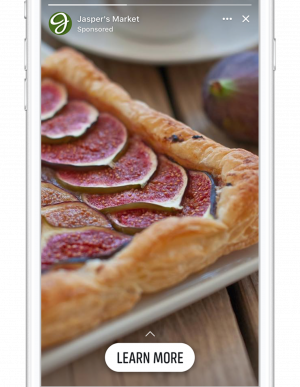 IMAGES
File Type: .png or .jpg
Recommended Image Ratio: 9:16
Recommended Resolution: At least 1080px x 1920px
Sweet Spot: Key elements appear within middle 1080px x 1420px (leave top/bottom 14% text/logo free)
VIDEOS
File Type: Most supported
Recommended Video Ratio: 9:16
Recommended Resolution: Highest possible
File Size: Up to 4GB
Video Length: Up to 15 seconds
Sweet Spot: Key elements appear within middle 1080px x 1420px (leave top/bottom 14% text/logo free)
CAROUSEL
Minimum/Maximum Number of Cards: 3
Image File Type: .png or .jpg
Recommended Ratio: 1:1
Recommended Resolution: At least 1200 x 1200px
Image Size Limit: 30MB
Primary Text: 125 characters (truncated after that)
Facebook Search Results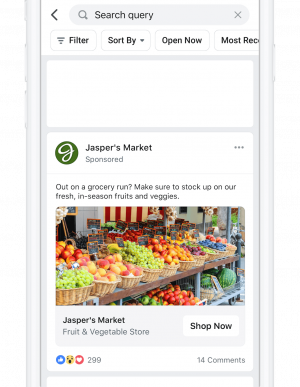 IMAGES
File Type: .png or .jpg
Recommended Image Ratio: 1.91:1
Recommended Resolution: At least 1200 x 1200px
Primary Text: 125 characters
Headline: 25 characters (truncated after that)
Description: 30 characters (truncated after that; won't always appear)
VIDEOS
File Type: Most supported
Recommended Video Ratio: 1:1
Recommended Resolution: Highest possible
File Size: Up to 4GB
Video Length: Up to 240 minutes
Primary Text: 125 characters (truncated after that)
Headline (with link): 25 characters (truncated after that)
Description (with link): 30 characters (truncated after that; won't always appear)
CAROUSEL
Minimum Number of Cards: 2
Maximum Number of Cards: 10
Image File Type: .png or .jpg
Video File Type: Most supported
Recommended Ratio: 1:1
Recommended Resolution: At least 1200 x 1200px
Video Size Limit: 4GB
Image Size Limit: 30MB
Video Length: Up to 240 minutes
Primary Text: 125 characters
Headline: 25 characters
Description: 20 characters
Instagram Feed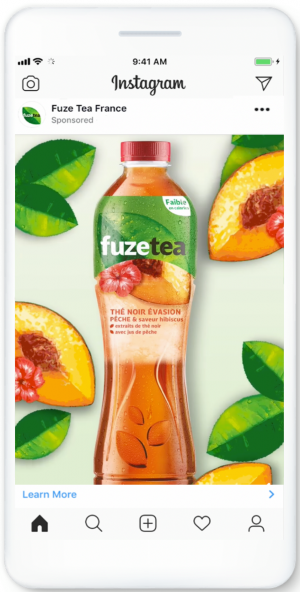 IMAGES
File Type: .png or .jpg
Recommended Image Ratio: 1:1
Recommended Resolution: At least 1200 x 1200px
Primary Text: Up to 2 lines will display
VIDEOS
File Type: Most supported
Recommended Video Ratio: 4:5
Recommended Resolution: Highest possible
File Size: Up to 4GB
Video Length: Up to 120 seconds
Primary Text: Up to 2 lines will display
CAROUSEL
Maximum Number of Cards: 10
Image File Type: .png or .jpg
Video File Type: Most supported
Recommended Ratio: 1:1
Recommended Resolution: At least 1200 x 1200px
Video Size Limit: 4GB
Image Size Limit: 30MB
Video Length: Up to 120 seconds per card
Primary Text: Up to 2 lines will display
Headline: 1 row will display
Instagram Stories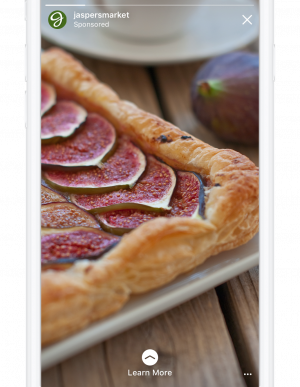 IMAGES
File Type: .png or .jpg
Recommended Image Ratio: 9:16
Recommended Resolution: At least 1080px x 1920px
Sweet Spot: Key elements appear within middle 1080px x 1420px (leave top/bottom 14% text/logo free)
VIDEOS
File Type: Most supported
Recommended Video Ratio: 9:16
Recommended Resolution: Highest possible
File Size: Up to 4GB
Video Length: Up to 120 seconds
Sweet Spot: Key elements appear within middle 1080px x 1420px (leave top/bottom 14% text/logo free)
CAROUSEL
Minimum Number of Cards: 2
Maximum Number of Cards: 10
Image File Type: .png or .jpg
Recommended Ratio: 1:1
Recommended Resolution: At least 1200 x 1200px
Maximum Video Length: 15 seconds per card for fixed number of cards; 120 seconds per card for default experience
Instagram Explore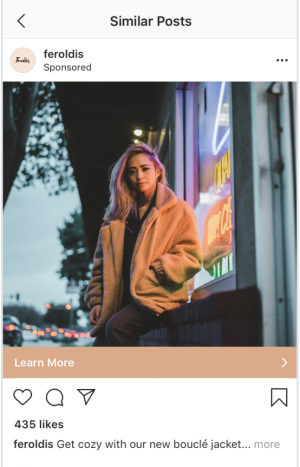 IMAGES
File Type: .png or .jpg
Recommended Image Ratio: 1:1
Recommended Resolution: At least 1200 x 1200px
Primary Text: Only 1 line will display
VIDEOS
File Type: Most supported
Recommended Video Ratio: 4:5
Recommended Resolution: Highest possible
File Size: Up to 4GB
Video Length: Up to 120 seconds
Primary Text: Only 1 line will display
Audience NetworkAudience Network is a network of mobile apps that have been approved to monetize their apps with ads. This is how you can show your Meta ads to people while they are away from the Meta family of apps. Audience Network and associated groups are among your placement selection options in the ad set. More Native, Banner, and Interstitial
IMAGES
File Type: .png or .jpg
Recommended Image Ratio: 9:16
Recommended Resolution: Highest possible
Primary Text: 125 characters (truncated after that)
Headline: 25 characters (truncated after that)
Description: 30 characters (truncated after that; won't always appear)
VIDEOS
File Type: Most supported
Recommended Video Ratio: 9:16
Recommended Resolution: Highest possible
File Size: Up to 4GB
Video Length: Up to 120 seconds
CAROUSEL
Minimum Number of Cards: 2
Maximum Number of Cards: 10
Image File Type: .png or .jpg
Video File Type: Most supported
Recommended Ratio: 1:1
Recommended Resolution: At least 1200 x 1200px
Video Size Limit: 4GB
Image Size Limit: 30MB
Video Length: Up to 240 minutes (15 seconds recommended)
Primary Text: 125 characters (truncated after that)
Headline: 40 characters (truncated after that)
Description: 20 characters (truncated after that)
AudienceThis is the group of people who can potentially see your ads. You help influence this by adjusting age, gender, location, detailed targeting (interests and behaviors), custom audiences, and more. More Network Rewarded Video
VIDEOS
File Type: Most supported
Recommended Video Ratio: 9:16
Recommended Resolution: Highest possible
File Size: Up to 4GB
Video Length: Up to 60 seconds
Sponsored Message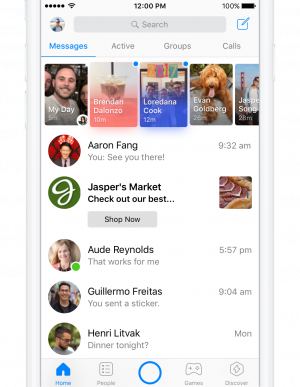 IMAGES
File Type: .png or .jpg
Recommended Image Ratio: 1.91:1
Recommended Resolution: At least 1200 x 628px
Primary Text: 125 characters (truncated after that)
Headline: 25 characters (truncated after that)
Description: 30 characters (truncated after that; won't always appear)
Messenger Inbox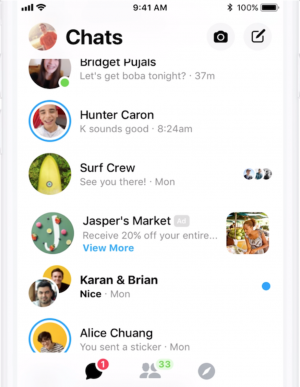 IMAGES
File Type: .png or .jpg
Recommended Image Ratio: 1:1
Recommended Resolution: At least 1200 x 1200px
Primary Text: 125 characters (truncated after that)
CAROUSEL
Minimum Number of Cards: 2
Maximum Number of Cards: 10
Image File Type: .png or .jpg
Recommended Ratio: 1:1
Recommended Resolution: At least 1200 x 1200px
Image Size Limit: 30MB
Primary Text: 125 characters (truncated after that)
Headline: 40 characters (truncated after that)
Messenger Stories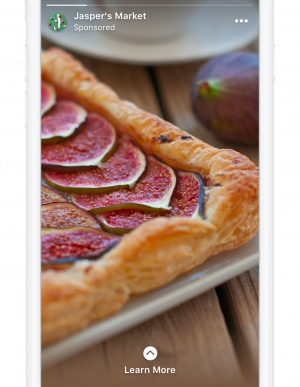 IMAGES
File Type: .png or .jpg
Recommended Image Ratio: 9:16
Recommended Resolution: At least 1080px x 1920px
Sweet Spot: Key elements appear within middle 1080px x 1420px (leave top/bottom 14% text/logo free)
VIDEOS
File Type: Most supported
Recommended Video Ratio: 9:16
Recommended Resolution: Highest possible
File Size: Up to 4GB
Video Length: Up to 15 seconds
Sweet Spot: Key elements appear within middle 1080px x 1420px (leave top/bottom 14% text/logo free)