Facebook is constantly evolving, so it's important that we stay on top of the ideal image dimensions that impact our business. In particular, the images for our page, group, and event.
It would be easy if we could use the same sizes across all three locations, but we're not that lucky. Let's take a closer look at the image dimensions to use for your cover images (for page, group, and event) as well as your page profile image.
Facebook Page Cover Image
The ideal dimensions for your Facebook page cover image are 820×360 pixels. Of course, that doesn't mean it will display the same way everywhere.
The image above looks funky because it's unnecessarily complicated. As you can see, the "sweet spot" is 640×312 pixels. Make sure nothing important exists outside of that area. Everything within that sweet spot will appear on both desktop and smartphones.
Here is what it looks like from desktop (the profile image runs over it slightly):

And here's how it looks on a mobile device…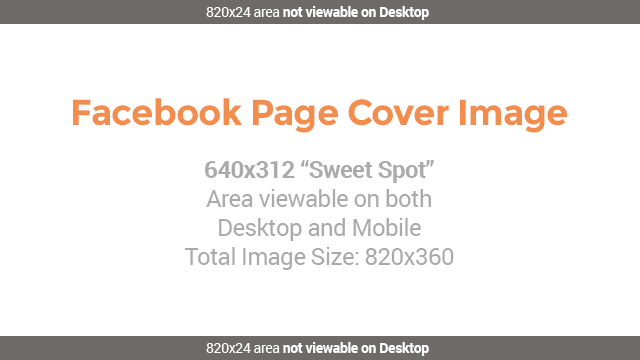 Why won't Facebook allow for an optimal size that looks the same across devices? Your guess is as good as mine.
So, to recap…
Ideal Facebook page cover image dimensions: 820×360 pixels
Display on desktop: 820×312 pixels
Display on mobile: 640×360 pixels
Sweet Spot: 640×312 pixels
Facebook Page Profile Photo
Once again, this is complicated. Facebook recommends a square image that will display at 170×170 pixels on desktop, 128×128 pixels on smartphones, and 36×36 pixels on feature phones. None of that is all that important, other than it's square and at least 170×170 pixels.
The important part to remember is that your image will be cropped to a circle that reaches the four edges of that square.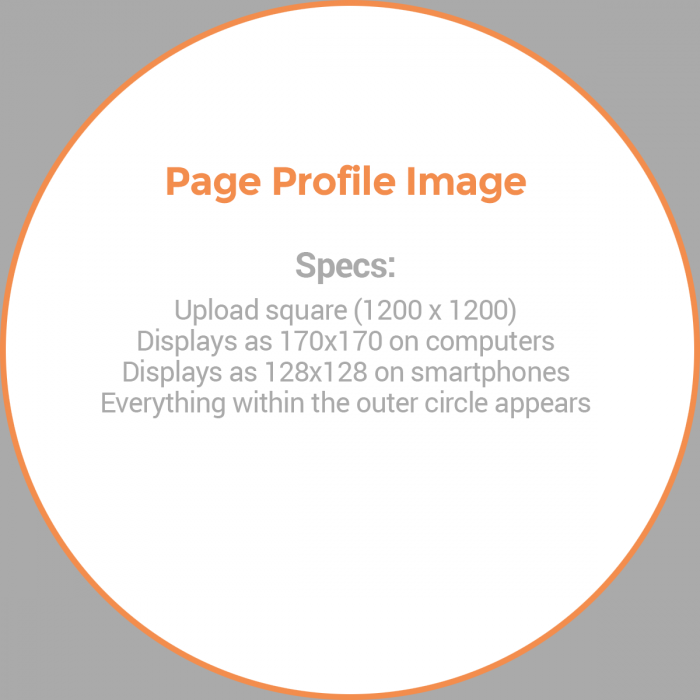 I generally recommend a 1200×1200 pixel image, but it technically doesn't need to be that big. Just keep in mind that the corners are going to be cropped out.
Here's how that same image appears as the profile photo, edging slightly over the bottom of the cover image:

Facebook Group Cover Image
It would make logical sense that Facebook group cover images follow the same rules as a Facebook page, right? Yeah, that would've been ideal. Not the case.
Luckily, it's not quite as complicated as a page's cover image.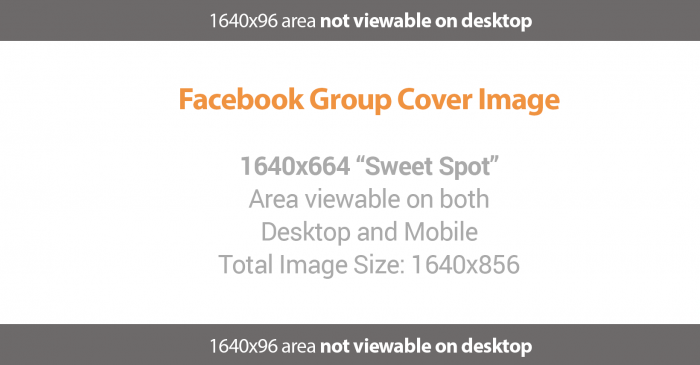 The recommended specs for a Facebook group cover image…
Ideal Facebook page cover image dimensions: 1640×856 pixels
Display on desktop: 1640×664 pixels
Display on mobile: 1640×856 pixels
Sweet Spot: 1640×664 pixels
In other words, the "sweet spot" is how it displays on desktop since you'll be missing the top and bottom portions that otherwise display on mobile.
Facebook Event Cover Image
This is a little more straight forward. Facebook recommends a 1.91:1 aspect ratio, meaning the width is 1.91 times the height. Facebook generally suggests 1200×628 pixels in that case, but it seems there are cases when images even that size can be stretched. Feel free to go bigger.
As I went bigger, I found that the 1.91:1 suggestion wasn't quite exact. Even when I used 1910×1000 pixels (1.91:1 by definition), it didn't fit perfectly on desktop.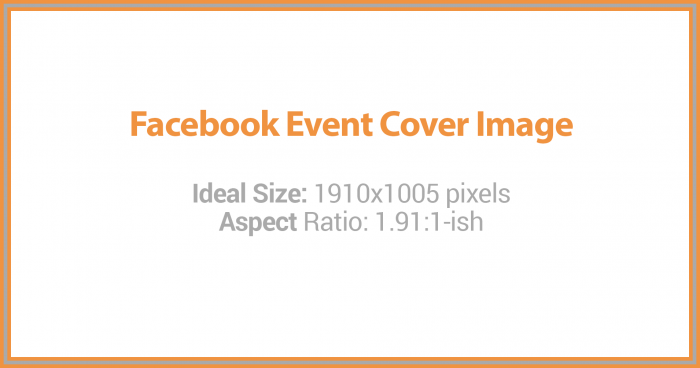 I found that 1910×1005 pixels fit perfectly on desktop, but it was cropped slightly along the edges on mobile…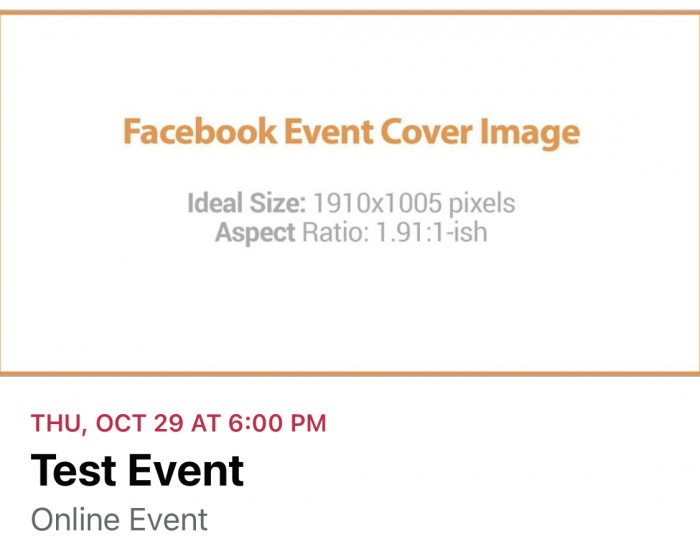 I added three internal borders that were 10 pixels each all the way around (20 pixels from end to end) to give you a sense of how much was cropped. You can really only see the edges of the final orange border on the sides and gray border at the top here, suggesting that you should account for that minor cropping on mobile.
It's Always Changing…
Some of my most popular posts over the years explained the ideal image dimensions for pages, groups, and ads. They seem to change every year, so let me know if any of this changes.