I'm often asked for examples of how I use Facebook ads. Since I recently restructured my own campaignsThe campaign is the foundation of your Facebook ad. This is where you'll set an advertising objective, which defines what you want your ad to achieve. More, I thought it would be helpful to share the 15 Facebook ad campaigns that I'm running right now.
That doesn't mean that these campaigns are perfect. Some will work, and some will fail. I'll undoubtedly tweak, adjust, and create new campaigns in the very near future.
But this restructure gives you a behind-the-scenes look at what I'm thinking about when I'm creating my own campaigns.
Here we go…
Motivation Behind the Restructure
It's far too easy to get stuck in your ways, particularly when things are working. I suspect that's where I was recently when I decided to shuffle the deck a bit.
I had fallen in love with a few targeting methods. In particular, I was targeting my website visitors who spent the most time on my site. This was an all-purpose audienceThis is the group of people who can potentially see your ads. You help influence this by adjusting age, gender, location, detailed targeting (interests and behaviors), custom audiences, and more. More that was being used for multiple objectives.
A Facebook rep will tell you this is a bad idea. The know-it-all advertiser will tell you the same. "Too much overlap," they say. "You compete with yourself in the auctionFacebook uses an ad auction to determine the best ad to show to a person at a given point in time. The winner of the auction is the ad with the highest total value, based on bid, estimated action rates, and ad quality. More."
The truth? That targeting was awesome. I don't care about "competing with myself" if it provides the results I want. And I was getting great results.
I stuck to that approach when writing my post about Delivery Insights. If you aren't familiar with the new tool, it helps you see things like Auction OverlapAuction Overlap can happen when you have two ad sets running at the same time, targeting similar audiences. When their ads are about to enter the auction, Meta first chooses the ad with the highest total value. That ad will be the one that enters into the auction. The other won't be considered. Meta does this to prevent you from bidding against yourself. When there's too much Auction Overlap, it can result in higher costs or under delivery. More.
Since I rarely target broad audiences like Interests and Lookalikes, I tend to have high Auction Overlap. And as stated above, that's not necessarily bad in and of itself.
By doing so, I don't drive up the price of my own auctions. Instead, Facebook prevents this by automatically removing targeted people in a poorer performing ad set when they show up in the same auction multiple times.
So as long as your targeted audience is deep and awesome, you'll be fine. And that, at least, has been my explanation for using that approach.
But I'm not averse to change. And I also love experimenting. So I figured, why not? Let's scrap everything and start over.
And I think regardless of where this goes, we all need to "scrap everything and start over" every now and then. It challenges your assumptions. It allows you to see from a different perspective. You gain knowledge.
Overview: My 15 Facebook Ad Campaigns
I'll be honest: I don't typically have 15 campaigns running at a time. But this exercise forced me to go there.
I wanted to be sure to cover every objective. But I was also conscious of not using the same audience too often.
That realization opened things up a bit. It allowed me to get a little creative with how I targeted people and when.
My end goal wasn't to completely eliminate overlap. Overlap will surely continue to exist.
Instead, I wanted to avoid using the exact same audience in multiple ad setsAn ad set is a Facebook ads grouping where settings like targeting, scheduling, optimization, and placement are determined. More. I wanted to leverage the most engaged for the bottom of the funnel while going after those lower-engaged users for the top of the funnel.
And that funnel is critical. I talk about it a lot. My central strategy is to drive people through this basic funnel:
Top: Consume Content
Middle: Provide an Email Address
Bottom: Purchase
The result is that I target a broader audience for the top of the funnel, getting more precise as we go down. I end up spending more money at the top than at the bottom.
Another reason this is my focus is because Facebook ads aren't the end of the game for me. My primary goal with ads is to drive traffic and build my email list. My email list then does the bulk of the heavy lifting with selling.
Enough talking. Here's a 1,000-foot view of my 15 Facebook ad campaigns…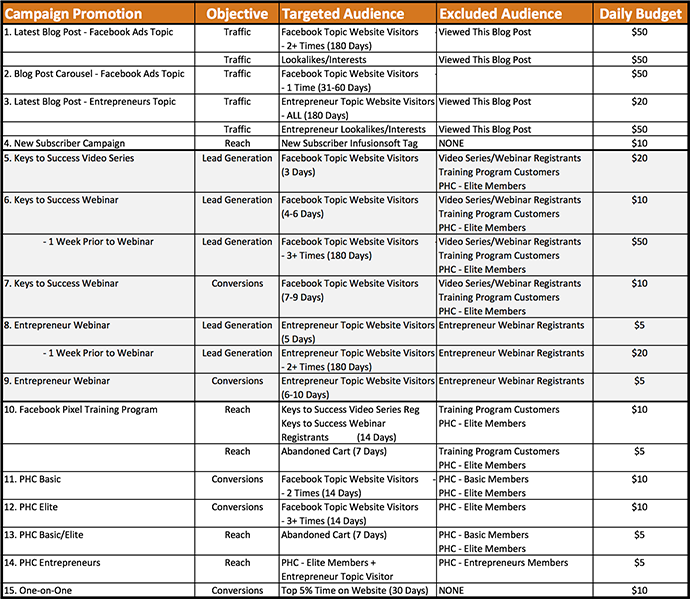 In the grid above, I break this up by goal. The top group is driving traffic, the middle group is building my email list, and the bottom group is selling product.
Don't be distracted by campaign objectivesWhen you create a campaign, one of the first things you'll do is select an objective. The campaign objective is your ultimate goal. Your selection will impact options, including optimization and delivery. Options include Awareness, Traffic, Engagement, Leads, App Promotion, and Sales. More. I use the "Reach" objective to sell sometimes because I want to reachReach measures the number of Accounts Center Accounts (formerly users) that saw your ads at least once. You can have one account reached with multiple impressions. More everyone within a very small, relevant audience (like those who registered for a specific webinar during the past 14 days).
In the grid, I give you the basics regarding the following:
What I'm promoting
Campaign objective
Targeted audience
Excluded audience
Just know that I'm leaving out A LOT from this grid. I wanted to be as concise as possible so that you could actually read it (even if you still need to squint a bit).
Now, let's take a closer look at each step of the funnel…
My Funnel: Driving Traffic
I complicated my funnel in January when I started writing about the entrepreneur topic in addition to Facebook ads. As a result, we have to nearly double the budget and campaign creation.
In a typical week, I write two blog posts: One about Facebook advertising and one for entrepreneurs. I then promote those two posts for one week — until the next posts are published.
This is an ongoing process. So while an individual campaign will only last a week, the approach itself doesn't stop. I'm always promoting two blog posts.
While I'm not a big fan of targeting Interests and Lookalike Audiences, I'm more willing to do so at the top of the funnel. This is actually the first time in a long time that I've done so while promoting my Facebook advertising content.
But I do need to utilize these audiences for promoting my entrepreneur blog posts. The reason is simple: My audience of people who have read my posts for entrepreneurs is still growing. It's a fraction of those who have read my Facebook advertising posts. I need to go beyond that.
All blog posts for entrepreneurs have "entrepreneurs" in the URL; all blog posts on Facebook ads include "facebook" in the URL. That's how I'm able to create Website Custom AudiencesA website custom audience matches people who visit your website with people on Facebook. You can then create ads to show to that audience. More around visitors who read posts on a single topic.
Most of these campaigns are pretty basic. I just promote the post that I shared to my Facebook page where I shared that blog post. And I leverage that same ad for multiple ad sets.
But you'll notice that my third campaign is a blog post carousel…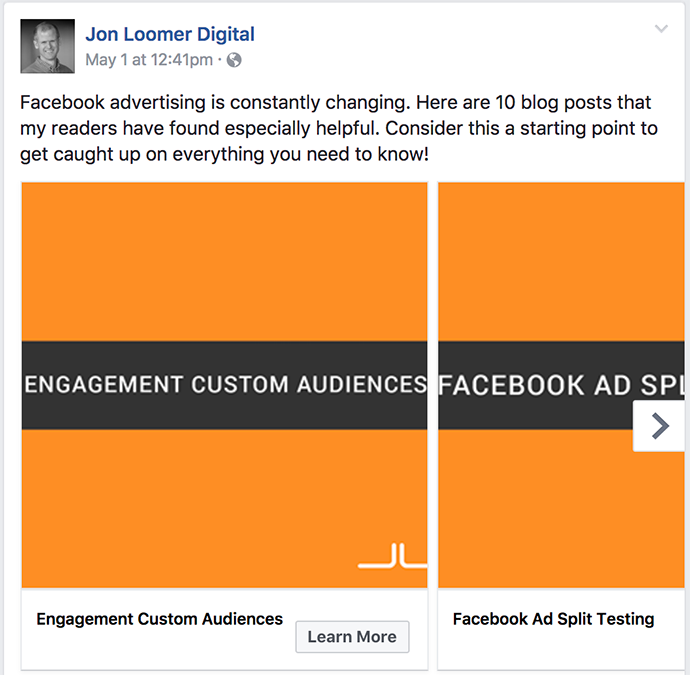 This carouselA carousel allows you to display two or more scrollable images or videos in the same ad, with the ability to link each to a different URL. More consists of 10 of my most popular and recent blog posts on Facebook ads. I target those who visited during the past 31-60 days (but not during the past 30). This is an attempt to re-engage those who haven't visted lately, driving them deeper into my ads funnel.
There's another, more complicated campaign that's for my most recent subscribers…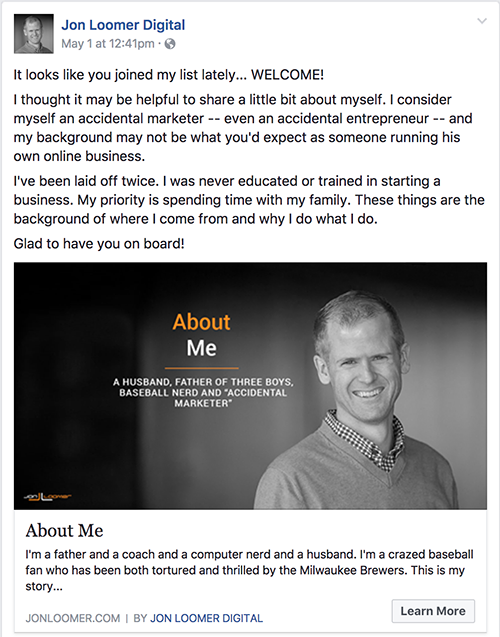 This is one of a series of ads that people who are new to my email list will see. I'm not selling anything yet. Just introducing you to what I'm all about.
This is done with a little Infusionsoft tagging magic. We have some automation in place that detects a new subscriber (as opposed to a current subscriber who made another action). They are then tagged and put into a "New Subscriber" email campaign. When that campaign completes, that tag is removed.
I created a Custom Audience based on that New Subscriber tag, and it is synced using a third party tool. So as long as a user is tagged as a new subscriber (it's a short period of time), they'll be seeing these ads.
Once again, I want these new subscribers to click on more links. When they do, they'll be added to audiences that will be targeted further down the funnel.
My Funnel: Building My List
As explained yesterday, my list is critical to the success of my business. And Facebook ads are a big part of how I build that list.
At this moment, there are three lead magnets driving my list-building efforts with Facebook ads:
Keys to Success Facebook Ads Video Series
The Keys to Success video series is currently only available via Facebook ads, and I started promoting it (with lots of success) beginning last Friday. I plan to also create a video series for entrepreneurs.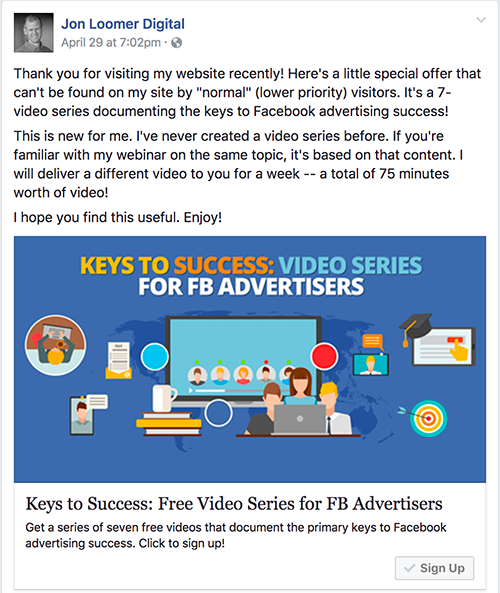 The webinars occur on a near monthly basis. I do take some months off here and there, but the Keys to Success webinar, in particular, will air seven more times this year.
For each webinar, I create two separate campaigns:
Campaign #1: Lead Generation Objective
Campaign #2: ConversionsA conversion is counted whenever a website visitor performs an action that fires a standard event, custom event, or custom conversion. Examples of conversions include purchases, leads, content views, add to cart, and registrations. More Objective
The first campaign utilizes Facebook lead ads, which keep people on Facebook via a lead ad form. The second sends users to a landing page on my website.
I'm often asked why I use both. Well, the truth is that there are advantages and disadvantages to each approach. I'm not ready to commit 100% to one. The results tend to be about the same for me, too.
Something else you may notice is that I have two different strategies for my webinars:
Ongoing: Target very recent website visitors
1 Week from Webinar: Target larger group
I want to focus on a small audience for most of the promotion of these webinars. In this case, only those who have visited during the past few days (excluding several groups, too). That way, those who don't register won't see these ads forever.
But that daily budget is modest, and I want to push registration as high as possible. So I'll expand the audience for a week prior to the webinar start date. I've created all of those ad sets to run for my scheduled webinar dates for the rest of 2017.
My Funnel: Selling Product
Finally, I sell. As mentioned many times before, this isn't my primary focus with Facebook ads. But I do sell as well, even though I dedicate the smallest proportion of budget here.
The reason why it gets the smallest budget is simple: The audience I target is largest at the top of the funnel and smallest at the bottom. To spend more, I'd need to expand the audience — making a sale less likely. I prefer to sell only to those most likely to buy.
In all, I have seven campaigns running to promote products. But the reality is that I only have five products to sell (at this moment):
Power Hitters Club – Entrepreneurs (CLOSED BETA)
So I'm promoting everything. I just don't have a lot of products to sell.
Notice that in each case, I'm very careful to only sell to those most likely to buy that particular product.
Facebook PixelThe Facebook pixel helps advertisers track events that occur on their website and reach people who performed those events with ads. More Training Program: Those who registered for Keys to Success webinar or video series recently
PHC – Basic: Those who read a Facebook-related post on my website two times in the past 14 days
PHC – Elite: Those who read a Facebook-related post on my website three or more times in the past 14 days
PHC – Entrepreneurs: Those who are PHC – Elite members AND read an entrepreneurs post on my website
One-on-Ones: Those who are in the top 5% of time spent on my website during the past 30 days
I also created an "Abandoned Cart" ad for Power Hitters Club and the Facebook pixel training program.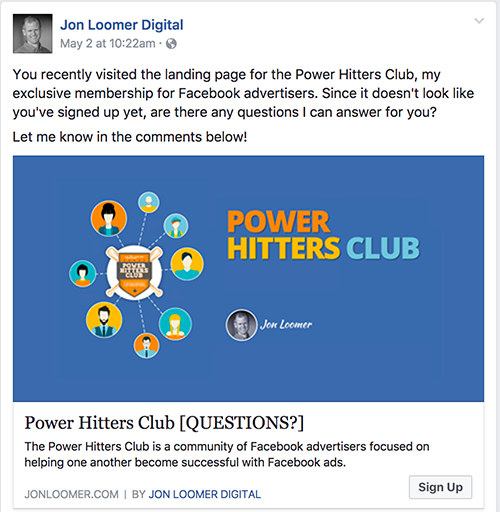 Those who visit the landing page for one of these products during the past seven days but don't convert will see this ad.
This is also where I'm much more likely to optimize for Reach. The reason is quite simple…
If I optimize for conversions, Facebook is going to show my ad to a small percentage of people within my targeted audience who are most likely to convert. While that's typically acceptable (and even preferred), this isn't what I want for a very small and relevant audience.
The abandoned cart audiences are tiny. I also want to reach ALL of those who registered for a recent webinar. No optimizationThe Performance Goal is chosen within the ad set and determines optimization and delivery. How you optimize impacts who sees your ad. Meta will show your ad to people most likely to perform your desired action. More needed, Facebook. Not in this case.
Your Turn
So these are the 15 campaigns that I'm running right now. As I said at the top, these campaigns aren't perfect. The situation is fluid. I'm constantly tweaking, stopping campaigns and adding new ones. But this is a snapshot behind the curtain.
What campaigns are you running right now? What is your strategy?
Let me know in the comments below!