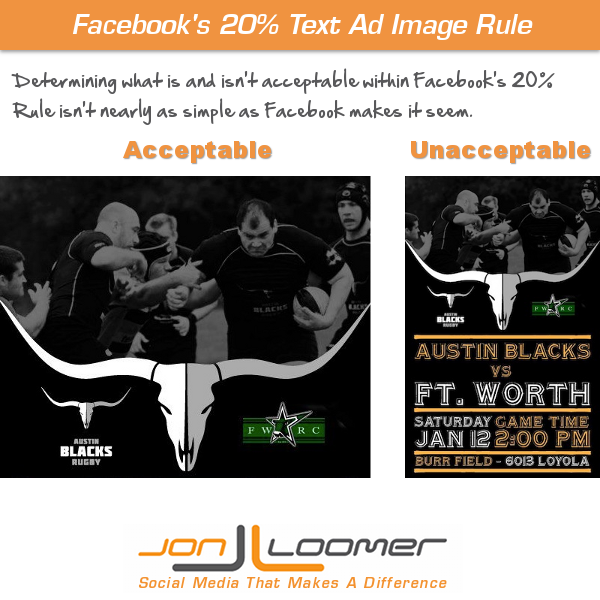 The problem? It's freaking ridiculous.
Keep in mind, this comes from a guy who defends Facebook on every design change. Every privacy change. Every change that results in mass torches, pitchforks and hilariously ironic protest groups.
Now, don't get me wrong. The change itself actually makes sense to me. The enforcement of it, however, is complete nonsense.
Understanding the 20% Rule

Everyone's talking about the rule that Facebook is enforcing that controls the use of text within imagery in News Feed ads. Here is the specific rule from the Facebook Advertising Guidelines (III. Ad Creative and Positioning, D. Images):
Ads and sponsored stories in News Feed may not include images comprised of more than 20% text.
Here are some other notes regarding this rule, per the Help Center:
Examples include promoted Page posts, app install ads, Offers, Events and other News Feed ads
Does not apply to pictures of products that include text on the product
Images zoomed in on logos or images with text overlay not allowed
Images edited to include text on the product as a loophole to the policy not allowed
Again, to this point I am in the extreme minority with understanding where Facebook is heading on this. Creating an ad out of a large image with text in it is essentially a way to take up more space in the News Feed with text.
So if the policy were enforced accordingly, I'd accept the rule. I wouldn't necessarily be a raving fan of the rule, but I'd understand.
But here are the problems that are making my life as an advertiser a living hell…
How is 20% Measured?

I'm going to spend the least amount of time on this one since I know it's been covered ad nauseam.

Other than providing examples of some ads that do and don't violate the 20% rule, there is no guide or tool that helps you determine whether or not your image is in compliance.

Either you're measuring text in these images with a tool that you aren't making available to the public or you're simply guessing. In each case, it's poor policy.
Facebook Sucks at Enforcement

Some ads get through that shouldn't get through. Some ads get rejected that shouldn't be rejected. And there is no consistency to the process.

1. Link Share Rejections. An example is a Promoted Post that I ran for a client. That post was a link share that drove users to a Facebook tab. The link preview had more than 20% text in it.

After getting rejected, I decided to run it as a Page Post Ad that would run only in the sidebar (we'll get to this problem later). Rejected again.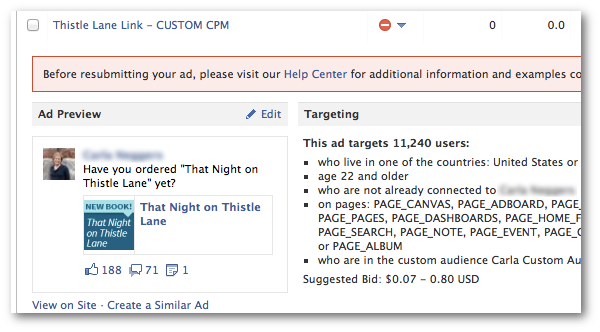 A freaking link share. So you're telling me that advertisers have to control how much text is in the thumbnail image? That's absolutely ludicrous since it won't always be controlled — and the image is rarely created with Facebook in mind.
And that's only part of why this rejection was ridiculous. This particular Page Post Ad was targeted at a Custom Audience of people who aren't already connected to the Page. I created this ad with the full intention of it never appearing in News Feeds. But because — I assume — it could appear in News Feeds as a Suggested Post due to a minuscule number of friends of Fans, the link share thumbnail image gets the ad rejected.
Absolutely insane.
2. Some Get Through, Some Don't. I promoted a similar post that this time included a shared image. That image was a screen grab of a book gallery that was featured within a Facebook tab. Once again, that image did indeed have more than 20% text.
But that Promoted Post made it through. It was insanely effective. It was so effective that I extended the daily budgetA budget is an amount you're willing to spend on your Facebook campaigns or ad sets on a daily or lifetime basis. More and expiration date to go through the end of February.
Of course, I got greedy and decided to create a Page Post Ad out of that same post that would — hopefully — go into the sidebar. Facebook rejected that one, and seemed to pick up on the other ad that had been going on for three weeks. They then killed that one, too.
Sometimes You Can't Avoid the News Feed
This, for me, is the biggest problem of all.
Some of the most effective ads are Page Post Ads and Sponsored Stories that promote the engagement of Page content. Sometimes, those posts include images that have more than 20% text in them.
Sure, I get it. I can't promote that post in the News Feed. So I guess I'll just promote it in the sidebar.
But here's the deal… You can't.
Even when you use Power Editor, you can't create a Page Post Ad or Sponsored Story that only shows up in the sidebar. This wasn't clear to me until Facebook recently added some copy explaining the various placements in Power Editor.

Do you see the problem here, folks? Previously, the second option was only "Desktop." My assumption was that this was simply all sidebar ads on desktop placements since the final option was "News Feed only."
But "Desktop" includes the sidebar AND News Feed. In other words, if you want to target Fans or friends of Fans with a Page Post Ad or Sponsored Story, it's impossible to hit them only on the sidebar.
Since you can't avoid the News Feed, you can't create ads that contain more than 20% text in them — even if your intention is to reach only the sidebar!
The result: I'm getting rejected over and over and over again. Link shares and ads that I never wanted to show up in the News Feed to begin with.
This is Ridiculous

Facebook, I'm asking you to take my money. This is going way too far. If you're going to create a rule that prevents images from appearing with more than 20% text in News Feed ads, then you need to at least make it possible to promote such content ONLY in the sidebar.

Otherwise, just come out and say that no ad images for Page Post Ads or Sponsored Stories — whether in the News Feed or otherwise — can contain more than 20% text. Because that's essentially what's being enforced.
Your Turn

What are you seeing? Tell your stories about Facebook ad rejection in the comments below!