Facebook offers dozens of metrics to measure performance within Ads Manager. But, what if those metrics aren't good enough? Facebook now allows you to add columns for your custom metrics in Ads Manager.
Until now, this was a feature in Ads Reporting, but that's a section that many advertisers neglect. It made little sense, really, why this feature wasn't already available in Ads Manager, but that's luckily been corrected.
Let's walk through where you'll find custom metrics in Ads Manager, how to create them, and how you might use them.
Locate Custom Metrics
Within your Ads Manager, click the "Columns" drop-down and select "Customize Columns."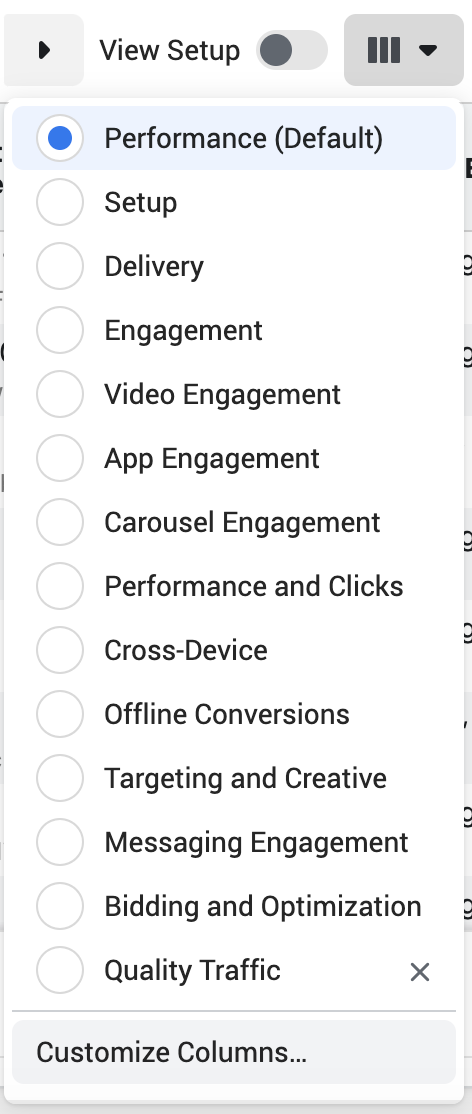 To the right of the search box, click the link that reads "Create Custom MetricAdvertisers can create custom metrics that combine existing metrics with a mathematical formula. That formula can be based on Meta's current ads metrics, standard events, custom events, and custom conversions. More."

Create a Custom Metric
You will now have a pop-over dialog that looks like this…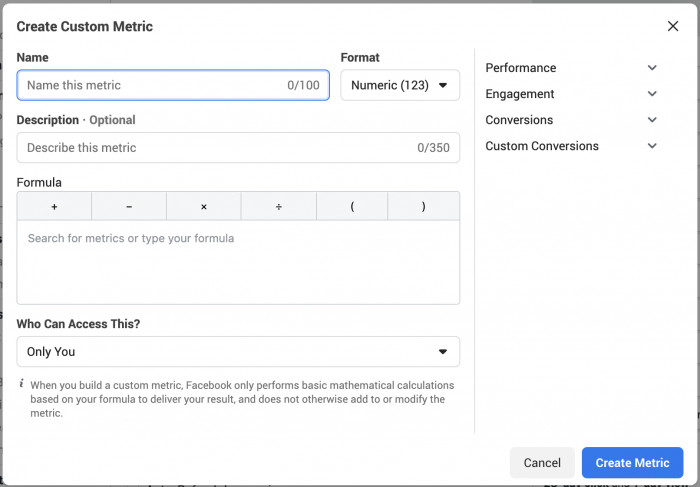 First, you'll need to name your metric. Name it whatever you want, but make it descriptive so that you'll know what it is later. You have up to 100 characters.

Your custom metric can be numeric, a percentage, or currency. Select one (it's numeric by default).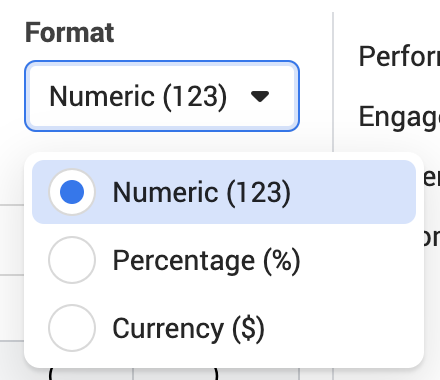 You have the option of adding a description of your metric, using up to 350 characters.

Now you can construct your custom metric with a formula. Consider it like a simple math equation or a formula that you may construct in a spreadsheet. You can use existing metrics within this formula (once you start typing, it will search for an existing metric).

If you aren't sure what existing metrics to use in your formula, you can browse metrics by category on the right.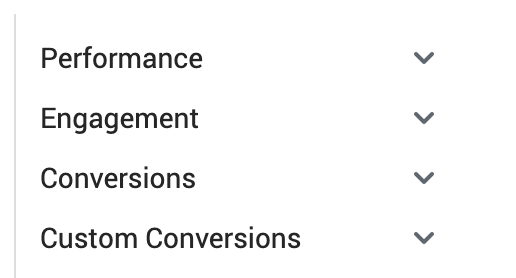 Next, you can determine who has access to this metric — either only you or "everyone in this business" (as set in Business ManagerEvery organization should have their own Business Manager to organize their assets (pages, ad accounts, pixels, and more), and then provide appropriate access to those assets to partners. More). If everyone, others won't be able to edit or delete the metric. It will only be accessible to you by default.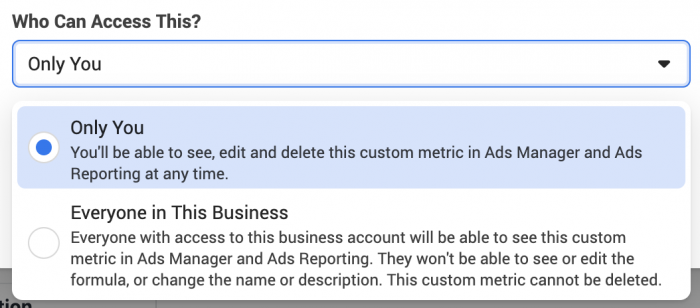 When you're done, click "Create Metric" at the bottom.

Access Your Custom Metrics
Now, you'll see your custom metric within the list of metrics you can use when customizing columns (if you don't see it immediately, close and refresh, then try again).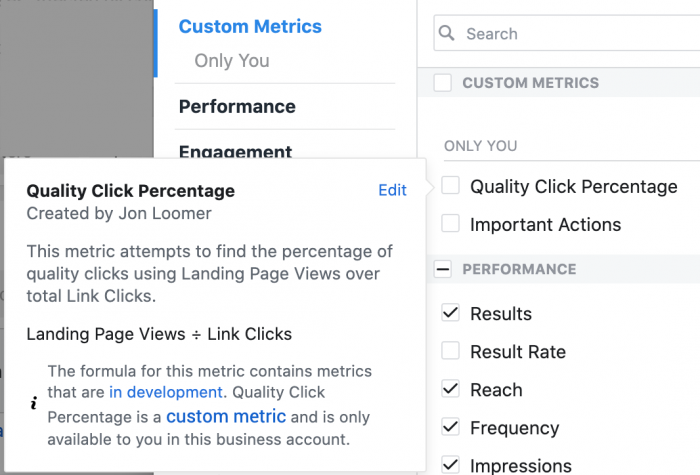 When you hover over that metric, you'll see details like the formula, description, and who created it. You can click to edit your metric. When you do, you'll also have the option of deleting it at the bottom.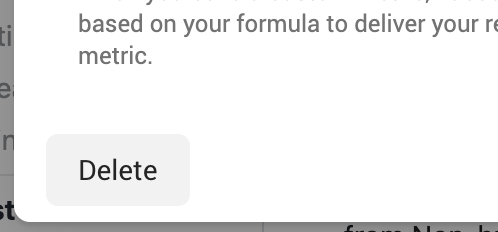 You can now add this metric as a column to your report by clicking on the box next to it, like you would any other metric.

And, here it is in a new column…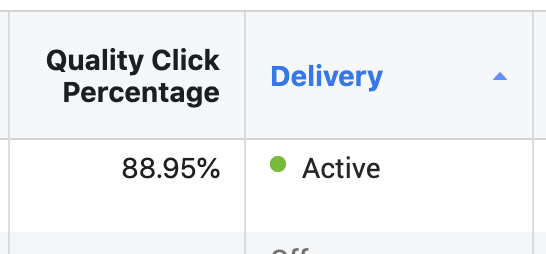 Custom Metrics in Ads Reporting
Earlier I mentioned that custom metrics were previously available within the Ads Reporting tool. Note that any new metrics that you create in Ads Manager will also be found within Ads Reporting.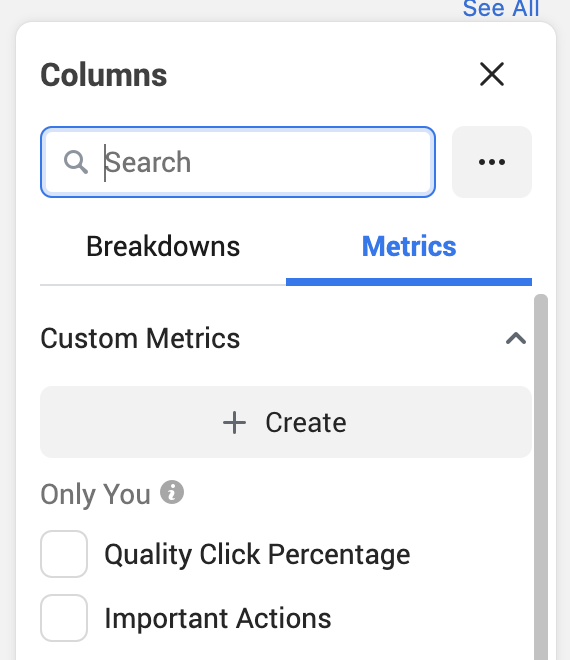 It works both ways. Whatever metrics you create in Ads Reporting will also be available in Ads Manager.
Custom Metric Usage Ideas
How you use custom metrics is really up to you. Do you find yourself manually calculating metrics that are important to you, but Facebook doesn't provide? Do you export your results and use formulas to calculate information that isn't available in the base report?
If so, custom metrics could be hugely valuable to you.
Your Turn
Will you be using custom metrics in Ads Manager? What metrics will you create?
Let me know in the comments below!