If you have a product catalog that you promote with Facebook ads, you have a new targeting option. Catalog custom audiencesIf you utilize a product catalog, you can create audiences of people based on their engagement with your products that can be used for targeting and exclusions in your ad set. More have arrived.
Let's walk through how to create catalog custom audiences and how they are different from a website custom audienceThis is the group of people who can potentially see your ads. You help influence this by adjusting age, gender, location, detailed targeting (interests and behaviors), custom audiences, and more. More.
How to Create
When you create a new custom audience, you should now see the option for "Catalog." This, as Facebook says, allows you to "create an audience based on people who have interacted with items from your catalog."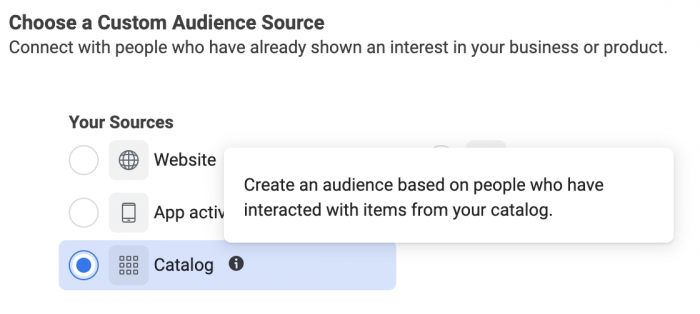 When you create the audience, you'll first need to select the catalog and product set that you want to base the audience on.

You'll then be able to select from the following groups:
People who viewed products from your product set (default)
People who added products from your product set to cart
People who purchased products from your product set
One interesting note is that the default retention for these audiences is 14 days.

You'll recall that the default retention for website custom audiences is 30 days. The 14-day retention is consistent with the default remarketing window that's used in product ad targeting.
Like website custom audiencesA website custom audience matches people who visit your website with people on Facebook. You can then create ads to show to that audience. More, the maximum retention is 180 days.
What Makes This Different?
Now, I know what you're thinking: "How is this new?"
Yes, you can already create website custom audiences of people who:
Viewed a product page (by URL or View Content event)
Added to Cart
Purchased
The difference here is that now you can isolate these actions to your catalog. That catalog could be for website purchases, your Shop in Facebook Marketplace, or your Facebook page.
Catalog custom audiences also allow you to easily segment your audiences by product set, which is how you organize products by category. This can be especially useful for ecomm businesses that might have hundreds of products. And, logically, these are also the businesses most likely to have a product catalog in the first place!
Your Turn
Will you use catalog custom audiences? What makes them useful to you?
Let me know in the comments below!