Last week, I showed you how to connect your podcast to your Facebook page so that you could publish all new episodes to your followers (among other benefits). Can you promote these episodes — or your show — with Facebook ads?
Tests are fun. Let's investigate…
Natively? No
First, you are not able to promote an individual episode at this time. You will get a "Boost Unavailable" notice from the Facebook app…
And podcast episodes are not available as posts from Ads Manager.
It's likely that this is functionality that is coming, but Facebook does not intend for advertisers to promote podcast content at this time.
What About Shared Posts?
It looks like there's a loophole right now, however.
You can re-share an existing podcast episode. When you do, you'll have the option of creating a clip (less than 30 seconds).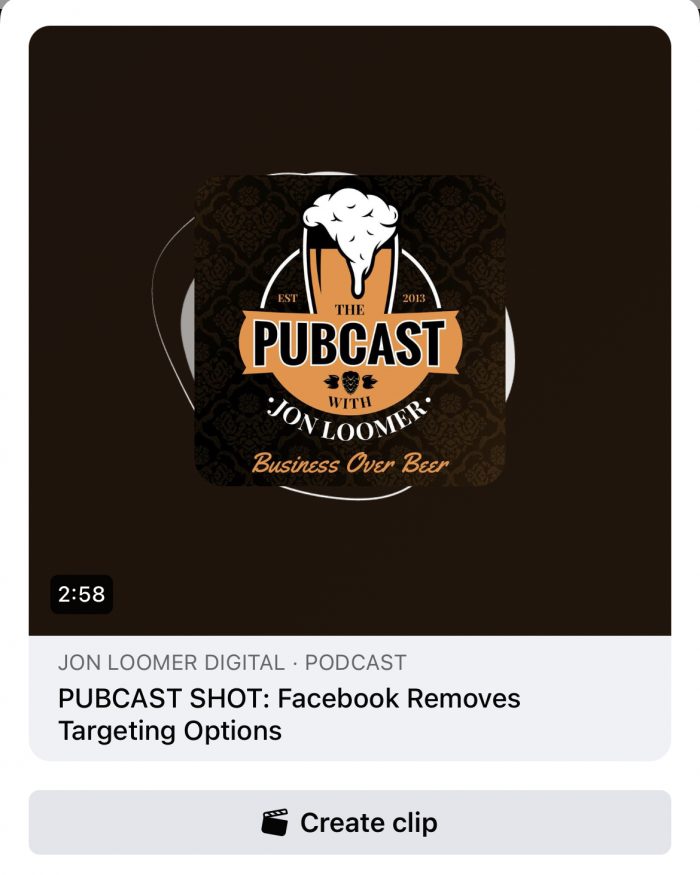 If you choose not to re-share with a clip, that re-share isn't eligible for promotion. But, if you re-share with a clip, something "magical" happens.
That re-share looks like the image below. It includes a prominent button to "Play full episode" as well as a Boost button.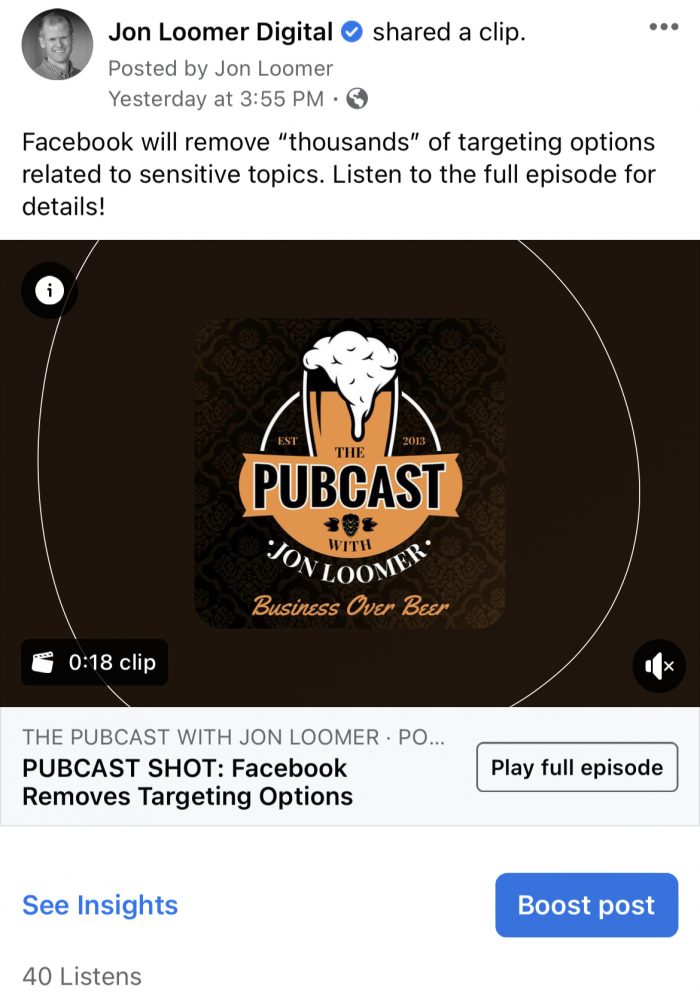 That re-share also appears among eligible posts that you can promote from Ads Manager.

If you're wondering about that orange warning icon, it's related to the media dimensions (which you can't control, as far as I know). This makes the post ineligible on Instagram.

So, it certainly looks like we can promote these clips with ads. Let's try!
Test: Promote a Podcast Clip
Given what we know about Facebook podcasts (only mobile, not available on Instagram), we'll need to be careful about how we set up this campaign.
I've tried this a couple of different ways so far. I don't think the objectiveWhen you create a campaign, one of the first things you'll do is select an objective. The campaign objective is your ultimate goal. Your selection will impact options, including optimization and delivery. Options include Awareness, Traffic, Engagement, Leads, App Promotion, and Sales. More or optimizationThe Performance Goal is chosen within the ad set and determines optimization and delivery. How you optimize impacts who sees your ad. Meta will show your ad to people most likely to perform your desired action. More should matter (obviously, it will be nice to optimize for Podcast Listens eventually). So, we won't focus much on that. But, I currently have a ReachReach measures the number of Accounts Center Accounts (formerly users) that saw your ads at least once. You can have one account reached with multiple impressions. More campaign targeting my page followers. These people are most likely to know about or appreciate that the podcast is connected to my page.
In terms of placements, I know that the original podcast episodes only appear on mobile. What's weird is that the clips do appear on desktop, but that seems like an oversight since it's just a blank video.
So, we'll select mobile only.

Beyond that, I want to keep it simple. I'm only using placements from the Facebook platform.

I've chosen to go with News Feed and Video Feeds only.
At the ad level, I've chosen not to edit the posts by placementA placement is a location where your ad is shown. Examples include Facebook's mobile Feed, Messenger, Instagram feed, Audience Network, right-hand column, and more. More. I don't want to do anything that could mess this up.
Note, however, that the previews are concerning. The news feed post doesn't include the clip or the button to view the full eipsode. And the other placements are fuzzy.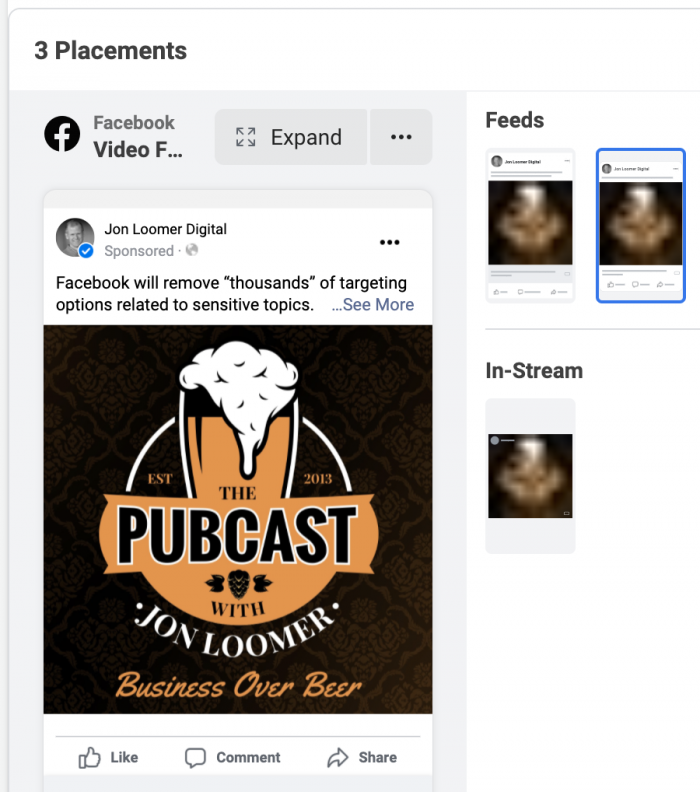 If I do click to edit by placement, I get an "Invalid Video ID" error for each placement.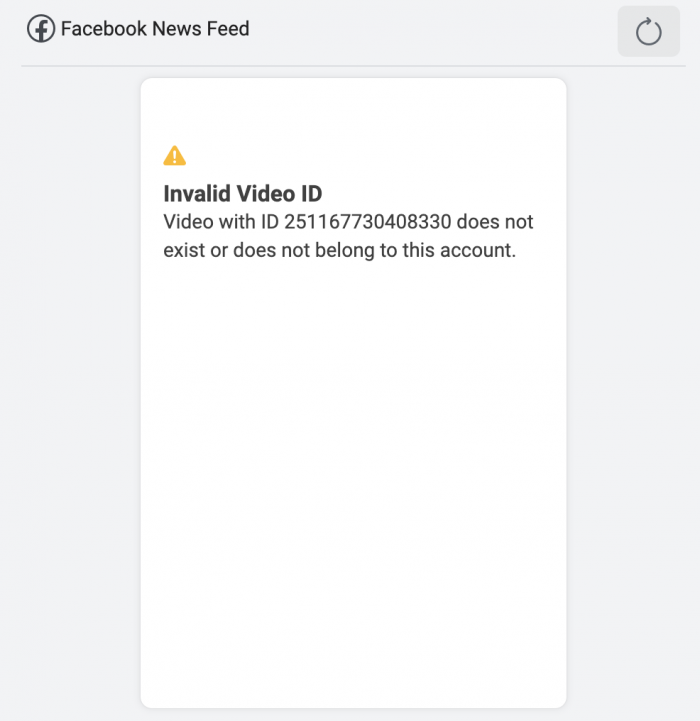 Is this a video, though? This feels like an issue related to new functionality.
So far, there's every reason to be skeptical that this will even work. Let's use Facebook's option to view a preview of the post on my phone.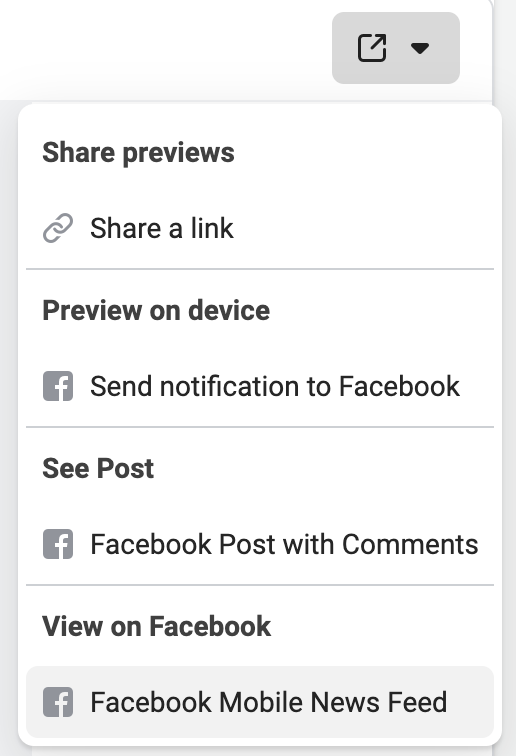 Here's the preview…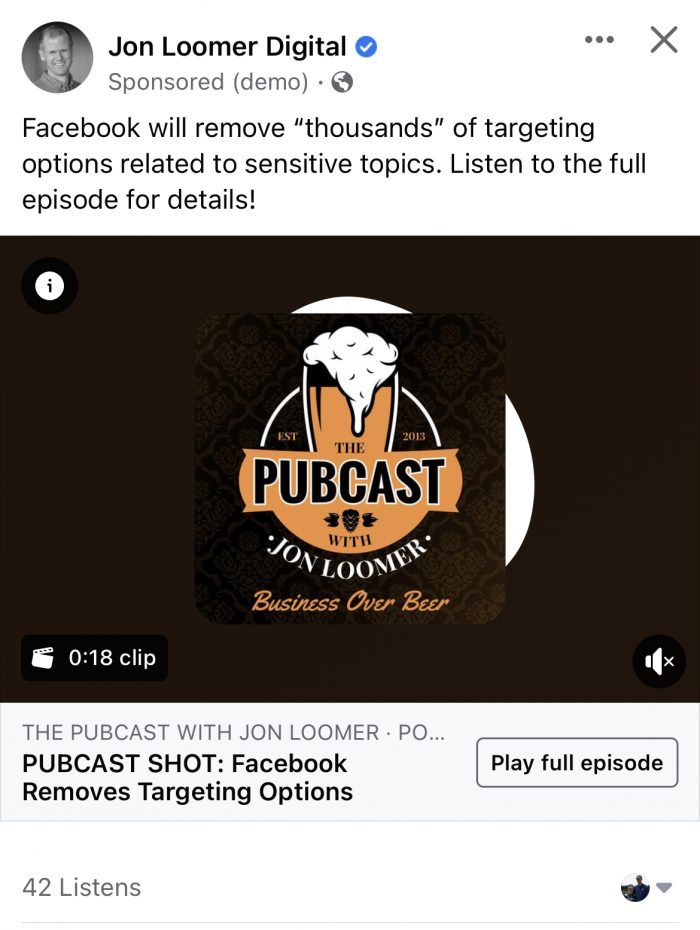 Looks great!
I'm going to ignore the errors and see if we can run the campaign. PUBLISH.
A Note on Videos
Before we move any further, there is an early inconsistency on whether Facebook considers podcasts videos. If you create video view custom audiences, the full episodes will appear among the videos you can select.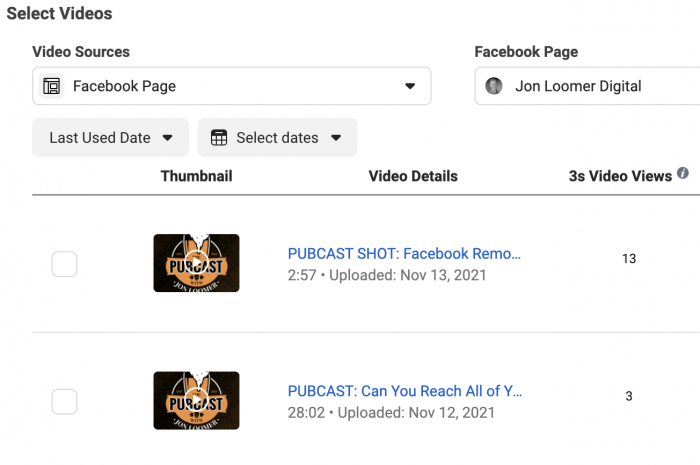 But, no clips are listed.
Also, if I click the Insights for the same episode that shows 13 3-second video viewsA 3-second video play is recorded when someone views a video for 3 seconds or views 97% of a video that is less than 3 seconds long. More above, no video views are reported there.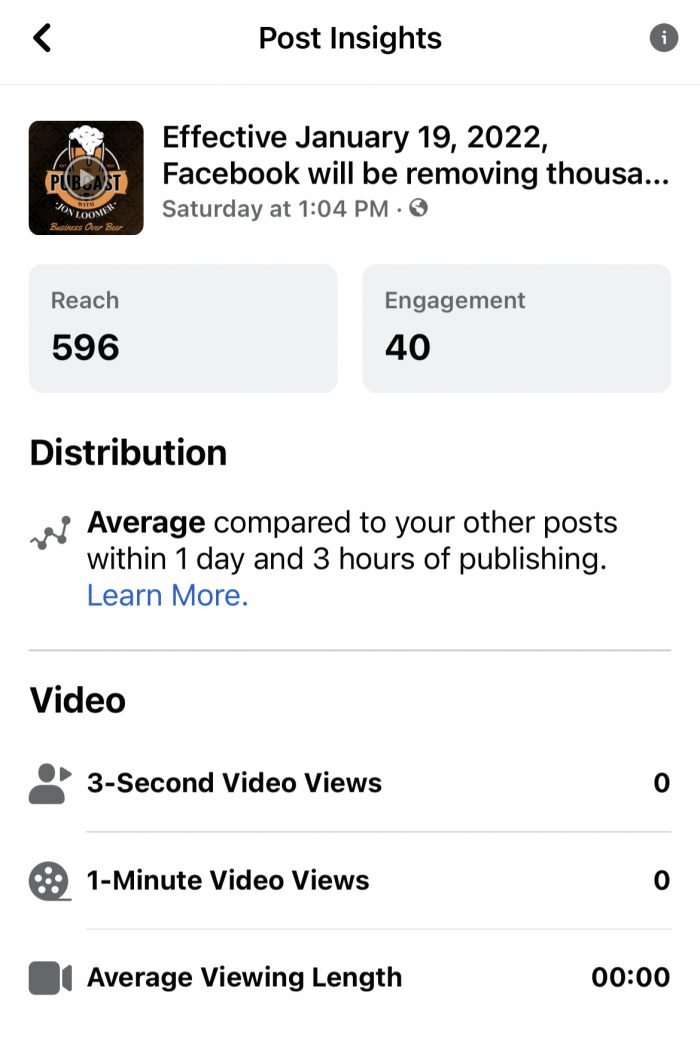 This feels like something Facebook is still sorting out.
Campaign Results
The campaign is running. It's spending. It's reached over 1,500 page followers so far. But, it's as if Facebook doesn't know how to report on it. The only numbers that are updating are related to impressions, reach, and 8 Clicks (All)The Clicks (All) metric includes all clicks on your Facebook ad (link clicks, clicks on media, post reactions, comments, shares, and more). More. No engagement. No reactions. No Link ClicksThe link click metric measures all clicks on links that drive users to properties on and off of Facebook. More. No video views — even 3-second views. If this is considered a video (not clear?), you would expect to see it here.
I don't think the 8 Clicks (All) are plays of the podcast episodes. The most likely way Facebook would report these (in addition to a Listens metric that doesn't exist) is Link Clicks. Link Clicks include clicks on CTAs and "playable experiences." Since no Link Clicks have been reported, Facebook is saying that the ad has generated nothing beyond a few empty clicks.
Is that possible? Sure. Or another explanation: Facebook isn't reporting on the actions that are happening.
Podcast Listens
An important point here is that Facebook podcasts are still very new. It's quite possible that Ads Manager and Page Insights have not yet caught up to reflect this content type.
For example, the post for a podcast episode or clip includes the number of "Listens."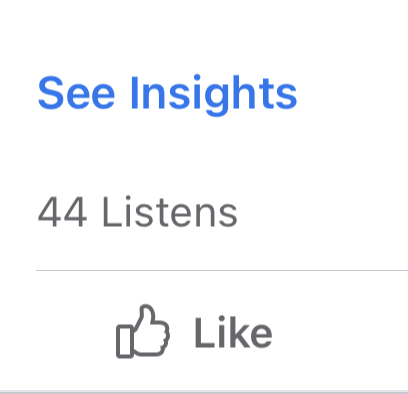 But, there is no further mention of this metric in Insights.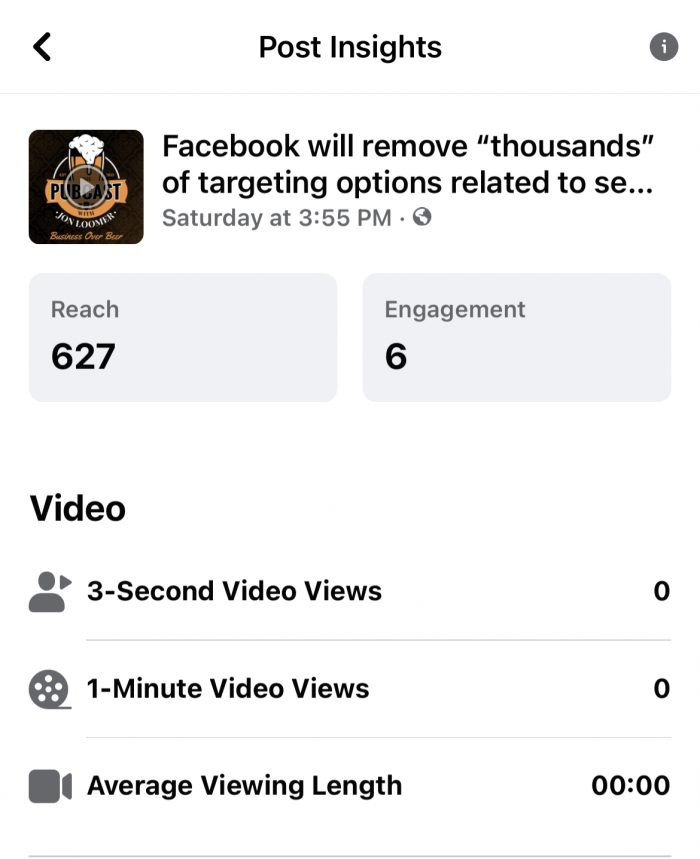 As you can see above, the 44 listens aren't considered among engagements or video views. It's as if Facebook isn't acknowledging the listens at all, other than on the post itself.
And it's not available in Ads Manager either.

So, my campaign may be producing results. And since the clip that is being promoted has way more listens than any other episode so far, I'm inclined to believe that the ad is doing something.
Checking Facebook's Numbers
One of the biggest issues here is that, at this point, we're relying on Facebook accurately reporting the number of people who are listening to my podcast. There are serious doubts that this data is reliable. And if it's not, we have no idea whether an ad promoting a podcast clip is actually leading to anything other than views.
Luckily, there's one more place to check my data. I host my podcast on Libsyn, and I get some relatively detailed data that could prove useful here.
Libsyn reports on "User Agent" — the apps and services used to access the podcast.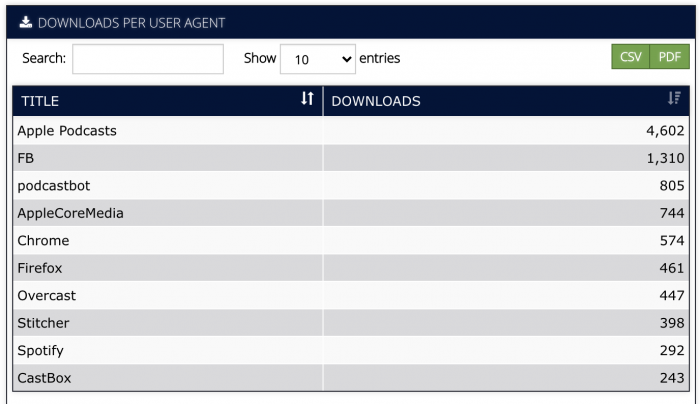 You'll notice that second on this list is "FB" — Facebook! Not only can we get a reporting of total number of downloads from Facebook, but we can isolate the number downloaded from Facebook for each individual episode.
First, let's check the specific episode I'm promoting.
The Facebook post for the original publication of the episode shows 14 listens. I don't know if the shared clip is separate or not, but that clip is showing 66 listens. My guess is that I should expect 80 total downloads of this episode from Facebook.
Libsyn, though, is reporting 128.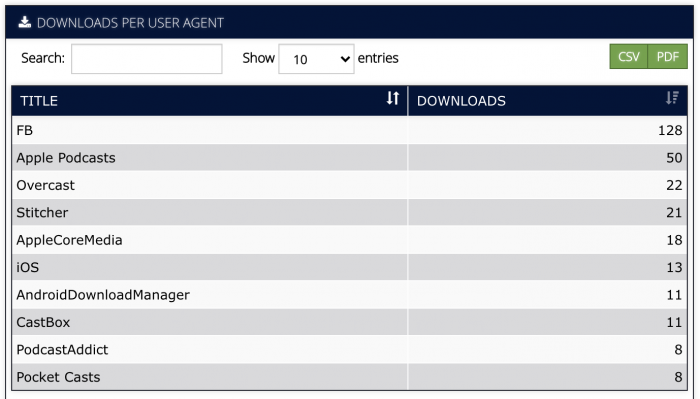 Not only is Libsyn reporting 60% more downloads than Facebook is reporting listens, but Libsyn also indicates that Facebook is generating 256% more downloads than Apple Podcasts.
Let's look at Friday's episode. I also shared this one as a clip on Saturday.
In that case, Facebook reports 3 listens of the original episode and 14 listens of the shared clip. Libsyn, on the other hand, reports only 39 downloads from Facebook. This is 56% of the Apple Podcasts downloads — a complete reversal of the numbers I'm seeing for the episode I'm promoting with a Facebook ad.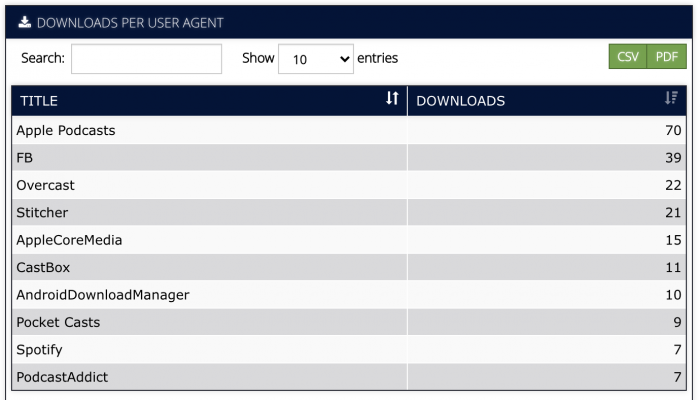 One of Facebook or Libsyn is wrong (very wrong). Given the inconsistencies I've been uncovering, I'm going to assume that it's Facebook that is MOST wrong.
But, one of the most important things that Libsyn is reporting is a much more active download rate for the episode that I've promoted with a Facebook ad. While that's not indisputable proof, it's certainly strong evidence in support of an ad that's driving listens (or downloads).
The Verdict
You can't promote a podcast episode right now. You can, however, promote a share of a clip — which includes a CTAA call-to-action is a button or link on your ad that suggests the action you want your audience to take. Examples: "Learn More" or "Sign Up." More button to the full episode. The problem is that there is no reporting at the moment, so you are guessing regarding the impact your ad is making.
Of course, this is very likely a short-term problem. It would make sense that podcast shows and episodes would be made eligible for ads eventually. And it's also very likely that Listens and other missing metrics will be updated and corrected very soon.
It's also possible that my "loophole" that I describe above will be closed soon while these issues are fixed. I do see significant value in promoting clips over full episodes, though. I'll continue to do that in the meantime.
The other question is related to custom audiences. As mentioned, the main episodes are eligible to be selected as "videos" for video view custom audiences. However, the clips are not, and Facebook is mostly not counting episode plays as video views.
It would make a lot of sense to allow advertisers to create audiences based off of Listens, too.
It's very early. If you want to experiment, have at it. I'm going to keep running my tests as these campaignsThe campaign is the foundation of your Facebook ad. This is where you'll set an advertising objective, which defines what you want your ad to achieve. More certainly seem to be boosting my Listens — even if Facebook won't report on it.
UPDATE
A couple of days later, and that clip is generating far more listens than any other non-promoted podcast item on my Facebook page. And it occurred to me that there is a way to get an idea of the ad's impact, even if Ads Manager won't report it.
The post for the clip is currently displaying 256 Listens. The Post Insights indicate a Total Reach of 4,090.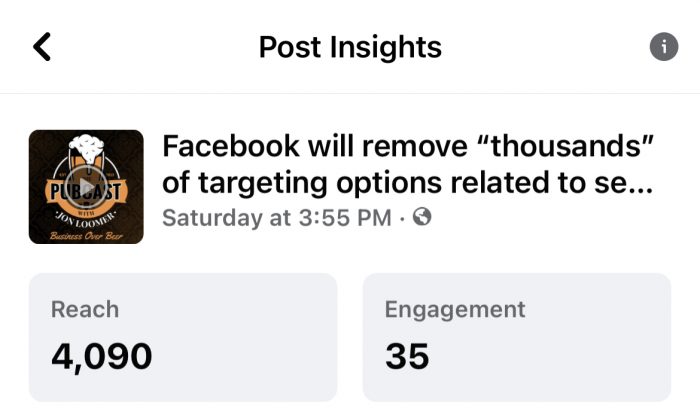 Meanwhile, Ads Manager reports a Total Paid Reach of 3,782 when promoting this clip.
While there may be some overlap, we can use some basic math here to make projections. Paid Reach makes up about 92.5% of Total Reach. Based on that, we can assume that the ad has driven about 236 of the Listens.
This assumes, of course, that Facebook updates the Listens numbers as often as the numbers are updated in Ads Manager. But if so, I've spent $37.68 for those 236 Listens — or about $.16 per Listen.
Would this be worth it for you? Gaining podcast traction is a difficult game. It would certainly be worth it for me (without knowing the value of those Listens, length of those Listens, and number of Subscriptions, of course).
Your Turn
Have you experimented with promoting Facebook podcast clips? What are you seeing?
Let me know in the comments below!