Much of my content is catered to intermediate to advanced advertisers, but I'm often asked where those who are new to Meta ads should start. Consider this your beginner's guide to Meta advertising.
Below, I've collected cornerstone links and resources that will help establish a solid knowledge foundation.
Ads Terminology
1. RESOURCE: Meta Ads Glossary
The Ads Glossary contains more than 100 important terms. Use this when you aren't sure about what something means.
Throughout the content of this website, you'll occasionally see words and terms that are bolded. This is because it is also found in the glossary. If you hover over it, you'll get a quick definition. Click the link to get the full definition.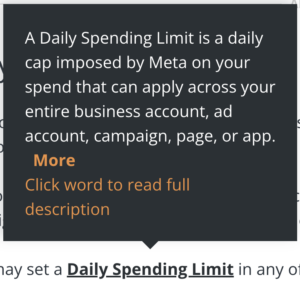 Here's an example. Hover below…
Daily Spending LimitA Daily Spending Limit is a daily cap imposed by Meta on your spend that can apply across your entire business account, ad account, campaign, page, or app. More
2. READ: What is Meta Advantage?
When Meta unveiled "Advantage" in 2022, most advertisers didn't fully appreciate what we were in for. Meta would rename current features and launch new ones, all with the "Advantage" or "Advantage+" branding. They aren't easy to keep track, so this is your guide to help understand it all.
The Rules
3. READ: The First Rule of Facebook Ads: Know the Rules
You're taking a risk if you start advertising without first knowing the rules of the platform. Some of the rules are common sense, but others are less obvious. Repeated violations could mean the loss of your ad account.
Advertising Philosophies
4. READ: Jon's Advertising Philosophies
This is a collection of my own advertising philosophies. It doesn't mean that you should adopt them, but consider it as a starting point as you figure out your best path forward.
CampaignThe campaign is the foundation of your Facebook ad. This is where you'll set an advertising objective, which defines what you want your ad to achieve. More Structure
5. READ: How to Create a Meta Ads Campaign: A Complete Guide
This post walks through the entire process of creating a campaign from start to finish. Along the way, it highlights nearly every feature and option available to you. When I've written about these features separately, they are linked to additional blog posts.
6. READ: The Ideal Naming Convention for Facebook Advertising Campaigns
It's a small thing, but you'll be glad you established a strong naming convention later. It helps you remain organized and quickly know what makes each asset unique.
How This Works
7. READ: How the Facebook Ad Auction Works
By default, your ads enter an auctionFacebook uses an ad auction to determine the best ad to show to a person at a given point in time. The winner of the auction is the ad with the highest total value, based on bid, estimated action rates, and ad quality. More to compete with other ads to earn the right of visibility for your ideal audienceThis is the group of people who can potentially see your ads. You help influence this by adjusting age, gender, location, detailed targeting (interests and behaviors), custom audiences, and more. More. This post explains exactly how that process works.
8. READ: A Guide to Meta Ads Optimization for Delivery
Your chosen Performance GoalThe Performance Goal is chosen within the ad set and determines optimization and delivery. How you optimize impacts who sees your ad. Meta will show your ad to people most likely to perform your desired action. More is the foundation of everything that happens with your ad set. It determines how success is measured and how Meta optimizes to show your ad to people most likely to make your desired action.
9. READ: Facebook Ads and the Learning Phase
The first week may be the most critical period of a new ad set. This is when the algorithm learns from the performance of your ads in an effort to provide you the best possible results.
10. READ: Advantage Targeting: How Meta Audience Expansion Products Work
Initially unveiled in 2022, Meta is pushing to reachReach measures the number of Accounts Center Accounts (formerly users) that saw your ads at least once. You can have one account reached with multiple impressions. More people beyond your chosen audience, using machine learning to expand your targeting in an effort to improve performance.
11. READ: Meta Ads Attribution Setting: A Complete Guide
How does Meta count a conversion? It all starts with AttributionAttribution is how Meta gives credit to an ad for a conversion. Your Attribution Setting determines how your ad will be delivered and the reporting attribution window. The default Attribution Setting is 7-day click and 1-day view, which means that anyone who converts within 7 days of clicking or 1 day of viewing your ad will be counted as a conversion. More.
How to Use This
12. READ: Meta Campaign Objectives: Best Practices
Your choice of objectiveWhen you create a campaign, one of the first things you'll do is select an objective. The campaign objective is your ultimate goal. Your selection will impact options, including optimization and delivery. Options include Awareness, Traffic, Engagement, Leads, App Promotion, and Sales. More is the first and possibly most important action you'll take when creating a campaign. While it doesn't directly determine how your ads will be delivered, this selection helps streamline the options that will be available to you that could make or break your ads.
13. READ: Advantage Campaign Budget Best Practices
If you use multiple ad setsAn ad set is a Facebook ads grouping where settings like targeting, scheduling, optimization, and placement are determined. More within the same campaign, you should consider turning on Advantage Campaign BudgetAdvantage Campaign Budget (formerly Campaign Budget Optimization) automatically manages your Facebook campaign budget across ad sets to get you the overall best results. More. Meta will then distribute your campaign budgetA budget is an amount you're willing to spend on your Facebook campaigns or ad sets on a daily or lifetime basis. More optimally between ad sets to get you the most results possible.
14. READ: The Ultimate Guide to Meta Ads Targeting
You can get lost in all of the targeting options that are available to you. This guide walks you through each one.
15. READ: Bid Strategies Best Practices for Meta Advertising
Bidding is mostly out-of-sight, out-of-mind. If you roll with the defaults, Meta will attempt to get you the most optimized actions at the lowest cost. But you have options to manually impact how Meta spends in the ad auction.
16. READ: A Guide to Meta Ads Placements
Should you turn on Advantage+ PlacementsFormerly known as Automatic Placements. When you utilize Advantage+ Placements, Meta will automatically optimize which placements are used and when to get you the most results for your budget. More, allowing Meta the freedom to send your ads to any of the possible ad placements? Or should you manually select placements that you believe are most effective? This post walks through this dilemma.
17. READ: Facebook Lead Ads: A Complete Guide
If your goal is to collect leads, you should consider using Meta's Instant Forms via Lead Ads. It's easy and streamlined for the user, which could increase the volume of leads that you collect.
Your Budget
18. READ: How to Determine Your Facebook Ads Budget
How much you should spend on an ads budget is variable, relying on many different factors. What is your goal? How much does it cost to get one of those actions? It's ultimately a balance, looking to spend at least enough to give the algorithm the volume of data it needs to optimize.
19. READ: Facebook Ads on a Budget
Not everyone has the big budgets available that are most likely to lead to the best possible results. If you are limited, you may need to approach this differently. This post walks through your options.
20. READ: Why Won't Meta Spend My Advertising Budget?
Sometimes, Meta doesn't spend your daily budget. There are often choices you make that can lead to this phenomenon.
Strategies
21. READ: Should You Go Broad with Facebook Ads Targeting?
Going broad has become increasing popular over recent years. This strategy involves removing all targeting filters, focusing entirely on locations, and allow Meta to reach whomever is most likely to perform your desired action.
22. READ: How Often Should You Update Facebook Ad Creative?
One of the biggest issues impacting long-term advertising success is ad fatigue. How should you combat it? How often should you update your creative to avoid it?
Still Need Help?
There is a lot of information here to get you started. If you still need help, you have a few options…
1. Keep reading my blog. I update it at least twice per week with Meta ads news, strategies, and tutorials.
2. Subscribe to my Newsletter. This is your direct line to me. I'll message you when there's something that you need to know.
3. Book a One-on-One. If you still need help, set up a 45-minute session with me and we can discuss your specific advertising goals and roadblocks.
Let me know if you have any questions!