If you have a big event coming up, Reminders Ads are a great way to make sure that your raving fans don't forget about it.
It doesn't matter what the event is — whether it's online or offline. It could be a sale, going live on Instagram, or a physical event. Reminders posts and Reminders Ads have one very simple purpose: Remind people.
If you're active on Instagram, you may have seen Reminders posts before. We'll start with them, but you can actually skip right over them and create Reminders Ads.
Let's get to it…
What Are Instagram Reminders?
Reminders posts are unique to Instagram and only available to professional accounts. You can create reminders for an upcoming online or offline event.
The time of your event will be displayed in the local time for each person. When someone chooses to get reminders for your event, they'll be notified three times:
24 hours before the event
15 minutes before the event
At the time of the event
Of course, you can also create Reminders Ads.
Create Reminders Ad
To create a Reminders ad, you'll need to use the Engagement objectiveWhen you create a campaign, one of the first things you'll do is select an objective. The campaign objective is your ultimate goal. Your selection will impact options, including optimization and delivery. Options include Awareness, Traffic, Engagement, Leads, App Promotion, and Sales. More.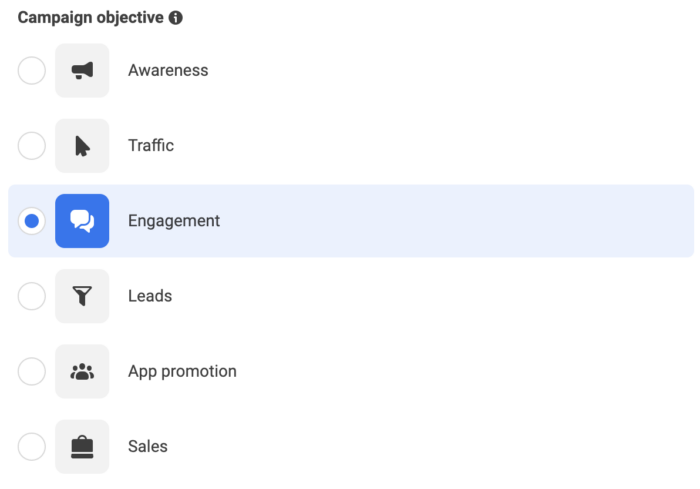 Select "On your ad" as the conversion location in the ad setAn ad set is a Facebook ads grouping where settings like targeting, scheduling, optimization, and placement are determined. More.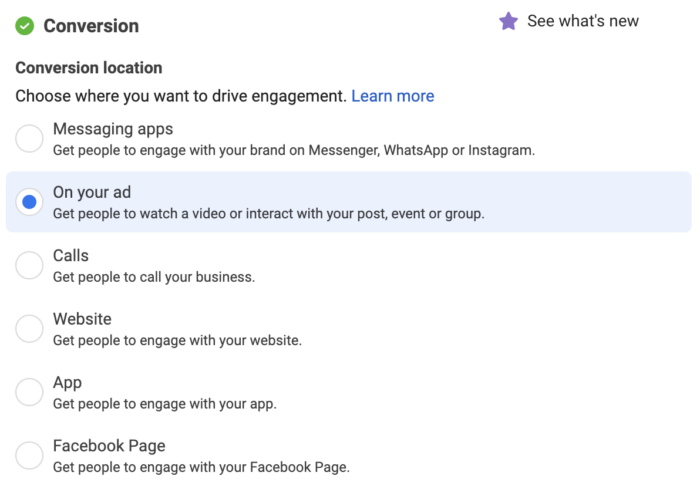 Select "Reminders Set" as the engagement type.

The performance goalThe Performance Goal is chosen within the ad set and determines optimization and delivery. How you optimize impacts who sees your ad. Meta will show your ad to people most likely to perform your desired action. More will be "Maximize Reminders Set" with no ability to change it.

Only Instagram placements are available (Instagram Feed and Stories), even if you use Advantage+ PlacementsFormerly known as Automatic Placements. When you utilize Advantage+ Placements, Meta will automatically optimize which placements are used and when to get you the most results for your budget. More.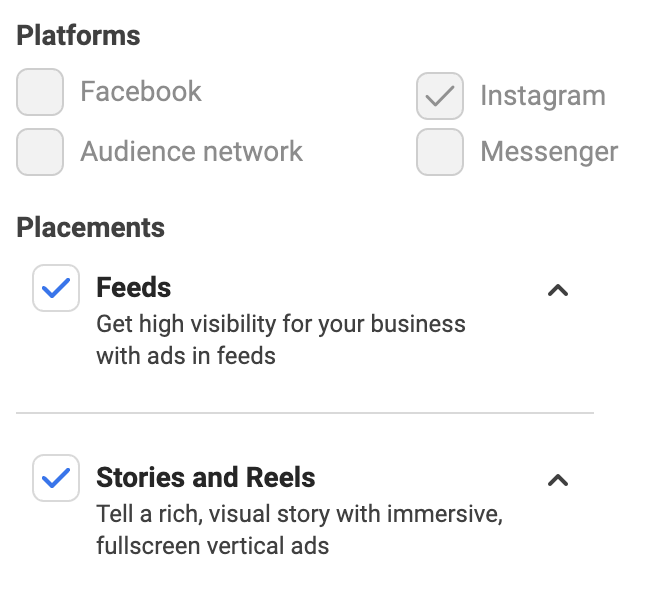 When you create your ad, the call-to-actionA call-to-action is a button or link on your ad that suggests the action you want your audience to take. Examples: "Learn More" or "Sign Up." More button used will be "Remind Me."

Provide the details of your event by including event name, event start date and time, and an optional event end date and time. If you've previously created the event, you can simply select it here.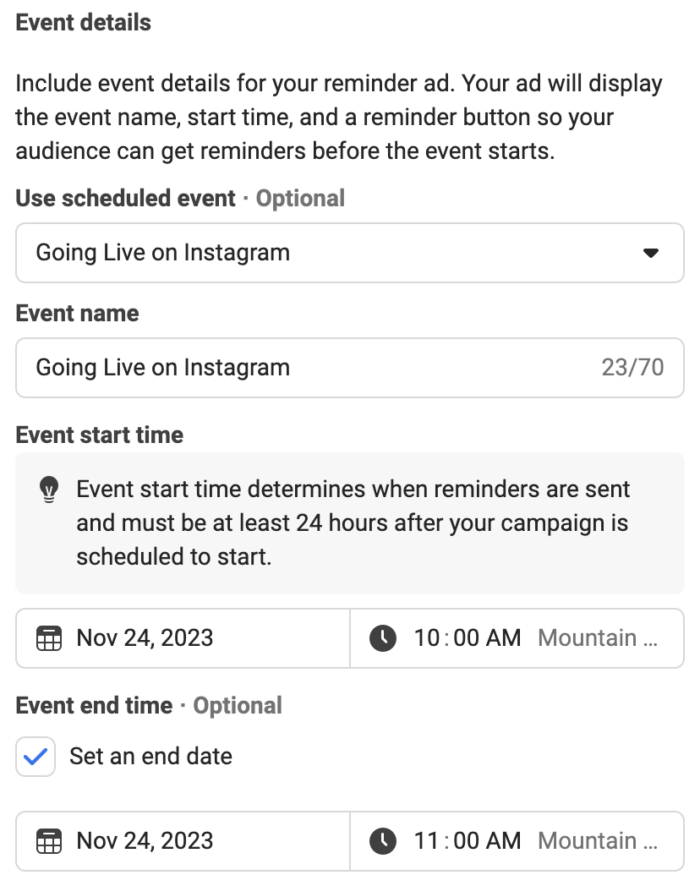 Ideal image dimensions are likely 9:16 where the text is centered at the top. This way, it can work both as a Story and 4:5 in the feed.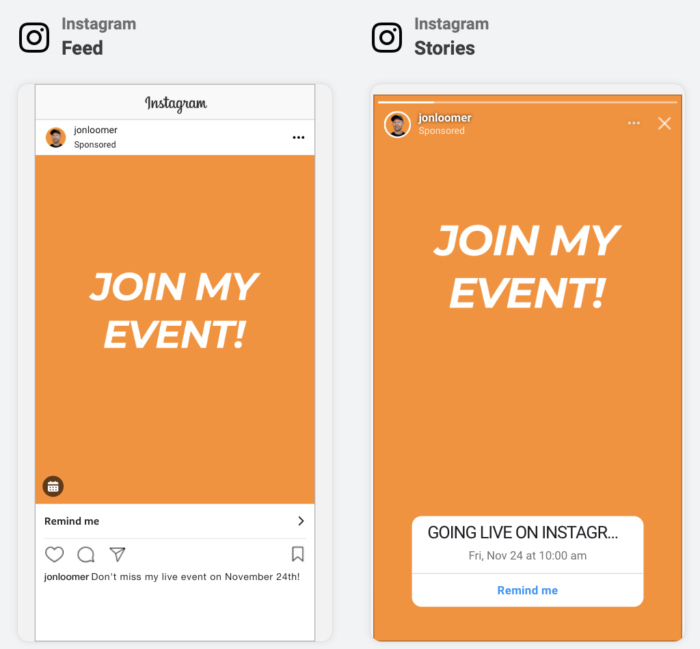 How Might You Use Reminders Ads?
It's important to remember that a Reminders Ad is super basic. We aren't creating the event itself with these ads. We're only creating a way to remind people of something important that is going to happen. Those who ask to be reminded will get alerts up until the time of your event.
Because this is so free form, you can use Reminders Ads for just about anything. But a good example during the holidays would be a big sale.
Of course, you shouldn't abuse this. There's no reason to create new Reminders Ads every time you have a sale. But, if there's a bigger sale than normal and you want to stand out at a time like Black Friday, this might be a good option.
Your ad needs to be very clear about why your event is special to provide motivation for people to request reminders. These ads should also provide details about what they should do or where they should go at the time of the event.
Maybe you're going live on Instagram, which would be easy. But if you have a sale at your physical store, provide the address in your ad. If the sale is online, provide the URL to where they need to go.
Watch Video
I recorded a video about this, too. Watch it below…
Your Turn
Have you used Reminders Ads? Will you?
Let me know in the comments below!