Many recent announcements from Facebook concerning targeting are seemingly about the removal of features. Thankfully, this post is not about that! Facebook quietly mentioned some new (and some reinstated/returning) professional targeting options on the Facebook Developers blog.
Facebook's Developers blog is normally a space for more technical announcements, so the updates mentioned here are sometimes easily missed by advertisers.
On August 9th,  the announcement was made that Facebook has new interest segments to reachReach measures the number of Accounts Center accounts (formerly users) that saw your ads at least once. You can have one account reached with multiple impressions. More professional audiences. It also let us know that some previously removed targeting features will be coming back, although the update implies that rollout will be gradual.
According to the update, we can find the new and reinstated professional targeting options pertaining to the following interest segments:
Page Admins: Behaviors targeting > Digital activities > Facebook page admins
Employer Targeting: Demographics > Work > Employers
Job Title Targeting: Demographics > Work > Job Titles
School Targeting: Demographics > Education > Schools
Field of Study Targeting: Demographics > Education > Field of Study
These classifications provide the navigation flow to find the updated targeting segments. To review any of these, you simply set up an audienceThis is the group of people who can potentially see your ads. You help influence this by adjusting age, gender, location, detailed targeting (interests and behaviors), custom audiences, and more. More, choose the Browse option under Detailed Targeting, and follow the outline provided.
The areas of Employer and Job title, in particular, seem to have had various targeting options removed in the past. I imagine that advertisers will be excited to see some of these options returning.
Let's do a quick review of a few of these…
Page Admins
Within Behaviors -> Digital Activities -> Facebook page admins, we can now see a number of Page Admin targeting segments available.
Though Page Admin targeting was previously available, I do not recall seeing some of these options. If anyone out there in the interwebspace knows otherwise, please let me know in the comments below!
As of today, here are the options that populate: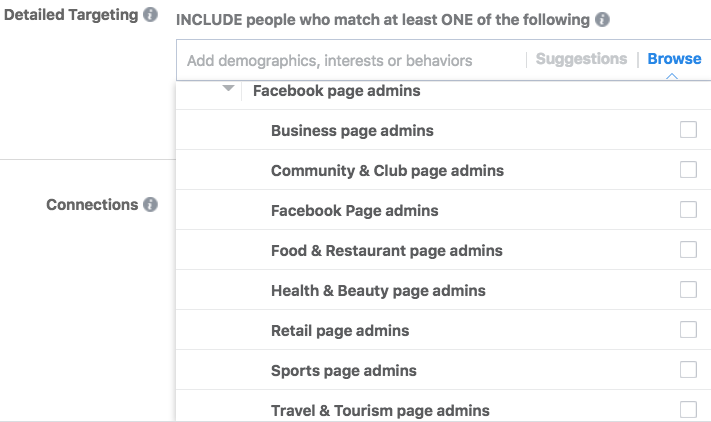 The option Facebook Page Admins appears to encompass all the other segments.
This general target is very large! Over 350 million people.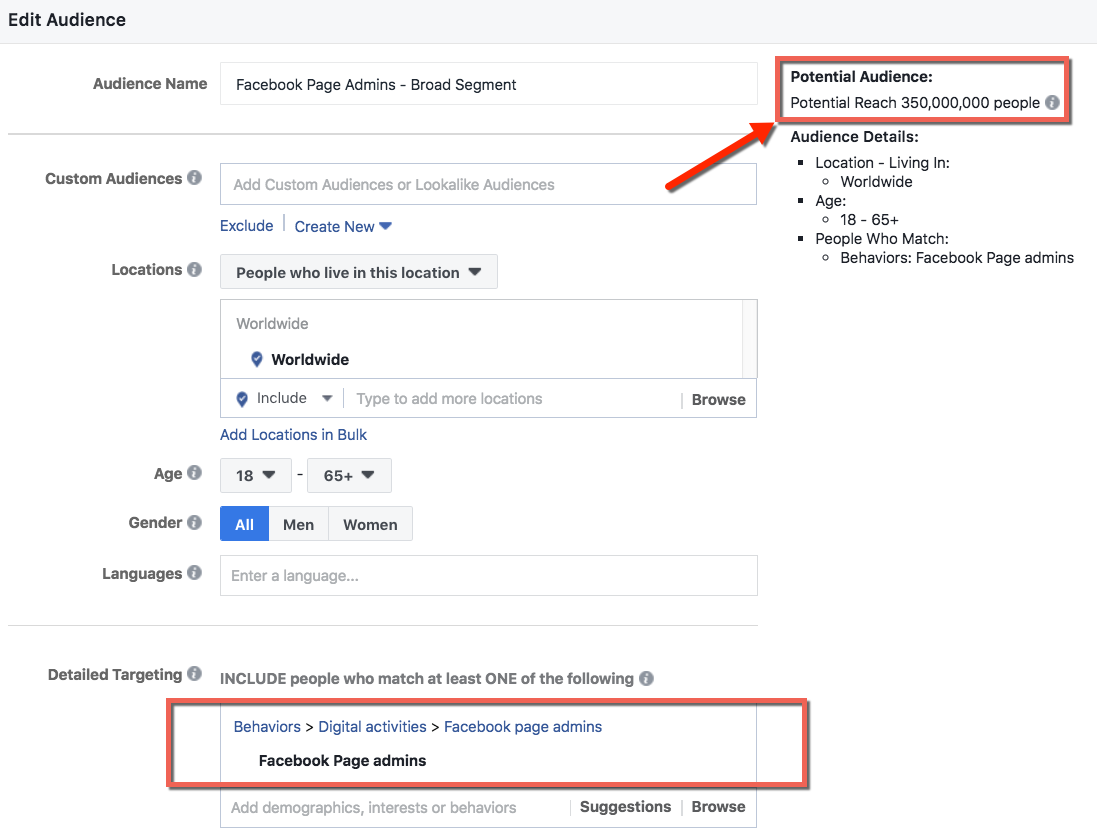 To dive deeper into how Facebook might be classifying admin segments, I created an audience made up of all the individual page admin segments.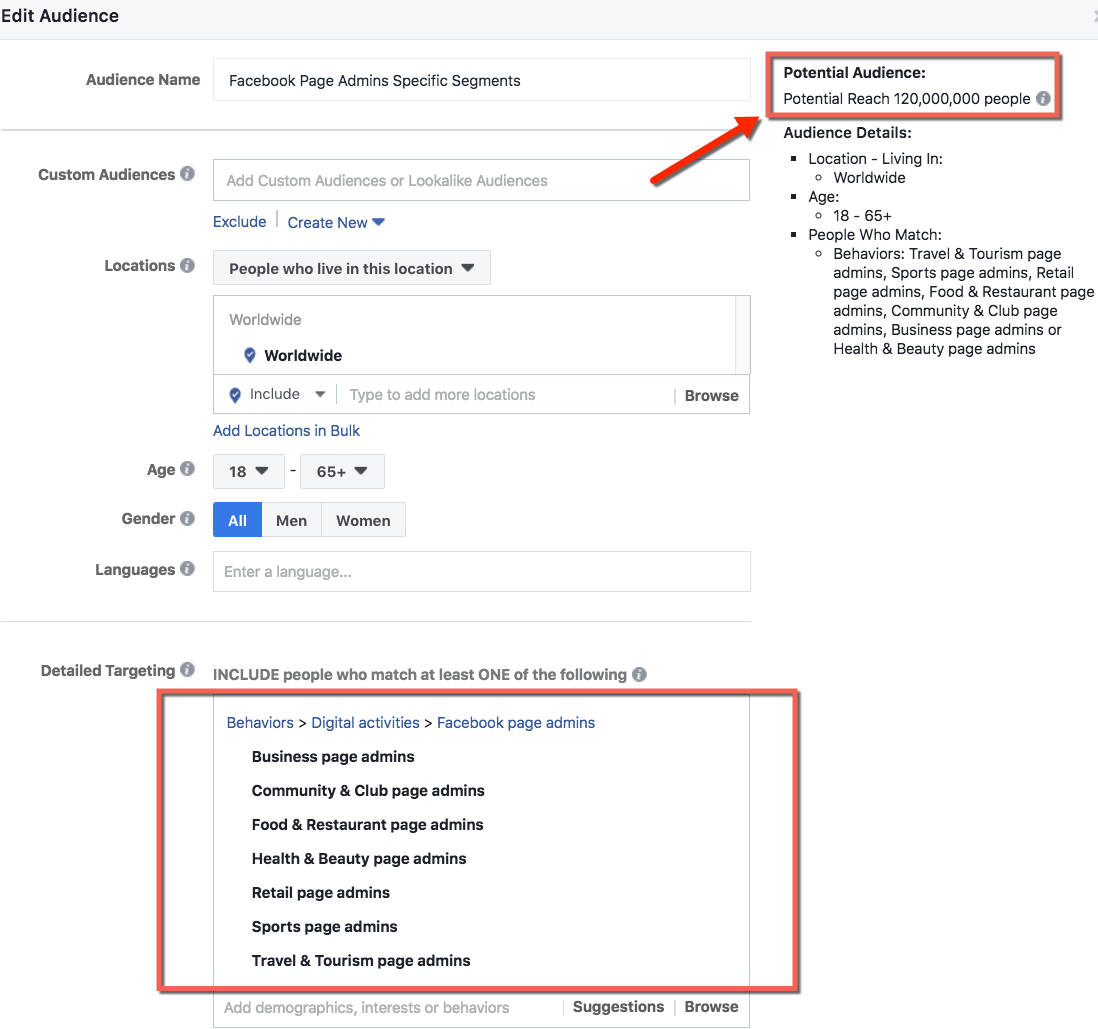 120 million people is far fewer than the 350 million number we saw for Facebook Page Admins in general. We can compare Audience Overlap between these two audiences to verify that the broader group of "Facebook Page Admins" does in fact encompass the specific segments: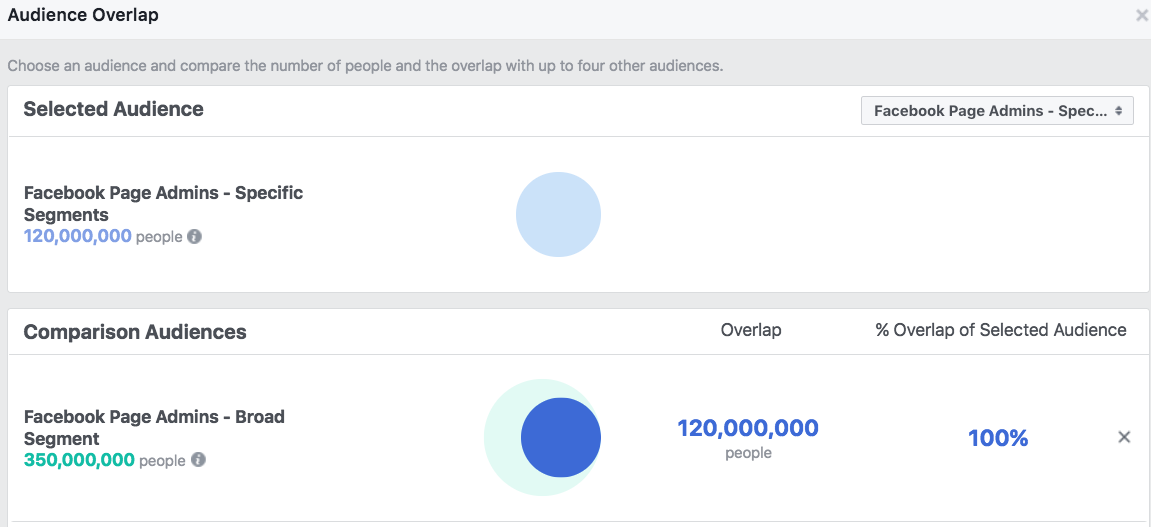 This tells us that over 230 million page admins are not contained within one of the specific segments. I imagine Facebook might start adding more categories in the future.
Other Targeting Segments: Employer, Job Title, School, Field of Study
As far as I'm aware, all of these options were already available. I did a quick spot check of Field of Study below, using "Bio" as the input, to see if these options had become more robust:

The results seem quite limited for now. Similar to the Page Admins segments, I imagine Facebook may start adding more fields in the future.
Your Turn
What new targeting options are you seeing within these segments? Have any new doorways opened for you with this update?
Let me know in the comments below!