Dynamic Product Ads are magical.
We know the flow. A user visits a website or adds a product to cart. Then they don't purchase. Finally, we show them an ad of that specific product and complete the sale.
Many of us have this setup and it keeps on working. It's a win-win because the advertisements aid in completing purchases and ensure the user sees a high-quality, relevant ad.
But did you know that Dynamic Ads can also be used for prospecting? They can help find new customers based on online behavioral modeling. You can also use dynamic copy in prospecting ads.
Between Broadmatch Dynamic Ads, Dynamic Product Ads, and all the new features of dynamic ads, they are delivering real results. Dynamic ads can now be a full-funnel solution that can add sales and stability to your campaignsThe campaign is the foundation of your Facebook ad. This is where you'll set an advertising objective, which defines what you want your ad to achieve. More.
(I define dynamic ads as any ad using your product catalog. But in this post, I focus exclusively on the way most advertisers use them: dynamic product ads.)
Confession…
Look, I knew how dynamic ads worked. I'd used them with success many times. But I still found myself thinking Dynamic Ads were somewhat intimidating.
Specifically, creating a stellar product catalog, "debugging" them, and customizing the ads combined to be a bit confusing and murky. As a result, I primarily used apps to help set things up — especially for my clients with multiple products, using an app was almost essential to making the entire process run smoothly.
All that said, a few months ago when Jon and I decided that our May training would be on Dynamic Ads, I committed to spending some serious time getting my hands dirty. I interviewed marketers about how they're using dynamic ads, and mastering the topic with confidence.
Turns out that my fears weren't completely unfounded; a lot of folks I talked to felt the same way. As such, there's an incredible amount of variance in how Facebook advertisers use Dynamic Ads. Some rely on complex spreadsheets-to-database automatic uploads via FTP. Many are only utilizing 28-day add to cart remarketing. And even more common were those who set things up a year ago and haven't changed them since.
I quickly realized there's a very wide range of opinions, concerns, and personal experiences on the subject. In speaking with dozens of agencies and consultants and running my own experiments, I've uncovered several pro tips for optimizationThe Performance Goal is chosen within the ad set and determines optimization and delivery. How you optimize impacts who sees your ad. Meta will show your ad to people most likely to perform your desired action. More that I think everyone can use to improve their Dynamic Product Ad results.
I chose to focus on remarketing here since the majority of advertisers use Dynamic Product Ads with that goal in mind.
Onwards to optimization!
Separate View and Add To Cart
One of the most common missteps I observed in my research was when advertisers would combine "View" and "Add to Cart" in the same ad setAn ad set is a Facebook ads grouping where settings like targeting, scheduling, optimization, and placement are determined. More targeting.

It's a recurring pitfall as it's the first radio button on the targeting list for Catalog Sales. However, the reality is with the custom combination targeting, you're able to differentiate the pitch to these two groups.
For example, if a new site visitor goes to a product page and views a product, it makes sense that they're simply checking it out. They may or may not come back.
Maybe they need more context on your overall brand story. Maybe they need more value propositions of why your product is so great. Or perhaps they'd like to see what other products you have that could interest them.
In other words, they're interested but not convinced.
On the other hand, if that same person goes to the page and adds a product to their cart, that's a much stronger signal of their intent to buy. In this instance, adding a discount code in the Dynamic Product Ad copy is a worthwhile approach to try. They're much closer to making a purchase, so rewarding them is a smart play.
Combining "View" and "Add to Cart" will hinder your efficiency in learning, so I strongly recommend separating them out!
Not this…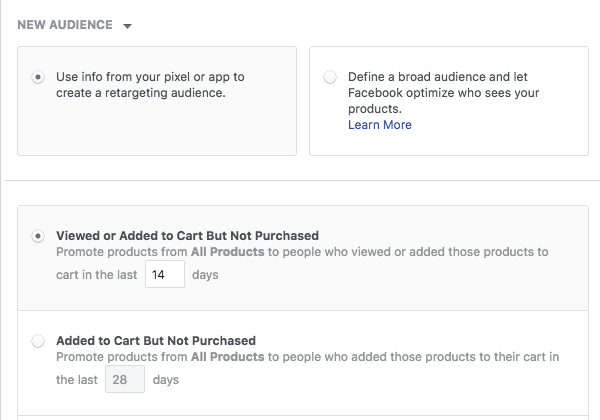 Do this…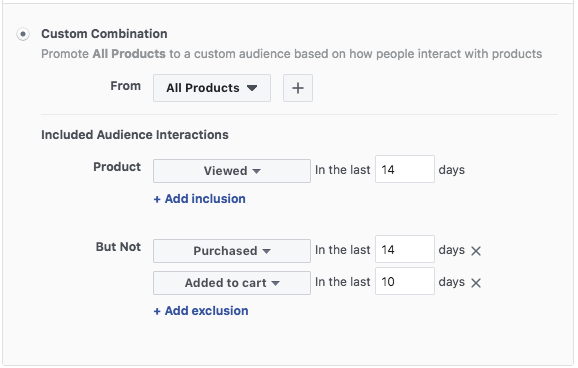 Check and Control Your FrequencyCalculated as (Impressions/Reach), Frequency is a Facebook ads metric that measures the average number of times users have seen your ad. More
One of the downsides of Dynamic Product Ads is their frequencies can become too high too quickly. Due to the small audienceThis is the group of people who can potentially see your ads. You help influence this by adjusting age, gender, location, detailed targeting (interests and behaviors), custom audiences, and more. More size in most cases, I commonly observed 20+ frequencies over a 7-14 day period. Folks, let's be honest: this is insane and super annoying.
As advertisers, we often get tricked into thinking this practice is acceptable because many of those ads are still returning a high return on ad spend. They are profitable, so we leave them on. But in many cases, the relevance scores are a 3/10 or even lower AND click-through-rates are low while the cost-per-clicks are high. This proves the audience isn't really loving the ad.
A common response I hear when I give this warning is "Who cares? It's working and making money."
Sure, I see the logic. But it's still a crutch and you're boxing yourself into a corner. Your brand could be seen as annoying, intrusive, and not conducting any social listening.
What I propose is simple: Monitor and control your Dynamic Product Ad frequency.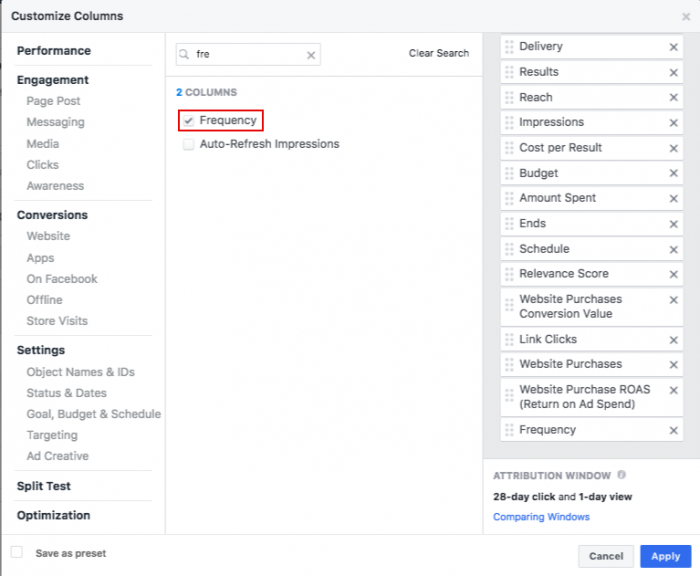 If you check your frequencies and realize they're high, then it's time to optimize. I try to aim for no more than seven impressionsImpressions are the number of times your ads were displayed to your target audience. Impressions aren't counted if it is detected they came from bots. More over a seven-day period (1X per day). When my ads get to this level or higher, I take immediate action on one and/or all of the following recommendations.
Check Your Bidding
Are you bidding for clicks? For purchases? In a one-day click or view window? All of these bid types have a different effect on how your ad shows. So I'd adjust your bid accordingly to match your true goal.
For example, bidding for purchases within a one-day click window micro-targets an incredibly small group of users in an already small pool.
Simply adjusting to a longer time window can have a dramatic effect on the frequency.
Another example: If I'm bidding for purchases but the ad isn't spending that much, changing the Event Type optimization to Add to Cart can help widen that window a bit further.
Think about it: There are more Facebook users who add something to their cart than there are purchasers. Widening it by event can be helpful.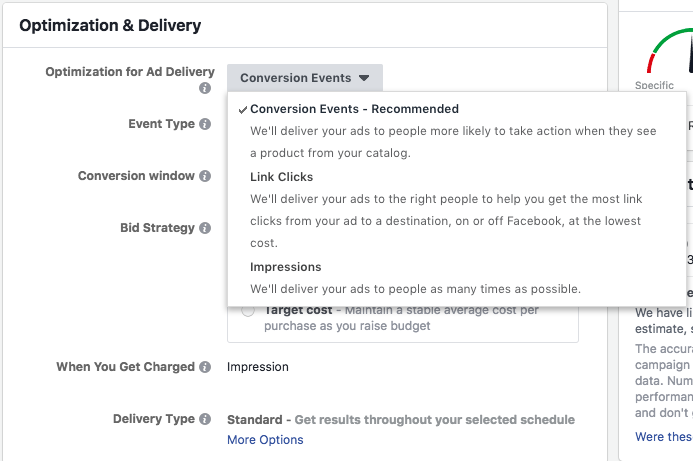 Adjust The Time Window
Oftentimes if my frequencies are still too high, it's likely due to the time window being too small and not having enough prospects.
Take this example: I'm advertising to people who've added something to their cart but haven't purchased in the last seven days.
This audience is probably going to be a smaller group of people. For my first action, I can widen that time window a bit, perhaps from 7 days to 14 or 21 days. This is to see if I can capture previous add-to-cart folks.
The second action I can take here is increasing the spend on and further refining my prospecting traffic. If I see my prospecting isn't delivering as many users who add something to cart, then it's time for adjustments. One ratio I've used to track this metric is on Facebook Analytics.
Simply increasing the amount of people I'm sending into my funnel via prospecting can be a great solution to solve my frequency issues. Combining this with adjusting bid type can be even more lucrative.
Revamp Your Ad Copy
If you believe this entire post on Dynamic Product Ad optimization is total malarkey, then that's fine! But, the one thing you must try is revamping your ad copy.
Changing up your Dynamic Product Ad copy has a dramatic and immediate effect on results. Try refreshing your ad copy every week. Try another pitch, insert some fun emojis, make it seasonally appropriate, include positive customer reviews.
All the while keeping in mind that if the user sees the same ad creative, they'll still see new copy.
Upcoming Dynamic Ads Training
If you like these pro tips and want to learn more, join Jon and me for our upcoming Dynamic Ads Master Class.
In this course, you'll learn everything you've ever wanted to know about dynamic ads. We'll get into how to build them into an effective system.
Topics include setting up and optimizing your product catalog, targeting, bidding, creative best practices, setting up effective ads step-by-step, retention strategies, and much more. Join us!
Your Turn
Do you have any go-to strategies for optimizing Dynamic Product Ads?
Let me know in the comments below!