I have good news. It appears that Meta has finally fixed a Video Views Custom AudienceYou can create an audience of people who viewed your video on Facebook or Instagram and target or exclude this audience in ads. More bug related to Facebook Reels engagement.
Not excited? I am. I've been checking every day for over a month and a half, waiting for this to be fixed. And I'm already seeing the positive impact of that fix.
Let's take a closer look at what happened and how I'm using this to my benefit…
The Bug
When you create a Video Views Custom AudienceThis is the group of people who can potentially see your ads. You help influence this by adjusting age, gender, location, detailed targeting (interests and behaviors), custom audiences, and more. More, one of the steps is to "Choose Videos."

For example, let's say that you choose "People who have watched at 95% of your video," like in the image above. By selecting videos, you will create an audience of people who watched at least 95% of those specific videos.
You can select videos from both your Facebook page and Instagram business profile.

So far, so good.
I have published a Facebook Reel and Instagram Reel every day this year. But starting around March 2, Reels stopped appearing in the list of videos you can select. I could select other videos published to my page or used in ads, but no Reels.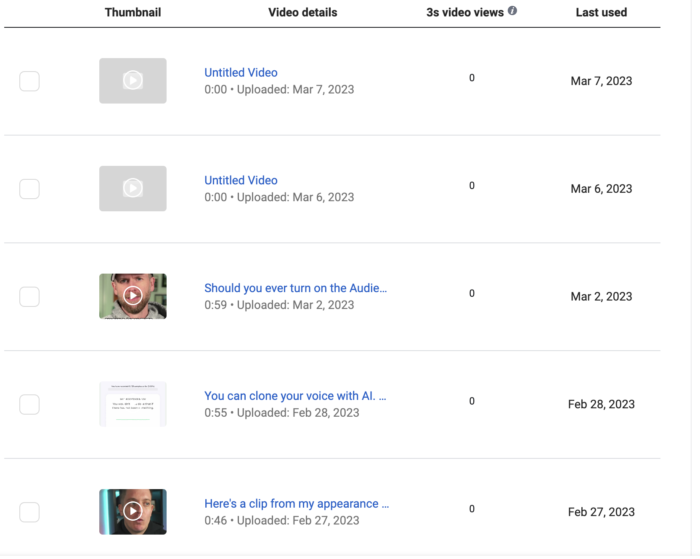 I totally remember this period of time. Everything was buggy with scheduling Reels around then, which is why those "Untitled Videos" were also showing up. And the videos were all showing zero 3-second views, which wasn't correct.
Anyway, no Facebook Reels showed up for the rest of March and most of April. But Instagram Reels were showing up just fine.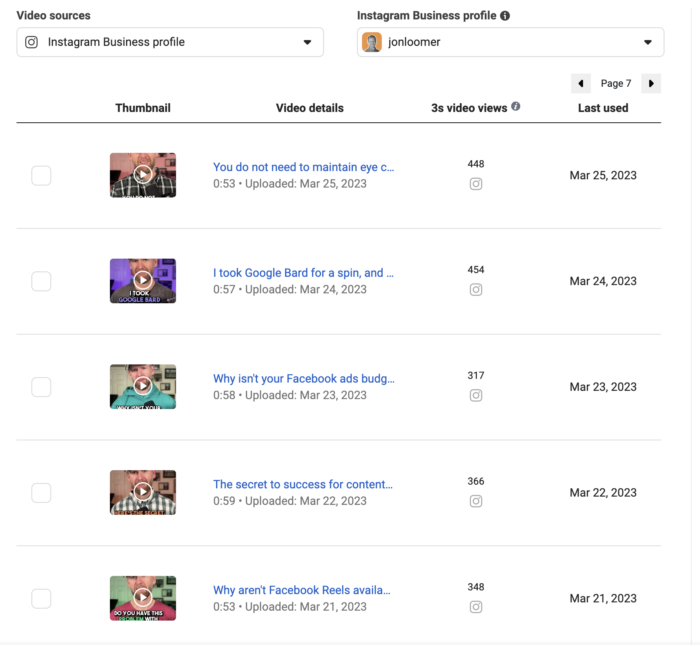 So, if I can select the Instagram Reel, why does it matter that I can't select the Facebook Reel? Because they aren't the same video. They look the same. But when I select an Instagram Reel for this audience, it will only include people who engaged with the Reel on Instagram. It will no longer add the people who engage on Facebook.
I recorded a video after a few weeks of this being a problem, too. You can watch it below…
Why Does This Matter?
I know what some people will say about this: Remarketing is dead. Who cares? You should go broad with your targeting anyway.
Look, I've bought into broad targetingIn most cases, mention of Broad Targeting refers to the removal of all potential targeting filters: No custom audiences, lookalike audiences, or detailed targeting. Instead, rely only on location and letting the algorithm do the work. More, too. I don't do nearly as much general remarketing based on all people who engaged with my Facebook page or visited my website as I once did. But, this has proven to be very different.
I have a funnel running with Facebook ads based on engagement with my Reels. I'm doing this because I've found that people who watch my Reels to completion are hyper-engaged. This is a special group.
One is a simple "Are You My People" ad. It's a video where I explain that I've learned that those who watch my Reels to completion are "my people." And only those who watched one of my Reels to completion during the prior seven days could see that ad.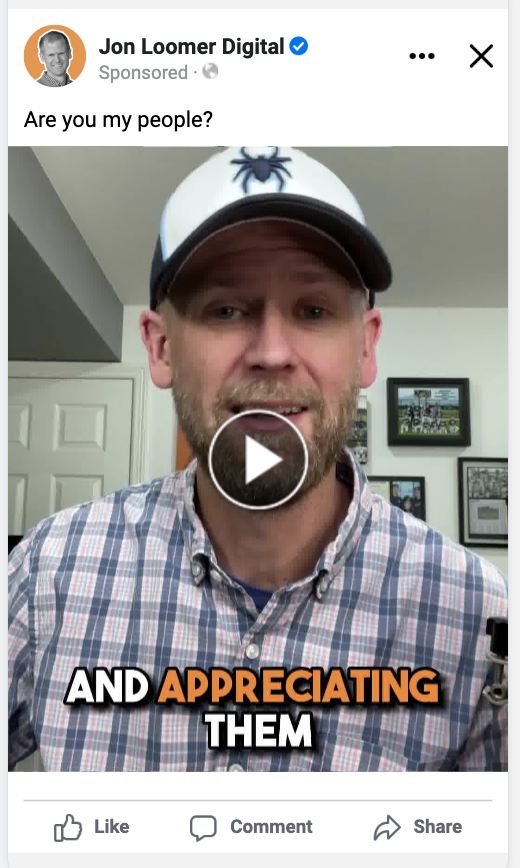 Keep in mind that this is a ReachReach measures the number of Accounts Center Accounts (formerly users) that saw your ads at least once. You can have one account reached with multiple impressions. More ad that is normally targeting around 1,000 people in all. But it gets a very high rate of engagement of people telling me that they are my people.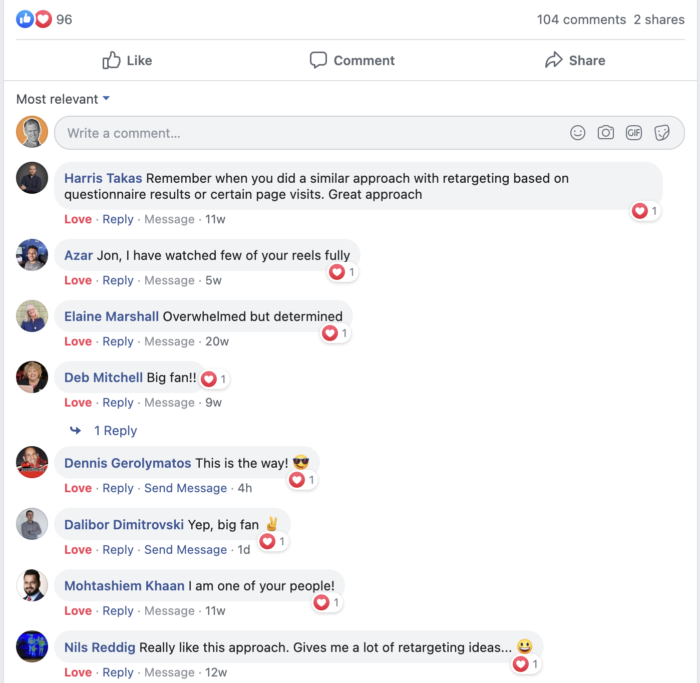 Of course, things got a lot quieter once I couldn't include Facebook Reels engagement. That finally changed once I could. Take a look at how the Cost Per Reaction/Comment/Share and Cost Per 95% View have evolved since I could include Facebook Reels on April 24…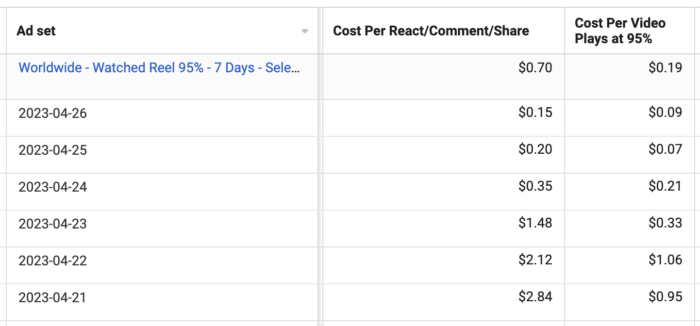 Yikes! I was wasting some money for a while there. Big change.
Since I know this group of people is so important, I also target them to promote one-on-ones and membership. In both cases, these are Reach campaignsThe campaign is the foundation of your Facebook ad. This is where you'll set an advertising objective, which defines what you want your ad to achieve. More targeting this small, but important, group.
Watch Video
I recorded a video about how this has been fixed, too. Check it out below…
Your Turn
Do you use Video View Audiences and select Facebook Reels?
Let me know in the comments below!