You've surely run into this situation. Meta Ads Manager, Business Suite, an API, or one of the other many Meta business products isn't working for you. Is this a known issue or are you alone?
Luckily, there's a resource for the status and outages of Meta business products that I keep readily available.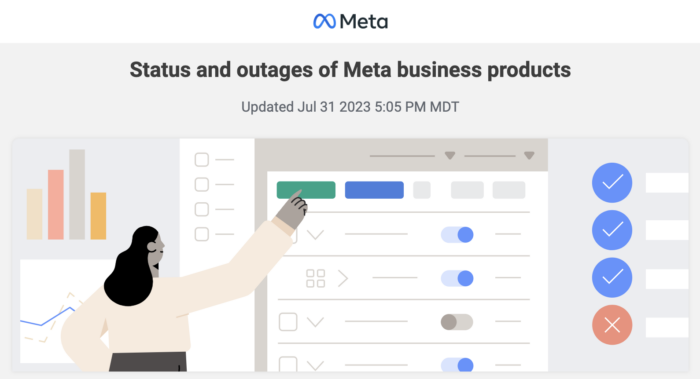 When you go to that link, you'll see several categories of Meta business products and whether there are any known issues. When you click into each one, you'll uncover more details about those products and what is going on.

Here's a closer look of what products are included in that regularly updated page…
Business Tools
This is where I typically go because the outage issues I run into most are related to Ads Manager.
Business Tools includes the following…
Ads Manager:
Ad Creation and Editing
Ads Delivery
Ads Reporting
Facebook and Instagram Shops:
Facebook and Instagram App on Shopify
Commerce Manager
Seller Onboarding
Checkout
Orders
Meta Business Suite:
Sharing and Content Management
Inbox
Ads Creation and Management
Instagram Boost:
Ads Creation
Ads Delivery
Ads Management and Reporting
Meta Work Accounts:
Account Management
Login and Sign Up
API and Integrations
Admin Center
Meta Work Tools
Developer Platform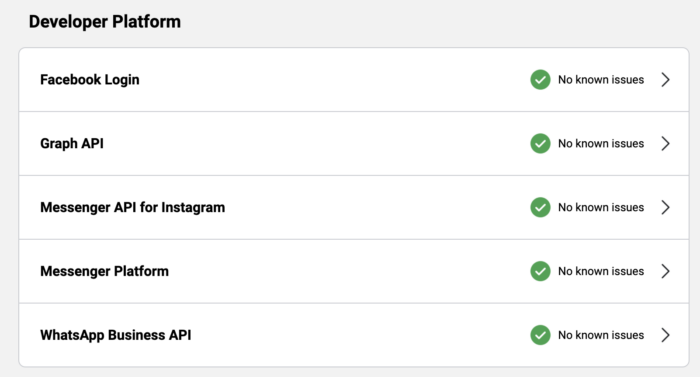 This will tend to apply if you are using or managing a third-party tool that relies on one of the Meta APIs.
Developer Platform includes the following…
Facebook Login:
Graph API:
Average API Error Rates
Average API Response Time
Average Webhook Delay Time
Platform Status
Graph API status offers some interesting charts…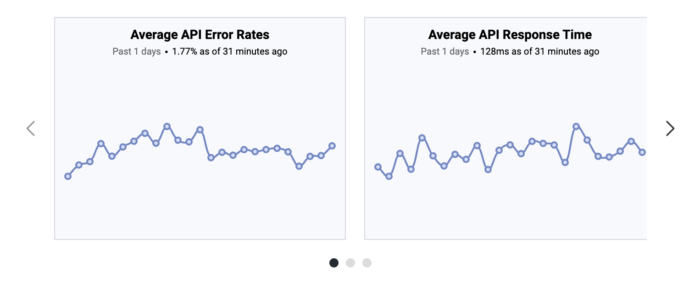 Messenger API for Instagram:
Messenger Platform:
WhatsApp Business API:
Cloud API
Historical Latency and Availability
Cloud API – Data Localization
WhatsApp Business Account Management
On-Premises Solution
Embedded Signup
You can dig deeper into the Cloud API section to learn more about Availability and Latency.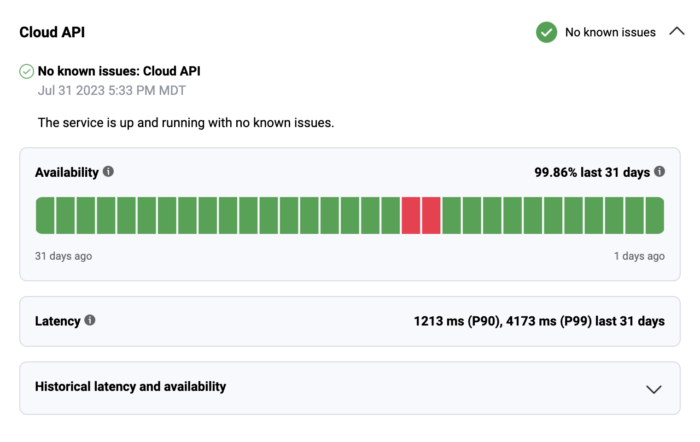 Transparency Tools

Transparency Tools only includes the following for now…
Ads Transparency:
Ad Library
Ad Library Report
Ad Library API
Your Turn
If you haven't already bookmarked this page, make sure you do.
Do you use this resource? Let me know in the comments below!