Instagram: Opinions Abound!
Defining success on Instagram, both via organic content and paid ads, is definitely tricky. Everyone seems to have their own opinion or their own secret sauce.
Some advertisers have grown their audiences organically, without paid promotion, using hashtags and by having a real, candid conversation with their prospective and returning customers. Other marketers have built their e-commerce businesses using Facebook ads and now they're transitioning and adapting to integrate more Instagram ads into their marketing mix.
Like everything with digital marketing, it's an ever-evolving landscape, so staying on top of new products and trends is critical to success.
Even if you've yet to see success with Instagram ads, or if you've been continuously confused and overwhelmed with new platform roll-outs and changes, just know that's totally normal.
Note that we are hosting an Instagram Ads Training course soon that will no doubt be incredibly helpful for you! This blog post focuses specifically on paid Instagram advertising techniques and recommendations but the upcoming training course will dive into both organic and paid strategies.
As a platform overall, Instagram has undergone a rapid rise in both user growth and ROI for advertisers, thanks primarily to the platform's improved ad targeting, increased variety of ad products/types, and additional ad placementA placement is a location where your ad is shown. Examples include Facebook's mobile Feed, Messenger, Instagram feed, Audience Network, right-hand column, and more. More options.
Not that long ago, the Instagram feed was the only placement advertisers could use, but now we also have the option of mixing in ads via Instagram Stories and Instagram Explore. Perhaps most notably, while many advertisers have spent 2019 pulling their hair out due to ongoing Facebook ad reliability issues and hiccups, Instagram's platform stability and ad options have only improved — leading to greater, more sustainable scalingScaling is the process of increasing your budget or focus to get more results from an effective campaign or ad set. Advertisers often speak of vertical scaling (increasing your budget) or horizontal scaling (increasing your targeting audience) to achieve these results. More with Instagram ads.
(For more info on this topic, learn how I took an account from spending $500 per day to $15,000 per day using Instagram Stories as a pivotal placement.)
Navigating Ongoing Complexities
As we move forward and test new Instagram advertising strategies, it's imperative that we understand the platform's ongoing complexities and intricacies.
Let's be clear: Instagram shows no signs of stopping — its reachReach measures the number of Accounts Center Accounts (formerly users) that saw your ads at least once. You can have one account reached with multiple impressions. More and impact will only continue to grow and deepen.
As a result, the platform's developers will likely continue to roll out new ad products and options in the coming months to keep advertisers happy and spending their dollars on the platform instead of turning to Snap or other new platforms.
As such, we must not only know what types of Instagram ads work well and where they see the best results but also how to make the most of those ads with various Instagram audiences. To get a clearer sense of what folks are doing in terms of audienceThis is the group of people who can potentially see your ads. You help influence this by adjusting age, gender, location, detailed targeting (interests and behaviors), custom audiences, and more. More targeting, I dove headfirst into 50+ Facebook advertising accounts over the past month and spoke to two dozen different advertisers to get their honest take.
One overarching theme became clear: Combining all "Instagram" audience types and time windows (i.e. engager custom audiences within the last 365 days, or video views of Instagram Story ads within the last 180 days) is the most popular strategy currently in use. In short, lumping everything together is currently the way to go.
That said, a complex platform requires complex thinking. While account simplification can and oftentimes does work well, having other tools in the toolbox is definitely wise.
For example, do you feel like you confidently know and understand all the different options when it comes to Engagement Custom Audience targeting? If not, then keep reading!
(PLUS if you want even more insider knowledge on what's working on Instagram right now, join our upcoming course!)
Options for Instagram Audience Targeting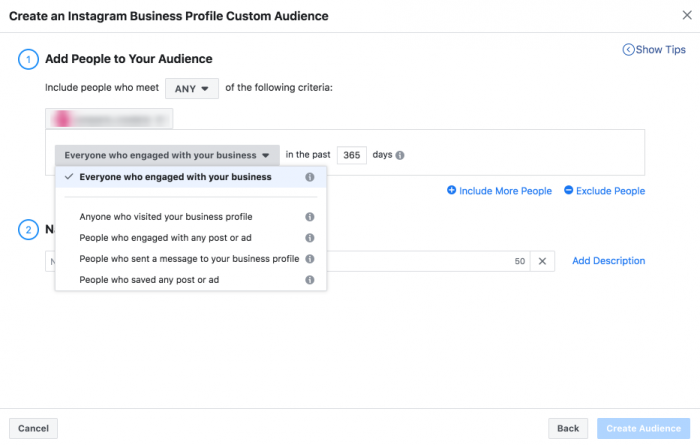 Nowadays you can separate out not just Instagram account "Engagers" but also those who have visited your Instagram profile, messaged you, or saved a post or an ad.
I'm not saying you have to split these out all the time, but wouldn't it be interesting to test?
As stated above, I believe Instagram will continue to roll out new ad options in coming months and Custom Audiences is a prime spot for these types of improvements. For example, I could see "Watched an Instagram Story ad" or "Took a poll" sometime in the future for advertisers to test out in our remarketing campaignsThe campaign is the foundation of your Facebook ad. This is where you'll set an advertising objective, which defines what you want your ad to achieve. More.
Also, as I alluded to earlier, you don't have to leave the time window set to the widest possible option, which is the past 365 days. It could be just the last seven or fourteen days you'd want to test, just as you would with remarketing.
In reality, if someone engages with you in any form, on any platform in the last 365 days, are they truly the same as someone who engaged with you just a week ago? If I watch a video almost a year ago, am I the same as someone who sent a private message 7 days ago? I don't think so.
My Favorite Tests
There are loads of options to separate time windows for Instagram engagement custom audiences. The first thing to consider is how active your Instagram audience is. If you're posting new content multiple times per week, adding to Stories multiple times per day, etc, then separating out the time windows can be effective.
Here are some of my favorite audience tests:
7 day Instagram Engager (all types lumped)
20 day Instagram Engager (all types lumped)
90 day Instagram Engager (all types lumped)
30 Day Instagram Profile Visits, non customers
7 Day Instagram Story Video Views to 95%
Don't Forget Video Views!
Keep in mind you can also create audiences of people who have viewed a certain percentage of your Instagram videos. This tactic can be helpful because many people don't actually "swipe up" on your Instagram Story ad, but they definitely watch it.
[NOTE: Curious to know what's currently working on Instagram Story creative? Take a listen to a recent podcast I did on this subject!)]
Gathering audiences this way is yet another option to diversify your audience sources and types for future remarketing. You can also create lookalikes from these audiences, bringing in more fodder for your prospecting.
Step one: Create a video view custom audience.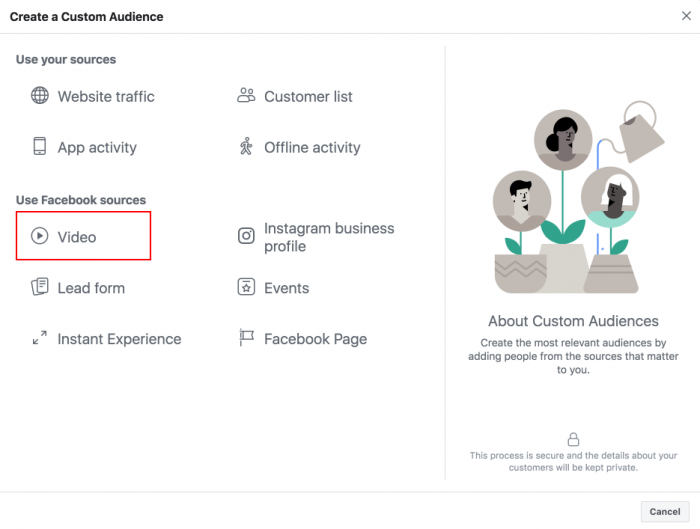 Step two: Select the percentage you want viewed. Personally, I always select people who have watched 75% of my Instagram Story video ad to add some increased relevancy.

Step three: Hit the drop down where it says "Select by" and choose "Instagram business profile."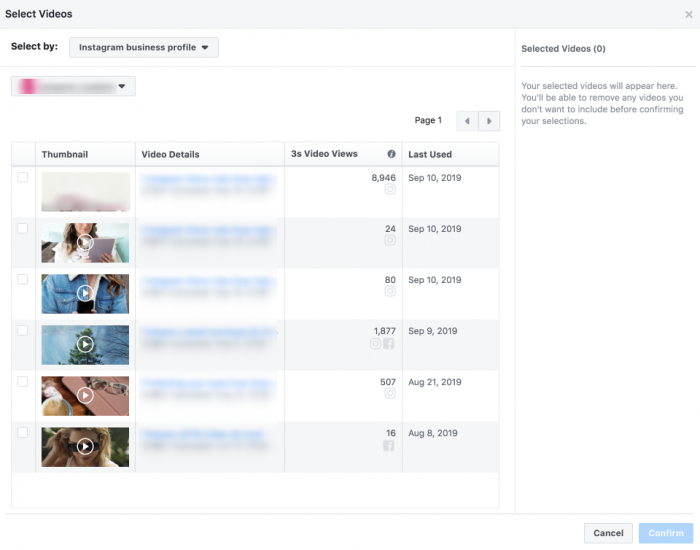 Step four: Select the video you want, name it, and save it!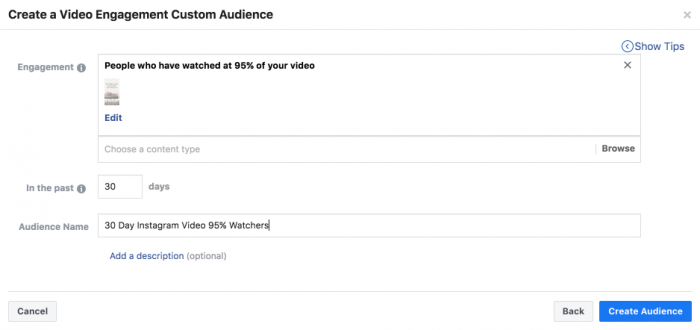 Join Us!
These are just a few tips that can immediately improve your Instagram advertising effectiveness. Other tips that I'll be going over in our upcoming Instagram course include:
Ensuring your images are sized properly for Instagram Stories
How to use Asset Placement Customization to combine learnings in ad setsAn ad set is a Facebook ads grouping where settings like targeting, scheduling, optimization, and placement are determined. More
How to properly set up Instagram Shopping
Any other tips that you'd add?
Let me know in the comments below!