For various reasons, you may run into a situation where you have two Facebook pages that essentially do the same thing and you're better off if they're combined. Let's walk through how to merge Facebook Pages.
Basic Assumptions
If you're going to merge Facebook pages, the following must be true:
You're an admin of both pages
The pages have similar names and represent the same business
The pages have identical physical locations
If any of these things aren't true, you won't be able to merge the pages. Before changing any of these things to make them qualify, make sure that it's something you should do in the first place.
What Happens?
Before you merge the pages, just a quick note to explain what happens.
The following things will be combined from the merged page to the new page:
The people who like your pages
Any check-ins
The following things will be lost from the merged page and not combined into the new one:
Posts
Photos
Reviews
Ratings
Username
The new page will mostly be unchanged, other than the addition of page likes and check-ins from the merged page. The merged page will be removed from Facebook.
Make sure that this is something that you want to do before you do it because the merge cannot be reversed.
Merge the Pages
Go to facebook.com/pages/merge (or business.facebook.com/pages/merge if both pages are part of Business ManagerEvery organization should have their own Business Manager to organize their assets (pages, ad accounts, pixels, and more), and then provide appropriate access to those assets to partners. More) to merge the pages.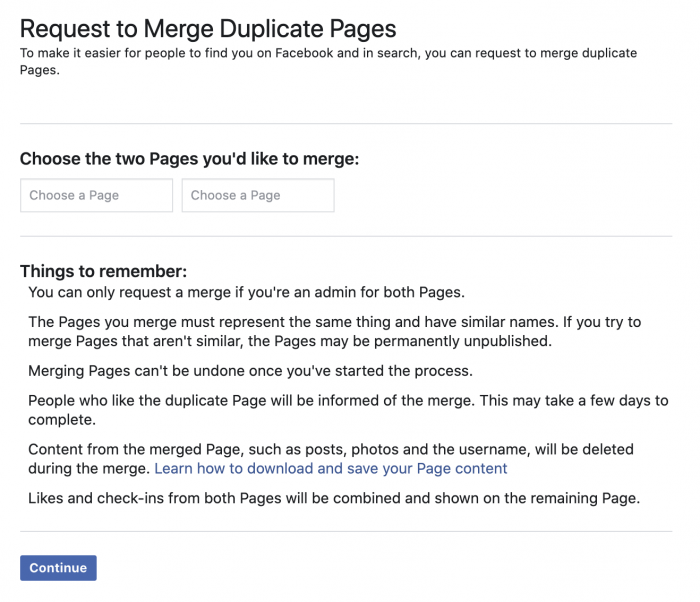 Select the two pages that you want to merge, then click continue. To confirm, click "Request Merge."
Once merged, those who liked the merged (removed) page will be notified of the change.
Wanting to Convert a Profile to a Page?
Maybe you don't want to merge pages but instead convert a personal profile to a business page. You can do that, too.
Read this post for instructions.
Your Turn
Have you had issues merging pages?
Let me know in the comments below!