Are you still using a personal Facebook profile to promote your business? Yeah, you might wanna do something about that. It's time to convert your Facebook profile to a business page.
From the Facebook Help Center:
It's against the Facebook Terms to use your profile to represent something other than yourself (example: your business), and you could permanently lose access to your account if you don't convert it to a Page.
You can't play ignorance anymore. Facebook has made this clear since at least 2012, if not earlier. And if you still use your profile for business purposes, it just looks like amateur hour.
Enough already. It's time to behave like a legitimate business on Facebook. Let's go…
What Happens When You Convert a Profile to a Page?
This was once a scary thing to do. By converting your profile to a page, you'd lose that initial profile, so it was suggested that you first download all of the information in it first to later recreate it. That's no longer the case.
When you're done converting your profile to a business page, you'll end up with both a profile and a page. This is likely what you wanted anyway.
The profile picture, cover photo, and name that you're using for your personal profile will all be transferred to the new page. These things can all be changed later, of course.
You'll be able to select the photos and videos you want to move over to your new business page. Of course, none of those old usage stats will move over with them.
The Steps
Go here to start the process of converting your profile to a business page.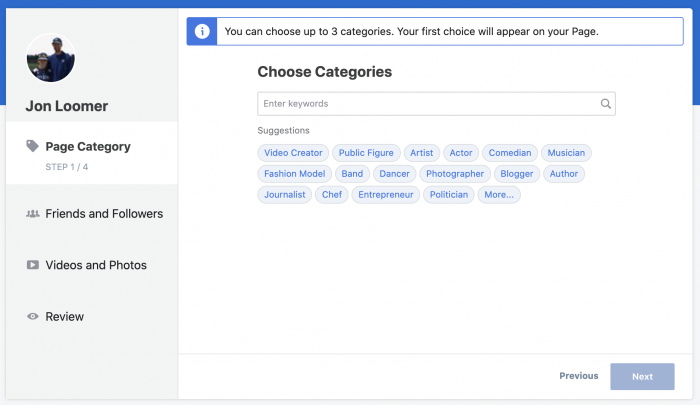 As much as I'd like to show you the rest of the steps, it scares the crap out of me just to get this far. I don't want to submit anything by accident.
From this image you can see that you'll do the following…
Choose up to three page categories
Select the friends and followers you want to follow your page
Select the photos and videos you want to move to your new page
Submit for review
You can preview all changes before publishing your new page, so that's good.
When you've finished setting up your new page, Facebook will ask you to check your privacy settings on your profile to make sure you're sharing what you want to share.
What About Your Friends and Followers?
Upon converting your profile to a page, you won't have any likes or followers on this new page. You can, however, select from your friends and followers and add them as your new Page's followers. But, there's a catch, of course.
While friends you select will automatically follow your page and continue to be connected to your personal profile, the profile followers you select will be moved from your profile to your page.
Be smart with the friends aspect of this. They'll be notified that you've created a page and that they are now automatically following it. Will they appreciate that? Are they actually someone who would want to follow your page? Don't assume it.
What About Verified Profiles?
If your personal profile had a verified badge, your page won't automatically be verified, too. You'll need to resubmit for verification.
Wanting to Merge Pages?
Maybe you don't want to convert a profile to a page but instead merge two similar business pages. You can do that, too.