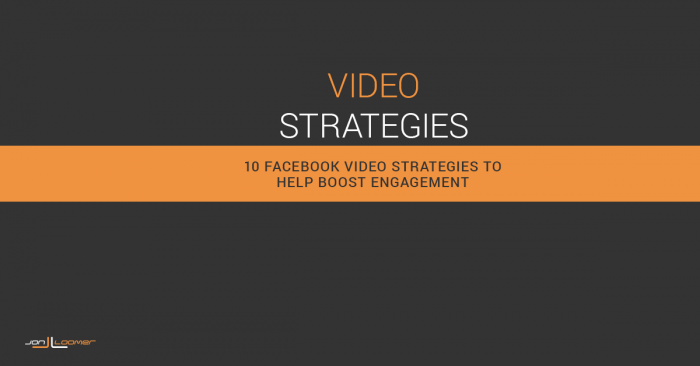 [This is a guest post by Ravi Shukle.]
Why should I use Facebook video?
Does video on Facebook add any value to my business?
The answer is a big YES! And here's why…
According to a study by Social Bakers, Facebook videos are shared 157% as often as YouTube videos. This presents a huge opportunity for your business to boost its engagement and grab the attention of your fans.
That is why in this post we are going to take a look at 10 creative ways you can use Facebook video to boost your overall engagement and leads.
[Tweet "Do you use Facebook video? Here are 10 strategies to help boost engagement…"]
1. Re-purpose Existing Content
Business owners on Facebook often feel like they need to create brand new video content every time they post just to keep up with customer demand.
The good news is, this is not the case. In fact, you can still engage your fans with your existing content by re-purposing it into video.
This not only offers your Facebook fans new content to engage with but also extends the reachReach measures the number of Accounts Center Accounts (formerly users) that saw your ads at least once. You can have one account reached with multiple impressions. More of your previous content without wasting the added time of producing the content from scratch.
Here are a few ways you can re-purpose your content for Facebook video:
Re-upload a recorded Blab session
Re-upload a YouTube video – this can be both older videos and your more recent clips
Record your podcasts in video format
Read out blog posts in audio format, then upload via video or create a screen share video as you read through the content
Record your slide share as a presentation video
Re-upload any talks/speeches you have done
As we can see below, Gary Vaynerchuck has been able to double his amount of video views thanks to re-uploading the same clip to Facebook. In fact, the Facebook video has overtaken the YouTube video in terms of views.
2. Embed Videos on Your Website or Blog
Depending on the size of your Facebook page, the chances are good that more people visit your website than your actual page, with the exception of promoted content. This presents another great chance for your business to drive traffic back to Facebook through the use of embedded videos.
Embedding your Facebook video into your blogs is just another way to convert new visitors to your site into fans as well as extend the reach of your content. The more your blog gets shared, the more people view your video.
To embed a video from Facebook into your blog, simply click the arrow on the top right of your post, then select "Embed video." This will then present you with a code. To add this to your blog, simply paste this code into your blog's HTML or text editor section.
This also presents the added benefit of new visitors to your blog being able to engage directly with the post –- giving them the ability to like, share, and comment on your post without having to leave your site.
3. Be Creative with Call-to-Actions
We've all seen those YouTube videos with annotations that pop up while we're trying to watch a video. This can be distracting and get in the way of the viewer watching the video.
However, when it comes to uploading video via Facebook, instead of annotations, you are able to create a call-to-actionA call-to-action is a button or link on your ad that suggests the action you want your audience to take. Examples: "Learn More" or "Sign Up." More button at the end of the video.
Now it's important that before you select the call-to-action, you consider the goal of the video. This could be to drive traffic back to your website, YouTube channel, sales page or even another video. Here are the options offered to you by Facebook: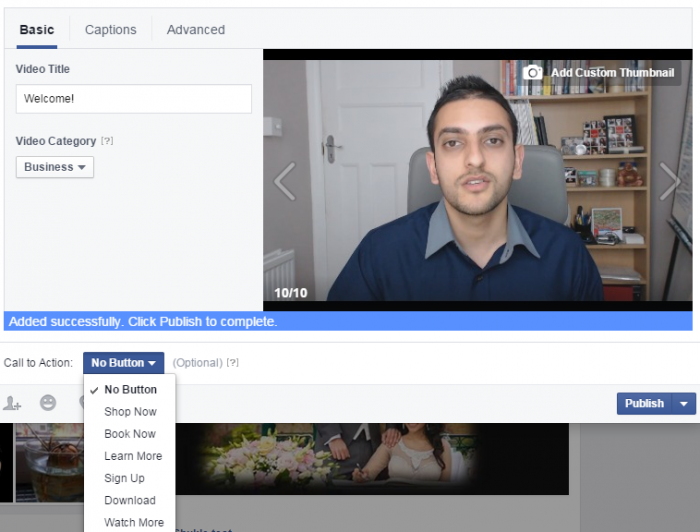 Again, you want to find a call-to-action button that best describes what you would like the reader to do. You can always test these out to find which one gets the highest conversionsA conversion is counted whenever a website visitor performs an action that fires a standard event, custom event, or custom conversion. Examples of conversions include purchases, leads, content views, add to cart, and registrations. More.
4. Utilize Video Analytics to Help Determine Video Length
Through the use of Facebook page insights, admins are able to view how fans are engaging while watching their videos. Now instead of looking at the metrics to determine whether your fans liked the video, you can use this in a creative way to determine how long fans are engaged with the content and create new videos with this length in mind.
While it depends on the type of video, here are the insights that Facebook provides when it comes to video engagement from fans:
How long fans have viewed your video
The number of unique views
The number of views, both paid and organic
How many people have viewed your video in total
Knowing where your fans drop off when watching your videos may be a good indication that the length is too long, so a good tip is to test out a variety of video lengths to see how fans interact.
5. Create Bite-Sized Content
When people think of creating a business video, they usually think of standing in front of the camera and sharing their expertise on a particular topic. While there is nothing wrong with this tactic, it does require a lot more effort, as you now have to keep your viewers engaged throughout the whole clip.
Instead, another creative way to engage your fans is to create bite-sized content. These are simply 30-second to one-minute videos which summarize the main points of your content. This helps fans to get to the meat of the content with no wait time involved, and as a result, you will notice that engagement will also spike.
However, this doesn't mean that the longer version of the post should be ignored. Instead, you can post a link to it in the comments below, or through a video call-to-action button as mentioned above.
Here is how Tip Hero have used this tactic to share their delicious recipes in under 1 minute, with a link to the full recipe in the comments.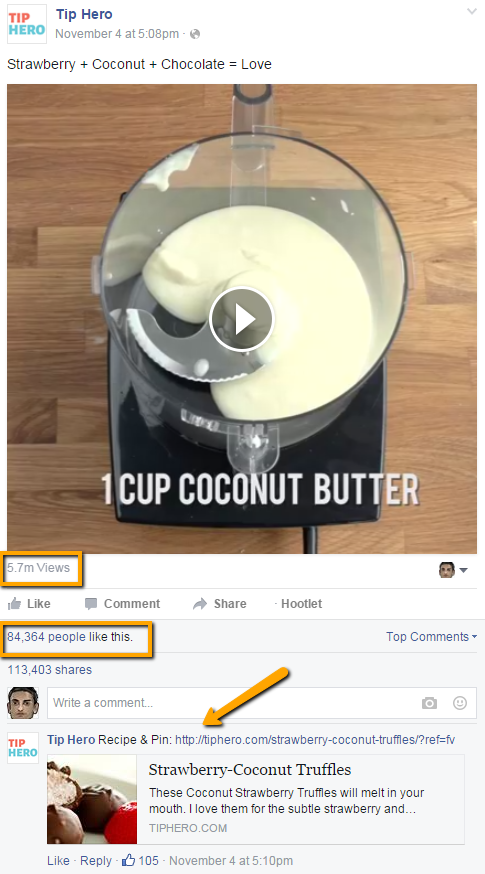 6. Facebook Live: Create Engagement in Real Time
So far, when talking about video, we've talked about pre-recorded or existing video content. But if you want to engage your fans in real time, there's always the option of Live video.
Now the first thing to point out here is that if your page has not been set to "Public Figure" and verified, you will not yet have access to Facebook's built-in live stream capabilities via Facebook mentions. This allows users to live stream video directly to their fans, enabling them to comment and interact in real time. Here's an example below from our very own Jon Loomer.
I understand that most of us do not have this feature on our Facebook page, so here's an alternative. Using a free website called Blab, you are able to host live chats where users can engage and interact with you and up to three other guests in real time. The best part is, you can swap the guests at any time and even invite your fans to take part.
To promote this on your Facebook page, all you have to do is share the Blab link so your fans can sign up! Here's a snapshot of how you can share a live Blab video chat to your Facebook page, like Jon did.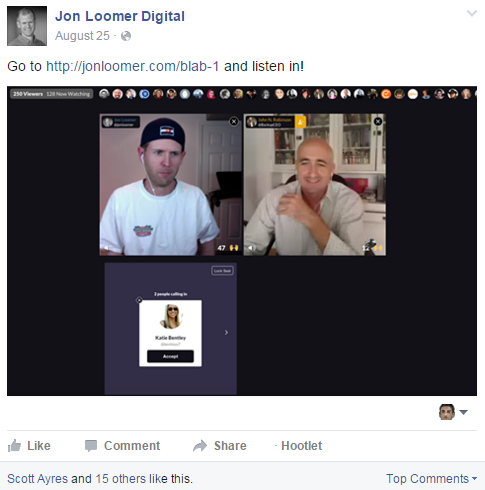 7. Tag Featured Members in Video
Another overlooked way to extend the reach and engagement of your videos is to tag featured members in the video itself. Now I want to be clear here -– this does not mean tagging friends to help increase your exposure. That is classed as spam and should be avoided at all costs.
On the other hand, if your video does feature any brands or even friends, then feel free to tag them in it. Again, you want to make sure you have full usage rights to feature any brands or even friends in your clips. Once this has been confirmed, tagging them in the video allows them to see a notification letting them know they are featured in your clip.
To tag a friend or even brand in your video, simply start typing the name of the business or friend in the "In this video" field. Facebook will then populate the person or brand's profile.
Once the video has been published, it will also let viewers know who the tagged members are.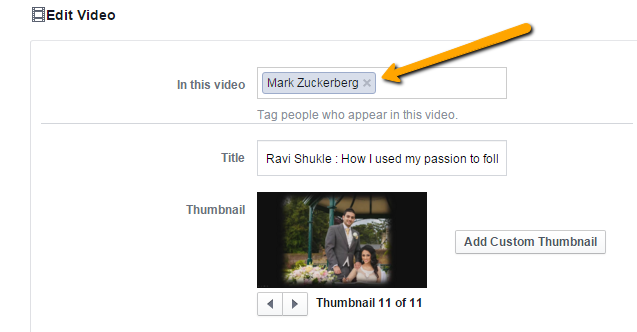 8. Add a Featured Video
While the amount of traffic to your actual Facebook page might not be as high as to your Facebook content, a featured video is still a great way to boost visibility. By creating a featured video, you allow any user visiting your page to view the featured video directly above your "About" and "Photos" section.
You can get creative with this video, and rather than just using it to describe your company, you can try the following:
A video for an upcoming webinar
A video for an upcoming event
Competition winner announcement
Discounts or promotions
Daily news or tips
Here's how The Next Web have used this option to feature a message from their very own CEO: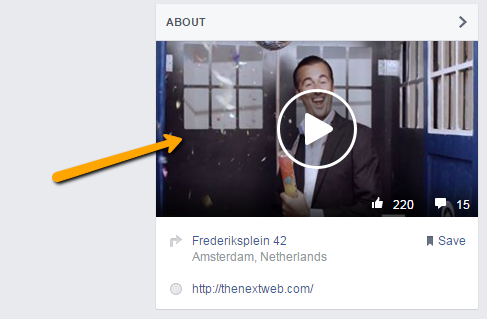 9. Create a Facebook Video Playlist
When your fans click the video tab on your Facebook page, they gain access to every single video you have uploaded. If these videos aren't organised, it can be a long-winded process for your fans to find the content they are looking for.
That is why to help drive traffic to the right types of videos, you want to create a Facebook video playlist. Your page is able to create multiple playlists, allowing you to group videos into categories, making it easier for fans to find what they're looking for.
This is great if your business has a regular video series, Q&As, or even interviews. At present, Facebook is working on a way to directly link to an individual playlist –- we hope this feature gets released soon!
Here's how ABC News has used this feature to organize their daily news updates: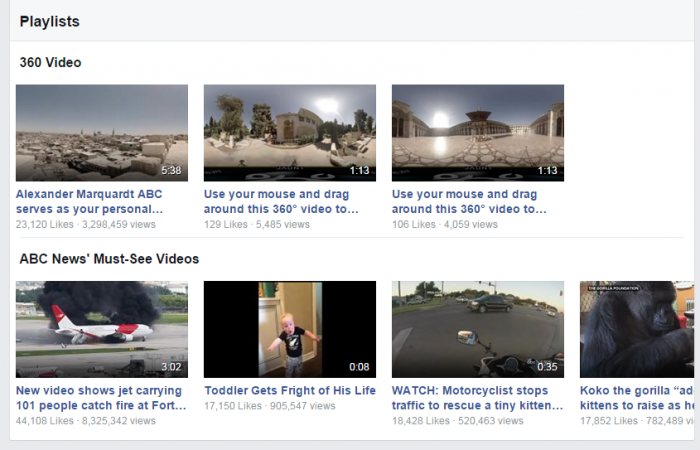 10. Give Your Video an Ads Boost
Last but not least, you can create a Facebook video ad to help extend your reach and engagement to your ideal audience. This is perfect when looking to get your business' message out to a wider audience, such as a launch, webinar or even a new campaignThe campaign is the foundation of your Facebook ad. This is where you'll set an advertising objective, which defines what you want your ad to achieve. More or contest.
If targeted well, Facebook video ads can be a great way to grow the amount of traffic back to your page as well as to your chosen call-to-action link. The amount of money you spend on this will vary, but I recommend testing ads to your target audience with a smaller amount, then expanding once traction starts to build.
Here's how Jasper's Market used a Facebook video ad to promote their latest range of fresh fruits and vegetables.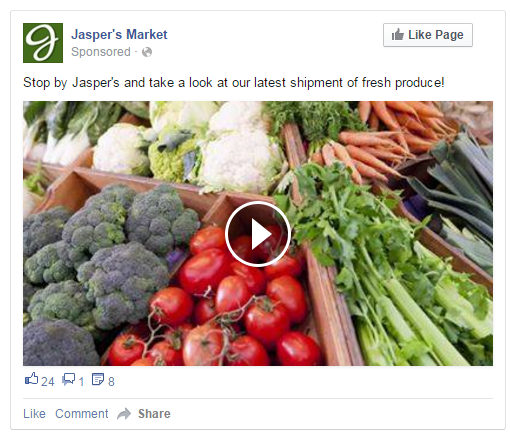 Your Turn
Which Facebook video technique will you try first?
Let me know in the comments below!