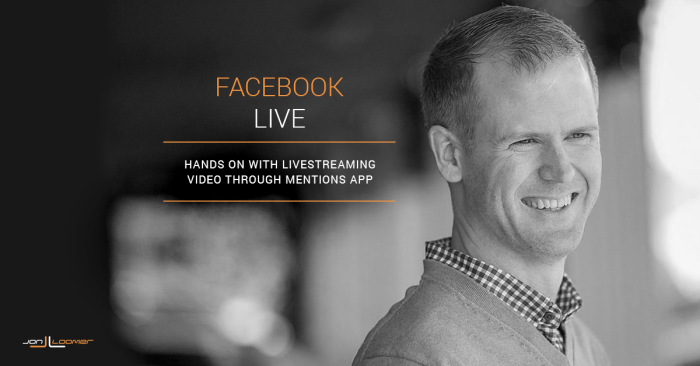 Within the past couple of days, Facebook launched "Live," a way for celebrities and public figures (as well as normal dorks like me who got access) to stream live video to their Facebook fans for a personal, interactive experience.
Of course, it's not without bugs. While it sounds like it went well for many, it was mostly a disaster for me (Darren Rowse reported the same for his experience).
That said, the potential for this is huge, and you should never judge a product by the early bugs.
Let's take a look at the following…
What "Live" Is
The Celebrities Creating Live Videos
How to Get Access to Creating Live Videos
How Live Videos Are Created
My Hands On Experience
The Future of Live
[Tweet "Hands on with Facebook Live: While it's buggy, the potential for live video is huge…"]
What "Live" Is
Facebook "Live" offers the ability to create and watch live videos within Facebook as the action happens. If you're hip, you know all about other livestreaming apps like Periscope and Meerkat. If you're not hip, join a very large club.
This is quite a bit like those two apps. I've created a handful of live videos with Periscope, and it's a pretty cool experience — though it certainly takes me out of my comfort zone! While you're recording live video, people comment and interact with you. Same process here with Facebook Live.
One of the big differences, though, is that the ability to create live videos is being tested with a very small group: Celebrities and public figures. They use the Mentions mobile application to record their live videos, and those videos are then pushed to the news feeds of their fans.
This video will also live on that public figure's Facebook page — even after the recording is complete. The comments that came in during the video will then be shown below, just like a typical published video.
The Celebrities Creating Live Videos
Several celebrities are already jumping on the bandwagon. Here's just a sampling of those creating live videos for their fans…
Skiing in New Zealand

Posted by Lindsey Vonn on Wednesday, August 5, 2015
I'm in the bath.

Posted by Ricky Gervais on Thursday, August 6, 2015
Behind the scenes in the Today Show #OrangeRoom

Posted by Carson Daly on Thursday, August 6, 2015
Just for y'all…an exclusive track off my new album Kill The Lights http://umgn.us/lbktl

Posted by Luke Bryan on Wednesday, August 5, 2015
How to Get Access to Creating Live Videos
While anyone can consume live videos (you'll see them as the public figures you follow share them to your news feed), currently only certain "special" people can create them.
You can only create live videos through the Facebook Mentions mobile application. This app is only available to people who fit two main criteria:
They have a "Verified" Facebook account
Their page is classified as a "Public Figure"
Half of that equation was already satisfied for me as my page is verified (see the check mark on my cover photo)…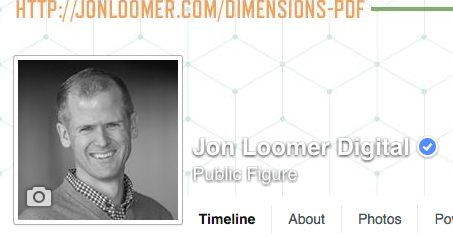 For more information on getting your page verified, read this.
While I had the Mentions application on my iPhone, it would not allow me access. The reason for that was that even though my page was verified it was not classified as a "Public Figure."
For that part, follow these steps…
First, click into the "About" section of your page.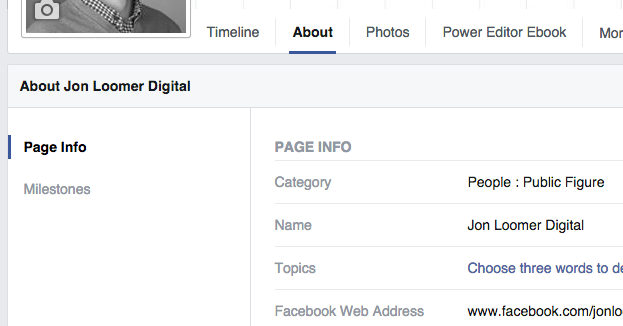 Click to edit the Category, and select "People" and "Public Figure."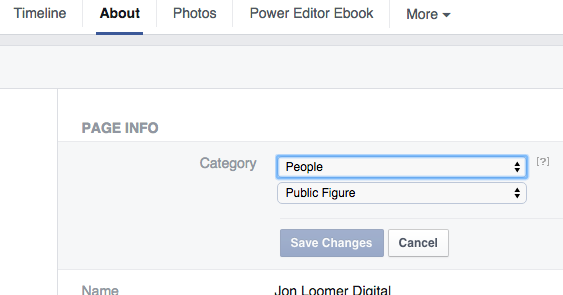 Granted, I feel a little dishonest calling myself a public figure, but whatever it takes, man!
After that, the Mentions app then allowed me to request access. They required me to submit a picture of my photo ID to verify who I am. Within about a day or so, I had access!
How Live Videos Are Created
If you have access to Mentions, you click the icon to create a new post. Then you'll see your options…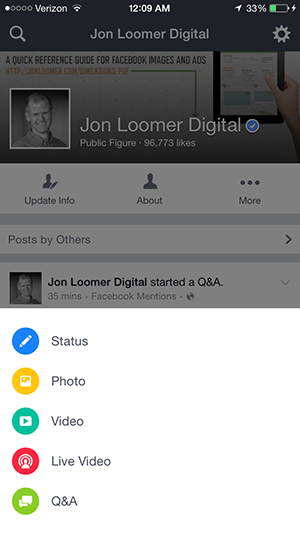 As you can see, one of the options is "Live Video." Click that.
Then you get a nice little explanation of what this is all about…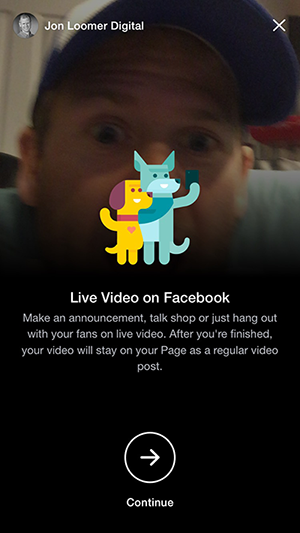 Then you describe your video and hit the "Go Live" button…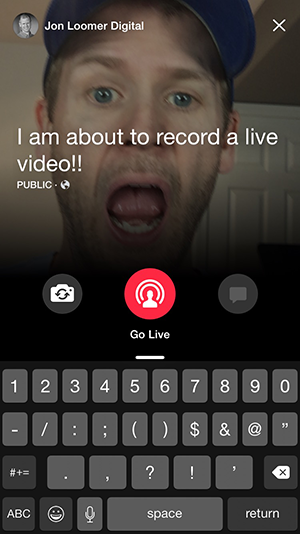 That's the scary part! But then the video is shared to news feeds of your fans, and people will start liking and commenting (hopefully).
Here's what it looks like for the person recording the video as it's happening…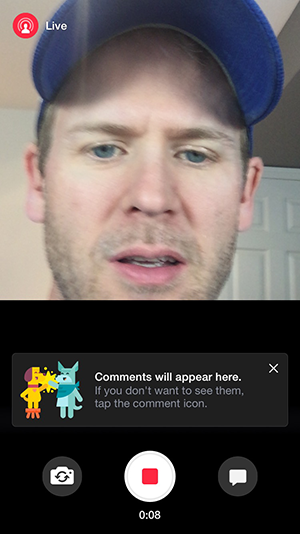 When people comment, those start popping up on the screen for me to answer.
My Hands On Experience
I really like the concept. I was excited to jump in. And as someone who has used Periscope before, the process was pretty intuitive.
However, I had HUGE technical issues.
My first video started out fine enough, but it cut off in 14 seconds…
I have access to live video through Mentions. Let's do this!

Posted by Jon Loomer Digital on Thursday, August 6, 2015
Here is what I saw when it stopped working…
In case you can't see it, the screen goes fuzzy and I get a "Reconnecting" message at the top.
Since I was in the basement at the time, I assumed this bad connection was my fault. My signal in the basement is awful, and I've actually had issues streaming video via Periscope down there, too.
So I moved to the top of the stairs and tried again.
We'll try it again. Live Video (TAKE 2!)

Posted by Jon Loomer Digital on Thursday, August 6, 2015
Well, at about 50 seconds, it froze again. So I started moving around upstairs. It froze again at 1:36 and several times after that during a very frustrating 4:58 video.
While you can't see it in the recording, my screen freezes for anywhere from 10 to 20 seconds or so (it feels like an eternity). So I'm sure people are just sitting there wondering what the hell is going on. And probably dropping off.
I stopped, waited a bit, and gave it one final try…
A solid 21 seconds before it cut out.
While my experience was mostly awful (and Darren Rowse saw the same), this wasn't the case for everyone. Facebook shared several celebrity videos that went just fine. I saw that Joel Comm did a 45 minute video that didn't seem to have issues.
So the problems Darren and I saw may have been somewhat limited, though there are enough issues that it's clear Facebook has some cleaning up to do.
The Future of Live
While my experience really did suck, I wouldn't say it tempered my enthusiasm. I'm pretty excited about this.
I have a hard time getting into Periscope and Meerkat because I have to build entirely new audiences. Well, kinda. With Periscope, the Twitter connection helps, but still — my Twitter audienceThis is the group of people who can potentially see your ads. You help influence this by adjusting age, gender, location, detailed targeting (interests and behaviors), custom audiences, and more. More needs to use Periscope to watch my scopes.
In this case, nothing really changes for the users. They don't need to install an app to view my live videos. They're just delivered right to their news feeds.
I've seen some criticisms of Facebook Live regarding the creation of live videos being limited to public figures only through the Mentions app. While Facebook hasn't explained this, I have my own theories.
There are nearly 1 Billion users on Facebook every day. Facebook needs to be very strategic about how this is tested and rolled out. They can't just flip the switch and allow everyone to stream live videos right now. That could be a disaster.
Why? First, it has the potential of completely changing the user experience. If everyone can suddenly create live videos, our news feeds could be flooded with them. And that may impact the value of content we're seeing.
That takes me to another reason why public figures may be first. The potential for higher quality videos is greater in this case. And even if they aren't high quality, users are much more likely to be engaged and interested in what this person has to say.
Finally, can you imagine the potential strain on Facebook's servers if suddenly anyone could create a live video? I can't imagine they could handle it. This needs to happen slowly, and starting with public figures is a smart move.
I have no facts to back this up, but only the history of Facebook tests and rollouts as a guide. Facebook will watch how this test is received. If people simply like it, it may stay in its current form (public figures creating videos only). If people love it, Facebook will probably roll it out globally (carefully). And if people hate it, live videos will simply disappear.
I don't think this is going to disappear. People are more mobile than ever. Video is bigger than ever. People are — maybe? — more narcissistic than ever. While Periscope and Meerkat have been popular, that's still niche popularity. This could get far bigger than that on Facebook.
I'm excited about this. I have not been very consistent about creating content for my page during the past several months. I have not lived up to my goal of creating videos to upload to Facebook. But live videos that are easy to record? I can do that!
Your Turn
What are your thoughts on Facebook Live and what have been your experiences so far?
Let me know in the comments below!