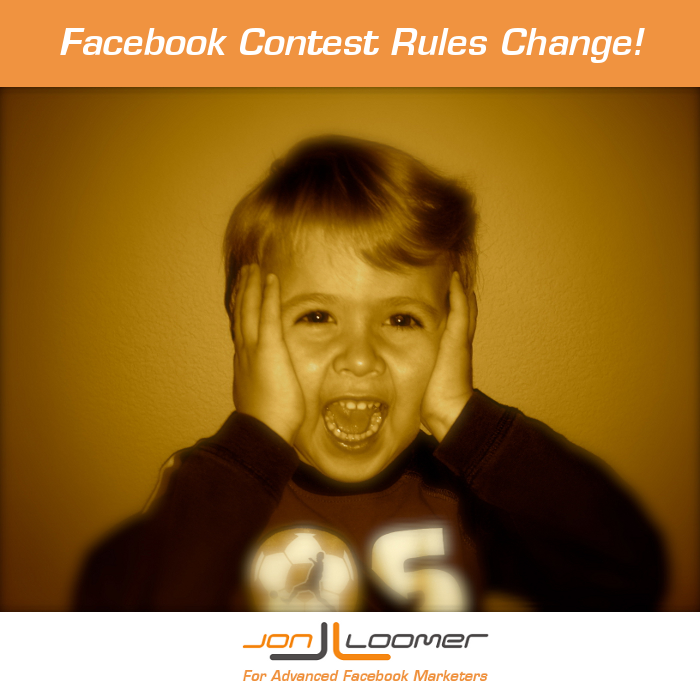 After years of warning Page admins that contests must be run through third party apps, Facebook has changed course and removed that restriction.
Page admins everywhere rejoice.
Me? Meh.
This actually does provide some opportunities. But I don't think it's as big of a deal as some may think. Let's investigate…
How Facebook Promotions Rules Changed
In order to stay within Facebook's rules, admins previously needed to use third party apps to administer contests. They couldn't, for example, ask users to like or comment on a post to be entered into a promotion.
That has changed. Per Facebook:
Now, promotions may be administered on Page Timelines and in apps on Facebook. For example, businesses can now:

Collect entries by having users post on the Page or comment/like a Page post
Collect entries by having users message the Page
Utilize likes as a voting mechanism
This is an amazing 180. Shocking, really.
Note that you still can't administer promotions through a personal Timeline. That shouldn't surprise you.
See Facebook's Page Terms and Promotions Guidelines for these updates.
Accurate Tagging
An interesting addition here is an "accurate tagging" requirement. Per Facebook:
In order to maintain the accuracy of Page content, our Pages Terms now prohibit Pages from tagging or encouraging people to tag themselves in content that they are not actually depicted in. So, for instance:

It's OK to ask people to submit names of a new product in exchange for a chance to win a prize
It's not OK to ask people tag themselves in pictures of a new product in exchange for a chance to win a prize
This makes sense. Photo tagging was created to show who is in a particular image. Tagging in the way explained above completely defeats that purpose.
Why it Doesn't Matter
Let's be honest here. The vast majority of Facebook contests were already being done this way. Some knowingly and some ignorant of the rules.
So it doesn't matter that much since it's not like some new functionality is being made available.
Why it Matters
The biggest reason this is news is because brands can now run these contests with a free conscience. It's as if dancing were legalized. This option is now there with no threat of punishment.
And now that it's legal, there are actually some benefits to running these types of contests. I'll get to those in a minute.
How This is Related to Other Recent News
Facebook recently announced a change to the News Feed filtering algorithm that would favor "high quality" content and punish "low quality" content. That announcement strongly hinted that "low quality" consists of asking for comments, likes and shares.
Does that include Timeline contests? I would bet it does. Otherwise, the timing is quite a coincidence.
Some have suggested that the two are contradictory. I don't think that's the case at all.
On one hand, Facebook has backed off policing Timeline promotions. This doesn't necessarily mean that they like them. But they no longer see a need to say something isn't allowed when they haven't done much of anything to prevent it. And really, there wasn't much reason to outlaw them.
But before making them "legal" Facebook wanted to prevent News Feeds from being bombarded with this — let's admit it — low quality content. So one happens immediately before the other.
And we'd be foolish to assume this has nothing to do with monetization. Facebook allows Timeline promotions now. But it's quite possible you won't organically reachReach measures the number of Accounts Center accounts (formerly users) that saw your ads at least once. You can have one account reached with multiple impressions. More many of your Fans with those promotions.
The result: You'll need to spend money on advertising.
How and Why You Should Run Timeline Contests
Okay, so it's now legal. Should all contests be run this way?
No. Too many posts have been far too excited about this announcement. It's nice to have this option, but Timeline promotions are very limited.
That said, if you want to boost engagement, this is a nice, new-ish option. Very little time is necessary to put into such a promotion.
Write a post, get engagement, pick a winner, fulfill the prize.
No need to create a tab or worry about creative. No costs involved with these things either.
You also don't have to worry about having your contest work from a mobile device — which apps, by default, do not.
If you want to reward your current Fans while increasing your Page engagementThe total number of actions users took on your Facebook Page and posts that were attributed to your ads. Page engagement can include liking your Page, reacting to a post, checking in to your location, clicking a link, and more. More — essentially giving back and providing value — this is a nice new option.
In summary…
The benefits of a Timeline promotion:
Low cost
Easy to create
Good for engagement
No mobile compatibility issues
The disadvantages of a Timeline promotion:
Not great for boosting Page Likes
No data collection (email list building)
Can be challenging to contact the winner
How and Why You Should Still Use Third Party Apps
That said, third party apps like ShortStack still have their place. [Full disclosure: I am a ShortStack affiliate. That said, I'm only an affiliate because I use and love their product.]
Here are a few advantages of third party apps:
List build by collecting email addresses for entries
Easier to select and notify a winner
Require a Page Like in exchange for entries
More professional looking
Third party apps should be used for the bigger prizes. If your goal is to increase Page Likes or build your email list, this remains the way to go.
Response from App Developers
I wondered what some of the app developers thought of this news, so I reached out to a few.
Jim Belosic of ShortStack:
Today's change will be helpful for small business owners, making it easier for them to host promotions. Is this the end of apps? No… because when you have a large following, getting Facebook Likes and Comments is only the first step. Savvy marketers know that the real work is done when you collect and leverage data for ongoing promotions and marketing efforts and apps make that possible.
Nathan Latka of Heyo:
We're excited to see Facebook make these changes as it makes the lives of small and medium sized business owners easier. This is our mission at Heyo and it's good to see that Facebook's mission is aligned. The key to leveraging contests via status updates is going to be in how the update is worded, what the incentive is, and what media is attached (picture, link, etc). We've been working on something special that will auto-generate highly effective contests for status updates. This, paired with third party app integration for email capture, increased virality, and selling paves the way for businesses to grow quicker using the social network as a top marketing channel.
Emeric Ernoult of AgoraPulse:
In a nutshell, I'm not a big fan of the news. I think in a lot of cases, as Facebook pages are not designed to handle contests or promotions, this will create a lot of problems. How do you easily access all the likes on a post? How do you scroll through dozens or hundreds of comments? How can you make sure the winner is elected in a manner that will be perceived as being 'fair' by all other participants?

My main fear is that, at the end of the day, what may look like a 'simpler and cheaper' option may turn into being a nightmare — and a very expensive one.

It can be good for very small pages, though. But overall, I'm not a big fan.
Are Third Party Apps Dead?
Look, third party apps that focus exclusively on contests are absolutely in trouble. They will lose revenue. They'll need to pivot, and fast.
And apps like Heyo and ShortStack will undoubtedly lose some immediate revenue from those who use these apps only for small contests.
But are apps still needed? Heck yes they are!
Beyond there still being a need for third party apps for certain types of contests, as described earlier, these apps have other purposes.
I use apps as landing pages for ads. Like my Page in exchange for a free eBook. Unless you're a programmer and designer, you can't do that without these tools.
I use apps to feature my products and services. Unless you're a programmer and designer, you can't do that without these tools.
I actually use apps for a whole lot of things. And really, I rarely use them to run contests.
How About You?
What do you think of these changes? Will you be running contests more through your Timeline?
Let me know your thoughts in the comments below!