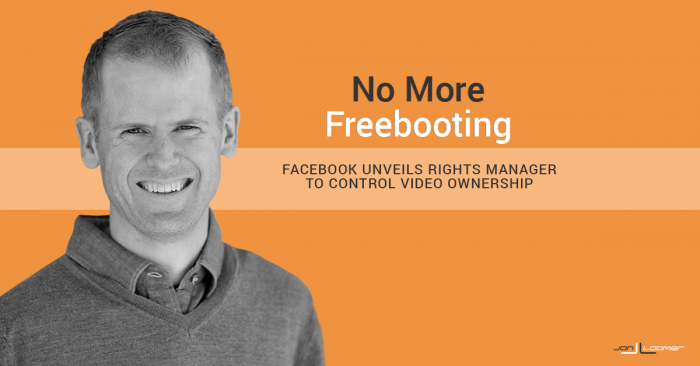 While video is immensely successful on Facebook, the social network has been dogged by criticisms regarding a lack of copyright protection. A person or brand might create an amazing video, only to see it stolen by others looking to benefit from the engagement it brings.
Also known as "freebooting," a common Facebook scam (some would call it a strategy) is the act of stealing and uploading someone else's video and benefiting as if it is your own. Facebook had poor controls in place to prevent this, and shady marketers took advantage.
No more, now that Facebook has unveiled Rights Manager, a new tool that allows brands to stake video ownership, monitor and manage the way owned videos are used across Facebook.
Let's take a closer look at how you can take control over your owned videos with Facebook Rights Manager…
[Tweet "No more freebooting: Take control of your owned videos with Facebook Rights Manager…"]
Apply for Rights Manager
First, it's not automatically available to everyone. You'll need to apply for Rights Manager by filling out this form.
After applying, I was accepted within 48 hours.
Access the Rights Manager Dashboard
Click on "Publishing Tools" within your page admin menu. You'll then see Rights Manager on the left side.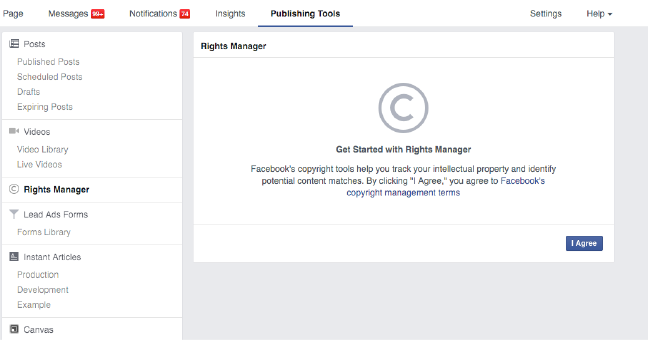 Upload Reference Files
In order to establish ownership of your videos, you'll first need to upload reference files. These are simply the raw video files that you would have otherwise used when publishing a video to Facebook.
Click "Reference Files" and then the blue "+ Add Files" button at the top right.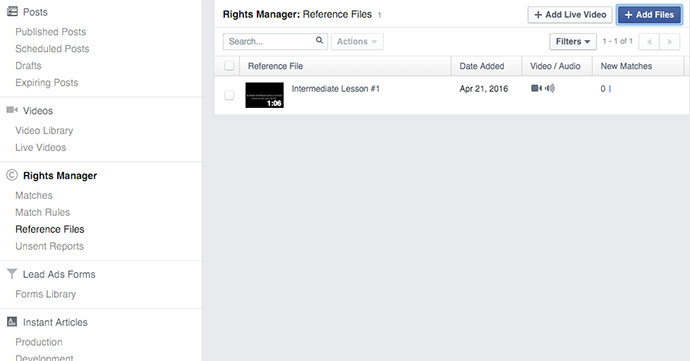 You can then select as many videos as you want from your hard drive, but know that it may take a while to upload if you select multiple.
While your video is uploading, you'll be able to perform some top-level management tasks…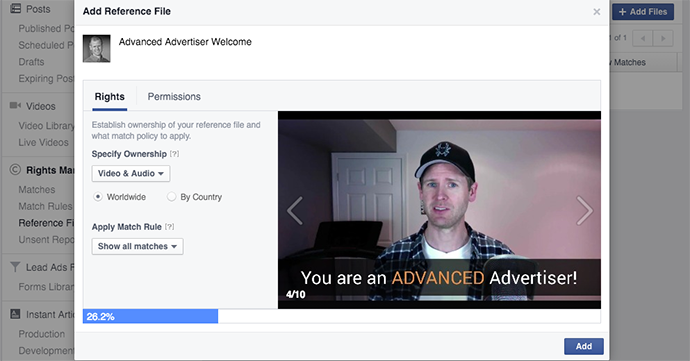 Name the Video: for easy reference later.
Specify Ownership: Indicate whether you own the video and audio, video only or audio only.
Geography: Indicate whether your ownership applies worldwide or only to specific countries.
Apply Match Rule: Show all matches or apply a match rule. We'll get to this in a minute.
Click "Permissions" at the top…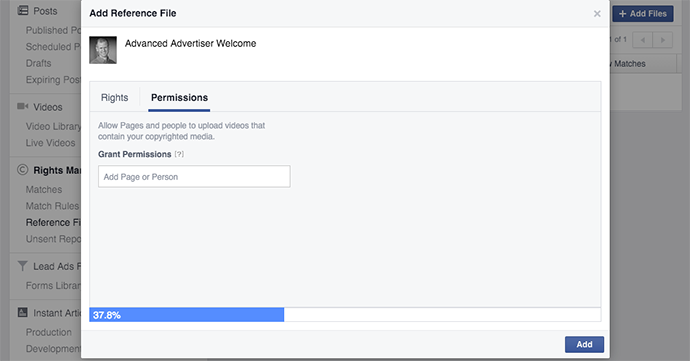 You can grant permission to specific users and pages to upload your video to Facebook.
When the video is done uploading, click the blue "Add" button.
You will then see a list of your reference files, dates added, video/audio ownership and the number of matches (number of other people who have uploaded that video) found…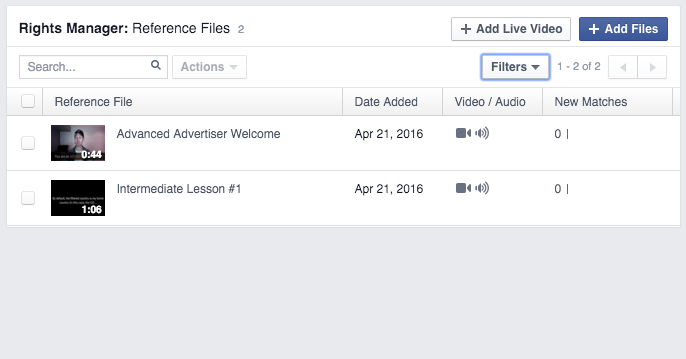 Matches
Click "Matches" on the left to get a list of the matches Facebook has found…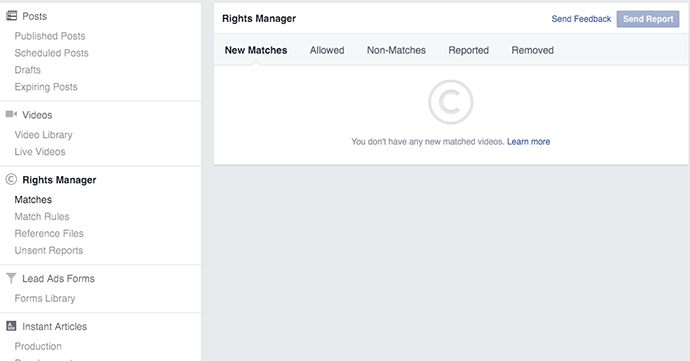 If there is a match, you can click for details so that you can take action. Here's an example from Facebook's tour…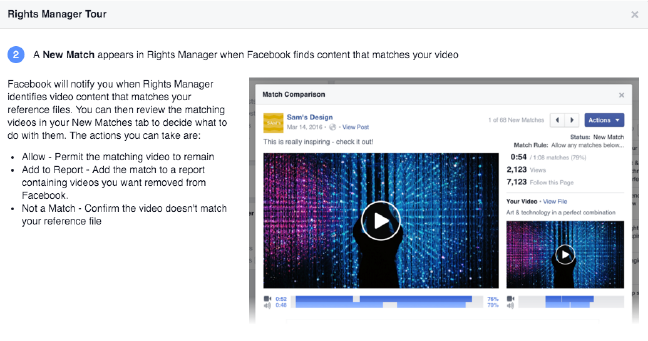 You can do any of the following:
Allow: Allow the video.
Add to Report: Add the match to a report of videos you want removed from Facebook.
Not a Match: You've confirmed that the video is not a match.
If you'd like to send a report, the process looks like this (again from Facebook's tour)…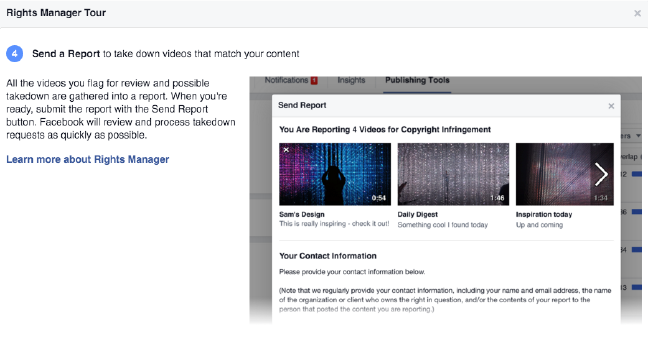 Match Rules
Click "Match Rules" on the left and then the blue "+ Add Match Rule" button at the top right…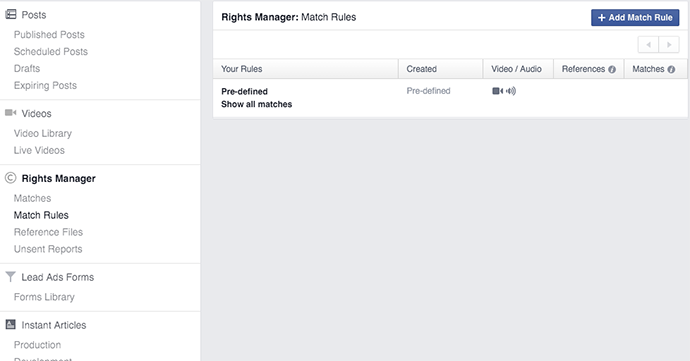 Match rules allow you to automatically perform actions when Facebook finds a match rather than being required to constantly scan and manually check for them. For now, you can only create match rules to allow a match if it meets certain conditions (according to a Facebook media post, the option to report will also be available).
After naming the rule, there is a dropdown for "Action 1." Again, the only option right now is for "Allow."
You can allow a match if conditions are met based on content type, match length or viewer location.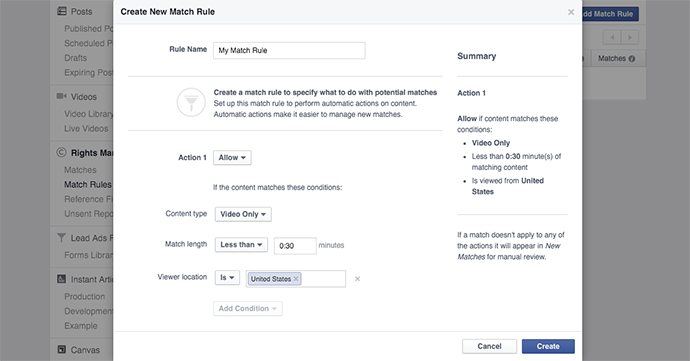 Content Type: Create a rule to determine what to do with a match if it is video only or audio only.
Match Length: Create a rule to determine what to do with a match if the match length is shorter or longer than a specified amount of time.
Viewer Location: Create a rule to determine what to do with a match if the viewer is or is not in a particular country.
Essentially, you may determine that others may use small portions (or only the audio or video) of your content — or you can establish where the line is drawn.
How Will It Work?
This all sounds great, but it will be interesting to see how Facebook enforces this. What happens when a user or page has been reported? Does the video immediately come down? Do they have the ability to respond to the report first? And what happens to those who upload stolen content?
I also can't help but wonder what will happen if a thief uploads your video before you do. How do you then prove that the video is yours and not theirs? I assume this will be sorted out, but I'll be interested to see how it's handled.
Your Turn
This is a big and important change for video copyright on Facebook — one that has been a long time coming. It's terrific for creative brands that have suffered from freebooting in the past, and it's bad news for those who have been the ones stealing the content. They'll need to find a new way to cheat the system (and themselves).
What do you think of this development? Let me know in the comments below!