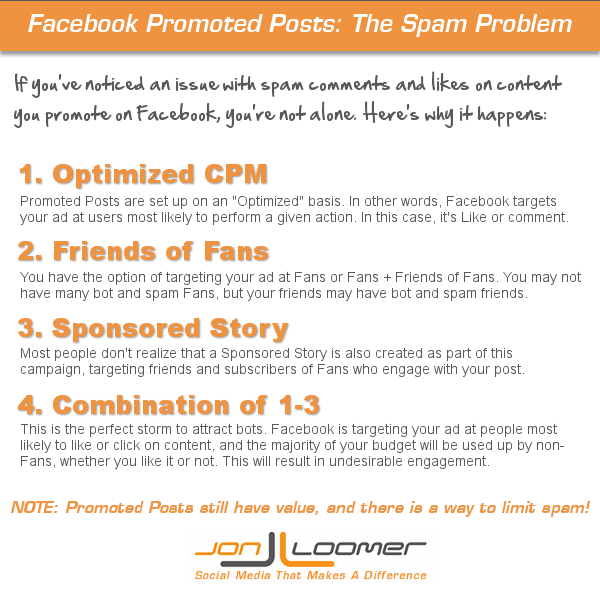 [This is a two-part series. The first part focuses on the issue of spam impacting Promoted Posts while Part 2 focuses on the solution.]
I've always been a big advocate of Facebook Promoted Posts. They provide an excellent way to easily reach more of your Fans than you typically would.
On the surface, the ads are extremely efficient, generating click through rates that are often above three and four-percent (about 10 times that of a typical Facebook ad).
But as is often the case with things that seem too good to be true on Facebook, there's a caveat: SPAM.
I've noticed more and more of it recently when I promote my posts. The source of this problem comes down to the following:
Optimized CPM

CPM measures the cost per 1,000 impressions. It's a good metric to evaluate competition level and costs to reach your audience.

Friends of Fans
A stealth Sponsored Story
Combination of 1-3
The SPAM Problem
If I don't promote a post, I almost never see spam comments. Incredibly rare. So one can assume that I don't have an issue with spam, bots and fake profiles associated with my Page.
Yet, when I promote a post, something strange happens. Suddenly, I'm inundated with nonsensical comments and Likes from people whose names I can't pronounce.
This matters because I and others have found that the bot problem seems to be more concentrated in specific countries. Not every person whose name I can't pronounce is spamming my content. But the ratio of such users goes up exponentially when I promote my posts.
That's why measuring success of Promoted Posts can get tricky. I spent $20 to promote a post that netted me 242 clicks and 189 actions. That's incredible.
But how many were spam and bots? I couldn't tell you.
The Non-Fan Problem

I ran a contest earlier this month to give away a year membership of ShortStack. Logically, I promoted my post announcing the contest.

I spent $35 on this promotion targeting Fans and Friends of Fans. It netted me 347 clicks and 310 actions.

However, there was one big issue: Only 5% of that budgetA budget is an amount you're willing to spend on your Facebook campaigns or ad sets on a daily or lifetime basis. ($1.92) was spent on Fans. While I have over 6,000 Fans in all, this promotion was shown to only 457 of them via promotion.

Now, the result of that $1.92 spent was incredible: a 5.25% CTR with 24 clicks and 48 actions. But I wish I had spent more of that $35 on my Fans.

So since then, I've decided to target these Promoted Posts at Fans only. One could assume that such ads would then be shown to Fans only. But it's not the case.

I spent $20 to promote a post about my Facebook Page Strategic Review product to my Fans only. Only 28% of that budget ($5.66) was spent on Fans.

Why? Let me explain…

When you promote a Post, Facebook creates the following ad units:
Your post is promoted in the News Feeds of Fans
Your post is promoted in the News Feeds of Friends of Fans (if selected)
A Sponsored Story is created in the sidebar for Fans and Non-Fans
If you target Fans and Friends of Fans, all three ad units are created. If you target Fans only, the first and third ad units are created.
The Sponsored Story would appear in a user's sidebar if they are a friend or subscriber of a person who likes or comments on the post you are promoting. Many of these people aren't Fans.
So, I spent 72% of this "Fan Only" promotion on non-Fans. That, in itself, isn't a problem (well, other than the fact that Facebook isn't particularly clear about this). The issue arrises when combined with Optimized CPM.
The Optimized CPM Problem

Optimized CPM, in theory, is a great thing. First, let me explain how it comes into play…

When you create a Facebook ad, you have the options of bidding by CPCFacebook reports on CPC (All) and CPC (Link Click). The first refers to all clicks and the second on all internal and outbound links., CPM or Optimized CPM. When you create a Promoted Post, Optimized CPM is utilized.

What this means is that Facebook will "optimize" the audience that is shown your ad, making sure that people most likely to perform the desired action will see it. In this case, it would be people most likely to engage with your Promoted Post.

Once again… In theory, that's a great thing. In practice, it makes your ad a bot magnet.

Do you know what types of users click on content more than any others? Bots. So, yeah… Optimized CPM is fine if you know that your potential audience is clean, but otherwise you will very likely throw money away while getting some eye-popping (though misleading) results.

[Note: I have no proof that bots click more than anyone else. It's all theory. But the results of these Optimized ads are telling.]

So, let's assume that your Page does not have a bot and spam problem. You haven't bought Fans, and overall you've somehow avoided having many undesirable accounts Like your Page.

That goes out the window when you promote a post. Since your ads are shown to Fans and Non-Fans — as well as people most likely to click — these accounts will flock to your content.
The Results Aren't All Bad

Understand that this doesn't make Promoted Posts completely worthless. Yes, you are getting a ton of engagement from bots, and you're throwing your money away on them. But the efficiency of these ads with current Fans is outstanding, as noted earlier. It would simply be nicer if you could spend all of your allotted money on Fans.

But here is the problem… Most Pages simply don't have a large enough audience to spend more than a couple of dollars over a few days on reaching their Fans. If you have a CPM of $.50, you'd spend a grand total of $1 to reach 1,000 Fans. And Facebook does not show Promoted Posts to the same Fan twice.

This, I assume, is why Sponsored Stories were added to Promoted Posts. It's a quick and easy way to assemble a Facebook ad campaignThe campaign is the foundation of your Facebook ad. This is where you'll set an advertising objective, which defines what you want your ad to achieve. consisting of up to three ads with a single click.

People need to understand here that these ads could have been created manually. The act of promoting your post to Fans and non-Fans in News Feeds is simply a glorified and simplified way of creating a Page Post Ad that appears in News Feeds. They are the same thing. But one can be done with a single click.

So while Promoted Posts aren't all bad, they could be a whole lot better if you had more control over them. And the truth is that, well… you do.