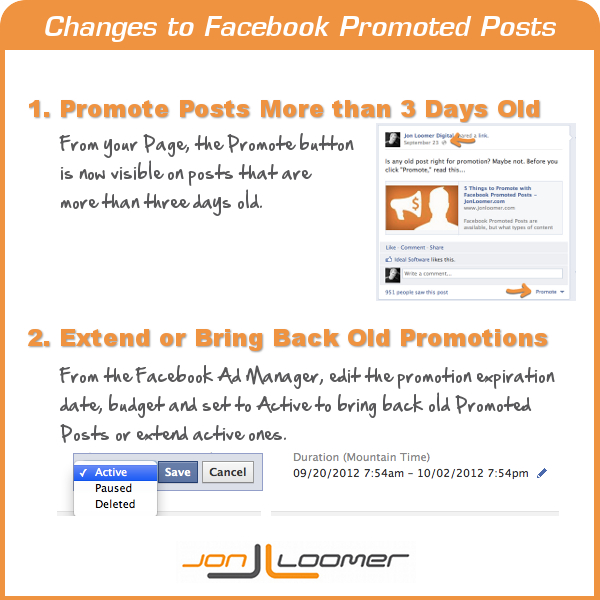 You can now create a Facebook Promoted Post of posts that are more than three days old.
Oh, and if you're creative, you can also bring an old Promoted Post back to life or extend the expiration of your promotion beyond three days.
First, credit where credit's due: Thanks to Amy Porterfield for bringing this to my attention. And thanks to Mari Smith for telling everyone before I could publish this post (I kid, Mari!).
Yep, this is the name-dropper's delight…
So let's get to the news that Facebook never told us about and we had to find out for ourselves.
You Can Promote Old Facebook Posts

Previously, you could not promote a Facebook post from your Page if it was older than three days old. Once you hit three days, the Promote button disappeared.

But this is no longer the case. Now when you go to your older Facebook Page posts, you'll see that button…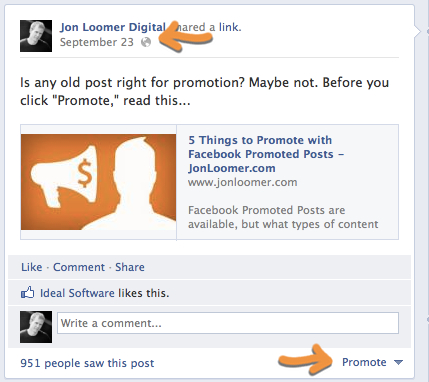 Of course, I wanted to be sure that this wasn't some visual glitch, so I decided to test it out. I promoted this post from September 24 for three days at a massive budgetA budget is an amount you're willing to spend on your Facebook campaigns or ad sets on a daily or lifetime basis. More of $5.
Guess what? It's running. It's actually doing pretty well, too. I've spent $2.70 to get 27 new clicks and 23 new actions. Here is the proof: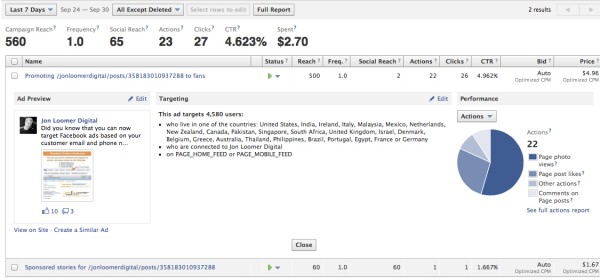 Not only is it running, but at a silly 4.623% CTR. But you knew Promoted Posts were awesome. Stay on track…
You Can Promote for Longer than Three Days
I know, it's confusing. Trust me, I'm not repeating myself.
Before, you couldn't promote a post that was older than three days old. Because of that, you were limited to promoting a new post for only up to three days.
That's still the case when you click the Promote button from your Page. You don't have the option to promote for longer than that.
But if you're creative, you can not only extend that expiration date, you can bring an old Promoted Post to life. As you probably know, you can't do that from your Page.
How do you do it? Glad you asked…
Go to your Facebook Ads Manager
Find your active or expired Promoted Post campaignThe campaign is the foundation of your Facebook ad. This is where you'll set an advertising objective, which defines what you want your ad to achieve. More and click on it
Change the expiration date in the Duration
Change your budget if necessary
Change your campaign to Active
Now, I was admittedly skeptical. I've made various edits before without a whole lot of success. I'd edit a Promoted Post, but the ad won't run or I'd get an error. But I have no issue with this now.
I previously promoted this post from 9/20 through 9/22. But as you can see, I extended that expiration to 9/30.
I ran this Promoted Post for another $5. While I didn't get the results of the other ad, that's not relevant (stay on course here!). It not only ran, but I reached more people and was charged.
It worked.
Try It Out

So, go ahead. Try it out. Promote a post that is older than three days from your Page. Bring an old Promoted Post back to life, or extend a current one beyond three days.

Enjoy, and let me know how it goes!