Little known secret alert!! Watch the video or read below for more info…
One of my favorite Facebook marketing tools is the Promoted Post. I can set up a campaignThe campaign is the foundation of your Facebook ad. This is where you'll set an advertising objective, which defines what you want your ad to achieve. More easily without leaving my Page, it doesn't cost much to make a significant impact and the content is promoted within News Feeds and mobile devices instead of on the sidebar.
On the surface, though, Promoted Posts appear to be limited. Here are a few of the rules you may be aware of:
Only posts under three days old are eligible for promotion
Only specific budgetA budget is an amount you're willing to spend on your Facebook campaigns or ad sets on a daily or lifetime basis. More options are given
Once you set a budget, it can't be changed from your Page
Guess what? I'm going to tell you how to get around these restrictions.
The Little Known Secret
Here's the thing that you need to understand: Facebook Promoted Posts are nothing more than glorified Page Post Ads. Facebook simply streamlines the process, taking away some of the options and controls in the process, to make advertising easier.
But you could completely recreate everything you did by creating a Promoted Post from within Power Editor (you can't create a News Feed or Mobile ad within the Facebook Ad Manager). And once you've created the Promoted Post, you can edit the ad as you would any other ad within your Facebook Ad Manager.
The Promoted Post

So let's take a look at a Promoted Post that I created: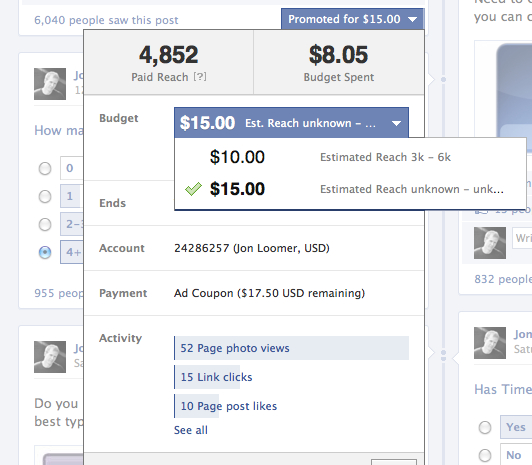 As you can see, I've already started promotion for $15, and I am only allowed to change the amount to $10. My other option would be to pause or stop the campaign when it hits an amount I prefer.
But what if the promotion does really well? How do I raise the budget to $22 or even extend the promotion beyond the three-day window?
The Solution

Like I said, this is just a glorified Page Post Ad. So go into your Facebook Ad Manager, and you'll find this campaign…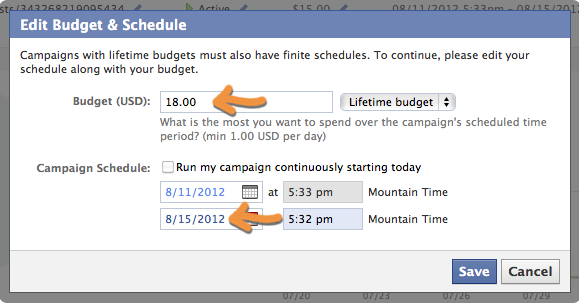 All you have to do is edit the budget like you would any other ad. You can even change the date to go beyond the three-day limit of promotion.
Once you go back to your Page, you'll notice that the budget is reflected accordingly: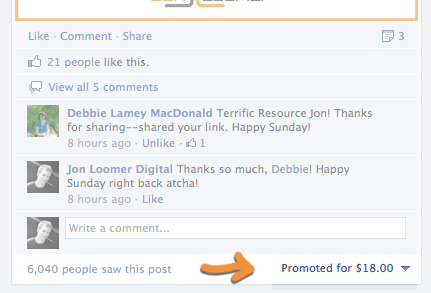 Pretty cool, right? The thing is, you could do all kinds of editing of this ad now if you really wanted to get messy. You could change the targeting, too. It's just any other ad!
I hope you find this tip useful! Did you know that you could edit a Promoted Post after it's been created?