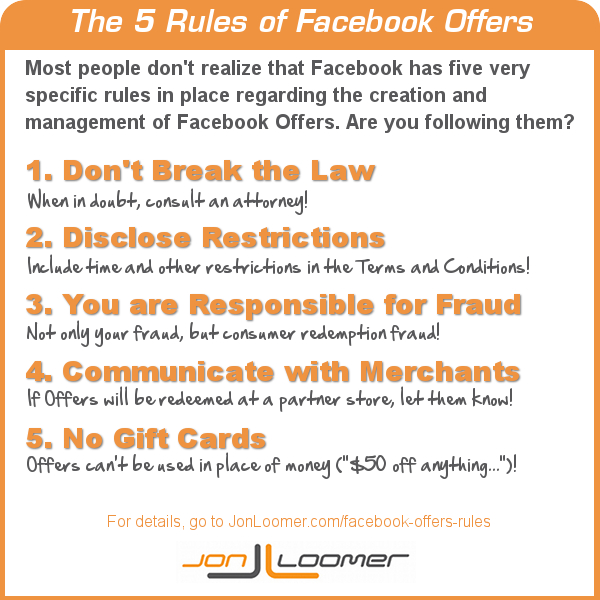 Want to create a Facebook Offer? You'd better follow the rules!
It's easy to create a Facebook Offer, and there are countless creative ways to create an Offer that goes viral. What most people don't realize, however, is that Facebook has specific rules you must follow related to Offers within their Page Guidelines.
Some of it is common sense. Some of it may surprise you. Let's get at it…
Facebook may not be a suitable place for every type of offer, and you are solely responsible for determining if Facebook is the appropriate forum for your offer. If you create an offer using Facebook's offer creation tool, the following policies apply:
1. Don't Break the Law
From Facebook:
i. You are responsible for ensuring that your offer complies with these terms and all applicable laws, rules and regulations. Offers are subject to many regulations (such as alcohol discounts and offers marketed to minors) and if you are not certain that your offer complies with applicable law, consult with an expert.
What it Means: This seems obvious, but it's a good reminder. You have Facebook Fans of all ages, located all over the world (or you might). I'm no lawyer, but that sounds like a potential problem. For local businesses, that may mean simply making sure that you add something in your Terms and Conditions about eligibility based on age and location.
Personally, I'd stick to rather innocent products for your Offers. But you may want to consult an attorney (or a friend who is an attorney) the first time you create an Offer, just in case.
2. Disclose Restrictions
From Facebook:
ii. If there are any restrictions on your offer (such as expiration date or limitations on redemption), you must disclose those restrictions to users in the terms and conditions section of the offer.
What it Means: If this Offer is only good through the end of the month, you need to say that. If only certain people are eligible, you need to say that. If there is a limit of one per person, you need to say that.
Spell it out as much as possible. This isn't just to protect your company legally, but it's good business to make whatever you are offering clear to the consumer.
3. You Are Responsible for Fraud
From Facebook:
iii. You are solely responsible for improper redemption, fraud or other issues that arise from the distribution and/or redemption of your offer.
What it Means: This is basically Facebook just saying "It wasn't me!" Don't create a fraudulent Offer. But more importantly to brands, it's your responsibility to monitor whether or not a redemption is fraudulent.
4. Communicate With Merchants
From Facebook:
iv. If your offer may be redeemed at a merchant not operated by you, it is your sole responsibility to communicate with the participating merchant.
What it Means: Common sense here. If your Offer is for an iPad that has to be redeemed at a partner's store, you should probably communicate with that partner and let them know about it.
5. No Gift Cards
From Facebook:
v. You must not use Facebook's offer creator to offer the equivalent of a gift card, gift certificate or stored value card.
What it Means: Now this is likely news to you (it was to me). You can't promote an Offer as if it's a Gift Certificate or Gift Card. For example, you can't create an Offer that is for $50 off on anything in the store. It can't be used in place of cash.
Following the Rules

Are you seeing brands create Offers that don't follow the rules? What are you doing to make sure that your Offers are compliant? Let me know in the comments below!